5.4.7 Arts Center

204 West Wisconsin
Greensburg, Kansas 67054
(620) 723-2600

Tuesday, Wednesday, Thursday 1-5pm
Sometimes on weekends

call to confirm hours 5.4.7 Arts Center Map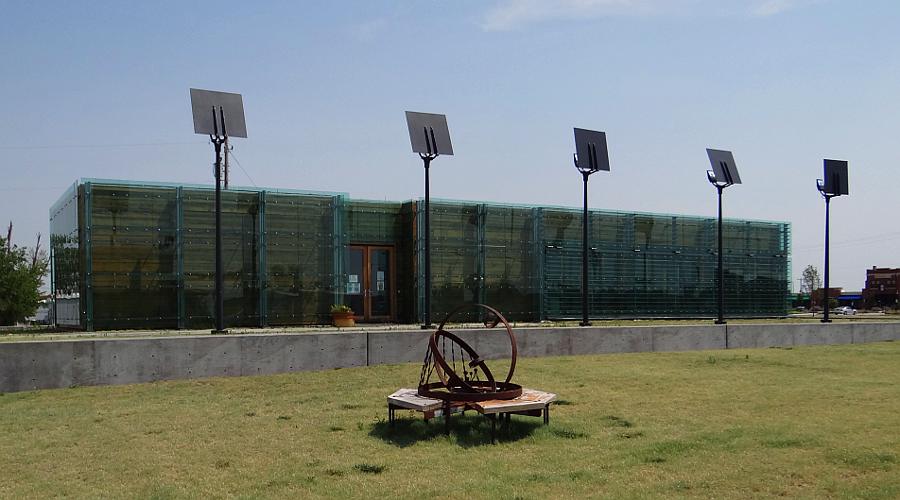 5.4.7 Arts Center - Greensburg, Kamsas
The 5.4.7 Arts Center in Greensburg, Kansas was delivered in 5 pieces in the Spring of 2008. The Greensburg Arts Center was conceived and constructed by twenty two University of Kansas students participating in Studio 804, the senior graduate design/build studio at KU's School of Architecture and Urban Planning.
The 5.4.7 Arts Center is the first LEED Platinum building that was designed and constructed by students. Platinum is the highest rating level for the Leadership in Energy and Environmental Design Green Building Rating System. The Arts Center was only the 67th building in the United States that was approved as LEED Platinum, and the first in Kansas.
Although the 5.4.7 Arts Center is the first building in Greensburg to achieve LEED Platinum certification, it will soon be joined by others. Greensburg has passed a resolution requiring that all city owned buildings must be LEED Platinum certified. Greensburg is the first city in the nation to make such this commitment.
The 5.4.7 Arts Center is a community arts center intended to raise awareness of fine arts, both visual and performing, make arts accessible to everyone and provide an environment to create and learn through classes, exhibits and performances. But a visit to the Arts Center is sure to include a tour of the building and the many energy efficient features that makes the building a work of art.
The 5.4.7 Arts Center has water conserving "green" rest rooms, photovoltaic solar panels, geothermal climate control, recycled building materials and three Kestrel Wind Turbines from South Africa. The Arts Center produces enough power to meet most of the building's needs.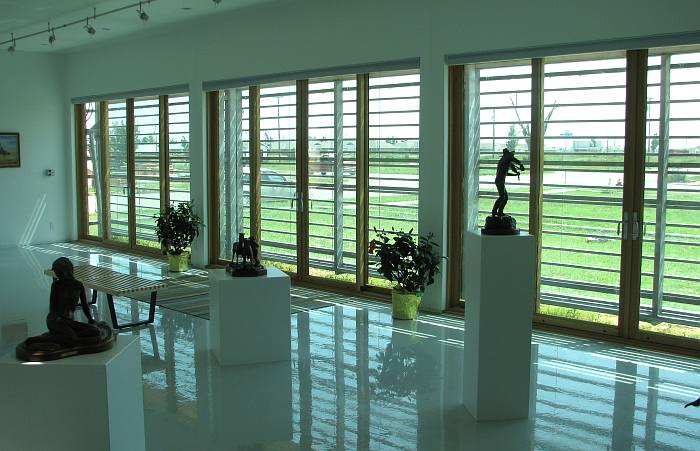 5.4.7 Arts Center main gallery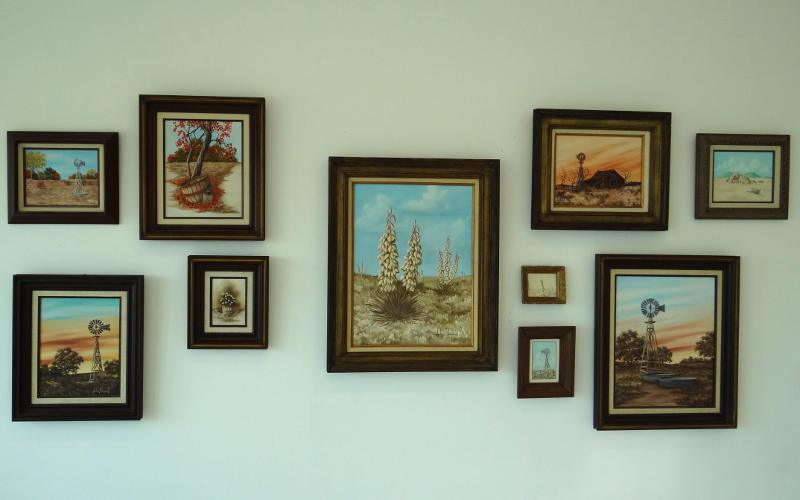 Archie Shepard retrospective in 2012. The late Mr. Shepard was a Grensburg school teacher known for his
paintings of farmland and Kansas landscapes.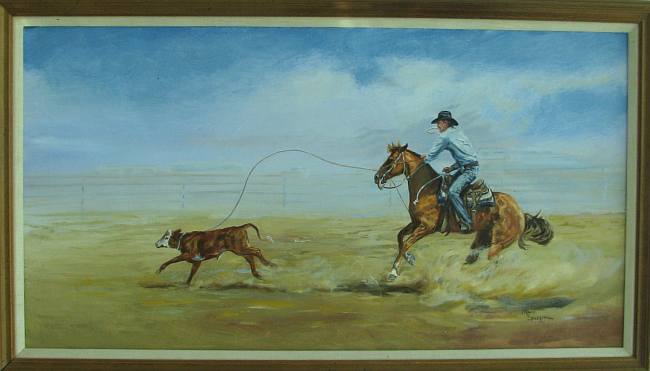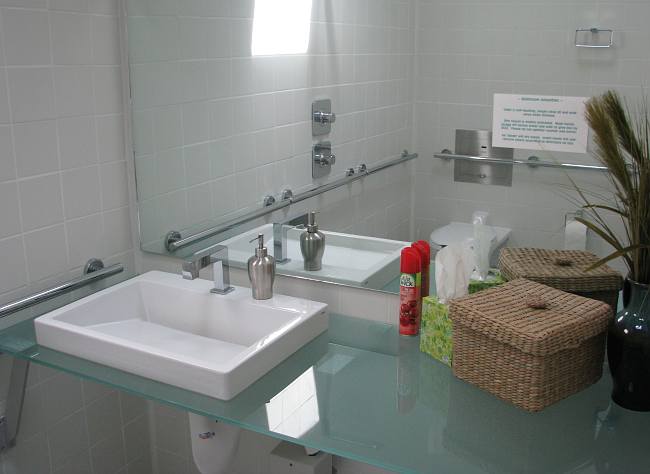 Water conserving energy efficient rest room: The toilet is sell flushing, the sink faucet is motion activated
and an air "blade" dries hands.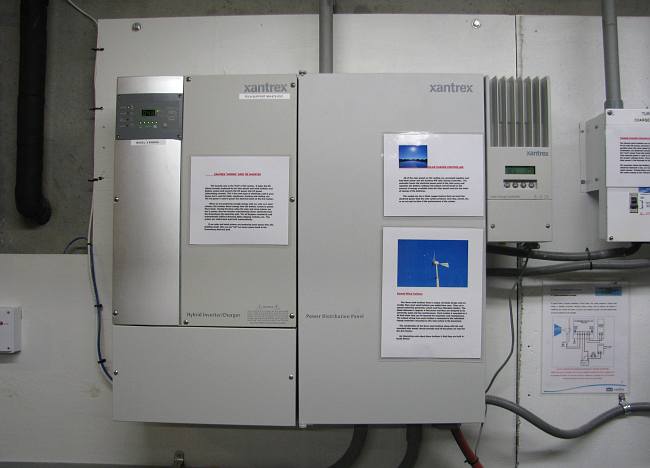 Xantrex "hybrid" grid tie converter acts as a hub that takes the electricity produced by the solar panels,
wind turbines and battery system and converts the DC power into AC power for use through out
the 5.4.7 Arts Center. Excess electricity can be sold back to the Greensburg electrical grid.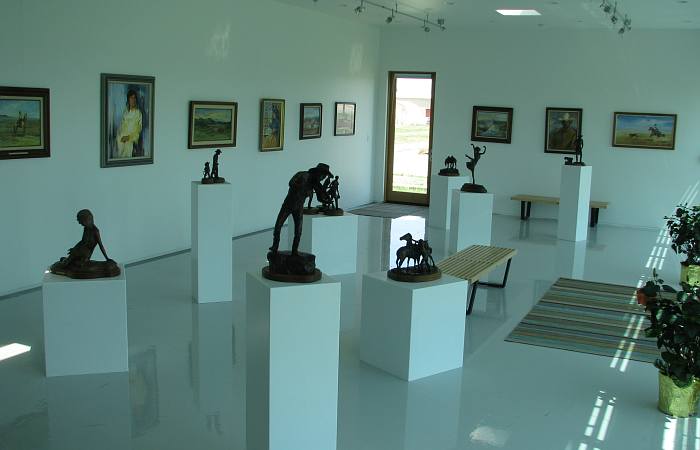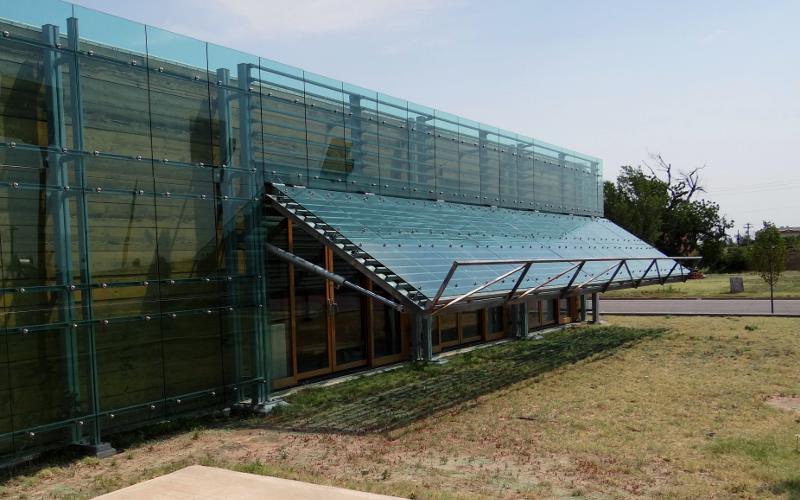 Raising the tempered glass to let in more sunlight during an event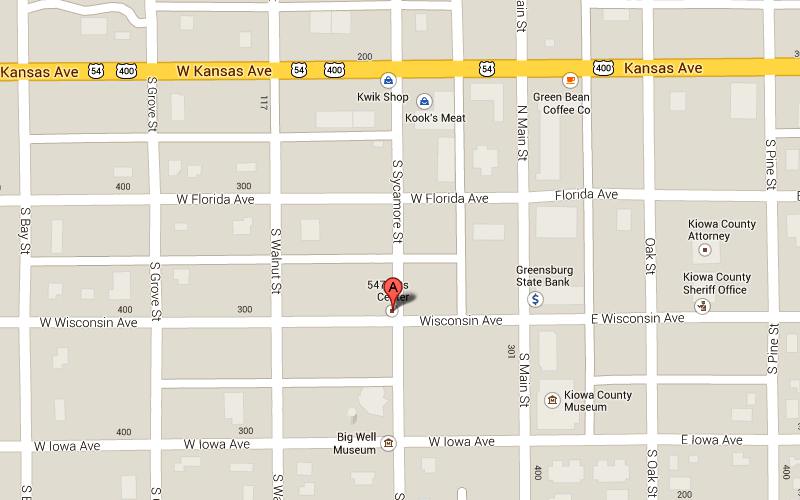 5.4.7 Arts Center Map
5.4.7 Arts Center website
Kansas Attractions Kansas Travel & Tourism Home
copyright 2008-2017 by Keith Stokes