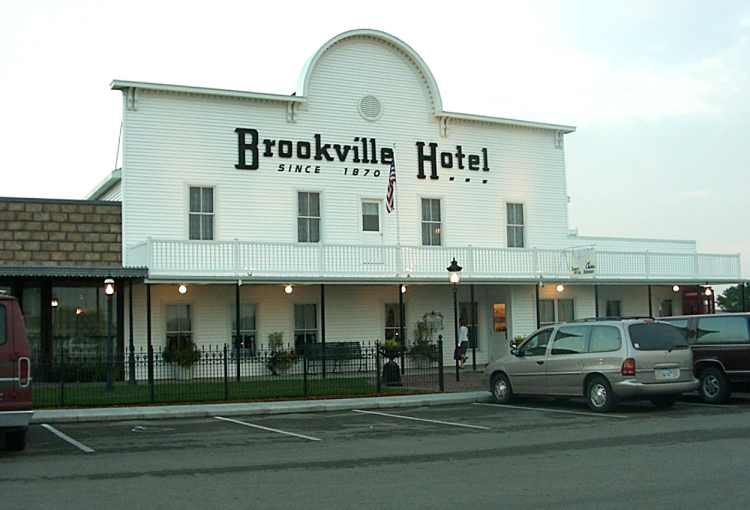 Brookville Hotel - Abilene, Kansas
It is with a very heavy heart that we must announce that the Covid, and the lack of traffic has forced us to close. We hung on as long as we could, but the writing was on the wall. We would like to thank everyone for your patronage of the Brookville Hotel over the last 125 years that the Martin family has operated it.

Mark is grieving over this decision and the fate of our employees. Please keep him and them in your prayers. We have been a part of so many family celebrations over the years and we will miss you all.
Thank you for making us part of your families.

Peace and Grace
Mark and Connie
October 1, 2020
Archive Page Only
The Brookville Hotel in Abilene, Kansas was located originally in Brookville, Kansas, the actual hotel was in the same family since 1894. They started family style fried chicken dinners in 1933. photo of the original hotel
In about 2000 they moved the restaurant next to the freeway in Abilene, reproducing the facade of the original hotel and moving all of the fixtures. Each of the 7 dining rooms is a theme room. The first couple of times I dined at the Brookville Hotel, I ate in the Spirit of Kansas Room. The restaurant serves nothing but skillet fried chicken. Since they serve only one set meal, the food is served very quickly.
The meals are served family style. ½ chicken, relishes, sweet-sour cole-slaw, mashed potatoes and cream gravy, cream style corn, baking powder biscuits and home style ice cream. $16 including coffee, tea, soda or milk. $9 ages 4-14. Wine and spirits are also available.
Every thing is very good and some of the items are outstanding. Even some that you might not think of. The house made bread and butter pickles are wonderful. The Brookville Hotel gets extra marks for serving milk in iced mugs and giving free refills.
Their hours are pretty limited and they are closed Mondays and Tuesdays. Reservations are recommended. Or get the boxed chicken dinner to go and have a picnic.
The Brookville Hotel was named one of the 8 Wonders of Kansas Cuisine.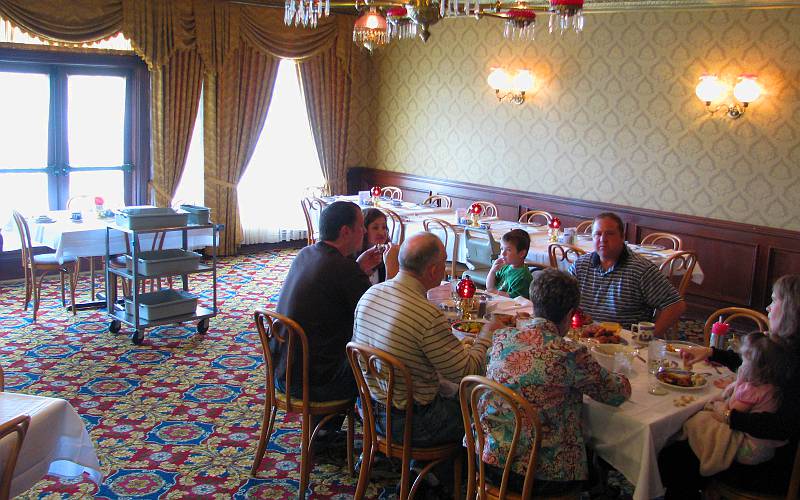 Brookville Hotel dining room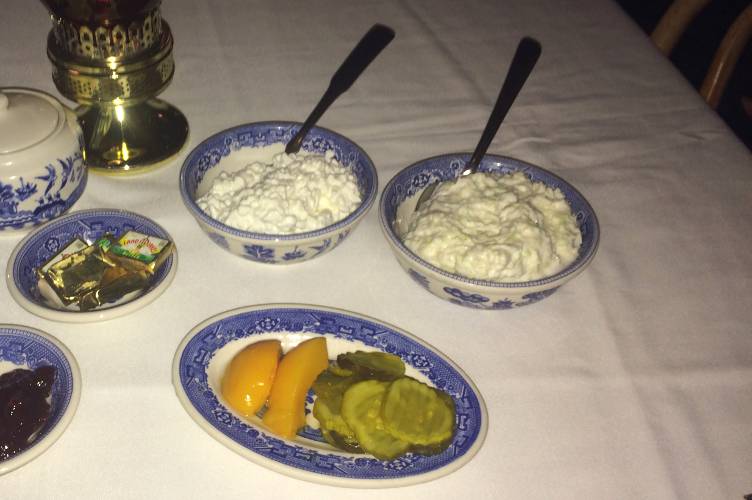 Cottage cheese, coleslaw, and relishes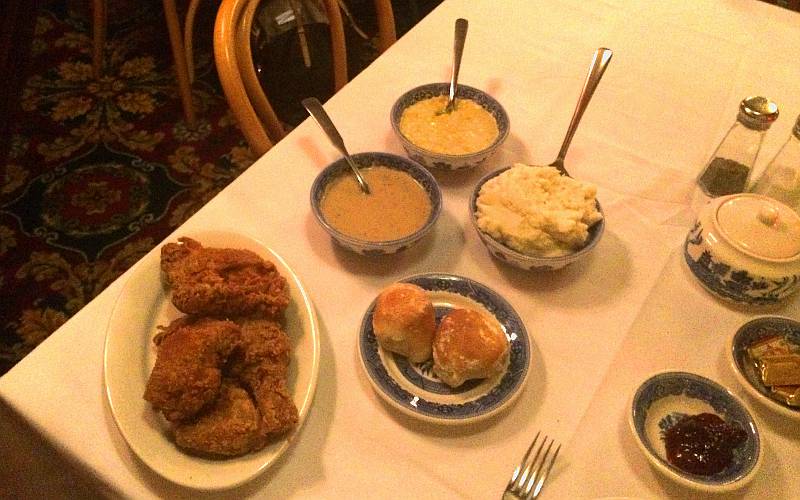 Fried chicken, gravy, cream style corn, masked potatoes and baking powder biscuits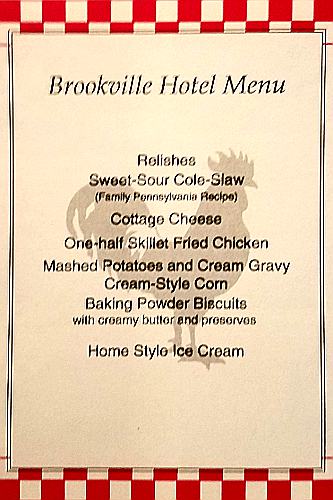 Brookville Hotel Restaurant Menu
(Cottage cheese is no longer included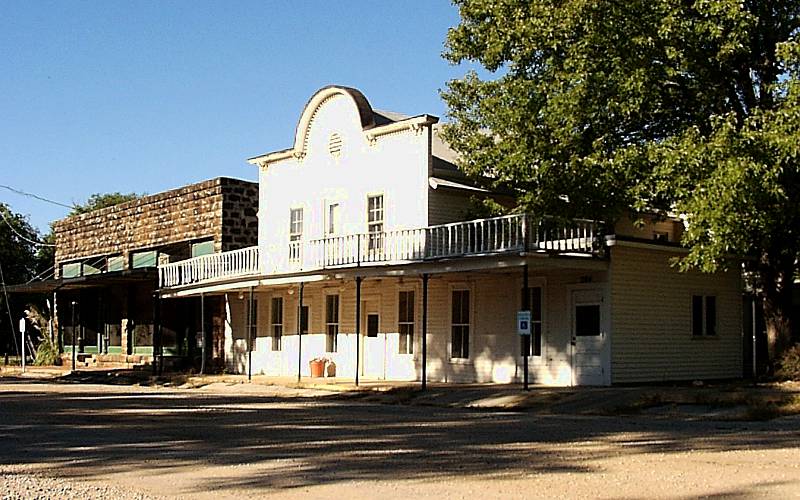 The original Brookville Hotel location in Brookville, Kansas (2002)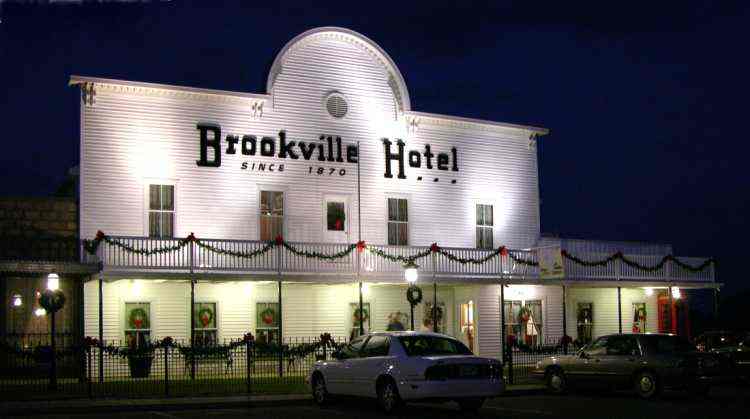 Brookville Hotel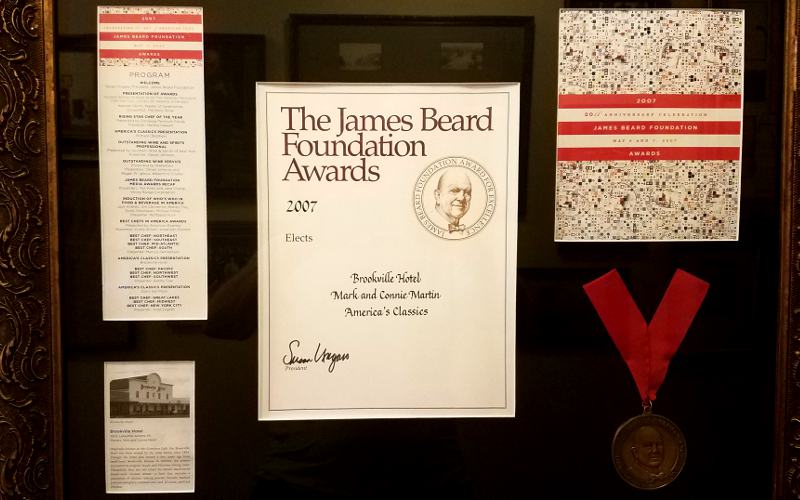 In 2007, the James Beard Foundation Awards Committee recognized the Brookville Hotel
as an "American Classic."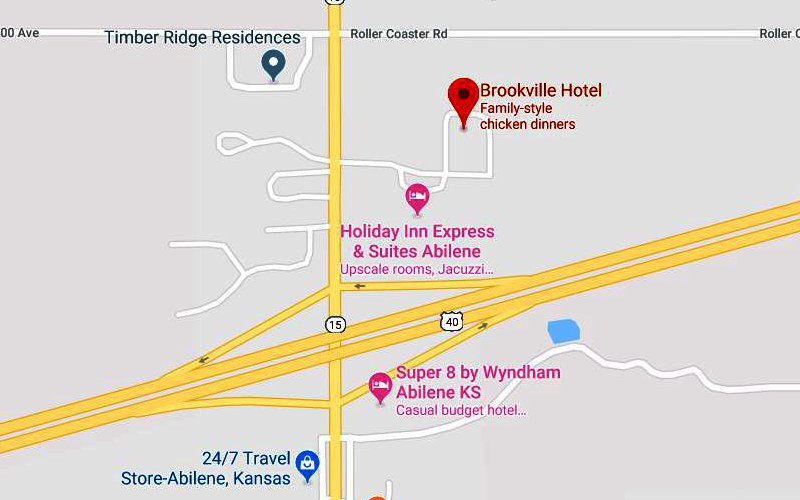 Brookville Hotel Restaurant Map
Brookville Hotel website
Kansas Restaurants Kansas Travel Kansas Travel & Tourism Home
L 3/10 copyright 2005-2022 by Keith Stokes