Abilene Restaurants
Kirby House Restaurant &
Brookville Hotel

Kirby House Restaurant Brookville Hotel Restaurant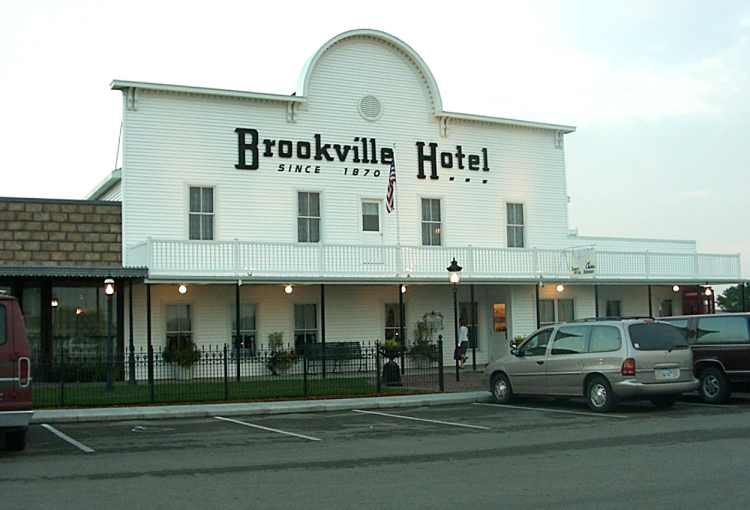 Brookville Hotel Restaurant - Abilene, Kansas
The Brookville Hotel was located originally in Brookville, Kansas, the actual hotel was in the same family since 1894. They started family style chicken dinners in 1933. photo of the original hotel
A couple of years ago they moved the restaurant next to the freeway in Abilene, reproducing the facade of the original hotel and moving all of the fixtures. Each of the 7 dining rooms is a theme room. The first couple of times I dined at the Brookville Hotel, I ate in the Spirit of Kansas Room. The restaurant serves nothing but skillet fried chicken. Since they serve only one set meal, the food is served very quickly.
The meals are served family style. ½ chicken, relishes (the bread and butter pickles are good), sweet-sour cole-slaw, mashed potatoes and cream gravy, cream style corn, baking powder biscuits and home style ice cream. $12.95 plus $1.50 for coffee, tea or milk. Wine and spirits are also available.
Every thing is very good and some of the items are outstanding. They get extra marks for serving milk in iced mugs and giving free refills.
Their hours are pretty limited and they are closed Mondays. Reservations are recommended. Or get the chicken dinner to go and have a picnic. The Brookville Hotel was named one of the 8 Wonders of Kansas Cuisine.
Brookville Hotel, 105 E LaFayette Avenue, Abilene, Kansas 67410 - (785) 263-2244.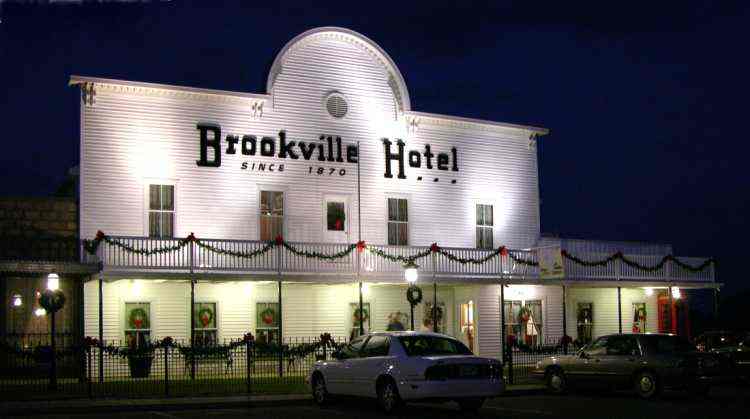 Brookville Hotel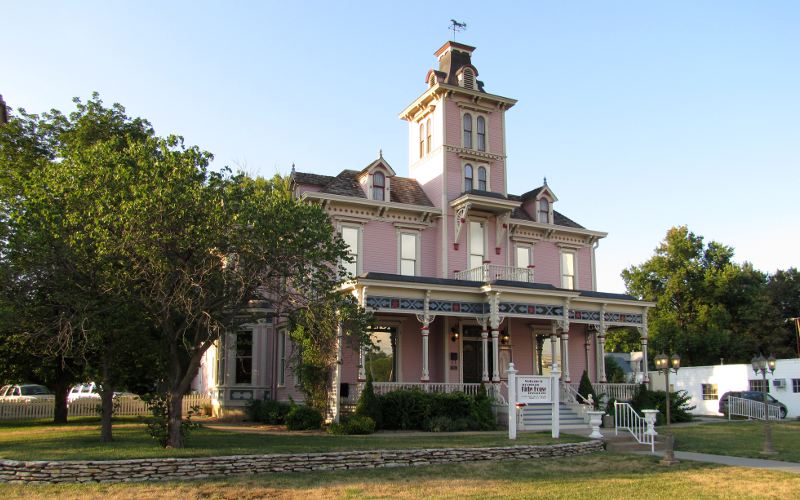 Kirby House Restaurant
Update: The Kirby House Restaurant was destroyed by fire on February 20, 2013
The Kirby House Restaurant is just one block from the center of Abilene. The restaurant is in a large mansion, built in 1885. When last visited, the lunch menu was limited to 10 items (2 of them vegetarian) and 2 specials. I had the country fried steak, with mashed potatoes, gravy, mixed vegetables and salad.
The vegetables were cooked to just the right texture, and were so good that I looked under the steak to see if there was more. The steak was large, though not as large as it looked, since the "country fried" coating extended farther then the steak But it was still very good.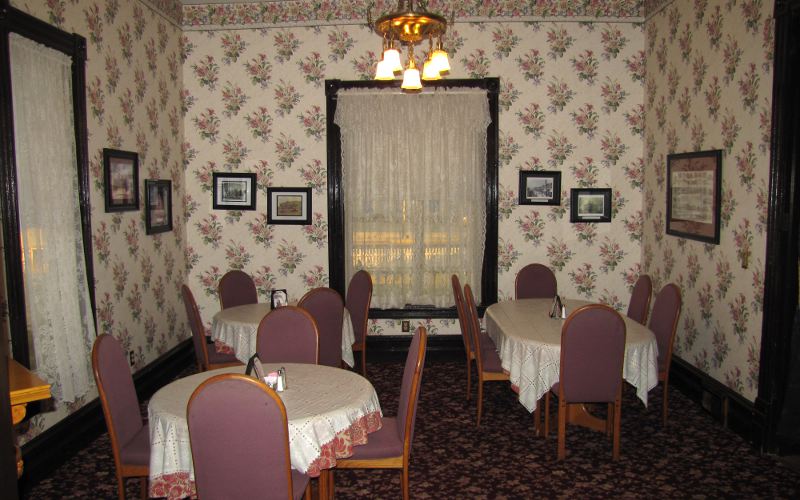 One of the Kirby House dinning rooms
The gravy was better than Brookville Hotel, but the potatoes weren't quite as good.
For a change, I was interested in dessert. They brought a tray with a selection of 6 and the apple crumb cake with cinnamon ice cream and butter pecan topping was excellent.
The setting is mixed elegant. The rooms are very attractive and old looking and they use nice table settings and cloth tablecloths and napkins. But they cover the cloths with glass, except for the tiny table where I sat.
Service was attentive, and they hurried to get my order in ahead of the busload of diners who arrived just before me.
The hours at this restaurant are limited, so you need to plan your travel on I-70 to bring you to Abilene at lunch or dinner. When I pass through Abilene, it is hard deciding between Kirby House and Brookville Hotel.
Kirby House Restaurant, 205 NE 3rd St., Abilene, Kansas 67410 - (785) 263-7336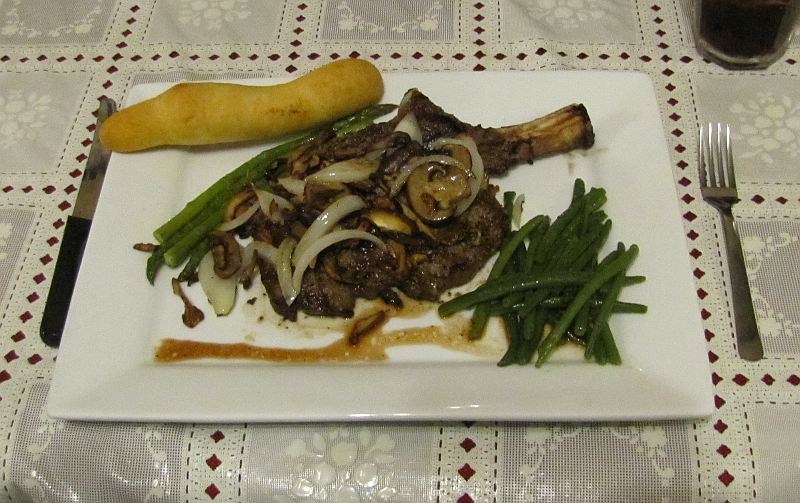 Bone in ribeye
Kansas Restaurants Kansas Travel
L 3/10 copyright 2005-2013 by Keith Stokes