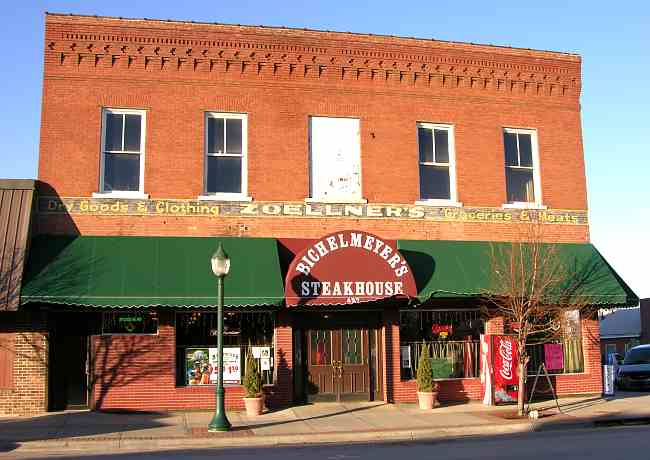 Michelmeyer's Steakhouse closed in December 2012. This is an archive page.
Bichelmeyer's Steakhouse Restaurant is located in the 1907 Zoeller Mercantile building in Tonganoxie, Kansas. The family owned restaurant traces its history back to the B & B Sandwich Shop in Kansas City, Kansas and the Bichelmeyer Meat Market which opened in 1946 and is still operating in Kansas City, Kansas. The current restaurant replaced Tonganoxie's Bichelmeyer's Meat and Grocery in 2000.
Although the building's interior still has what appears to be the original ceiling and light fixtures, the furnishings remind me of a 1960s restaurant. For decorations there are movie star photos with full length cutouts thrown in. The men's room and the hall leading to it are devoted to Marlyn Monroe.
Although Bichelmeyer's also offers seafood and pasta, people make special visits for the steak. They even cut all their steaks on the premises. My favorite item is the $10.99 prime rib sandwich, which is made with thin slices of prime rib, instead of the usual single thicker piece. Most dinners run from $10 to 22 and include choice of soup, house salad, or cole slaw; baked potato and a warm roll. Sandwiches run from $8.50 - $11 with fries.
On repeat visits, the service has run from good to very good.
Bichelmeyer's has live music on Fridays and Saturdays and stays open until 10 PM on those two evenings.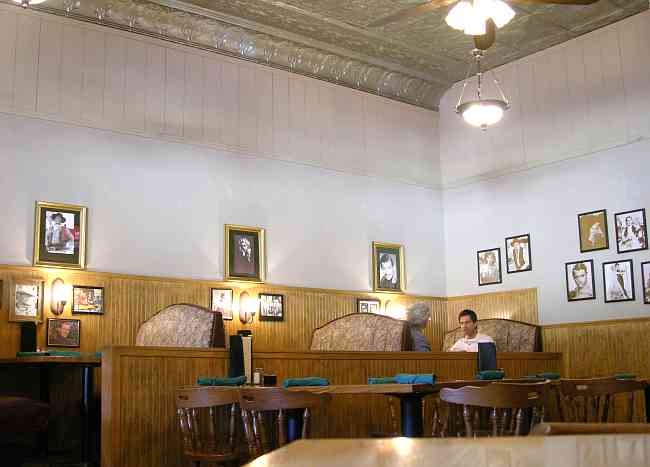 Each booth in the non-smoking section is decorated with photos of a movie star. Notice the ceiling.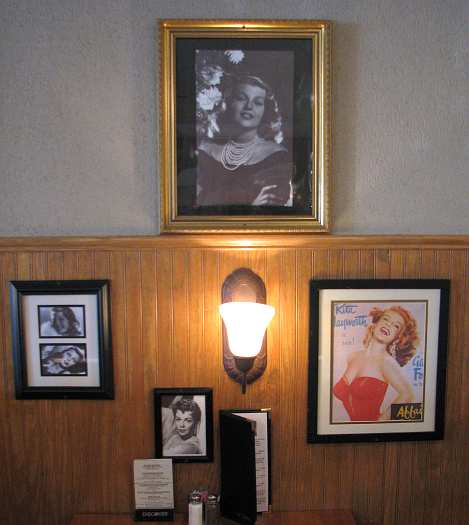 Rita Hayworth booth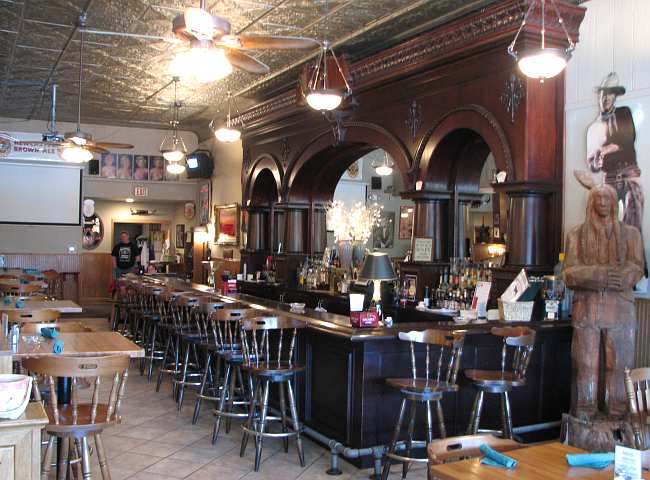 The mahogany bar in the smoking section came from the Old Spaghetti Factory in Kansas City, Missouri.

Unique Kansas Restaurants
Kansas Attractions Kansas Travel & Tourism Home
copyright 2006-2016 by Keith Stokes