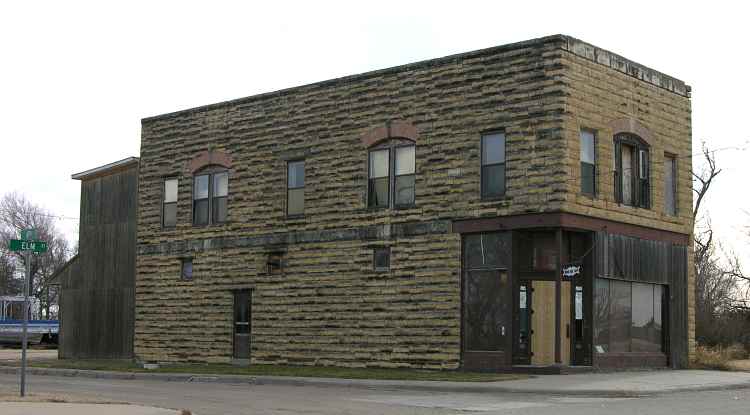 If you didn't know about the Bunker Hill Cafe in advance, the building might chase you away.
This is an archive page only. Tom and Janet Taggart closed the Bunker Hill Cafe on November 4, 2017 after 43 years in business. They attempted to find a buyer for the cafe, but without success. As of the summer of 2018, they are occasionally selling bread and jelly at popup or farmer's markets. Details can be found at the Bunker Hill Cafe Facebook Page.
This little steakhouse is a real gem. One of only a handful of businesses in the tiny community of Bunker Hill, just a mile off of I-70 in Bunker Hill, Kansas. It is open just 3 nights a week. The Bunker Hill Cafe is located in a 1917 limestone building that was originally a drugstore. Over the years, the building changed from a drugstore, to a cafe, to a pool hall, to the present great little steakhouse in 1974.
Bunker Hill Cafe is open only Thursday - Saturday evenings from 5 PM - 9 PM. If there are no customers, the restaurant sometimes closes early, so be sure to make a reservation on both busy and slow nights.
There are about 10 tables, and a glass fronted wood stove. The room is decorated with hunting scenes and stuffed game. The rest rooms are at the top of a long narrow staircase.
On each of my visits to the Bunker Hill Cafe, I have noticed groups getting ready to leave, fighting over their leftover bread. A plastic bag for the bread comes with the check. The Cafe bakes two types of honey bread daily. It is also available by the loaf to go.
Only two cuts of beef are available, filet mignon and sirloin, though those cuts are available in a variety of sizes. Buffalo is also on the menu, and when available, elk, which comes from a herd near Scott City. The pork loin is good. The elk ribeye is exquisite! Since the meats can be ordered in any of a wide variety of serving sizes, you may want to try smaller cuts of a couple of meats. On my last visit, we added fried catfish & stuffed shrimp to our meals. They were both good, but I like elk and steak filet better.
With only one exception, everything I have had at the Bunker Hill Cafe has been good, including the large variety of side dishes and their interesting salad. The salad is served on a chilled dish and includes lettuce, locally grown (very good) tomato, carrot, broccoli, radish, and cucumber, with a selection of dressings on the side. The one exception has been the chicken fried steak (pictured below), which had little flavor and could have desperately used gravy or a sauce.
Warning to those with peanut allergies: all of the cooking at the Bunker Hill Cafe is done with peanut oil.
The Bunker Hill Cafe does not accept credit cards.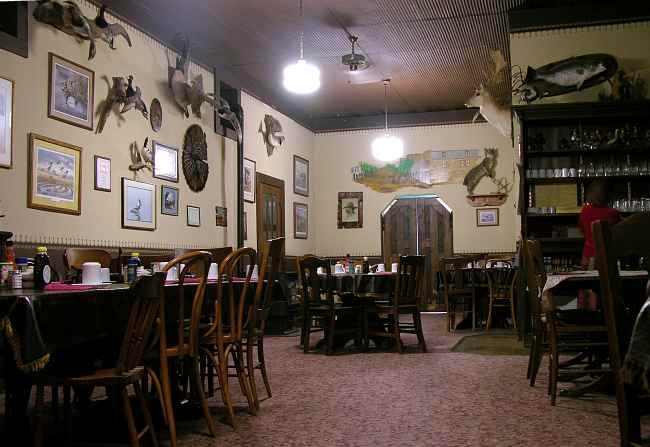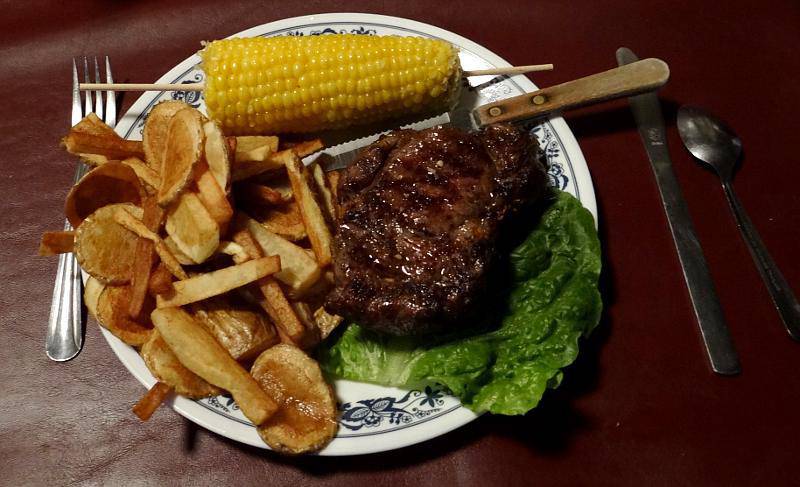 Buffalo rib eye, corn and hand made fries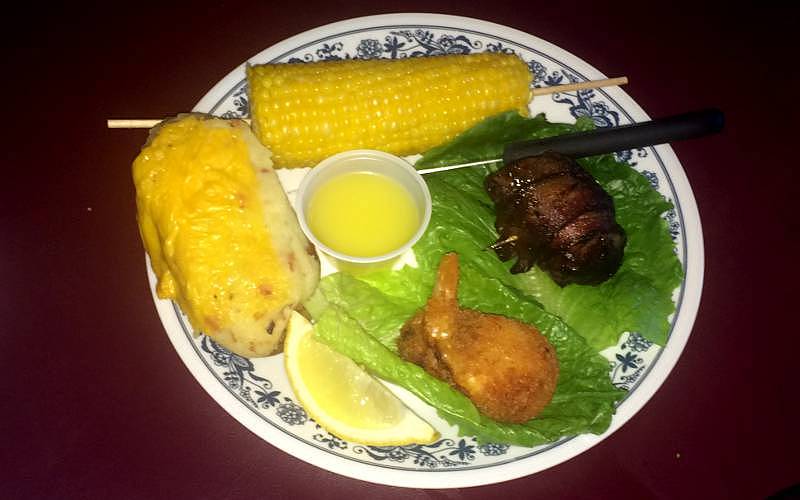 Bacon wrapped 4 ounce filet mignon and stuffed shrimp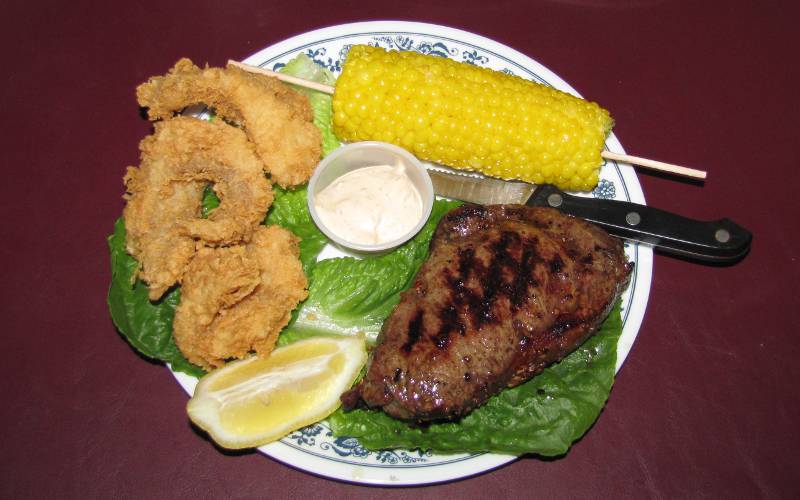 Catfish and rib eye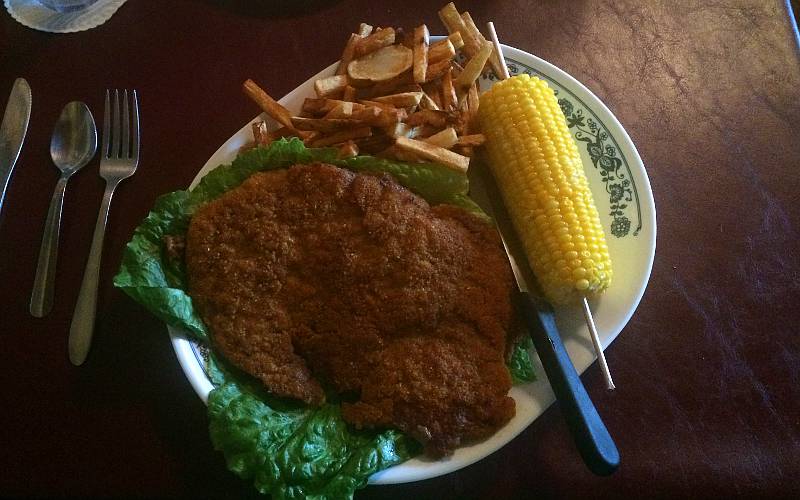 Chicken fried sirloin steak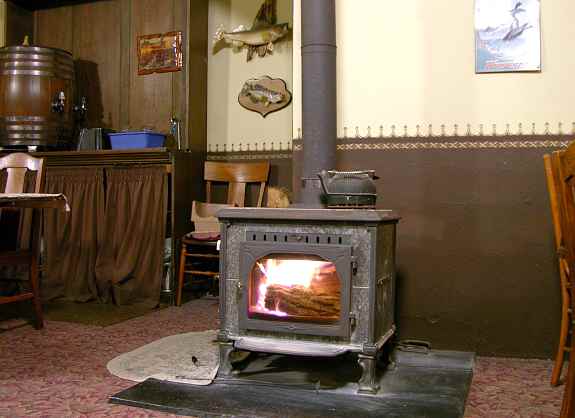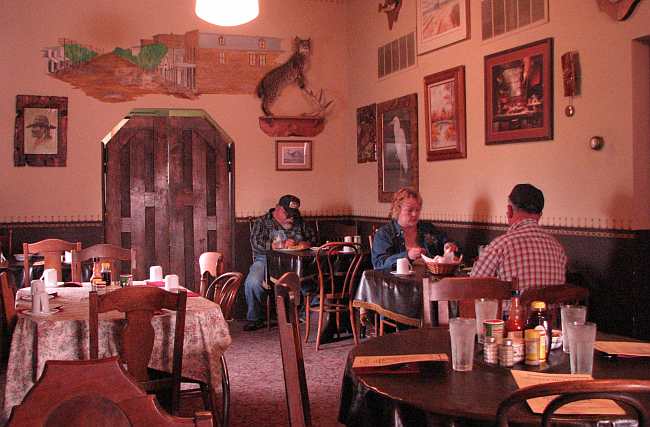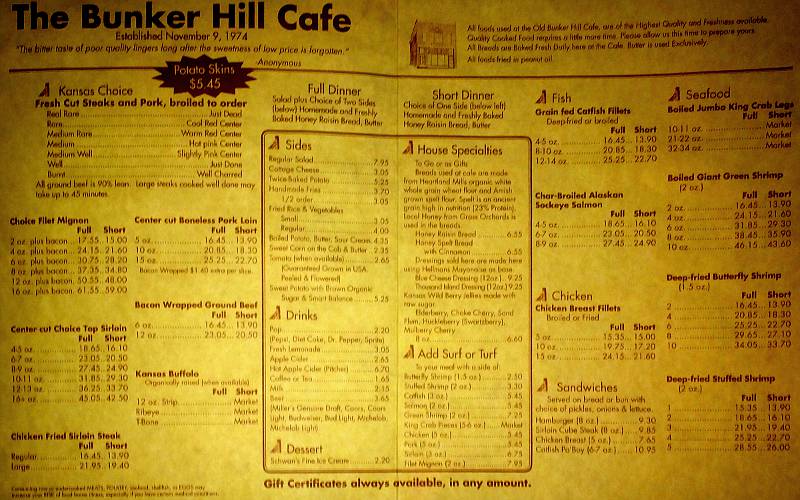 Bunker Hill Cafe Menu from August 2017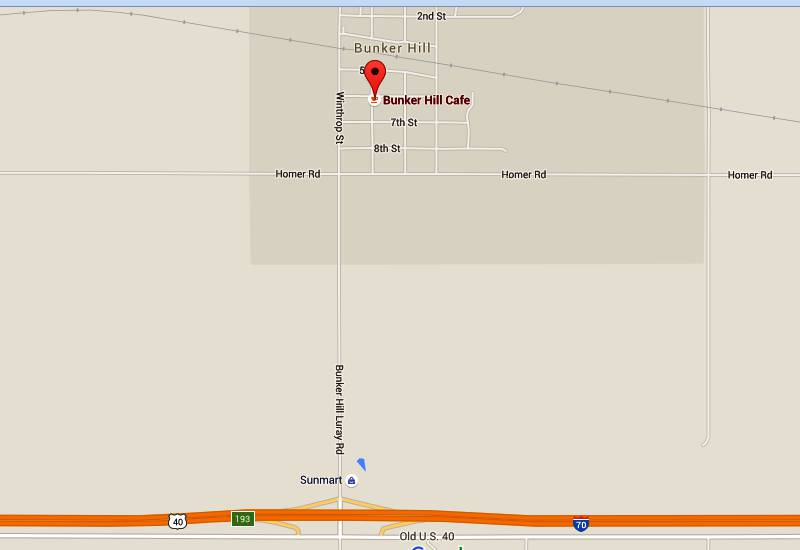 Bunker Hill Cafe Map
LS - 3/15 copyright 2005-2018 by Keith Stokes