Buster Keaton Celebration

Bowlus Fine Arts Center
205 East Madison Avenue
Iola, Kansas 66749

Archive page only - 2017 was the final year
for the celebration in Iola, Kansas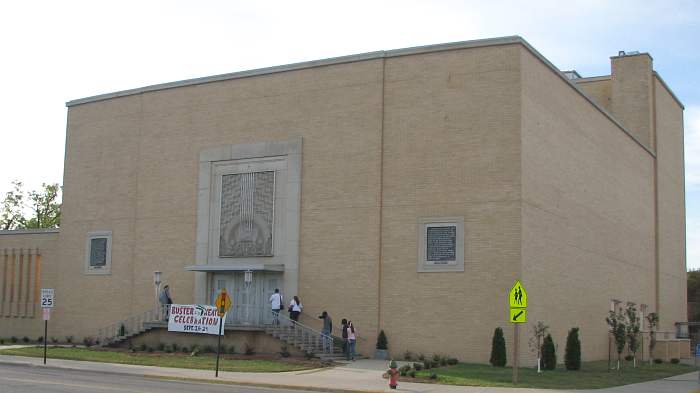 Iola's Bowlus Fine Arts Center hosts the Buster Keaton Celebration
Archive page only - 2017 was the final year for the celebration in Iola, Kansas. In 2018 there was a shorter event for Buster Keaton and W. C. Fields in Kansas City, Missouri.
Although there was no festival in 2014, it returned the following year and in 2017, Iola, Kansas hosted the 24th Buster Keaton Celebration: Celebrating 100 Years of Laughter, named for the film comedian and director Buster Keaton. Although he lived there only a few days, Keaton was born in Piqua, only 10 miles away.
The two day Buster Keaton Celebration on Friday and runs all day on Saturday. They make a point that it is not a film festival, but a "humanities" event. The evening presentation is almost all film (accompanied by piano or the Mont Alto Motion Picture Orchestra), but the morning and afternoon sessions are mostly presentations, interviews and panels. Although they make several humorous requests for donations, all of the events are free.
Each year the program features a second early film star. In 2007 that actor was Douglas Fairbanks, and in 2008 it was Will Rogers. This rotation of featured performers seems to have served them well, the same people attend the Buster Keaton Celebration year after year.
But it was a but of a disappoint to me. I visited the festival because I enjoyed the Buster Keaton Museum in Piqua, and it left me wanting to view some of his classic work. The 2007 celebration was mostly about Douglas Fairbanks and included only one non typical Buster Keaton movie & two short Keaton films. If the Celebration can find the funds and volunteers, I think that a brief additional program with a classic Keaton feature film, a couple of shorter works and brief introductory background on Sunday morning would be well attended.
My favorite part of the 2007 Buster Keaton Celebration was an appearance by Buster Keaton's granddaughter, Melissa Talmadge Cox. In addition to stories about Buster, she also had interesting tales about her father (who served in the OSS) and her grandmother (Natalie Talmadge) and great aunts (Norma and Constance Talmadge) who were silent film actresses.
In 2012, the theme of the Buster Keaton Celebration was The Timeless Comedy of Buster Keaton. In additional to the programing, there will was live organ and piano accompaniment to the silent movies.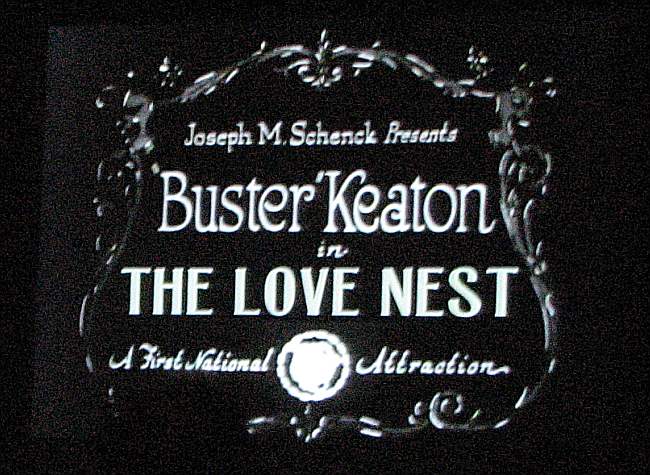 Opening credits of Buster Keaton in The Love Nest, a silent short film.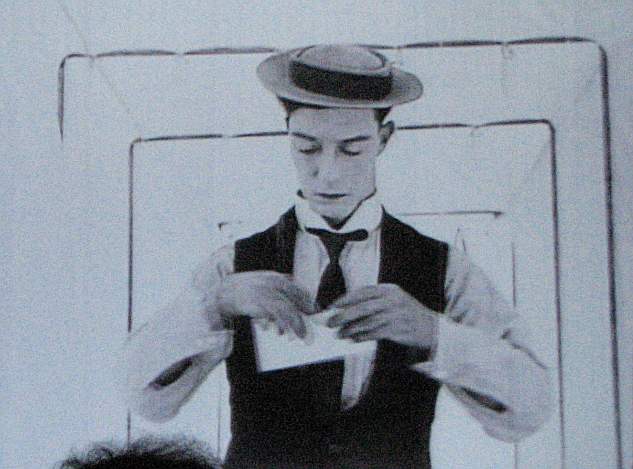 Buster Keaton in The Love Nest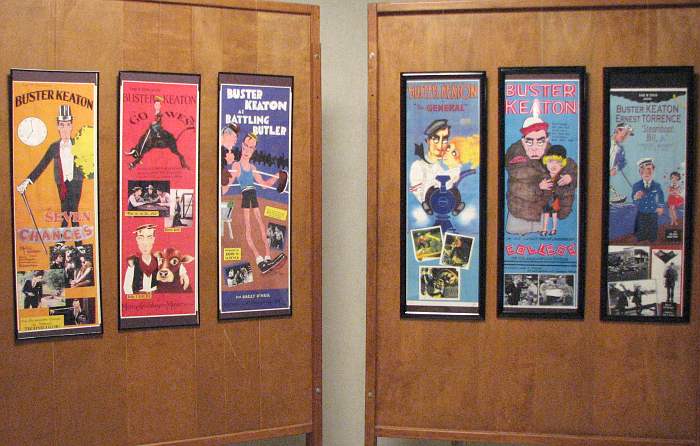 Temporary display of Buster Keaton movie posters.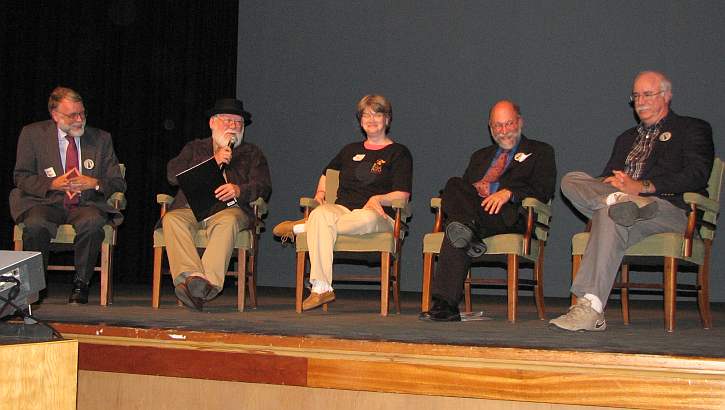 Buster Keaton Celebration panel discussion of "Teddy Roosevelt's Philosophy of the Desirability of the Physically Strenuous
Life." This program might have been better suited for Friday when a higher percentage of the attendees are academics, rather
than Saturday's audience. Frank Scheide, James M. Welsh, Tracey Doyle, Thomas Prasch, John Carter Tibbetts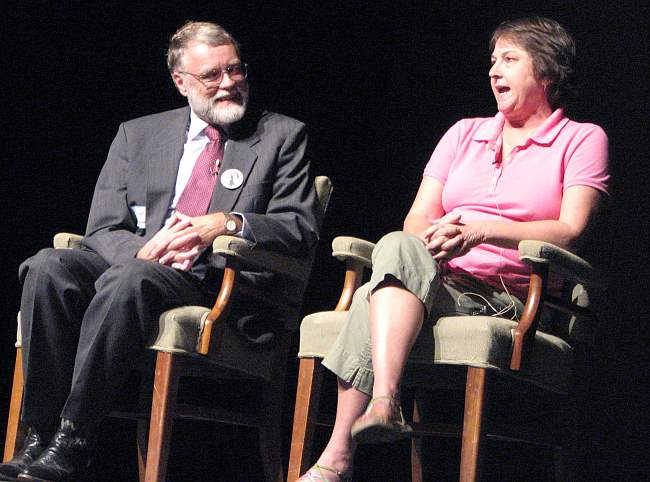 Frank Scheide interviewing Melissa Talmadge Cox (Buster Keaton's granddaughter) at the
2007 Buster Keaton Celebration.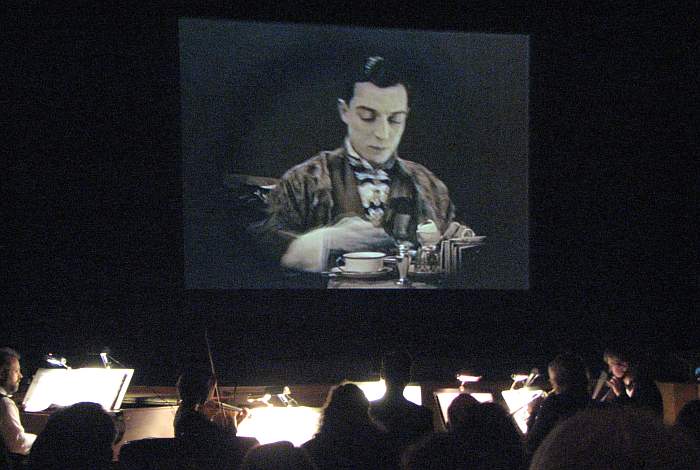 Mont Alto Motion Picture Orchestra accompanying The Saphead, (1920) starring Buster Keaton.
Buster Keaton Museum in Piqua Buster Keaton Celebration web site
Kansas Attractions Kansas Travel & Tourism Home
copyright 2007-2017 by Keith Stokes