Camp Concordia WW2 POW Camp

Union Road
Concordia, Kansas
(785) 243-4303

Tours by apointment only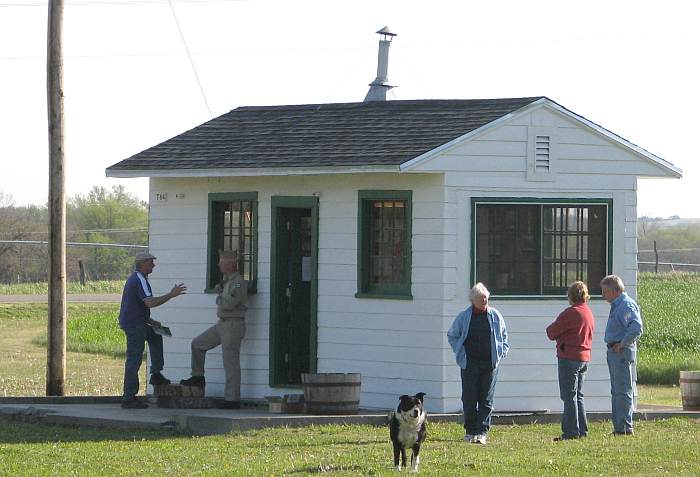 Guard Post 20, also known as Building T-64 was originally located at the entrance to Camp Concordia.
During World War II, 300,000 German Prisoners of War were interred in the United States. Many of the POWs were confined in Kansas where they worked on farms and other prospects. Typically the Kansas POWs were housed small camps of 100 or less. Some of these camps were located in the communities of El Dorado, Hutchinson, Cawker City, Hays, and Topeka, Ottawa.
Three larger camps were located in Kansas, near Salina (Camp Phillips), at Fort Riley, and just outside Concordia, Kansas. Construction of Camp Concordia began in February, 1943 and the POW camp was turned over to the US Army on May 1, 1943. At its peak Camp Concordia 4,027 Prisoners, 880 soldiers and 179 civilian Employees.
Camp Concordia had 304 buildings including a 177 bed hospital, fire department, warehouses, cold storage, and officers club, and barracks, mess halls & administrative buildings for both the German POWs and American soldiers. The camp cost $1,808,860, running $40,000 over budget. Not bad for a construction that took only 90 days.
All of the prisoners at Camp Concordia were members of the German Army. Most were captured in Africa, and the first POWs came from Rommel's Afrika Korps. Only the enlisted POWs worked, most of them on farms, but some worked on the railroad or in the ice plant. The POWS had their own band and newspaper.
Camp Concordia officially closed on November 8, 1945. Many of the buildings were torn down and others were moved. Some are still serving as homes in Concordia. The only structures remaining at the original location are Guard Post 20, a ware house, some stone walls, the officers club, a few foundations, and the tower which once supported a 100,000 gallon water tank. A two story stone guard tower has been reconstructed.
The POW Camp Concordia Preservation Society has a small, but growing museum in Building T9, but does not open it on a regular schedule. The Society can be contacted at 121 West 6th Street, Concordia, KS 66901, (785) 243-1710. The Preservation Society meets at 7 PM on the second Monday of each month at The Cloud County Museum in Concordia. The museum has several exhibits devoted to Camp Concordia.
To visit the remains of Camp Concordia, go north of Concordia on US 81, 2 miles to Union Road. (also known as Fort Kearney Road) Then turn right (East) on Union Road where you will find the reconstructed guard tower on your left. Guard House 20 is a few blocks farther east.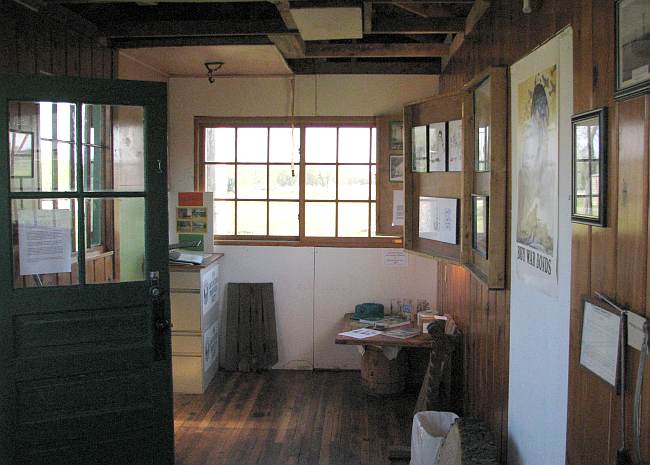 Guard House 20
Volunteers from the POW Camp Concordia Preservation Society. Lowell A. May (at right) wrote the
book CAMP CONCORDIA German POWS in the Midwest, available from Sunflower University Press.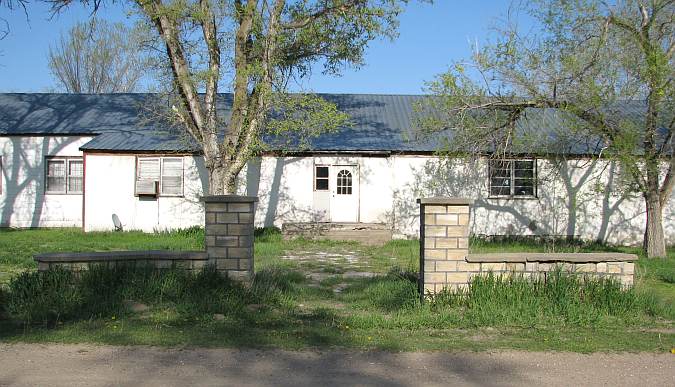 Building which housed the Camp Concordia officers club.
The stone walls by the street were constructed by German POWS.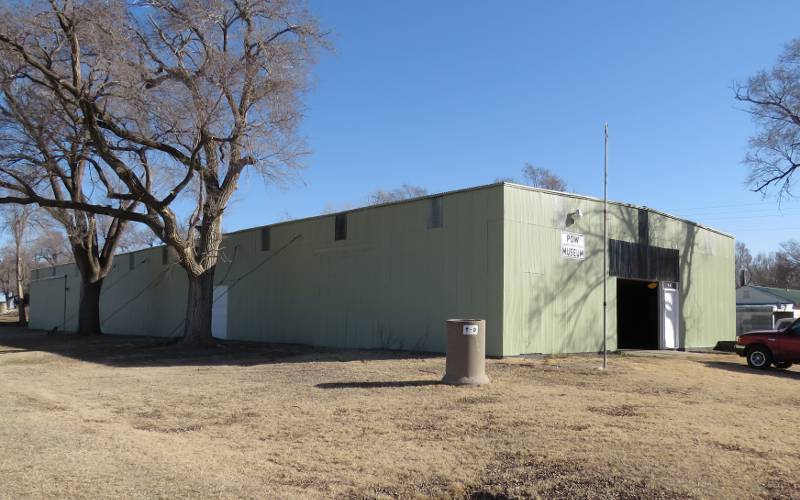 Building T9 is the last remaining Camp Concordia warehouse building. Until recently,it was privately owned, but the
POW Camp Concordia Preservation Society purchased it and turned it into a museum.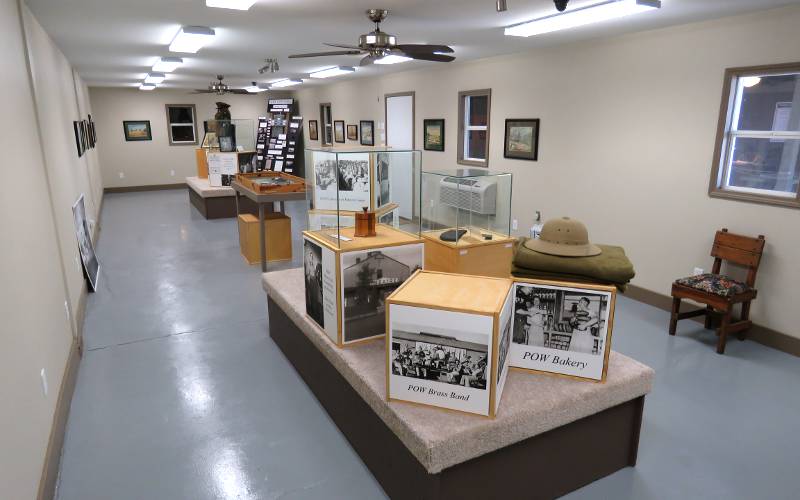 Museum in building T9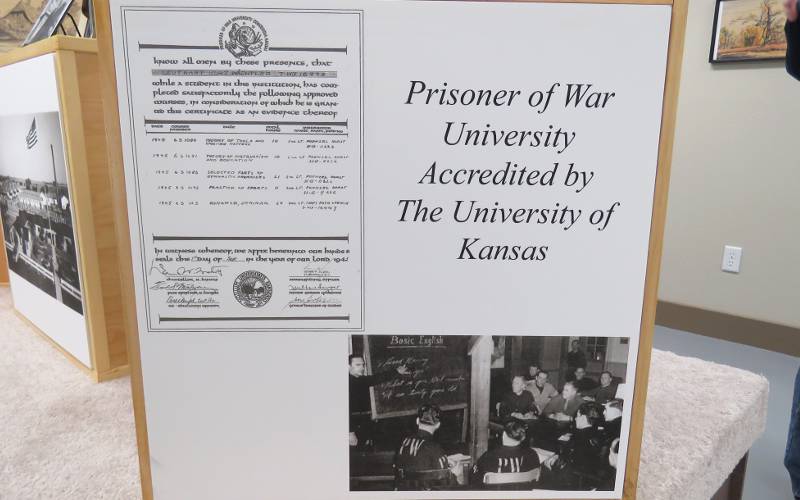 University of Kansas classes were taught to German World War II soldiers held at Camp Concordia in 1945.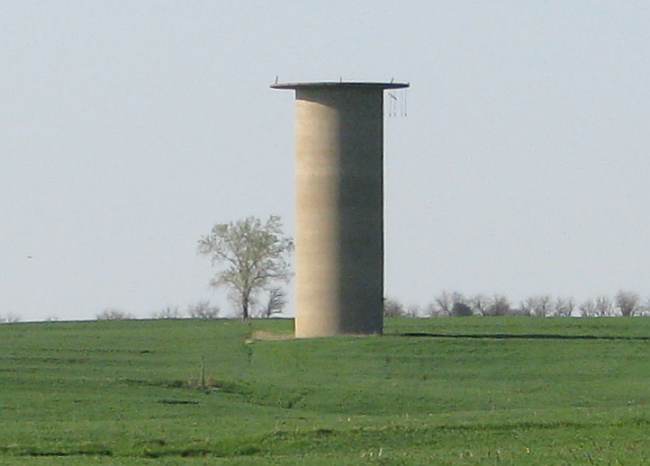 Tower which supported the Camp Concordia water tank.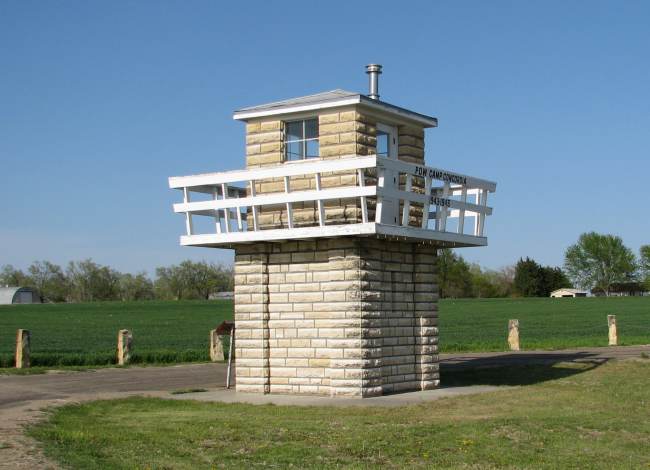 Reconstructed Guard House along Union Road.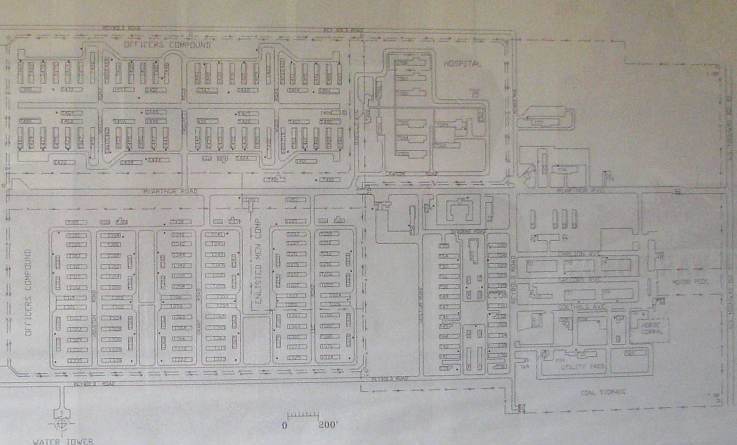 Map of Camp Concordia drawn by students at Cloud County Community College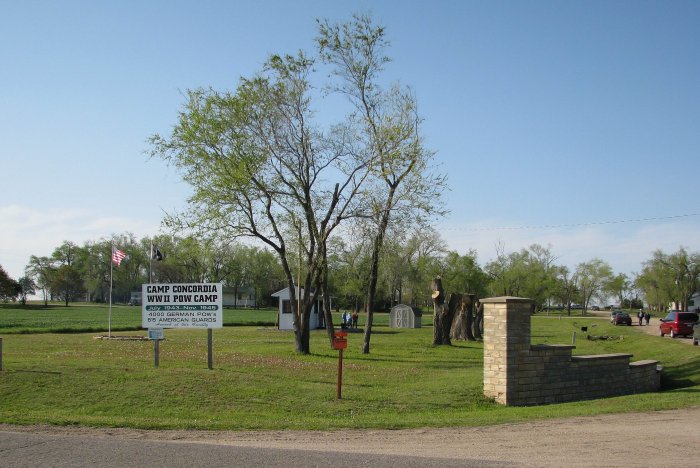 Guard House 20 and another stone wall which was constructed by German POWs. The tall stumps behind
the wall are from trees planted while Camp Concordia was in operation.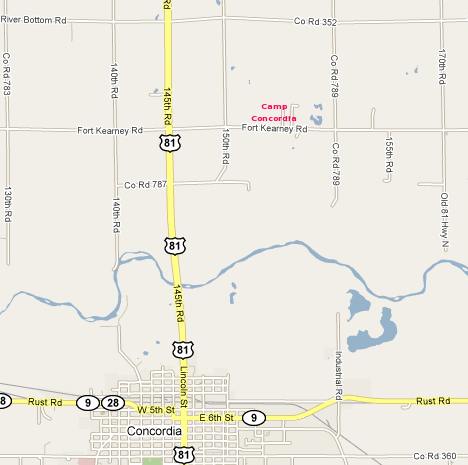 Camp Concordia Map
copyright 2008-2021 by Keith Stokes