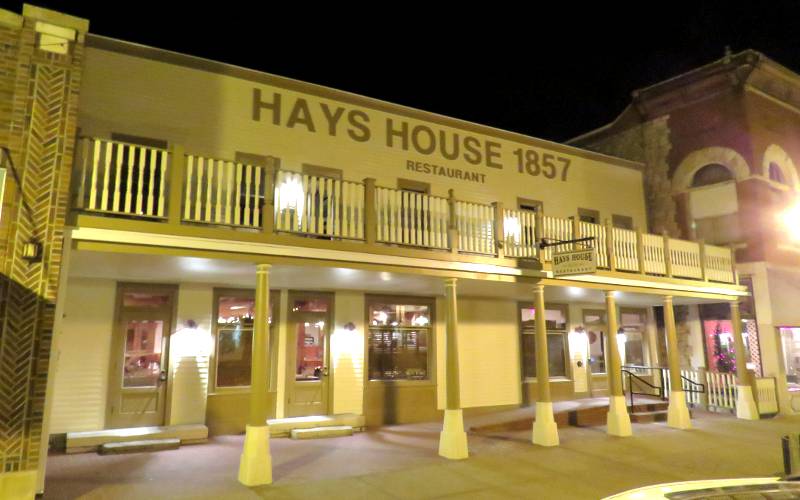 Hays House 1857 Restaurant and Tavern on Main Street in Council Grove, Kansas.
Seth M. Hays, a grandson of Daniel Boone, was the first white settler in Council Grove in 1847. In 1857 he opened the Hays House Tavern and Restaurant. Today, Hays House is one of the oldest continuously operating restaurants west of the Mississippi River. Its customers included Jesse James and George Armstrong Custer.
The ownership and management at Hays House has changed a number of times over the years and the building was restored in the 1970s. In December 2011, there was a fire in the restaurant and the kitchen (which was in an addition to the historic structure) was completely destroyed. The restaurant might not have reopened, but 25 local residents pooled their money, formed Flint Hills Investors, bought the Hays House and reopened with the same menu in May 2012. The exterior of the historic restaurant was significant redone with a new look in 2015.
In December 2019, Flint Hills Investors closed Hays House and it looked like it might never open again, but in June 2020, Frank and Shey-Anne Greco of Alma, Kansas and Randall Dickson, an executive chef from Lawrence, Kansas, opened Hays House Restaurant once again. We hurried out to Council Grove and dined at Hay House twice just 3 weeks later.
We visited Hays House Restaurant on a Saturday night. There were sanitation stations near the entrance and (at least while we were there) parties were seated at tables which were at least 6 feet apart. Condiments and all other things had been removed from the tables.
A young man who appeared to be about 10 years old seated us. Near the end of the meal, he returned to ask how our meal was. The menu was shorter than the last time we dined here, but had a large enough selection. We were happy with the service and there was no evidence that the present version of the restaurant was less than three weeks old.
We had chicken fried steak ($15 with choice of potato and a side) and prime rib ($28 for the smaller 12 ounce cut with potato and a side). The chicken fried steak was hand breaded, with much more meat than breading. The coating was crisp and delicious, and the steak was tender and beefy flavored. One of the best chicken fried steaks I have had. We didn't really notice the garlic in the mashed potatoes, but that was fine with this dish and gravy.
The prime rib appeared larger than the 12 ounce "The Pilgrim" cut. I thought they hit the medium I requested right on. It was a little more fatty than I would choose, but with the generous serving, I could avoid that and still have plenty of meat. It was tender, but I did need the steak knife. It was well flavored as well. There is a larger 18 ounce "The Duke" cut available for $4 more.
The HH fries, are house cut, slender fries. They were crispy and not greasy. I would have liked a little more seasoning on the shaved Brussels sprouts.
We split a large blueberry cobbler ($5 with whipped cream). The cobbler was more cake like than we are used to with cobbler.
I was back for breakfast the next morning. Breakfast is presently served on Saturday & Sunday only.
There are few items under $10 (biscuits & gravy, pancakes, giant cinnamon rolls) and most meals are $10-15. I had the Carnivore 3 egg scramble ($12) made with bacon, sausage, ham, cheddar & Swiss cheese, breakfast potatoes and choice of toast. I enjoyed the meaty scrambled eggs and the wheat toast. I would have liked the potatoes a little crisper. Service continued to be very good.
Ultimately, Hays House is about the tradition and the unique setting nearly as much as the food. We are grateful that this iconic restaurant is continuing!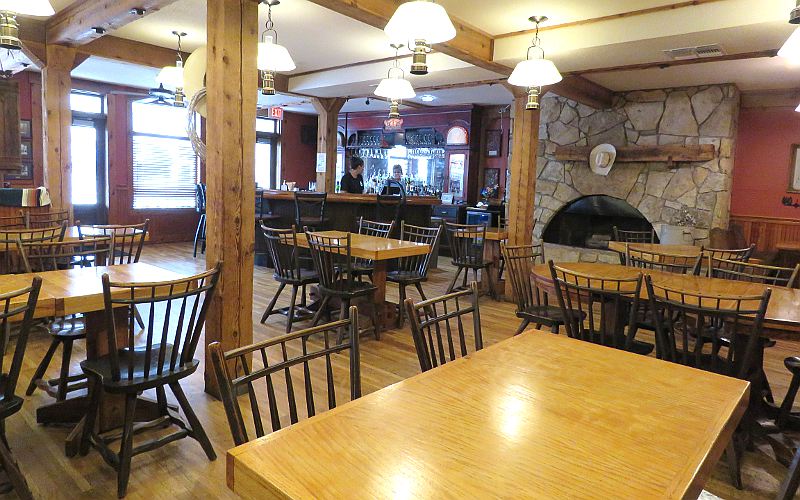 Main dining room.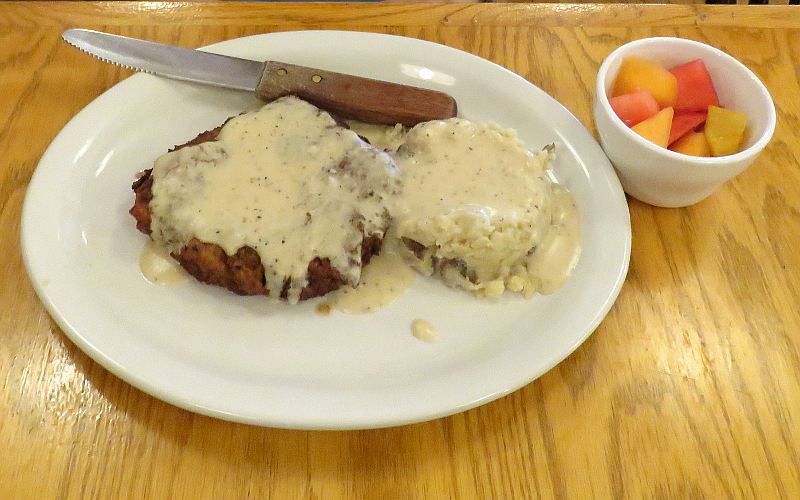 Chicken fried steak with garlic smashed potatoes and fruit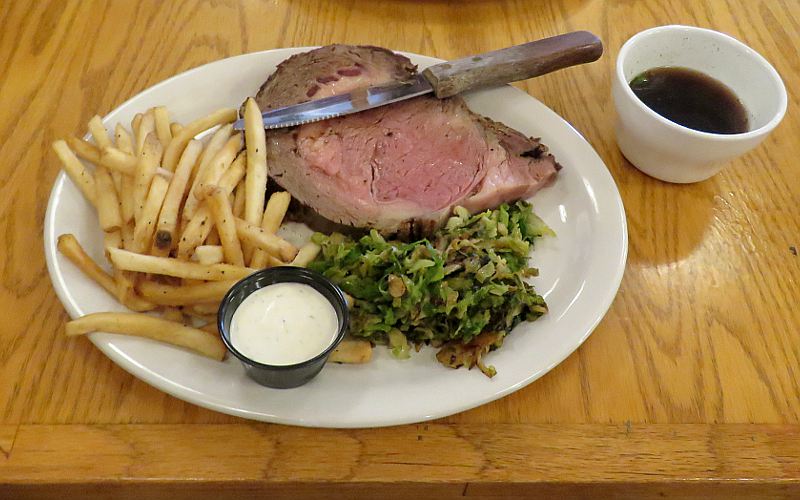 Prime rib (12 ounce) with HH fries, shaved Brussels Sprouts, horseradish sauce and au juice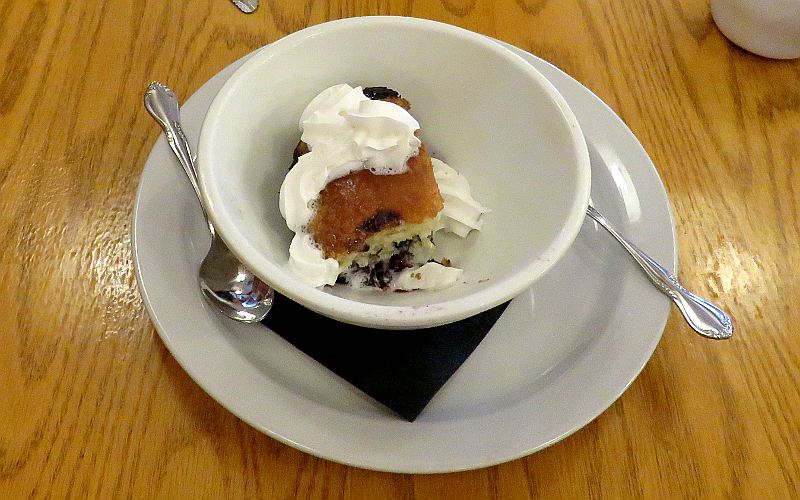 Blueberry cobbler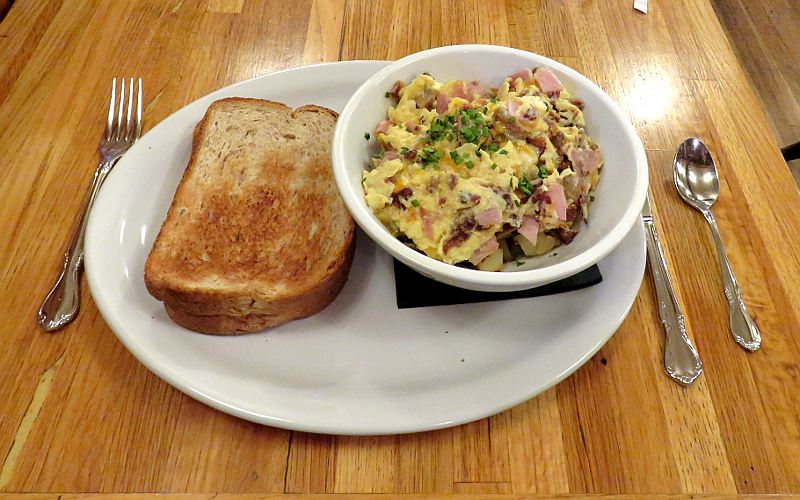 "Carnivore" - 3 egg scramble with breakfast potatoes and choice of toast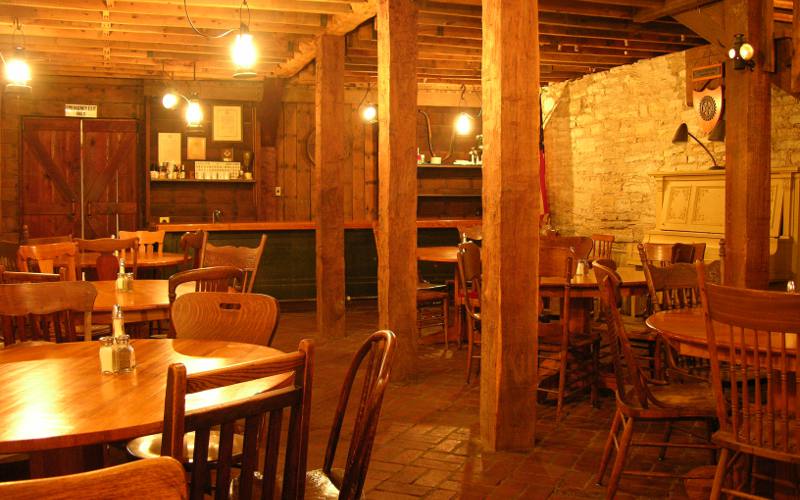 The Hays House cellar still has the original meat hooks and the original bar. For many years this area was
used church services on Sunday mornings, using the piano at the far right. This space has great acoustics.
This photo is from our first visit in 2006 and this space may look much different today.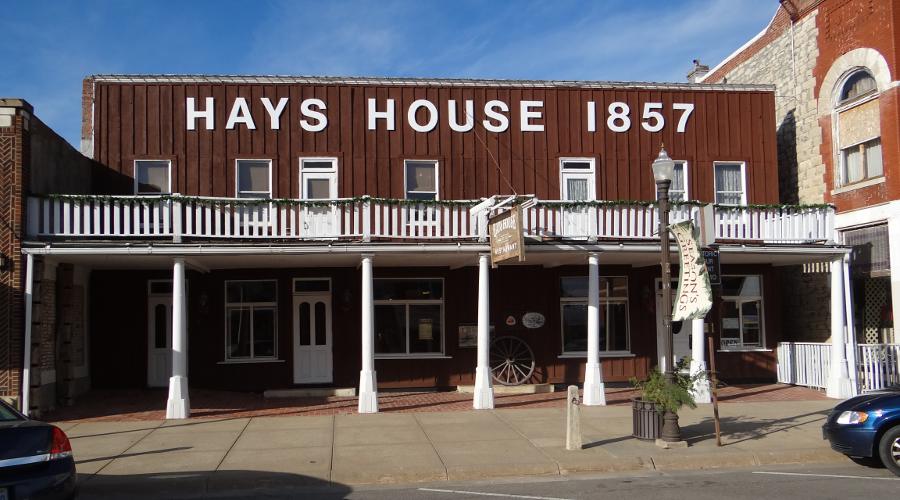 Hays House in 2012, prior to renovation in 2015
| | |
| --- | --- |
| Hays house menu June 2020 | Hays House breakfast menu June 2020 |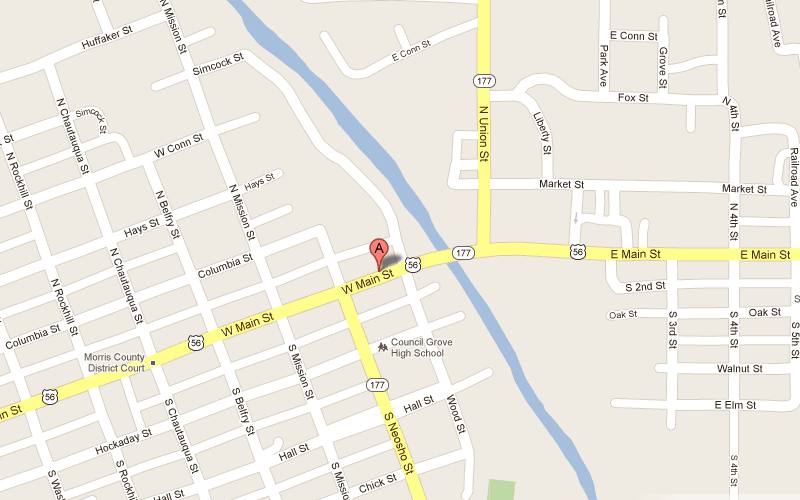 Hays House 1857 Map

Hays House 1857 website Unique Kansas Restaurants
Kansas Attractions Kansas Travel & Tourism Home
copyright 2006-2020 by Keith Stokes