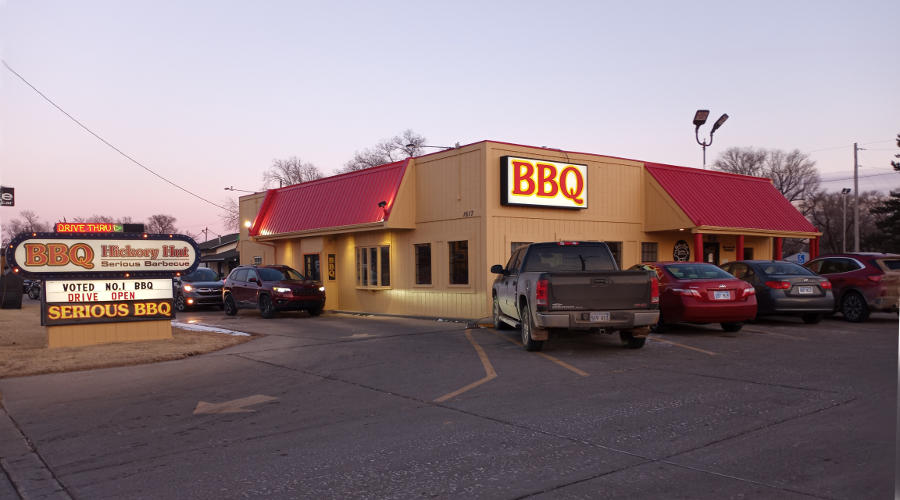 Hickory Hut BBQ - Salina, Kansas
Hickory Hut BBQ in Salina, Kansas started business as a drive through only restaurant, operating out of a trailer in 1983. They moved to a building 3 year latter, and finally moved to this location in 2005. They didn't have inside seating until that time, but it appears that much of their business is still done at the drive through window today. They even keep it open a half hour after the dinning room closes.
Hickory Hut calls their food "serious barbeque" and we are big fan of their smoked meats. I'm tempted to say my favorite meat is which ever one I am having right now. That said, I am particularly partial to the the sliced pork and the hot Polish sausage. They also have a mild Polish for those who like a little less heat.
There are three kinds of barbeque sauces, regular, hot and intense BBQ sauce. They are all sweet, tomato based sauces and the difference between them is fairly subtle. they also provide a Louisiana style hot sauce if you wish to take the heat up a little.
The potato salad and (frozen) fries are OK, but the sweet cole slaw is better. The beans are definitely my favorite side dish, sweet and loaded with sausage & a little bacon. I have yet to try the sweet potato fries or potato wedges, but the wedges look quite good.
My only complaint about Hickory Hut BBQ is the lack of combination plates. When I go to a barbeque restaurant in a new town, I like to try a variety of their meats, but Hickory Hut's only combination is a two meat dinner. They used to offer several platters which let you have up to four different meat without having to purchase them a la carte.
During Covid-19, Hickory Hut has closed half of the tables and are doing a great job of Covid precautions and I felt comfortable in the restaurant.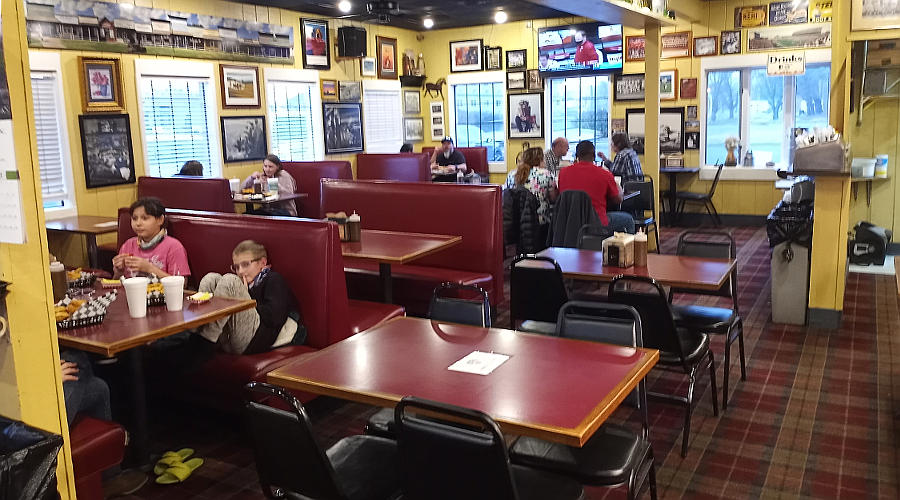 Dinning room with 1/2 of tables closed to allow distance between parties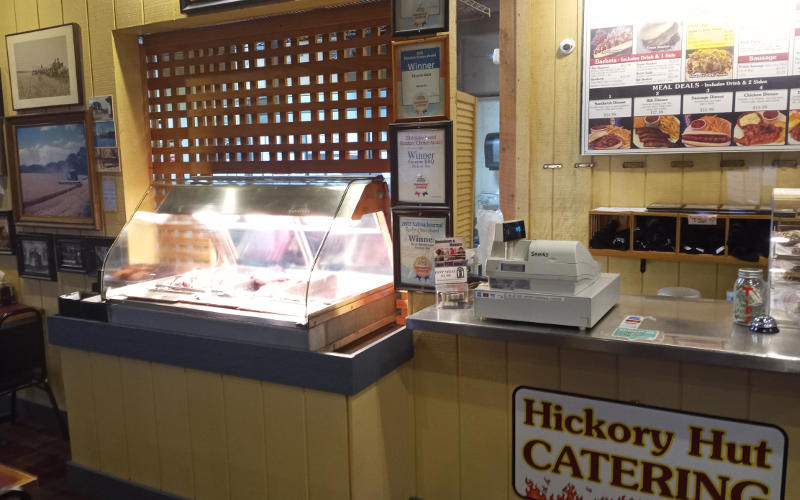 Place your order at this counter and it is brought to your table.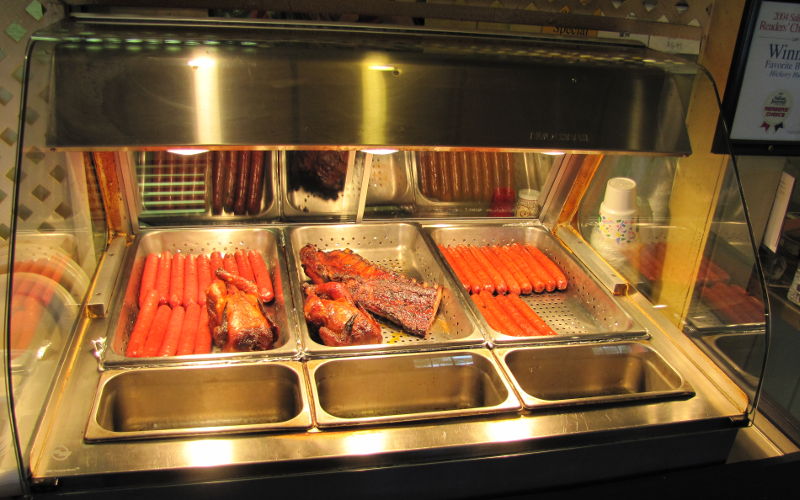 Hot meat Counter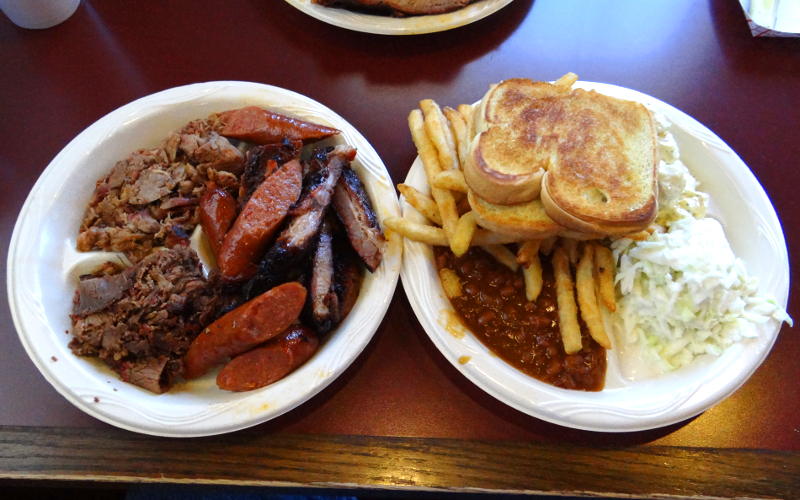 2 ribs, a sausage, chopped pork, BBQ brisket, fries, baked beans, potato salad and cole slaw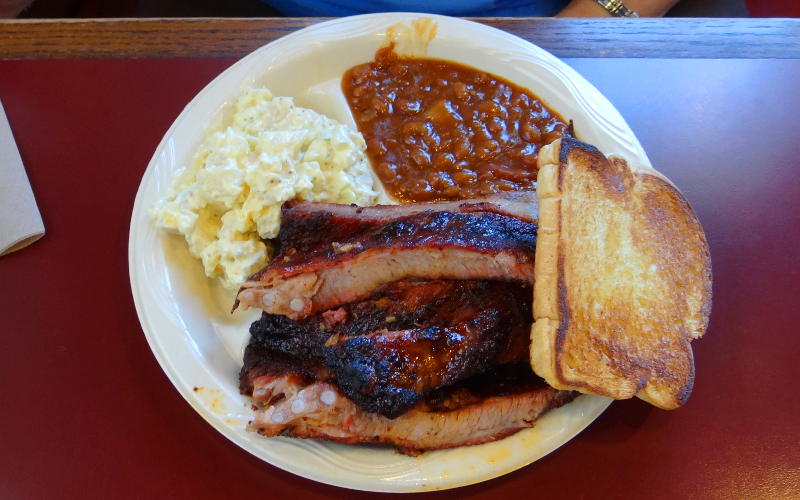 Rib dinner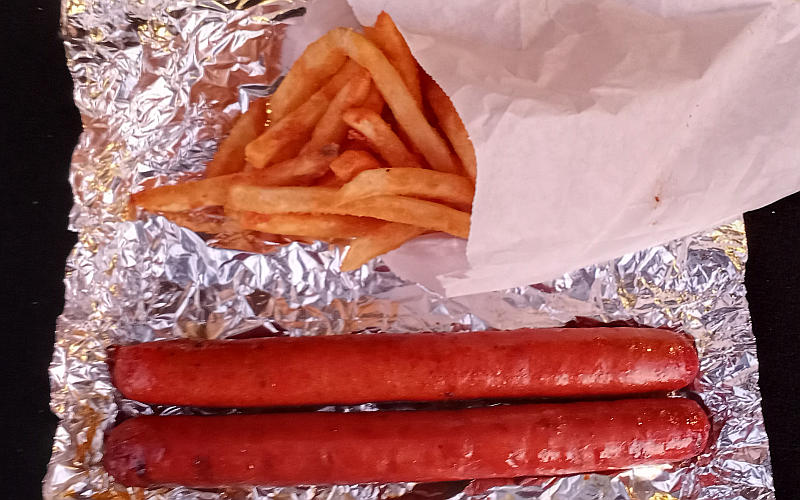 French fries and two hot Polish sausage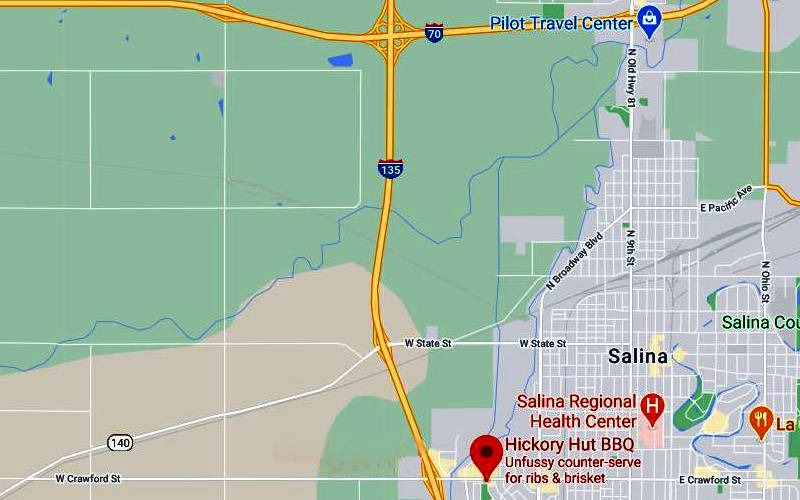 Hickory Hut BBQ Map
copyright 2010-2021 by Keith Stokes