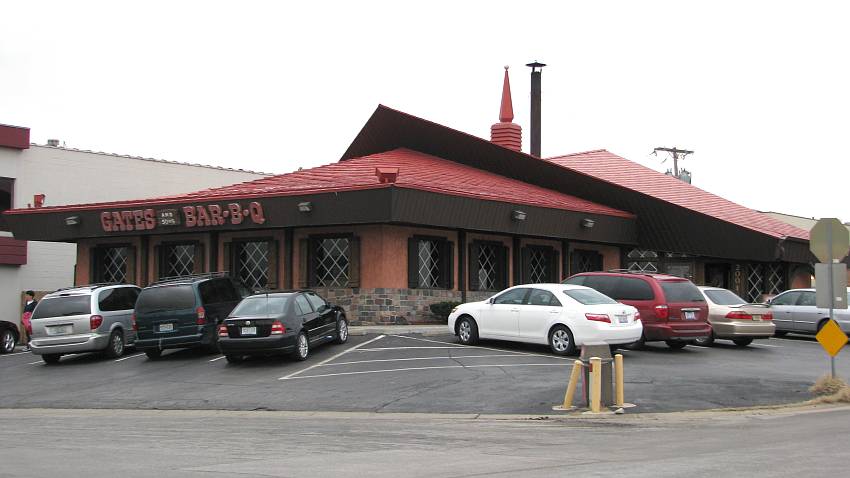 Gates Bar-B-Q - Leawood, Kansas
Gates Bar-B-Q on State Line Road in Leawood, Kansas has little changed over the years. Gates is an old Kansas City, Missouri BBQ chain with 6 locations in the metro area, including this one off I-435 and one in Kansas City, Kansas.
The counter where food is ordered forms a "T" with cash registers to each side, and shortly after getting in line, you hear a shouted "Hi, may I help you?" It can still be a long time before the people in front of you get their food and you are served, but at least you are greeted right away.
The menu on Gates' wall behind the counter isn't very easy to use. When it lists the dishes, it doesn't list sides or explain what sides or choice comes with them. The sides are on a different board. It is usually quite loud in this restaurant and new customers can have a hard time finding out the details and ordering.
My favorite dish at Gates Bar-B-Q has long been the Combination plate - three ribs, beef brisket, ham, French fries, bread and pickles. Over the years the price has grown to $26.50. It is really too much meat for one person and no smaller combination meals are offered. Two of us split the combination plate and usually have some leftovers.
All three meats are good. Gates brisket is the standout of the three, with good flavor, appearance and texture. Gates uses hickory in the smoking process and all of the meats have a smoky flavor. I am not normally a big fan of BBQ ham, but Gates' ham is a little thicker sliced and tastes great. The ribs are usually good, but didn't measure up quite as well the last time I had them.
My favorite meat at Gates is the burnt ends, which are only available as a sandwich on a hoagie bun. They are mostly chopped up, not the cubes popular in Kansas City, but have a great flavor from the rub and smoking.
The regular sauce is pretty spicy, and served heavily covering the meat. I recommend that first time diners order the meat dry so they can select which sauce they prefer and how much to use. The hot sauce doesn't taste that much hotter, but still makes me perspire.
The French fries are thick like steak fries. They are not freshly cut or cooked as crispy as I like. I feel they are the weak part of the meal. I usually enjoy BBQ sauce on fries, but at Gates go with ketchup.
The Yammer (sweet potato) Pie tastes much like pumpkin. Not bad, but I'm not sure the small tart is worth $5.50.
The first Gates Bar-B-Q opened as "Gates Ol' Kentucky" at 19th & Vine in Kansas City, Missouri in 1946, and Gates BBQ sauces have been available in regional grocery stores since 1975. There are four varieties, all vinegar and molasses based. Gates barbecue seasoning dry rubs were added to the lineup later.
For many years the restaurants were known as Gates and Sons Bar-B-Q.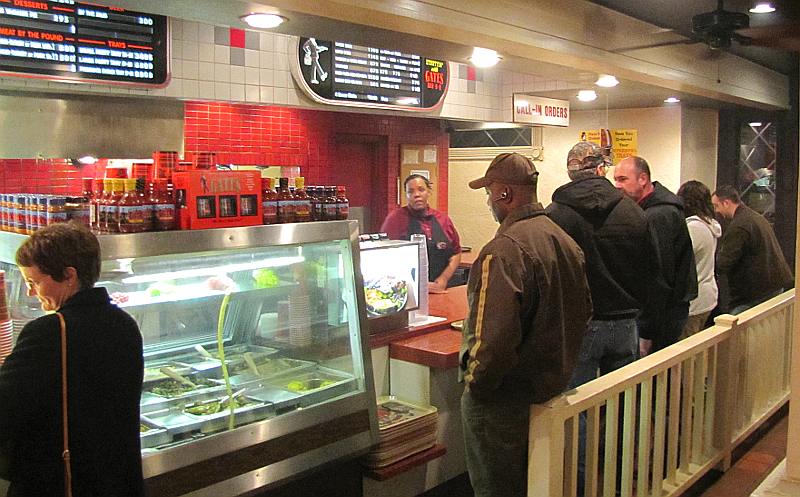 "Hi, may I help you?"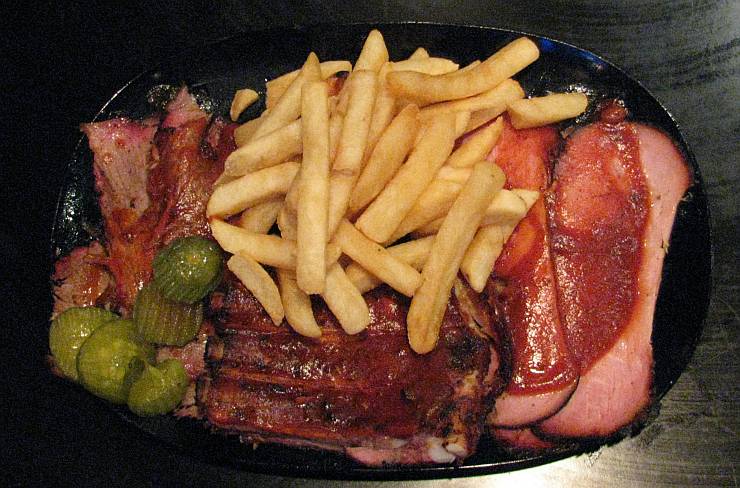 Gates Bar-B-Q Combination plate
There is more meat hiding under the fries then is obvious.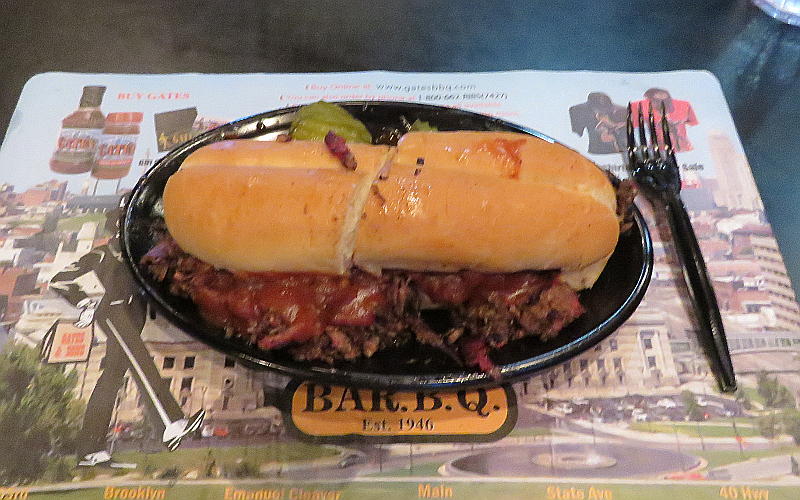 Burnt Ends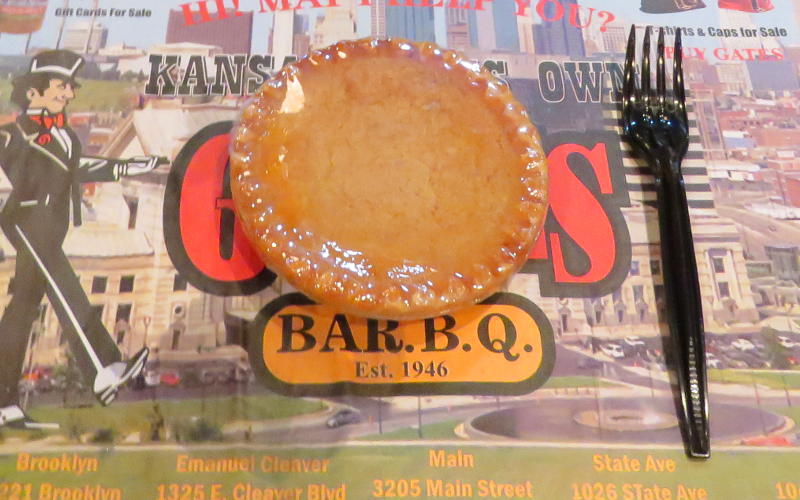 Yammer Pie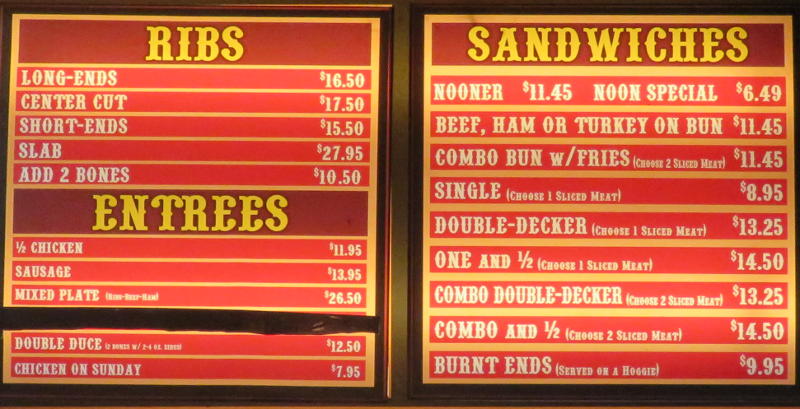 Gates BBQ Menu from October 2021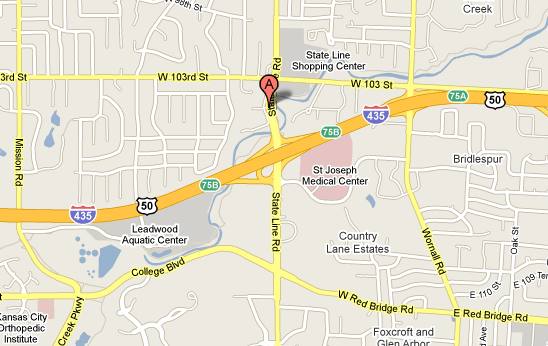 Leawood Gates Bar-B-Q Map
Gates Bar-B-Q web site
Kansas Restaurants Kansas Travel & Tourism Home
copyright 2009-2021 by Keith Stokes