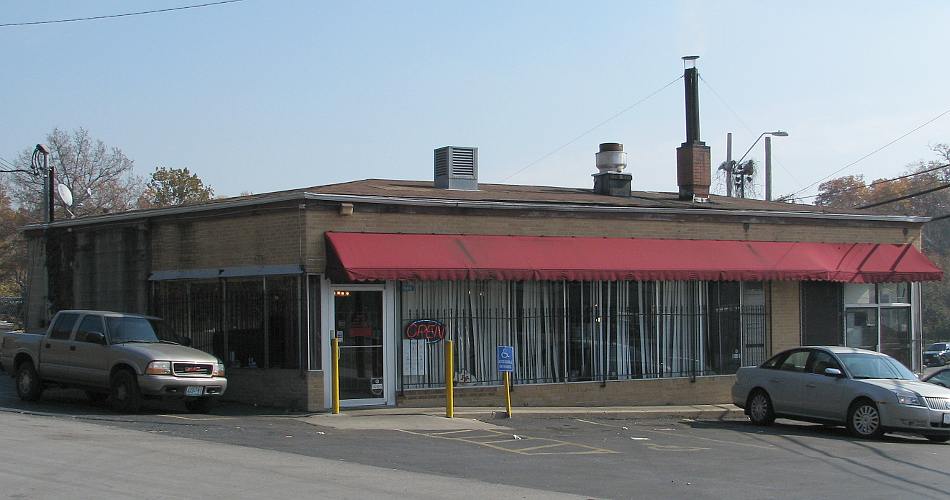 LC's Bar-B-Q - Kansas City, Missouri
Although not as well known as many Kansas City BBQ restaurants, LC's Bar-B-Q in Kansas City, Missouri is considered one of the top 5 barbecue restaurants in KC. LC's Bar-B-Q is a interesting little dive with a great product. On several of my visits L.C. Richardson sat in the corner keeping an eye on things and chatting with customers. Mississippi born and raised, LC was a company chef for Farmland Industries who took an early retirement in the 1980s and open LC's in 1986.
L.C. Richardson died in February 2021 at the age of 86, but thanks to his granddaughter, Tausha Hammett, LC's remains open and little changed. LC's desk remains by the wall with a plaque saying "L.C. Richardson Office, We Love You." His swivel chair is turned so that no one may sit there.
The ribs at LC's Bar-B-Q are slightly crunchy on the outside, but still juicy and well flavored. Much of the flavor comes from the smoking and your mouth will still be a little smoky an hour after you finish eating them. LC's ribs warmed up the next day, are better than the fresh ribs at 80% of the other BBQ restaurants in Kansas City.
The sliced pork and beef brisket are also tender and very flavorful. The sandwiches aren't cheap, but the servings are generous and many people get a box to take the extra meat home.
LC's wings are real bargain and one of my favorites. Only $7.49 for 5 large compete wing. The wings are tender, with a very smoky flavor, while quite crispy on the outside. Some of the best wings in the area.
The onion rings at LC's are average, but the French fries are fresh cut and huge - about 4 times the size of most fries. They are cut different sizes and they are either very good or just so-so, depending on the individual fry. While I really liked the smaller ones, the larger ones are often not cooked enough. However the servings are so large that you can pick out just your favorites and still have plenty to eat. I think they add a tiny bit of sugar to their fries to make them brown better
I recommend ordering your meat dry. Otherwise it comes soaked in a lot of sauce. The dark red sauce is thin, tangy and quite sweet. It compliments the flavorful meat quite well.
LC's Bar-B-Q is open Monday through Saturday. It also opens on Sunday's when there is a Kansas City Chiefs home football game at Arrowhead or or a Royals game at Kauffman Stadium. The restaurant is just a few miles from the stadiums. Call to confirm the hours, those posted on the door do not agree with those on LC's web site.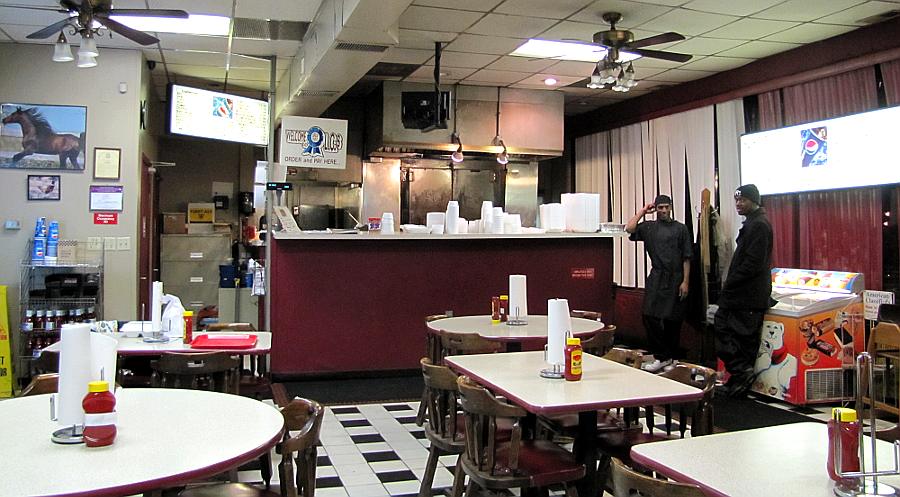 LC's dining room has just 8 tables, but the majority of the business appears to be to go.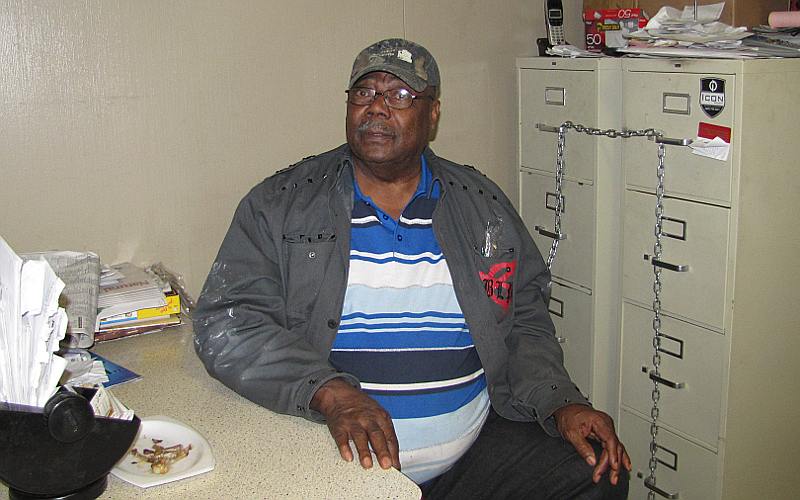 L.C. Richardson in 2010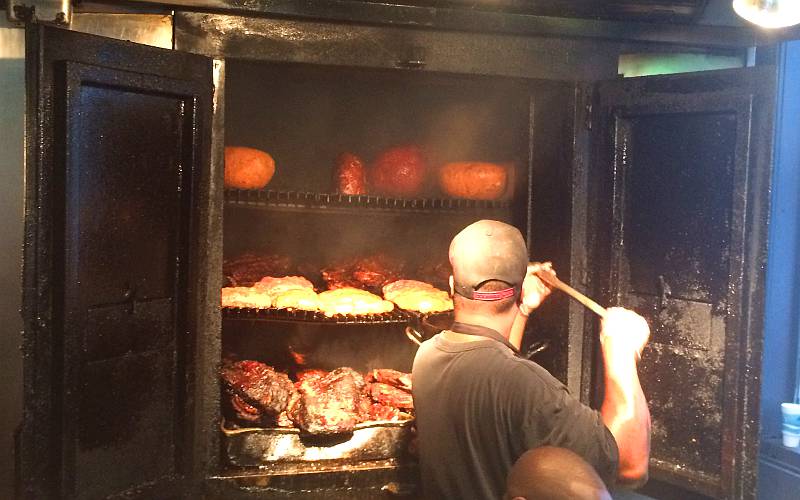 Assortment of meats smoking in LC's well aged, thick walled oven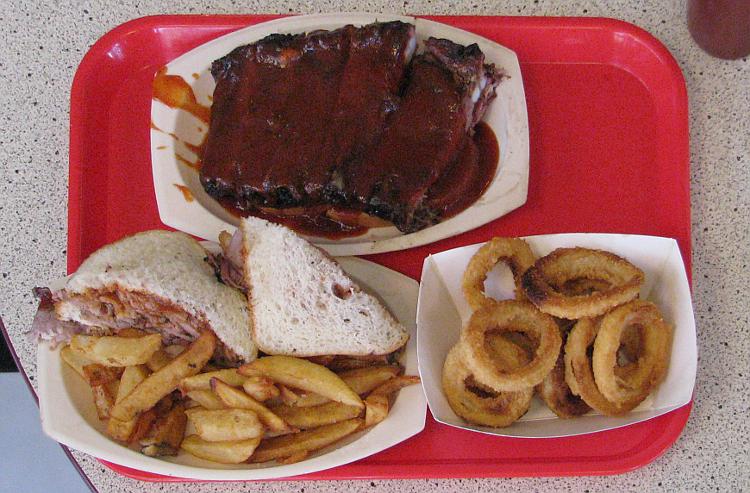 Long end ribs order of ribs ($12), combination beef & pork sandwich with French fries ($13.49),
and onion rings ($3.95).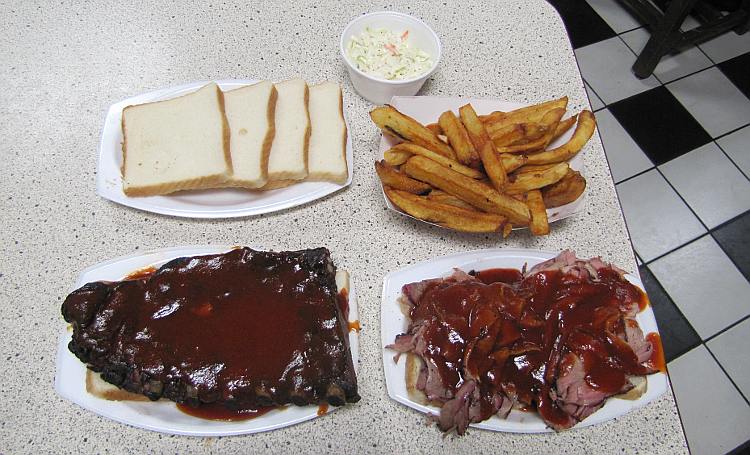 Mixed plate - 5 ribs with choice of two sliced meats ($21.99) is plenty of meat for 2. There were actually 7 ribs in
this serving. Coleslaw ($3.95), fries ($3.95)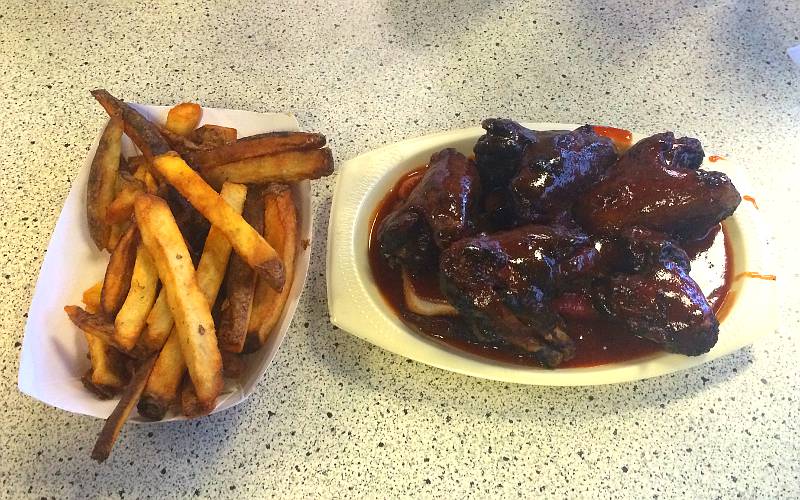 Wings ($7.49) with fries ($3.95)



LC's Bar-B-Q menu from November 2019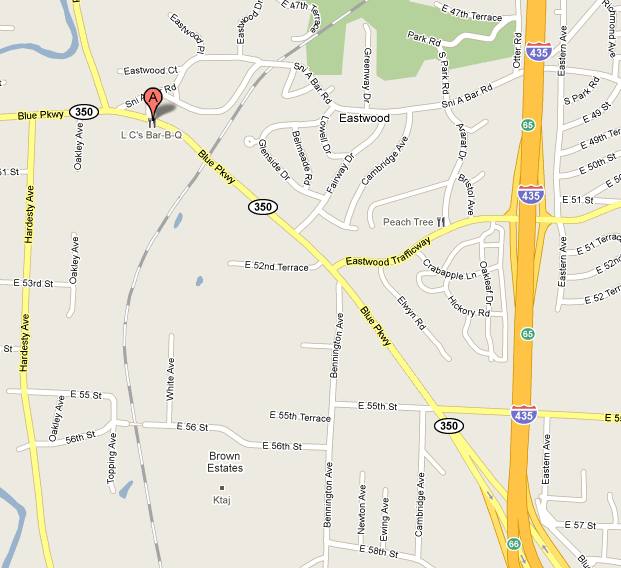 LC's Bar-B-Q map
copyright 2008-2022 by Keith Stokes