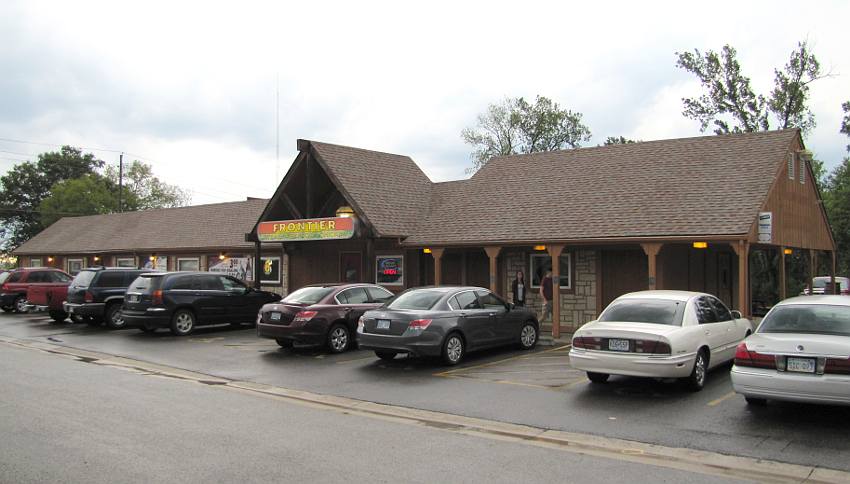 Frontier Steakhouse - Kansas City, Kansas
This is an archive page. The Laffoon brothers announced December 8, 2020 that The Frontier Steakhouse has closed permanently. They said that there were a whole list of reasons for the closure, including the age of the building, economics, taxes and Covid.
The Frontier Steakhouse in Kansas City, Kansas is located less than a mile east of the Legends complex, on State Avenue. It opened in 1960 and dining at the Frontier Steakhouse is like dining at a small town restaurant in the 1960s. The booths even have formica table tops.
The prices at the Frontier Steakhouse will also make you think of an earlier time. Complete 2 piece fried chicken dinners with salad and 2 sides start at $11.99. Those over 55 can choose from cod, chicken fried chicken or chicken fried streak with one side for $8.50.
On our most recent visit, the steak dinners for two people including beverage and tax came to just $44!
The steaks at the Frontier Steakhouse are char broiled and come with mushroom gravy. They are sometimes done a little less than ordered, but that is common and Kansas restaurants and easily remedied. There are only 4 steaks on the menu (ground sirloin, Kansas City strip, T-bone and fillet), but there is usually at least one other steak special and they have prime rib on Friday and Saturday nights. On weekends they often have a 12 ounce ribeye for $18.99 and that is one of my favorites.
The Laffoon family have been the only owners of the steakhouse. Dennis and Ron Laffoon operate the restaurant today and the mother, Mary, still had an active role until age 90.
The huge mudslide brownie (fresh baked brownie with a mountain of ice cream, covered with chocolate syrup and topped with whipped cream) is a big hit.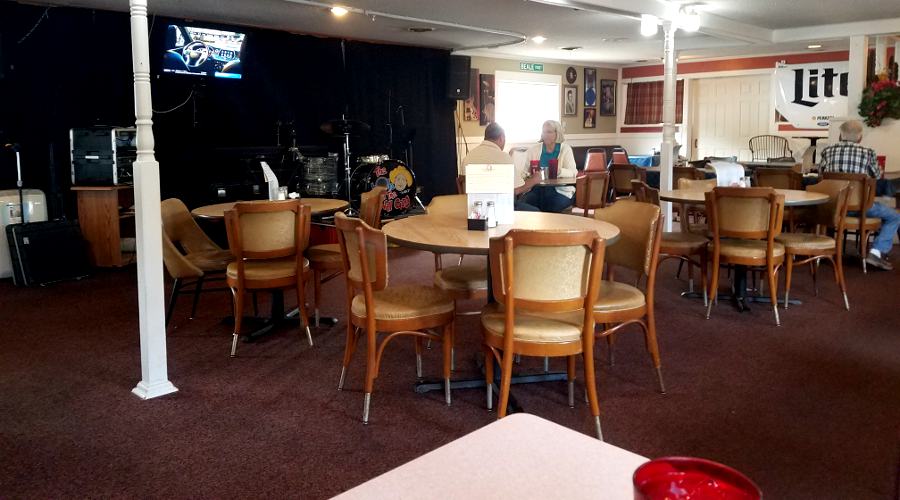 Frontier Steakhouse main dinning room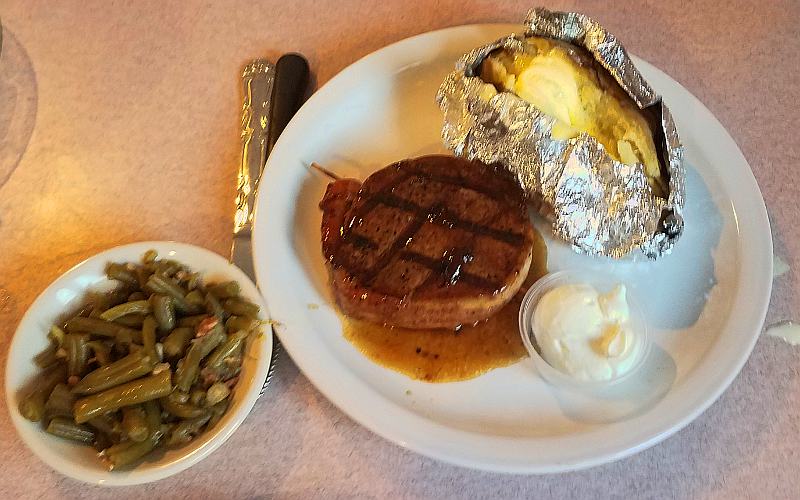 8 ounce bacon wrapped fillet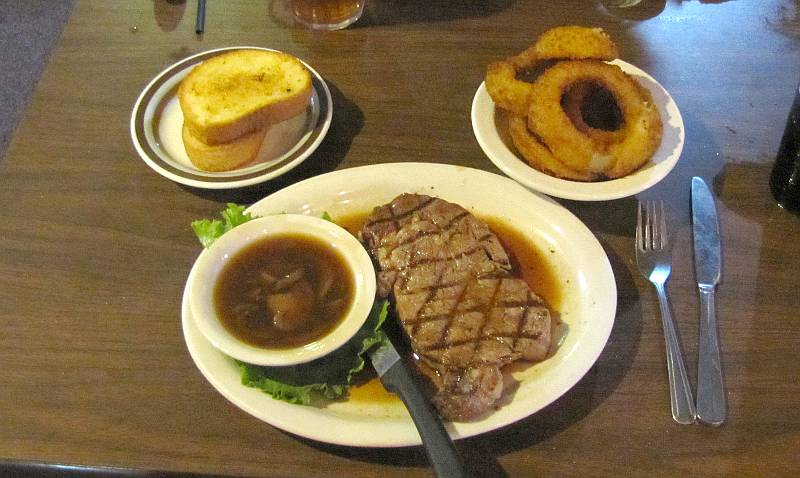 12 ounce ribeye with mushroom gravy, garlic bread and onion rings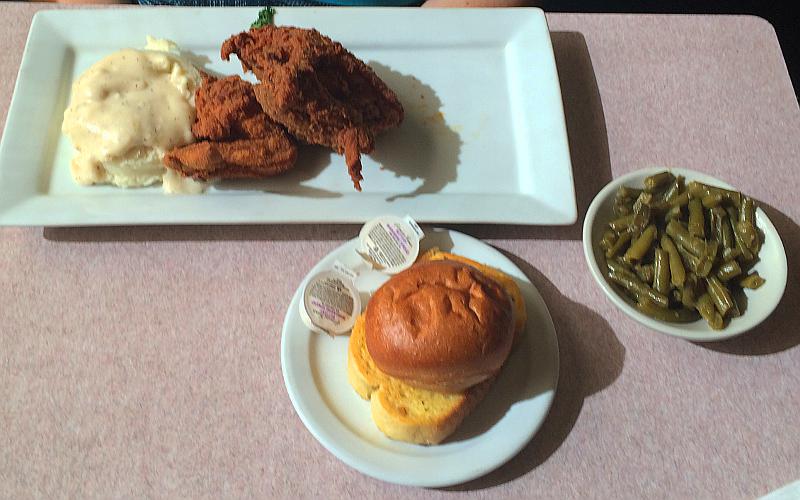 Breast & wing chicken dinner ($12.99)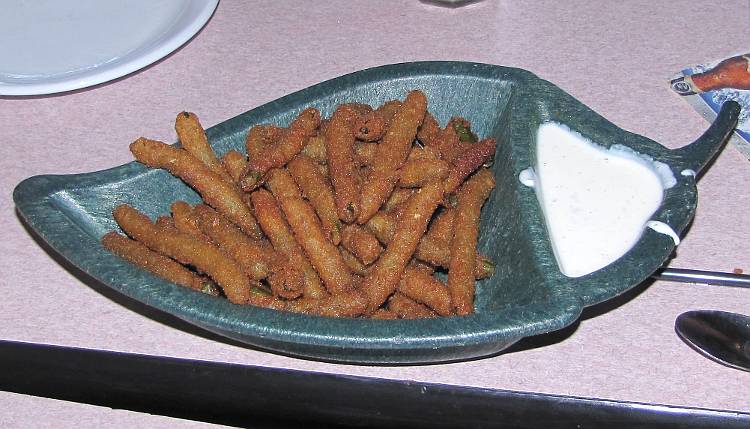 Fried green beans appetizer - breaded with a hint of onion & served with ranch dressing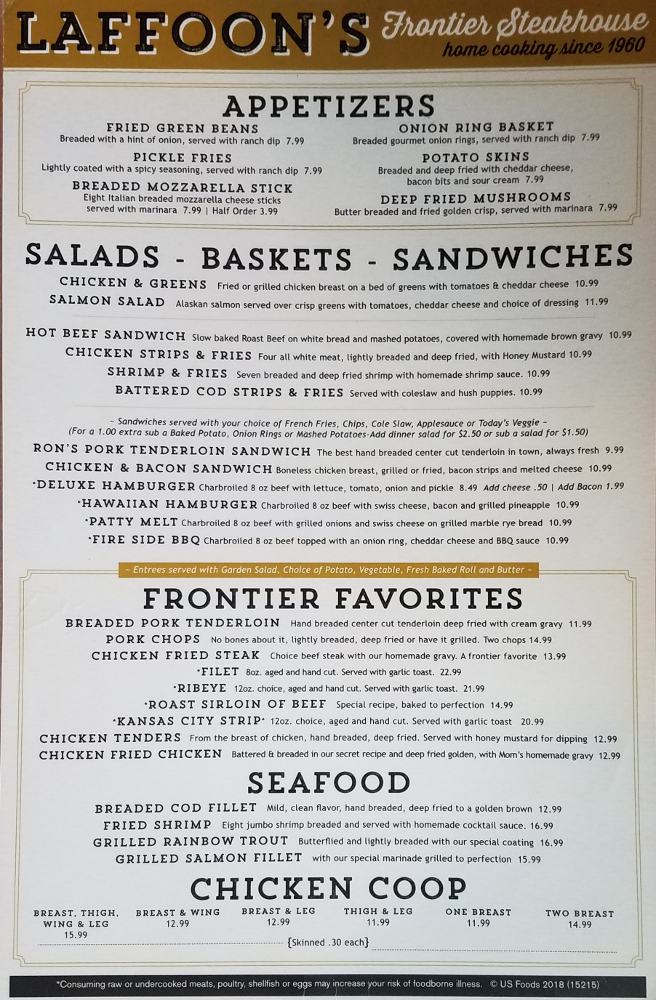 Frontier Steakhouse menu from June 2019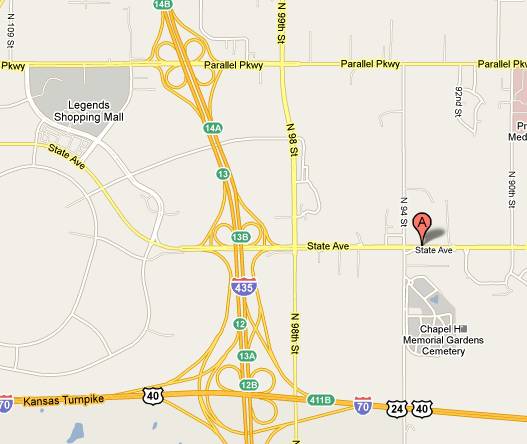 Laffoon's Frontier Steakhouse map
Unique Kansas Restaurants
Kansas Attractions Kansas Travel & Tourism Home
copyright 2010-2020 by Keith Stokes