Fritz's Railroad Restaurant

250 N 18th Street
Kansas City, Kansas 66102
(913) 281-2777

Monday - Friday: 6AM-3PM Saturday 6AM-8PM
Breakfast served 6 - 11AM

Fritz's Railroad Restaurant Map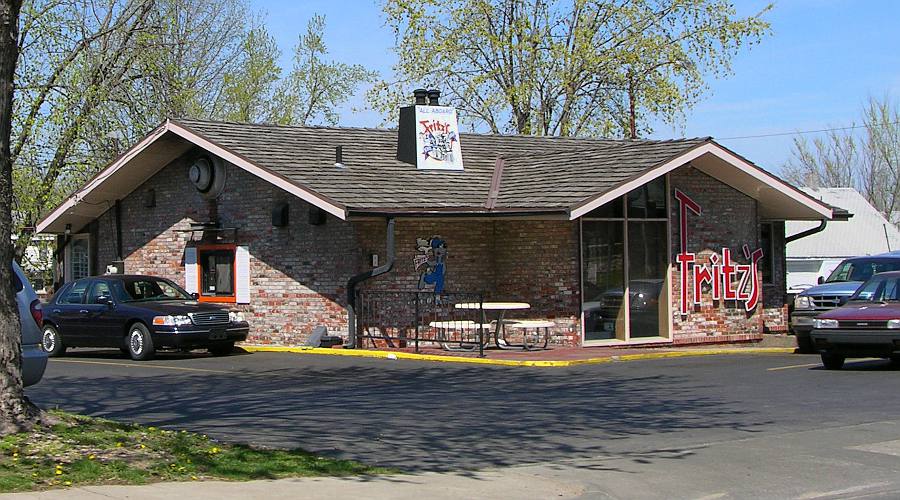 Although the drive through window at Fritz's Railroad Restaurant does a steady business, the real reason for visiting Fritz's is to come in for the railroad atmosphere. Electric trains run around the edge of the ceiling. There are railroad style whistles for sale and children 12 and under get a free cardboard engineer's hat.
Orders at Fritz's Railroad Restaurant are called in from the booths on a telephone. A server brings the drinks, but the food is delivered by "Skat Cat" on the overhead track. A mechanical arm stops your order at the platform above your table, which then lowers to deliver your food. This rig is a bit noisy and everyone watches when a meal is delivered.
Burgers are the main feature of the menu, with 11 to choose from. They are rather small, but options with 2 or 3 patties are available. Other choices include various hot dogs; grilled chicken, tenderloin and fish sandwiches; or grilled cheese.
The food at Fritz's Railroad Restaurant is mostly average (about what you get at a drive-in), with two exceptions: the chili and the shakes. The shakes are handmade and good, though there are only 4 or 5 flavors to choose from. The chili is very meaty (about like a sloppy Joe) and has few beans. It is spicy, but not too "hot," and makes a great chili dog or chili burger.
Fritz's Railroad Restaurant is fun for a quick lunch or snack. Its a cliché, but Fritz's does appeal to kids of all ages.
Fritz's has two other locations at Crown Center in Kansas City, Missouri and in Shawnee, Kansas. But this original location (since 1954!) has more charm and faster service. I was not impressed by the food when I tried the Shawnee location.
One warning, the three tables closest to the front counter do not have their food delivered by railroad.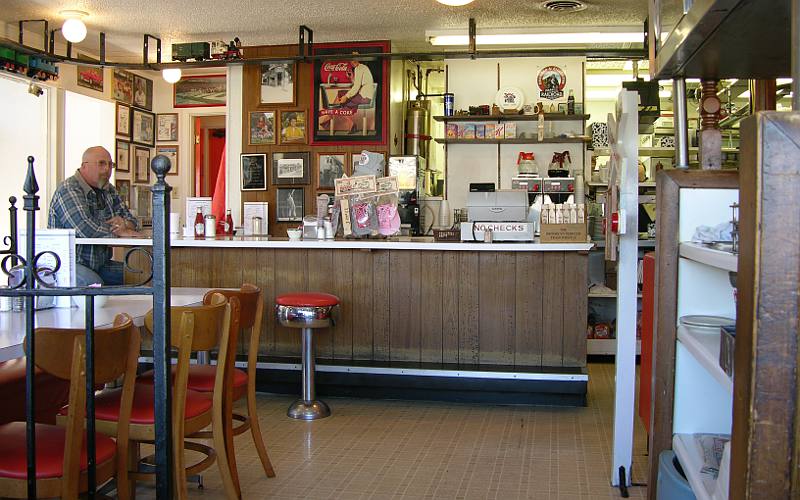 Notice the track and train at the top of the photo. This track is separate from the one that delivers the food.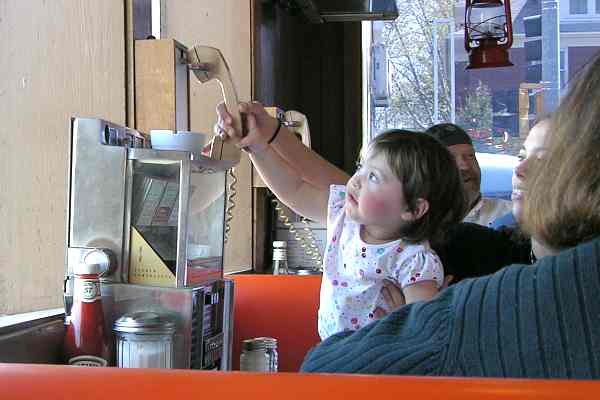 Placing a food order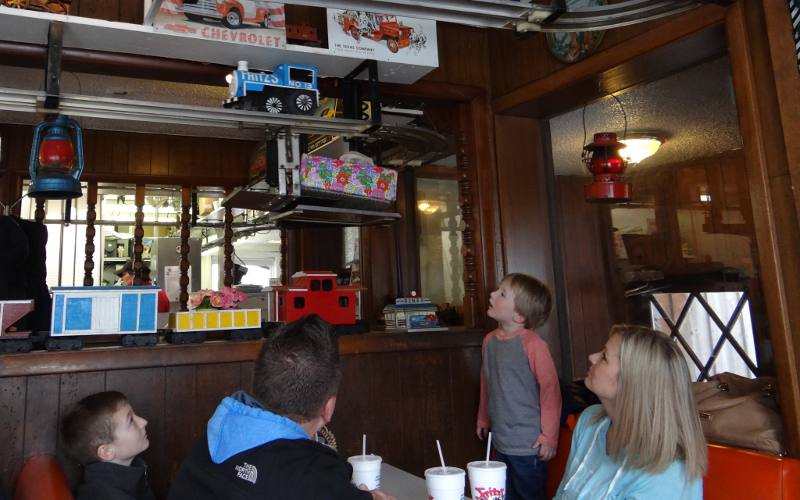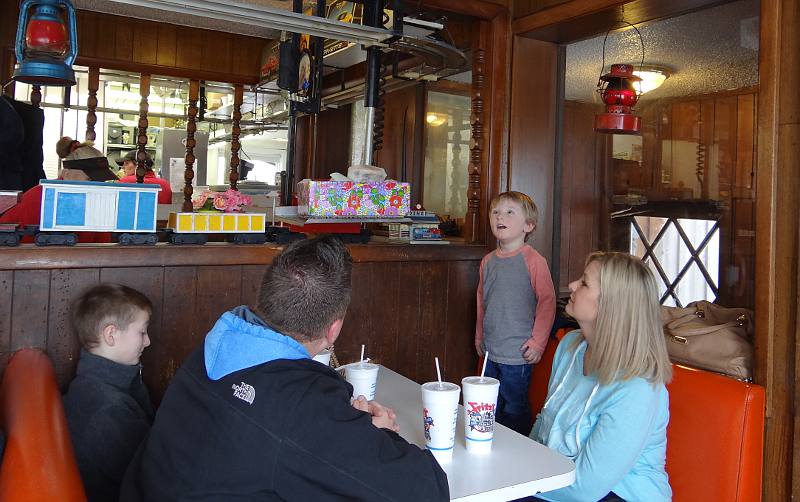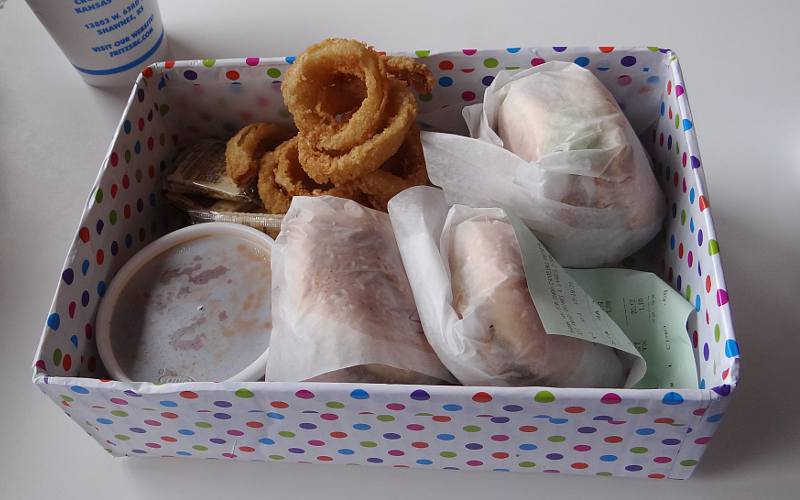 The order as it arrives at the table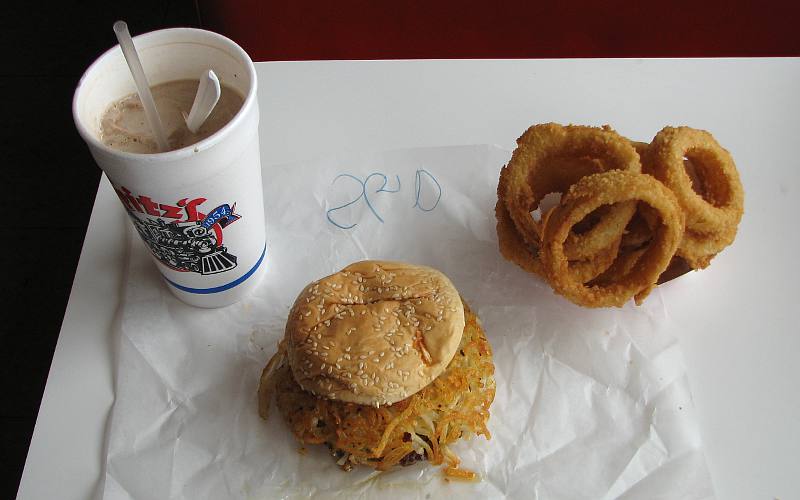 Chocolate shake, onion rings and a "Gen Dare" - single hamburger topped with hash browns, grilled
onions, melted cheese, ketchup, mustard and pickles on a seeded bun.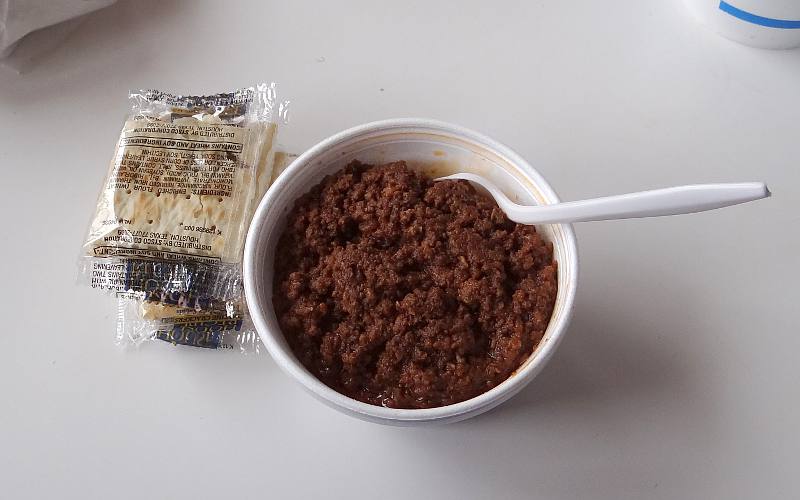 Small homemade chili - The top of the bowl has the same good no bean chili used to top sandwiches.
The beans are in the bottom of the bowl and can be mixed with the meat if you wish.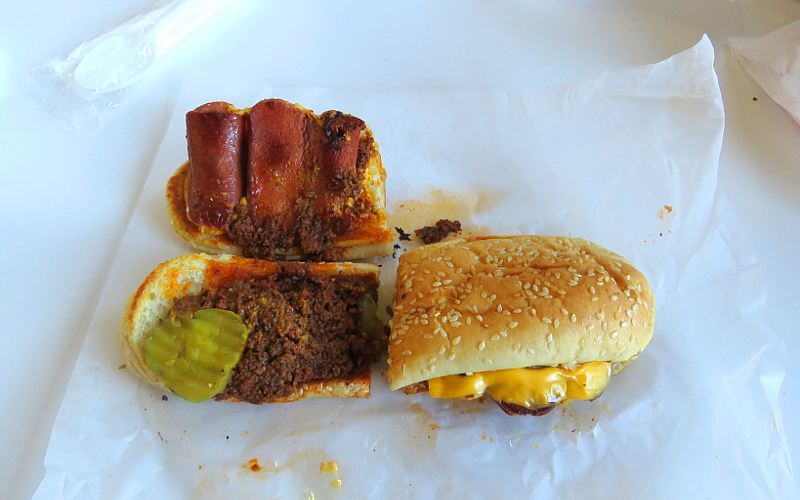 Poor Dan Senior - 1/4 pound hot dog with cheese, chili,
mustard and pickles served on a long seeded bun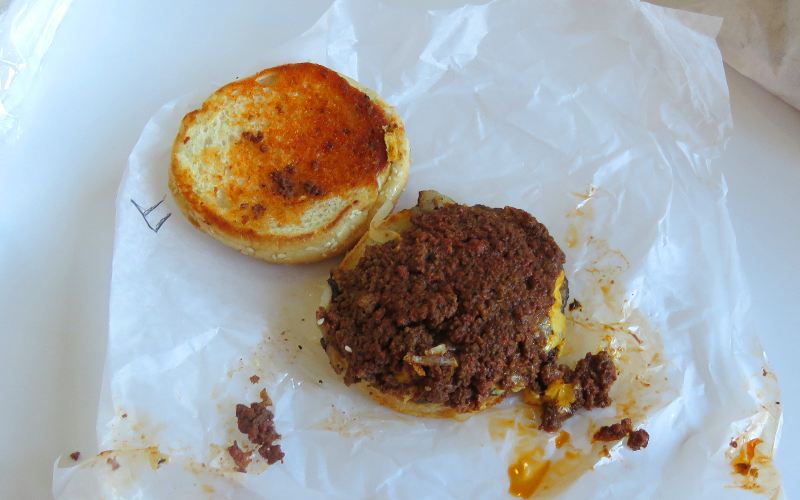 Freddie Burger - 1/8 pound hamburger topped with chili, cheese
grilled onions, mustard and pickles on a seeded bun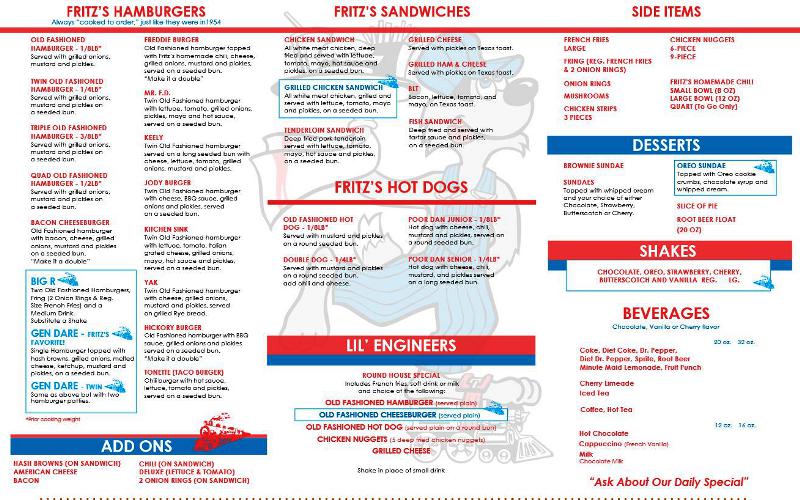 Fritz's Railroad Restaurant menu in November 2019. Click on the photo for a larger version.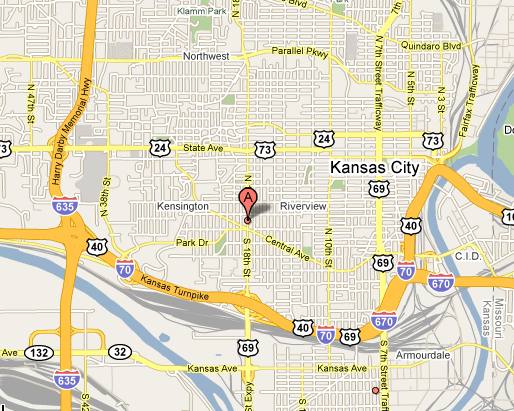 Fritz's Railroad Restaurant Map
copyright 2005-2019 by Keith Stokes