Jones Bar-B-Q
3002 West 47th Avenue
Kansas City, Kansas 66103
(913) 722-3366

Tuesday - Saturday: 11AM - 3PM
(or until sold out)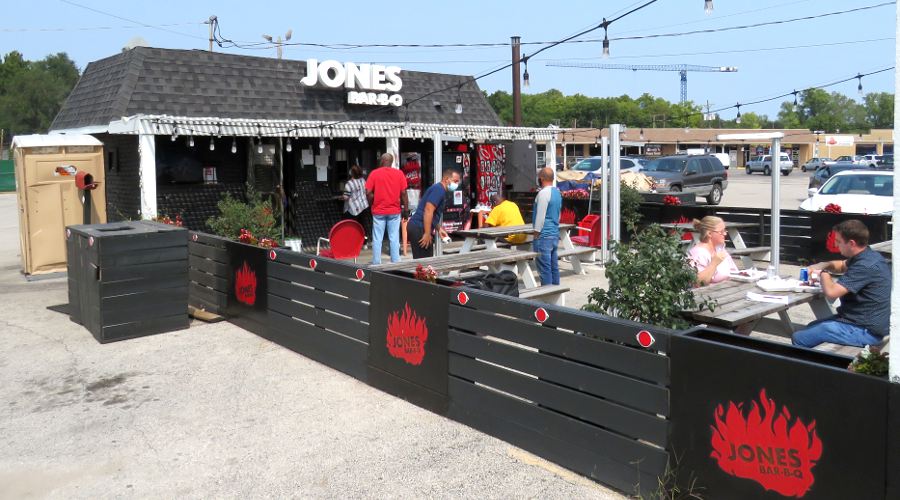 Jones Bar-B-Q - Kansas City, Kansas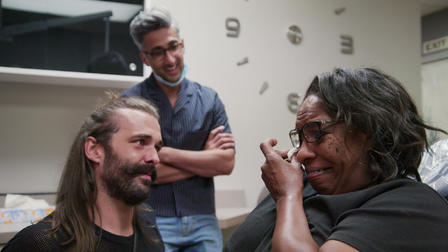 Jones Bar-B-Q in Kansas City, Kansas is in a tiny building, just large enough to prepare orders placed at the walk up walkup window. It isn't clear how much prep is done at this location, but the meat is cooked in a large free standing smoker, next to the building. We first visited Jones Bar-B-Q in 2017, at that time, the building was not very appealing and there was no place to eat, just a barren unattractive parking lot.
But there were big changes to Jones Bar-B-Q when the TV show Queer Eye came to Kansas City to record shows in the fall of 2018. The "Fab Five" did a makeover of the restaurant, the marketing and the sisters who operate Jones Bar-B-Q, Mary Jones Mosley and Deborah Jones.
The Jones sisters anticipated the impact of their appearing on the TV show and when Netflix released season 3 on March 15, 2019, Mary and Deborah opened at Midnight the night before in anticipation of a rush of new business. They normally are only open 11AM - 3PM Tuesday to Saturday,
The Jones episode of Queer Eye is the only episode I have seen, but I thoroughly enjoyed it. In part that was because it is nice seeing familiar things like Jones Bar-B-Q and Original Juan in the episode, but largely because it was beautiful and seemed to be life changing. I had tears in my eyes during part of the episode. I highly recommend watching Season 3, Episode 3, before going there to eat.
We waited five weeks before checking out the made over Jones Bar-B-Q, in hope that the hype might have settled down. Fat chance! We arrived 8 minutes after they opened and there was already a long line snaking through the outdoor seating and leading out into the parking lot. We were only in the line 10 minutes when they were setting out a sign to warn people that they were sold out of some meats. It took an hour and a half for us to get food. At that time, there were just 5 meats still available.
It isn't worth waiting an hour and a half to get the food. It is good, but other than the wonderful story and the two neat ladies who operate the restaurant, there is little to make it stand out from other area barbecue restaurants. You can feel the love.
We last visited Jones Bar-B-Q during a weekday lunch hour in May 2021. The line is now much shorter and there was no line part of the time we were there. We suspect that is not true on Saturday.
The sausage and the sauce are the house specialties. The sausage is very smoky and a little spicy, course ground, more like the kind of sausage you have on a bun, than sliced as a stand alone meat. The tomato based sauce is more vinegar than sweet, with a touch of celery and a little hot. The meat seems a little pricey at $18.50/pound.
Of the other meats we tried, the rib tips and turkey were our favorites. The only sides which we have had are the fries, which are just cooked from frozen and nothing special, and the beans, which some of liked and some did not.
Jones Bar-B-Q no longer takes cash. Purchases are by credit or debit card only. The only restroom is a porta potty next to the building.
Jones Bar-B-Q Is For Sale
Deborah Jones and Mary Jones Mosley want to retire. As of early July 2022, Jones Bar-B-Q is being offered for sale. The orignal asking price was $600,000, but in October that was reduced to $300,000. The sales price includes the approximately 1,300 square foot building and the patio, as well as the equipment and most recipes. The price does not include the sausage recipe or separate sauce sales. If you are interested, Jones Bar-B-Q is being sold through Block and Company.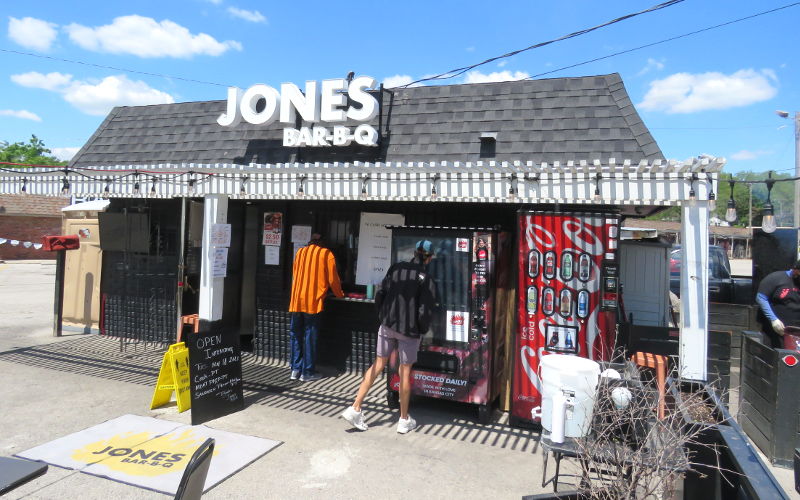 Placing an order at the window or buying BBQ and sides from the vending machine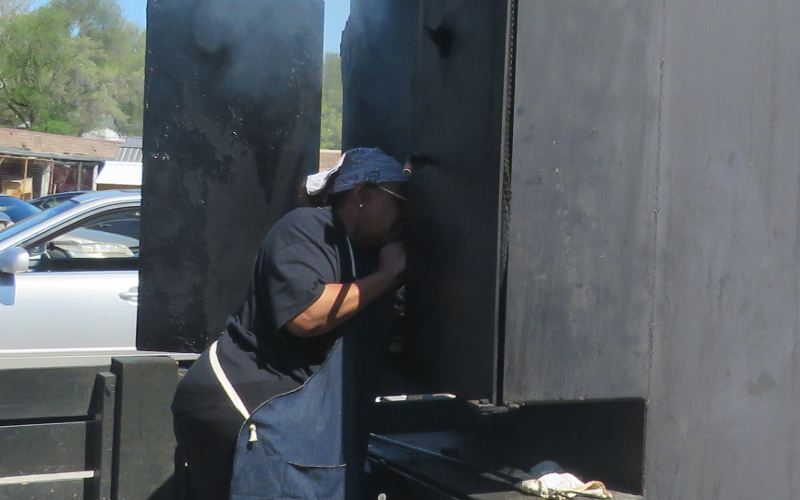 Pit master Deborah Jones checking on slabs of ribs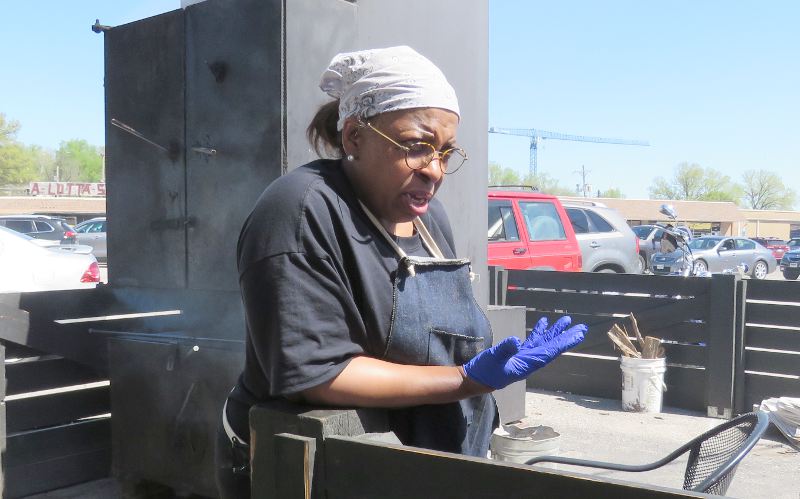 Deborah Jones chatting with customers standing in line. She said that she has no desire to expand their hours,
but is planning for a second pit BBQ. Jones BBQ sells only fresh smoked meat and will not smoke
it in advance hold it for sale.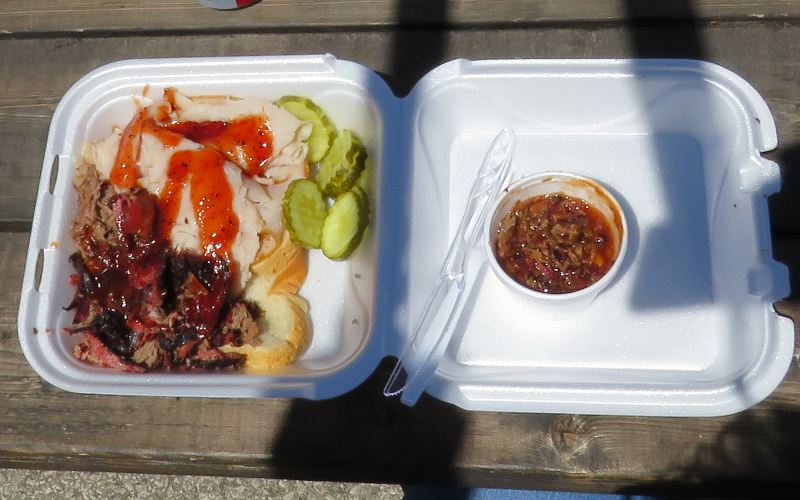 Turkey & pulled pork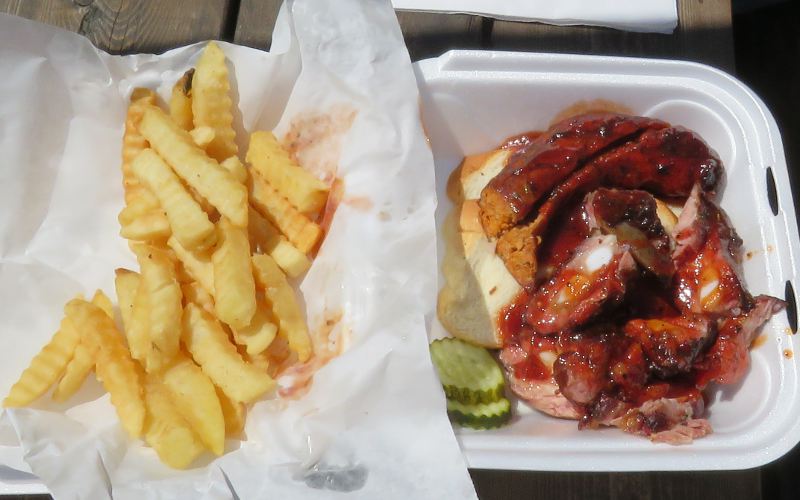 Sausage & Brisket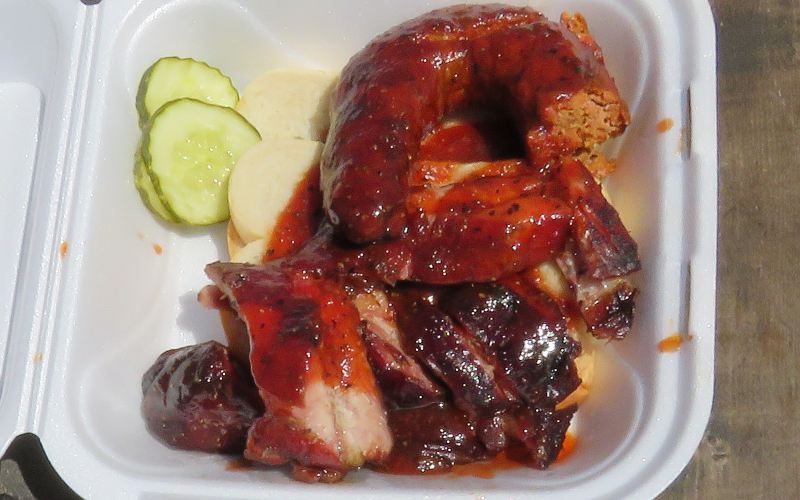 Sausage & rib tips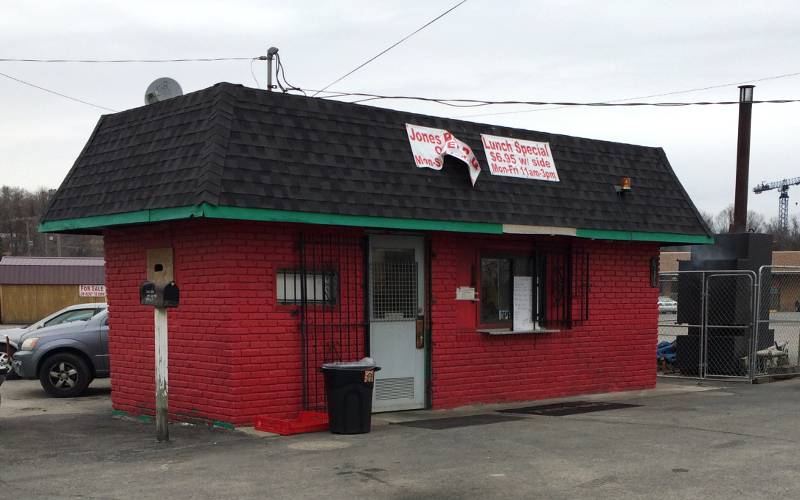 Jones BBQ in 2017, before the 2018 Queer Eye makeover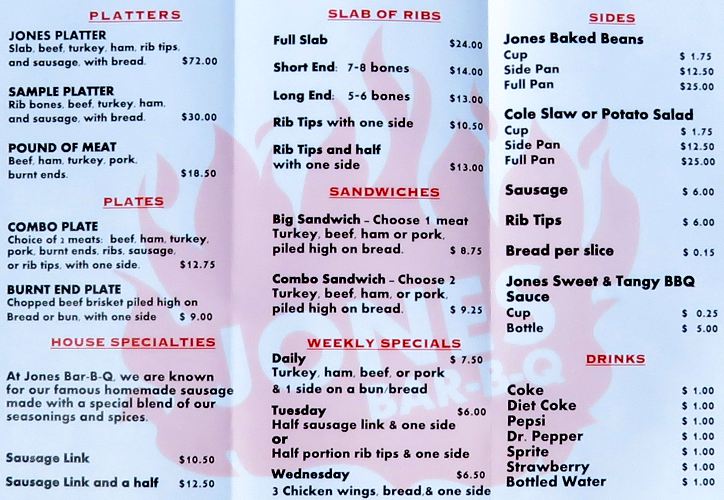 Jones BBQ Menu from May 2021

Jones Bar-B-Q added a refrigerated BBQ vending machine in April 2020. Their hours are quite limited and this provides a new option for people who cannot get there between 11AM - 3PM. The vending machine is stocked daily and available 24 hours, along with a Coke machine next to it. Credit Card only, you can buy meat & sauce and sit at the tables after hours.
We tried the vending machines early on a Saturday morning and found only 4 items available, Chicken wings, rib tips, cake and a sandwich. The glass is a little hard to see through and it wasn't easy to read what the prices are, but we bought the last wing package, which turned out to have two smoked wings, a small serving of beans, pickles, bread and sauce for $4.00.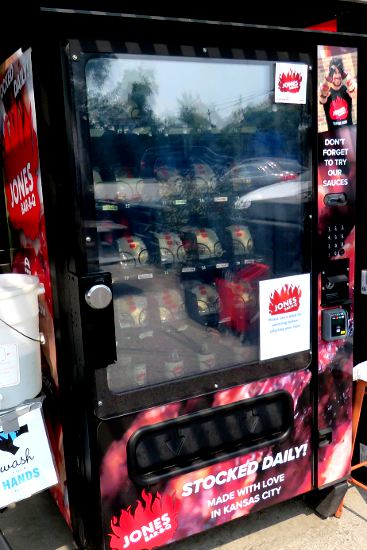 Jones BBQ vending machine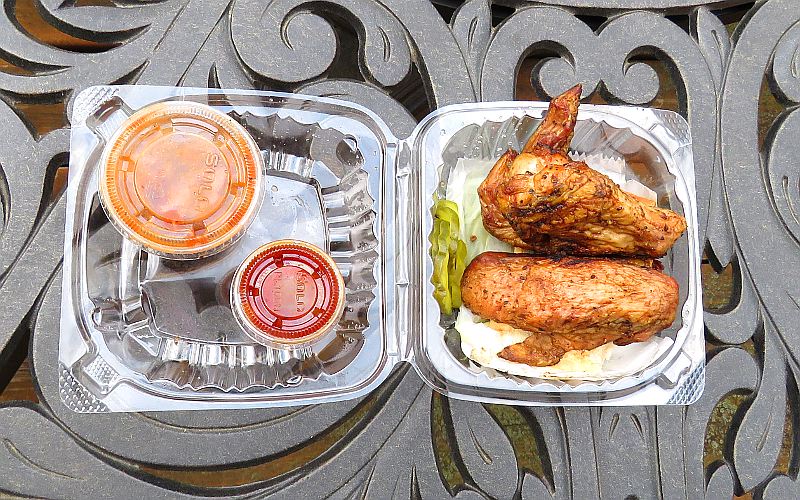 Two chicken wings and beans $4 from the vending machine in April 2020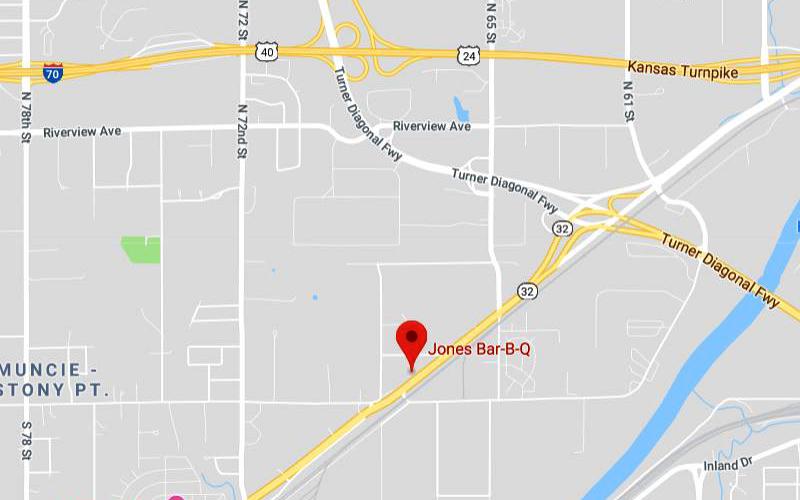 Unique Kansas Restaurants Kansas Specialty foods
Kansas Attractions Kansas Travel & Tourism Home
copyright 2017-2022 by Keith Stokes