Legends at Village West

Village West Parkway
Kansas City, Kansas 66111
(913) 788.-3700



Wyatt Earp - Wichita & Dodge City, Kansas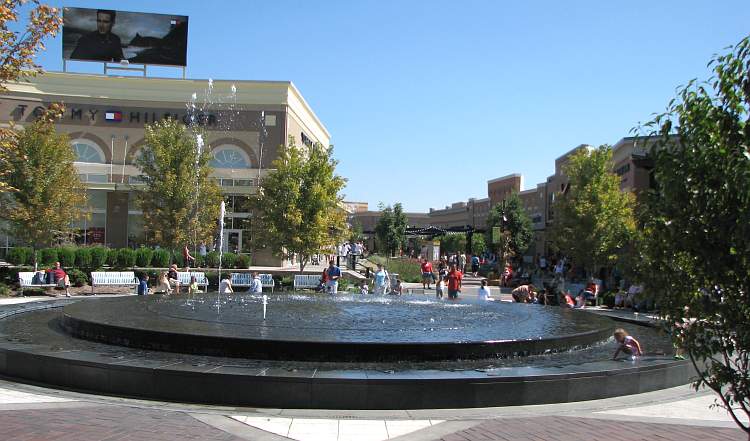 The Civic Courtyard Fountain was designed by WET Design, which also designed the Bellagio Fountain.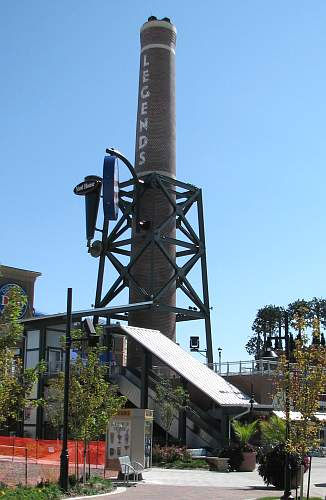 The Legends at Village West in Kansas City, Kansas is a modern shopping center that has been successful at merging retail stores with food and entertainment in a way that is likely to appeal even to those who don't care for shopping or malls.
The Kansas Legends theme has been carried though out the Legends shopping center with statues, paintings & plaques dedicated to over 80 Kansas sports figures, entrepreneurs, explorers, artists, scientists, writers, poets, and politicians. A free self guided audio tour leads visitors through each corridor, providing information about the featured Kansas legends and the artistic representations in which they are depicted.
Although several of the more interesting stores attractions in the Legends have closed in the past few years, there are still many things to do besides eat and shop: games at Dave and Busters, the AMC 14 theater with its 87' wide screen & luxury seating, free wi-fi and a variety of major attractions in the surrounding Village West. At Christmas time, the Legends has a 45' holiday tree with a synchronized light and music program.
Village West includes Kansas Speedway NASCAR track, indoor water park, Legends Casino, MLS (Sporting Kansas City) stadium, a minor league (Kansas City T-Bones) baseball park, and the largest furniture (Nebraska Furniture Mart) & sporting goods (Cabela's) stores in the region.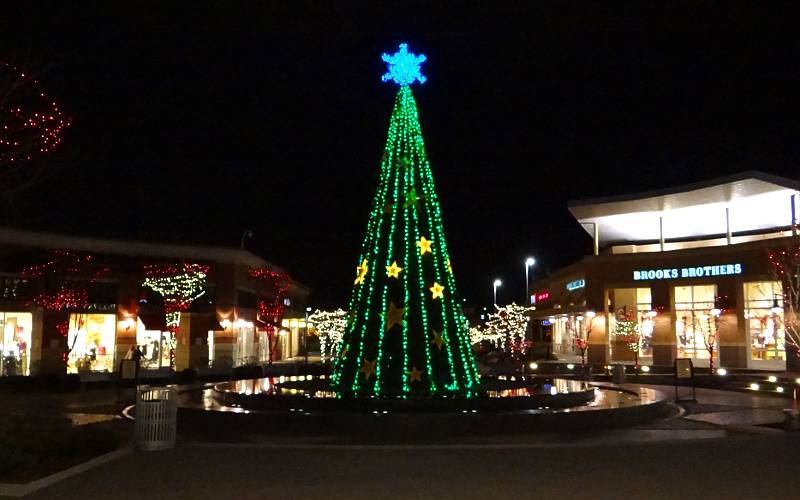 The Legends Christmas seasons is kicked off with the lighting of a 45' holiday tree on the Saturday before Thanksgiving
with live music, giveaways, prizes & the arrival of Santa Claus to flip the switch igniting a center-wide synchronized light display.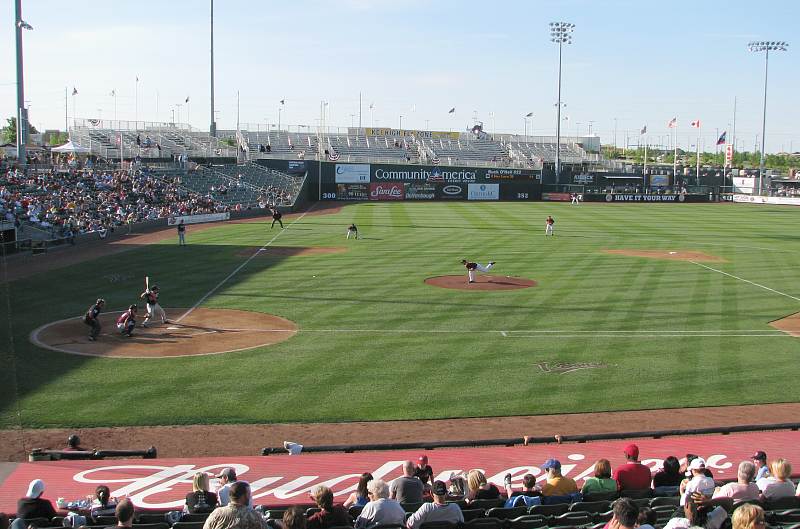 The Kansas City T-Bones played in CommunityAmerica Park at the Legends until 2019. They have been renamed the
Kansas City Monarch., Sporting Kansas City (Major League Soccer)
played in this stadium for several years buy now has their own stadium across the street.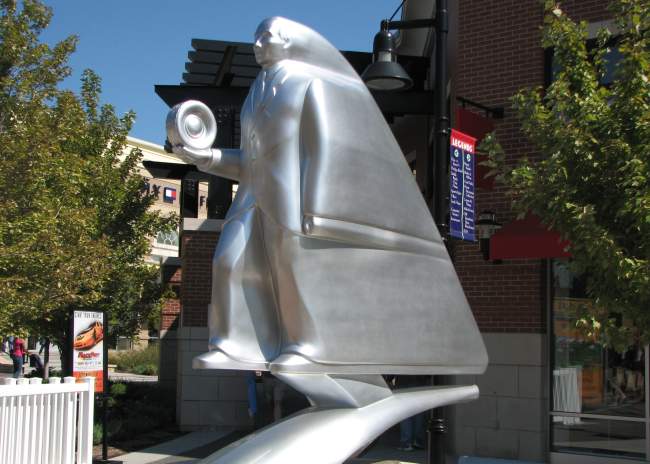 Walter P. Chrysler statue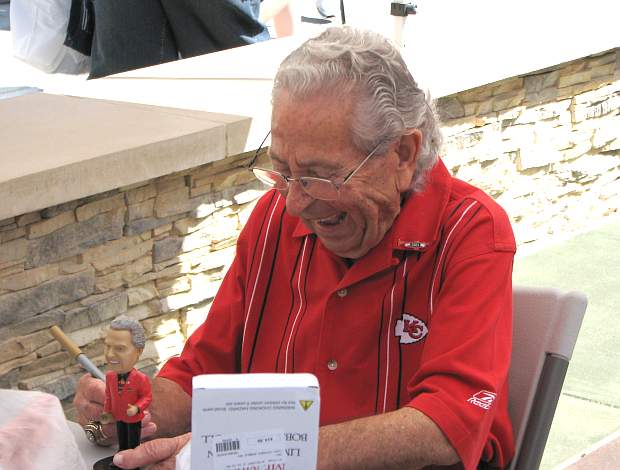 A Kansas Legend, Tony DiPardo (KC Chief's band leader for 35 years) was signing bobble heads
during a September, 2007 visit to the Legends. Notice his Super Bowl Ring.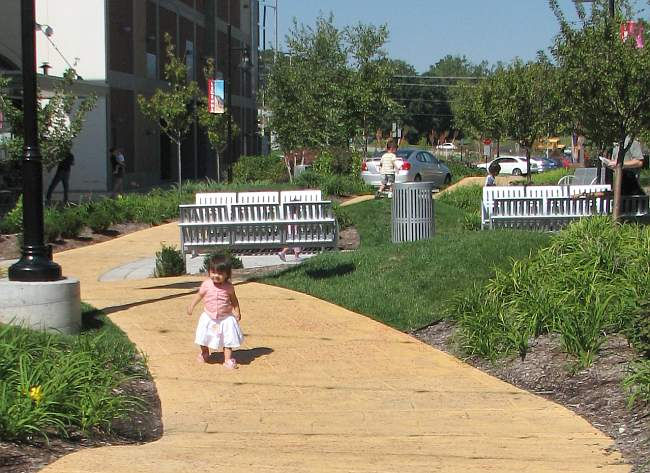 Little girl walking the "Yellow Brick Road"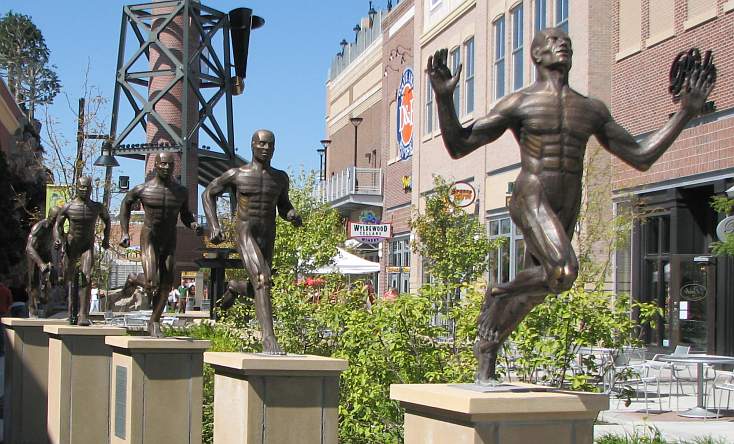 Tribute to Kansas runners Glenn Cunningham, Wes Santee and Jim Ryun
(a medallion dedicated to Maurice Greene is nearby)

Legends Scavenger Hunt Legends at Village West website
Kansas Attractions Kansas Travel & Tourism Home
copyright 2007-2021 by Keith Stokes