Rosedale Barbeque
600 Southwest Boulevard
Kansas City, Kansas 66103
(913) 262-0343

Open seven days a week
Rosedale BBQ Menu Rosedale BBQ Map



Rosedale Barbeque - Kansas City's Finest Barbeque since 1934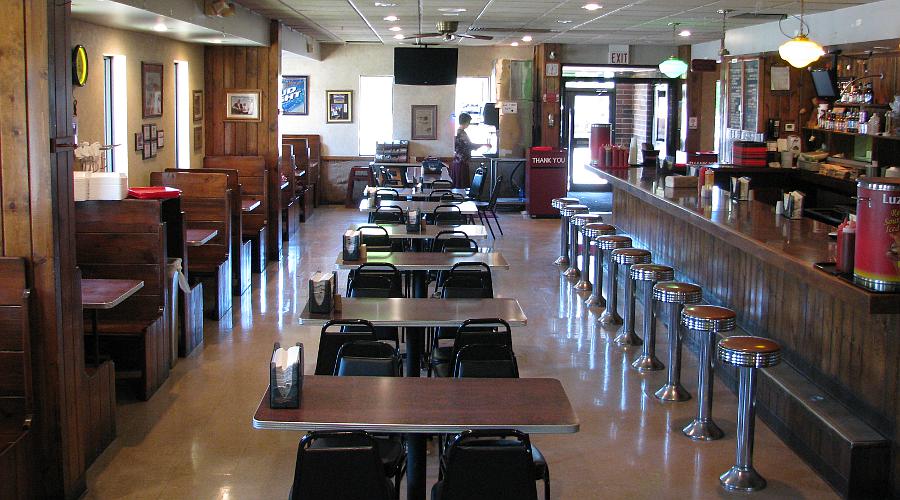 Rosedale Barbeque - Kansas City, Kansas
Kansas City, Missouri & Kansas City, Kansas are known for BBQ and Rosedale Barbeque is both one of the best and one of the least expensive. Rosedale BBQ was founded by brother-in-laws, Anthony Rieke and Anthony "Tony" Sieleman, in 1934, though they moved the restaurant into the current facility about 1990. Anthony worked daily at the restaurant until his death at age 93 in 1997 at which time his wife Alda Rieke, Sieleman's sister, continued to visit daily until her death at age 94 in 2002. Today the family tradition is being carried on by their daughter Janelle Brown, granddaughter Marisha Smith and her husband Bill.
Good fresh made sauce and tender and tasty ribs. The sides are good, including the fries which are served in a waxed paper bag. The counter help do a fantastic job of juggling multiple orders without ever writing anything down, and when I visit Rosedale Barbeque by myself, I like to sit at the counter and watched them work while I enjoy my meal.
Rosedale BBQ is best known for the juicy, flavorful pork spare ribs. In Kansas City BBQ restaurants, an individual serving is often a half slab. The customer is given the choice of the 5 bone long (wide) end or the 7 bone short end which contains more fat and may be juicer. At Rosedale, the long end is $9.19 and the short end is $10.45. A whole slab costs $18.95 - they used to be priced depending on the size of the slab.
The meats are cooked with a spicy, sweet rub. They are served with a little sauce that was applied in the cooking. Additional sauce is available in squeeze bottles on the tables and counter. Be sure to tell them if you want the meat without sauce.
Rosedale Barbeque's chicken has a crispy skin from a bit of deep frying at the end of the smoking process. Get it as a half chicken for only $9.29 with fries, slaw, and beans. Or the flying pig with 3 ribs added for $12.19.
Sweet, slightly spicy chili is served year around. A meaty bowl is $4.05. There are only a few beans, which sit at the bottom of the bowl where they can be ignored or mixed in, depending on your preference.
You won't get to choose between Coke and Pepsi here - they serve RC Cola, along with Stewart's root beer in a bottle or cans of Vernors Ginger ale, or beer by the quart.
Riblets & fries are one of the most common specials. The riblets have good flavor and the French fries are very good for fries which were not fresh cut.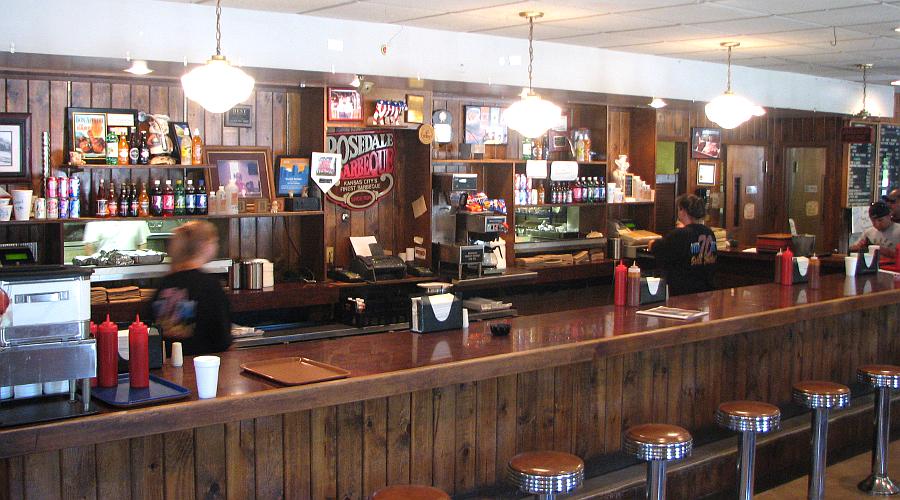 Rosedale Barbeque counter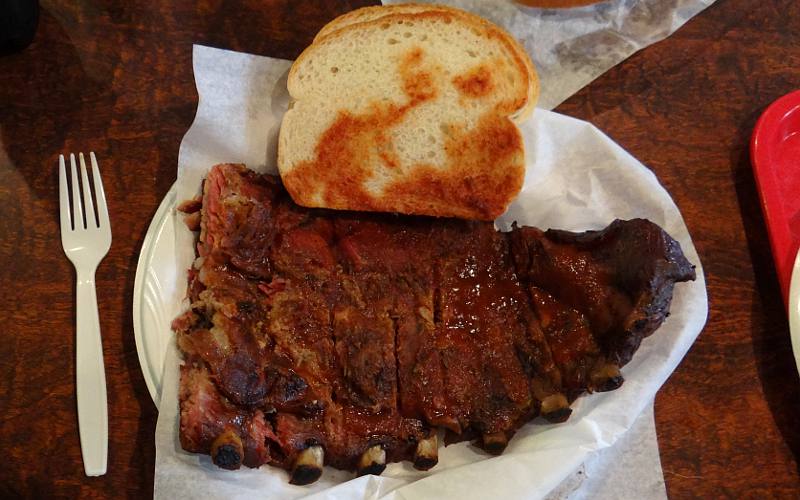 Short end ribs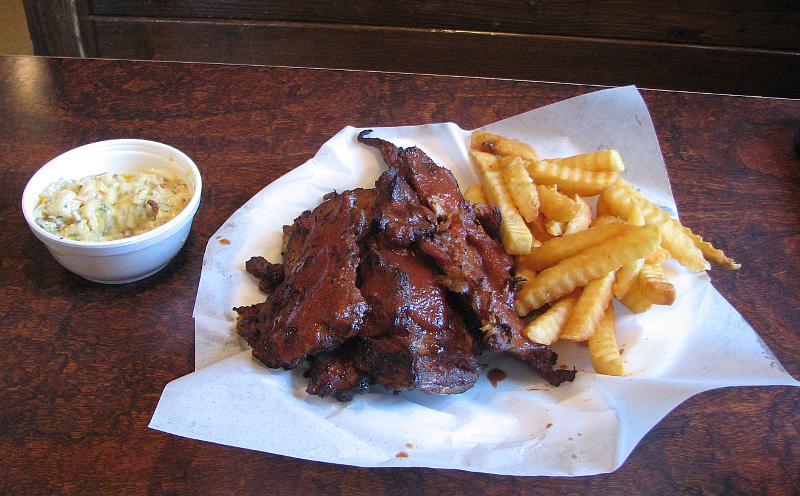 cheesy baked potato salad and riblets & fries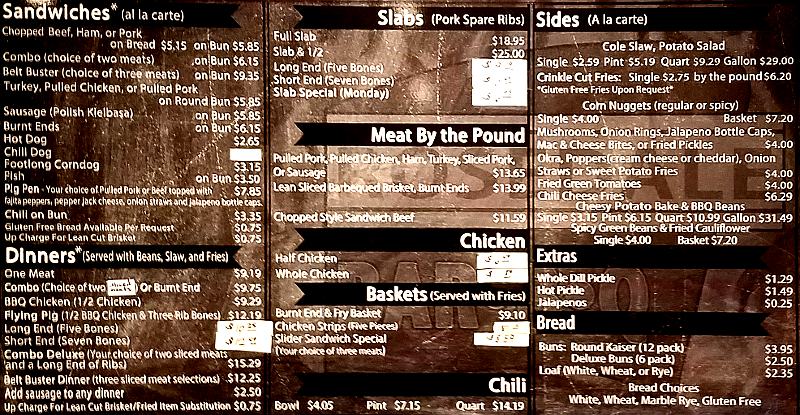 Rosedale Barbeque menu in November 2019.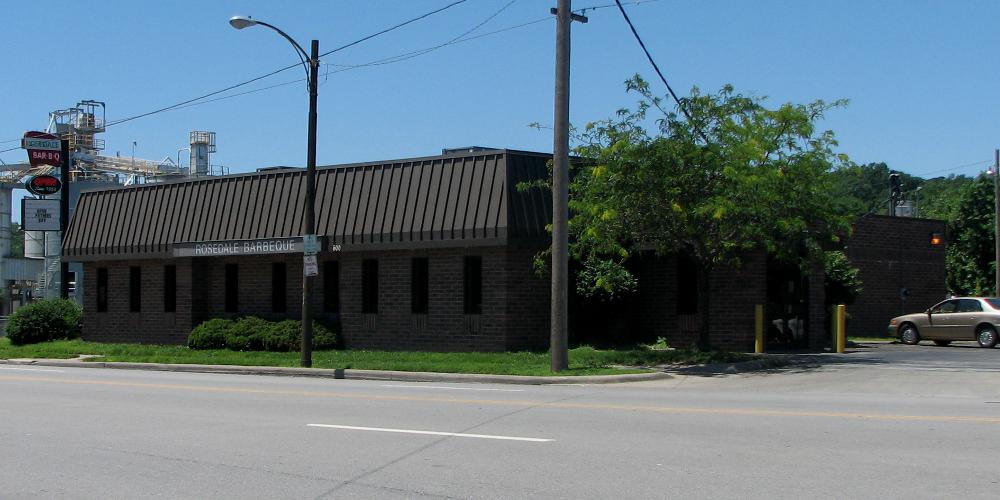 Rosedale BBQ on Southwest Boulevard in Kansas City, Kansas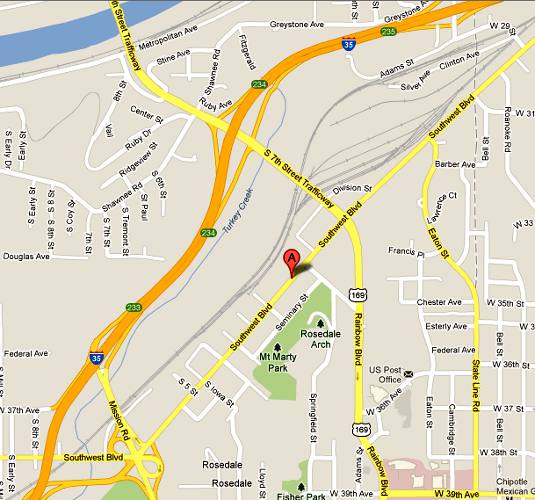 Rosedale BBQ Map
copyright 2005-2020 by Keith Stokes