Kansas State Capitol Dome Tour

10th and Jackson
Topeka, Kansas 66612
(785) 296-3966

The Kansas State Capitol dome tours have been suspended until January 2014 due to renovation


View from the Capitol Dome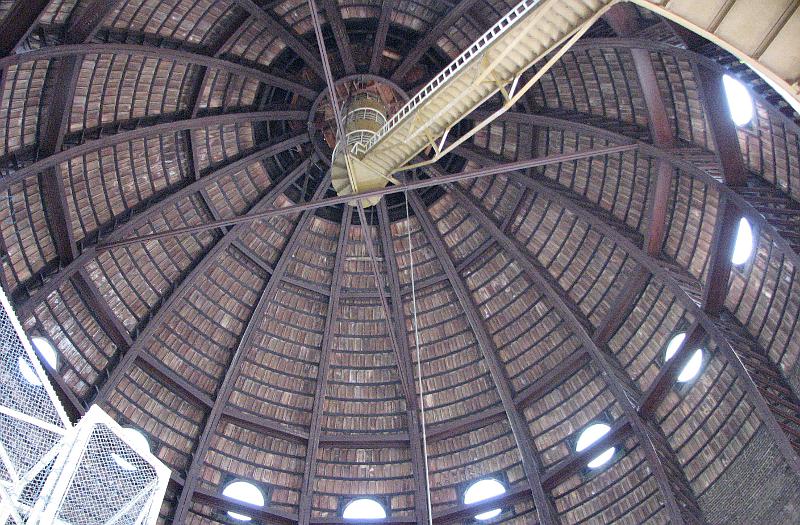 Interior of Kansas Capitol outer dome.
After 30 years, the Kansas State Capitol Dome tours were restarted in 2006. But the Kansas State Capitol dome tours have been suspended through January 2014 due to renovation. The orignal plan was for thw work to be completed by June of 2012, but the date has been pushed back twice.
Visitors take an elevator to the 5th floor, where the tour begins. There are 296 steps from there to the to the top of the outer dome. The pace is relaxed, with stops on three levels, and should be no problem to someone in average condition. The most interesting area is above the inner glass dome, in the 75 feet of enclosed space between the inner and outer domes.
In addition to great views, the interior of the Kansas State Capitol Dome has interesting graffiti. After I photographed the oldest known graffiti (1903), the friendly, young guide pointed out a sticker from when Berry Goldwater visited the Capitol while campaigning for President in 1964, "AuH2O '64." Then he pointed to a name close to the sticker and explained it was his grandfather's name. Sadly that surface is scheduled to be refinished in the near future.
Many of the names are located where someone writing them would have had to make a very risky climb. The scariest are on the underside of the dome near the top, with no other surface nearby.
During my tour of the Kansas State Capitol dome, a woman froze in place at the bottom of the last spiral steps near the top and was unable to go all the way.
The Kansas State Capitol dome tours have been suspended until January 2012 due to renovation, but the rest of the building can be visited from 7:30AM to 5:30PM, Monday to Friday and 8AM to 1PM on Saturday.
Photos of the Kansas Capitol dome exterior.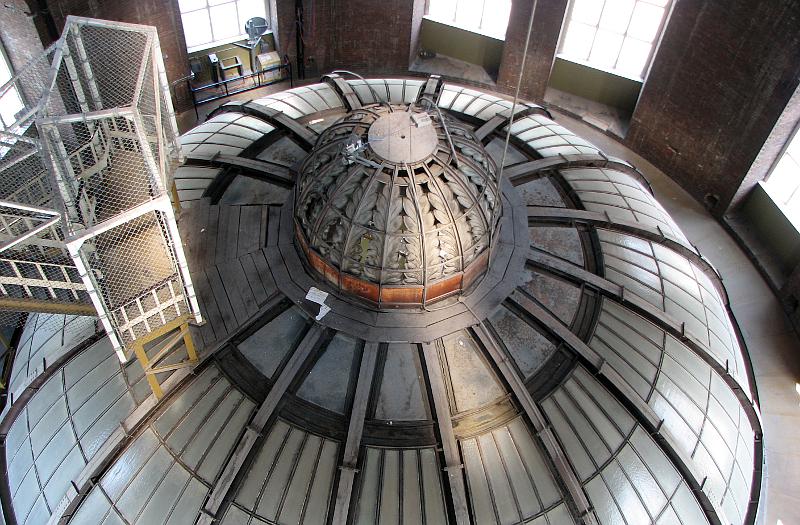 Exterior of the inner dome. Notice the local television news cameras - one attached near the very
top of the inner dome shoots down at the floor of the capitol, the other in the window at upper
left shows the skyline.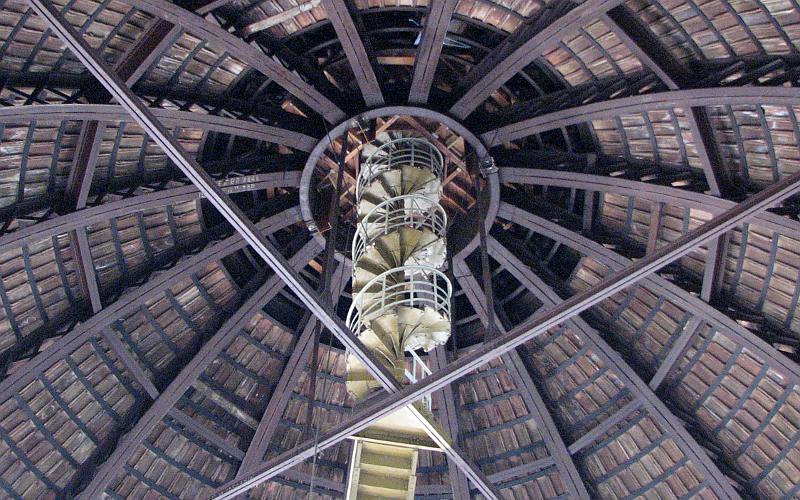 The exterior dome is made up of clay tiles with copper sheeting on the outside. The inner surface
has graffiti in extraordinary locations - notice the writing on the underside of a girder at top left.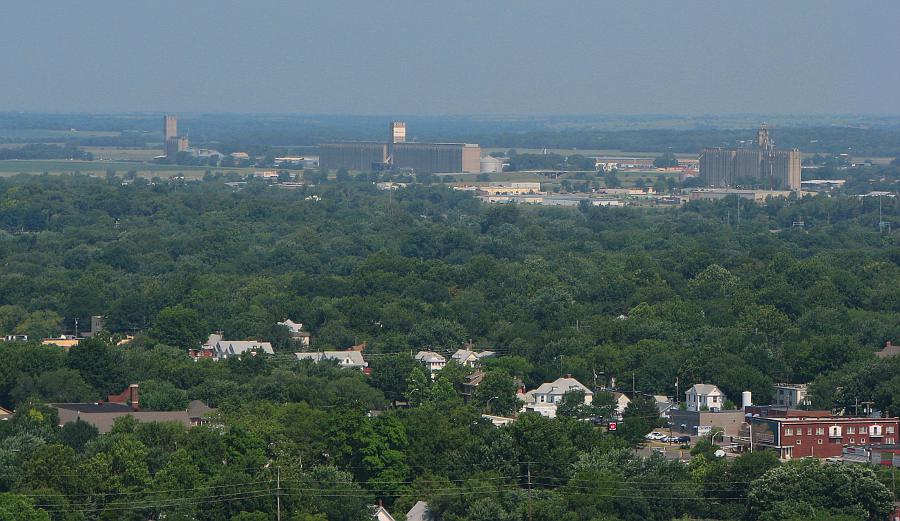 One of the views from the top of the capitol dome is of three three grain elevators. The one in
the center was once the largest in the world, and is still the third largest.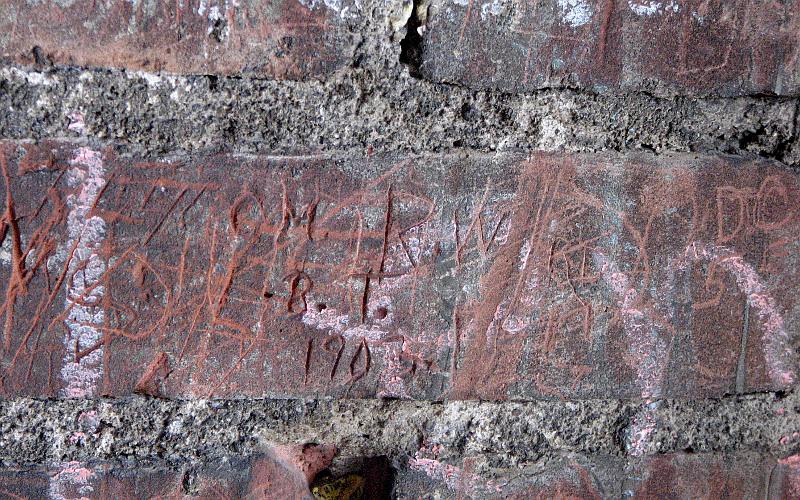 Oldest know dome graffiti - dated 1903, the year the dome was completed.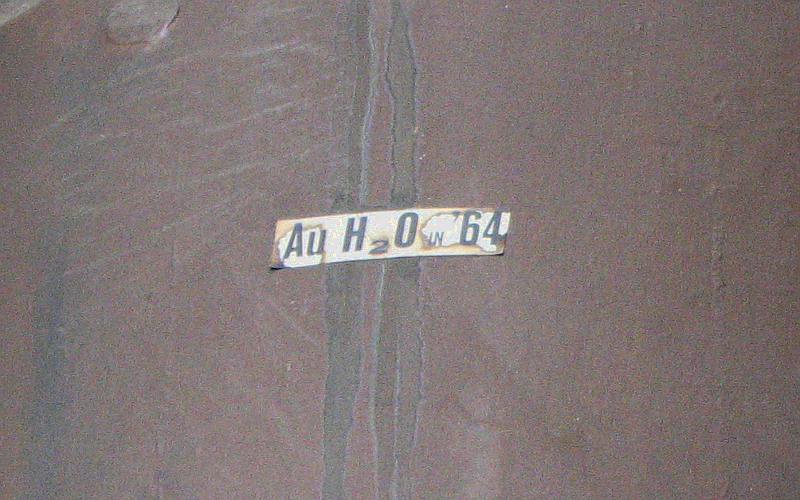 "AuH2O" sticker from 1964 when Berry Goldwater visited Topeka while campaigning for President.
Photos of the dome's exterior Kansas State Historical Society Capitol website

copyright 2006-2032 by Keith Stokes