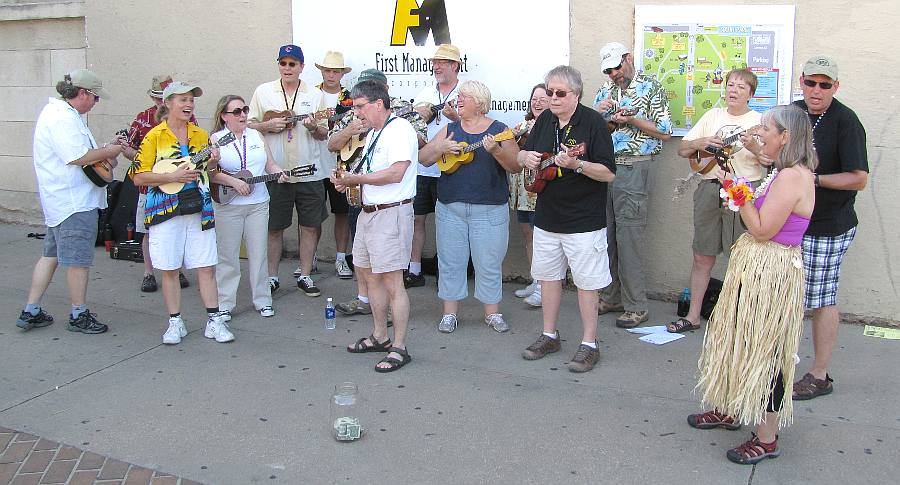 Kansas City Ukesters - ukulele players
The 11th annual Lawrence Busker Festival will ne May 25 - 27, 2018. The three day event was free, other than tips to the performers. Busking is performing in public places for money. Buskers are also called street performers, street musicians, minstrels, or troubadours.
In 2018, there will be at least 5 stages with continuous performances by more than 25 acts, scattered along and around Massachusetts Street, which is the Lawrence, Kansas downtown. More street performers such as musicians, balloon artists, jugglers, magicians and chalk artists set up along Massachusetts between the stages. If it is a hot day, most of the performers who are not on stage set up along the south, shady side of the street.
My favorite performances at past Busker Festivals have included the KC Ukesters, the MamaLou Strongwoman Show, Alferd Packer Memorial String Band and the Voler Thieves of Flight Aerial Artists.
Food vendors have been somewhat limited in past years, but Massachusetts is lined with many great, locally owned restaurants. This street may be the best shopping main street in Kansas.
Performances are scheduled from 5-11PM on Friday, noon-11PM on Saturday, and 1-6PM on Sunday. There will also be workshops during the day on Saturday.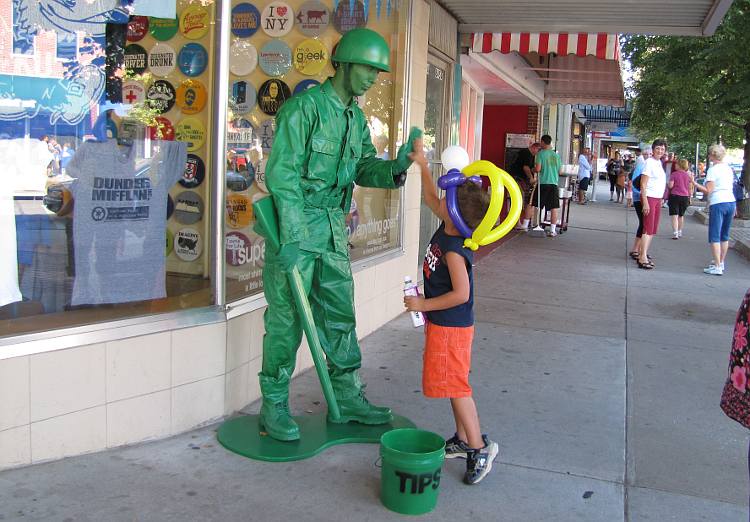 Living statue on Massachusetts Street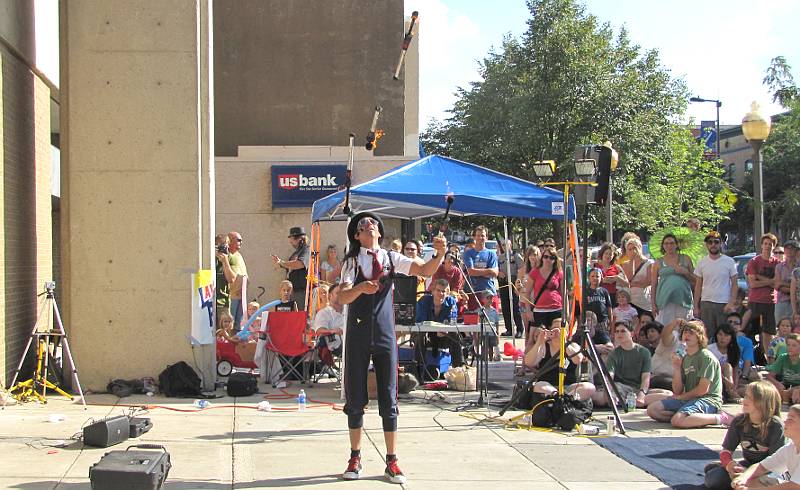 Periko Payaso Loko, juggler, on the US Bank Stage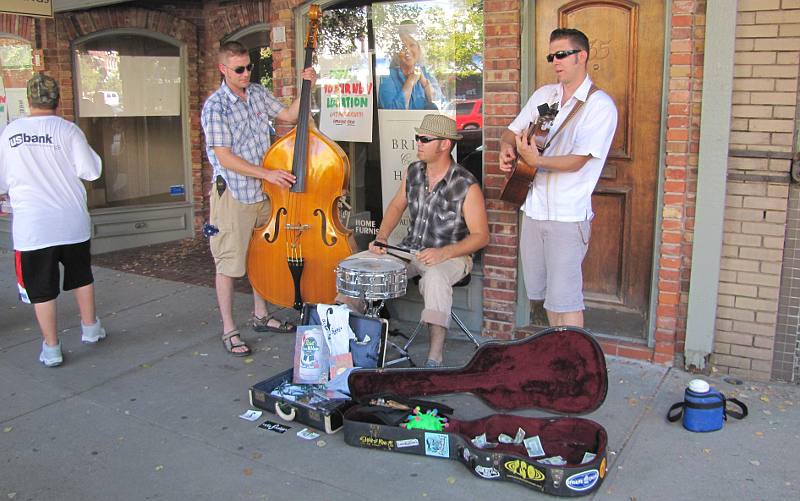 The F Holes from Lawrence, Kansas take their name from the "f" shaped sound holes in stringed musical instruments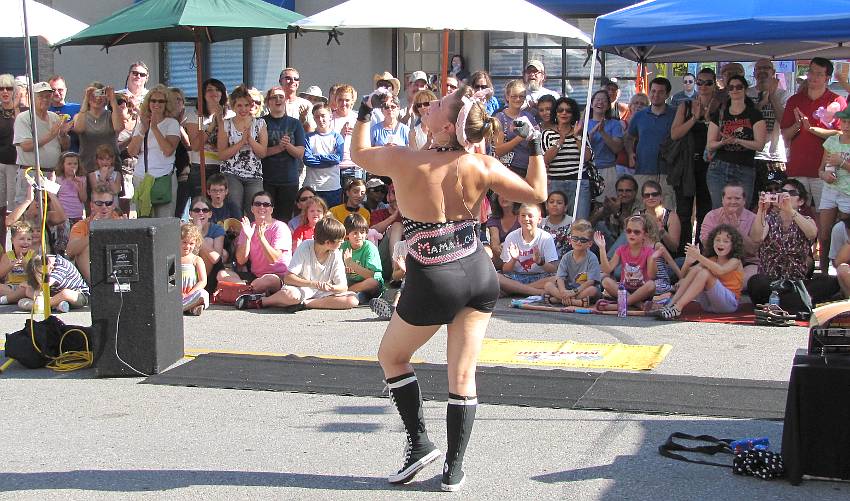 MamaLou Strongwoman (originally from Kansas City, Kansas) is one of only 3 performing strongwomen in the world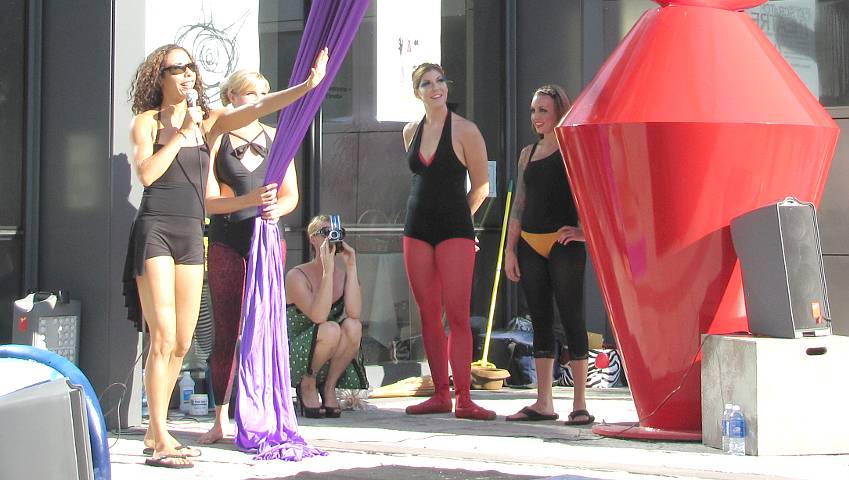 Introducing the Voler - Thieves of Flight Aerial Artists at the Lawrence Arts Center Stage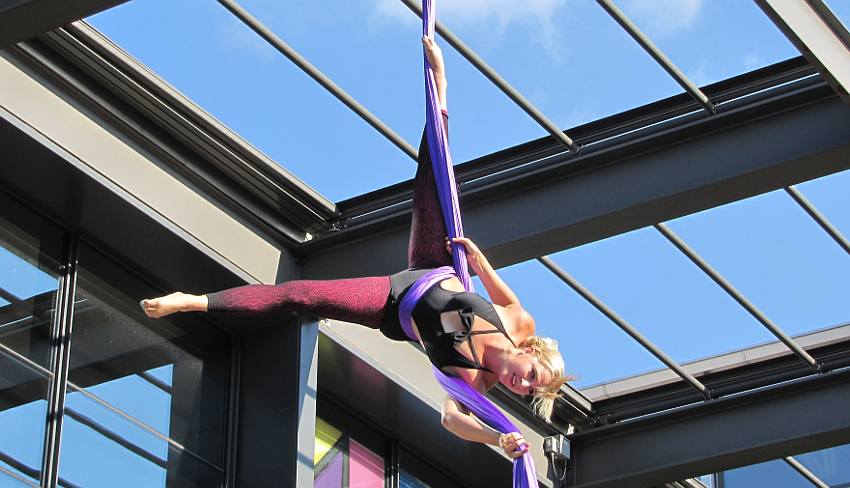 Hayley Cherveny was the first to perform on the Aerial fabric (also known as aerial contortion, aerial ribbons & aerial silks) -
the artists wrap, suspend, fall, swing and spiral their way into and out of various positions on suspended fabric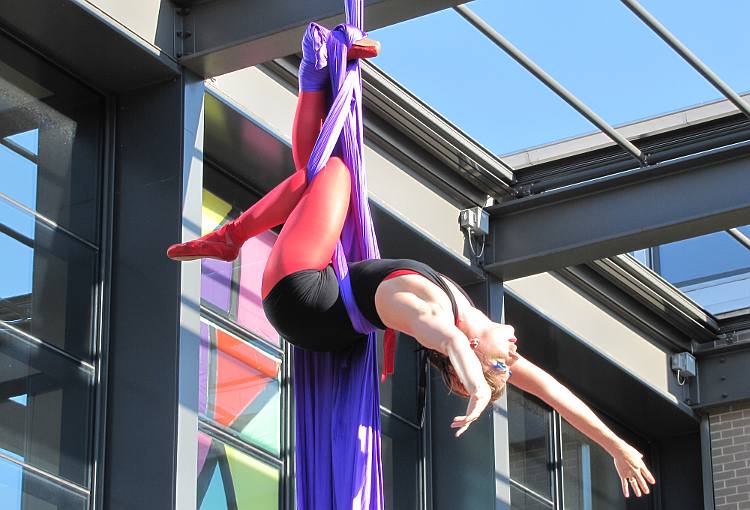 Nichole Raab of Voler - Thieves of Flight from Kansas City, Missouri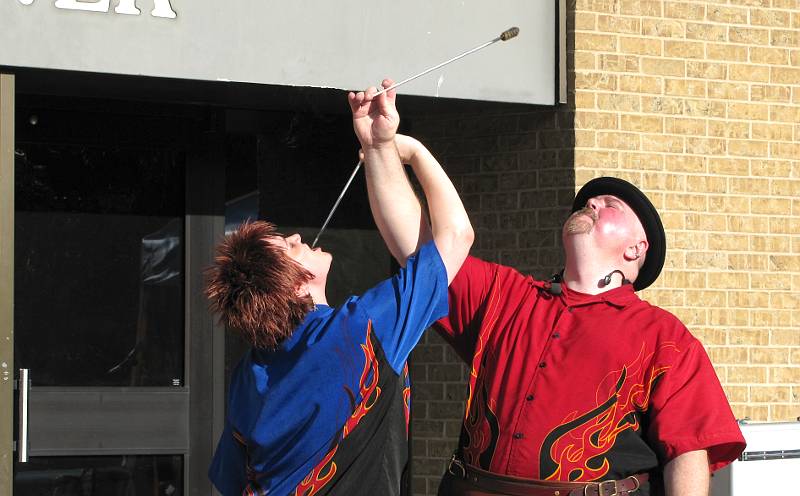 Rod Sipe - Magician and Fire Eater grew up in Paola, Kansas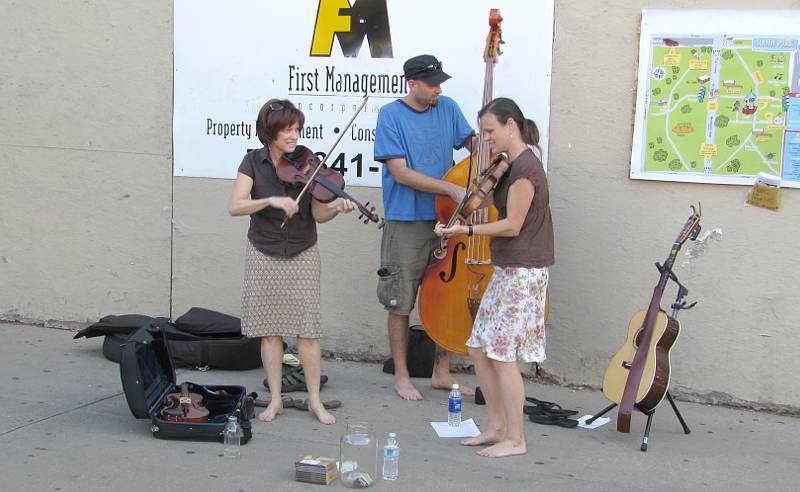 Alferd Packer Memorial String Band is a Bluegrass/Folk group who all live in the vicinity of Lawrence, Kansas

Art Tougeau - Lawrence Wheeled Art Parade Lawrence Busker Festival web site
Kansas Attractions Kansas Restaurants
copyright 2010-2018 by Keith Stokes