The World's Most
Local Burger

714 Vermont Street
Lawrence, Kansas 66044
(785) 856-7827

Archive Page - Closed August 2012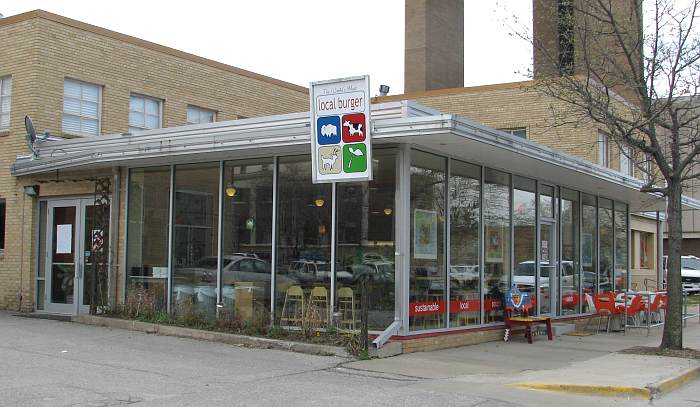 This is an archive page. Local Burger closed in the summer of 2012.
Local Burger in Lawrence, Kansas is the kind of restaurant you might only find in a Kansas college town. Hilary Brown, the owner, calls it a "next generation" burger joint. "The new burger joint that considers where their food comes from, the special diet, the vegetarian, the environment, the economy, sustainable agriculture, animal husbandry, the health of everyone who eats the food, and all the creative hard-working individuals who help make the restaurant happen, and be totally free of unnatural additives."
Local Burger's employees encourage their customers to ask where their food comes from, what's in it, how it was made, and how it was raised. All meats used in local burgers are raised using sustainable and humane practices and are free of antibiotics and hormones.
Service at Local Burger can be spotty.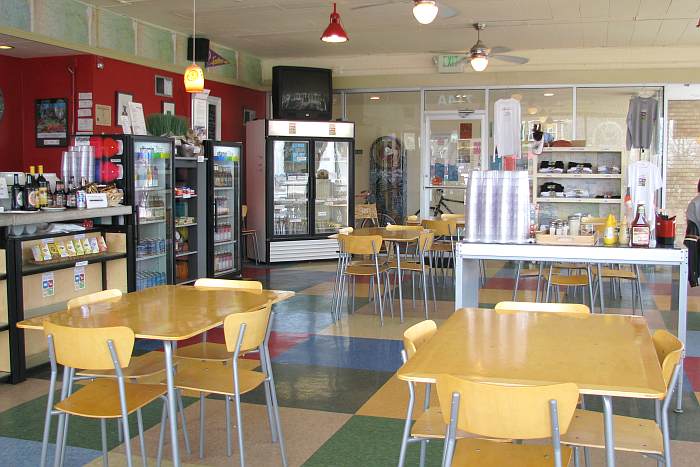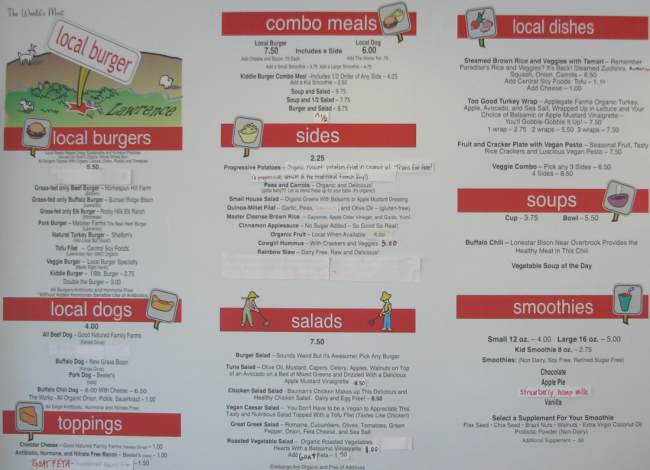 Local Burger menu in April 2008
The menu at Local Burger includes information on where the items were grown. That includes such items as grass fed only beef from Homespun Hill Farm in Baldwin, grass fed only buffalo burger from Sunset Ridge Bison in Lawrence, and "progressive potatoes" - French fries that are organically grown and fried in coconut oil.
Burgers at Local Burger run $5.50 and are served on organic whole wheat buns and topped with organic lettuce, onion, pickles and tomatoes. A burger combo meal with one side is $7.50.
I think that next time I might even try a veggie burger.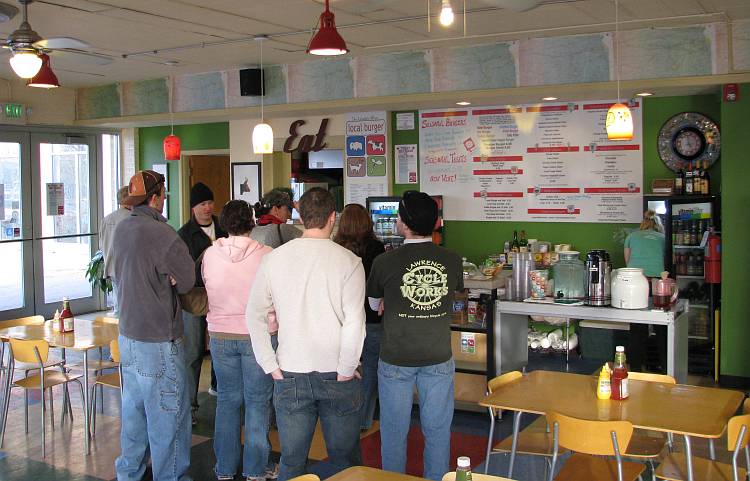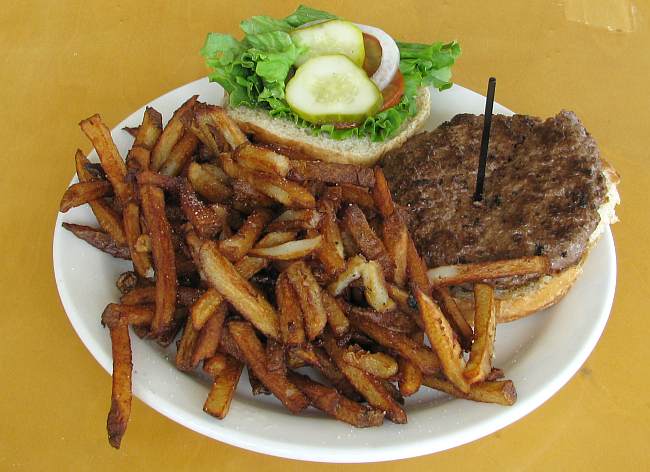 Elk burger from grass fed elk raised at the Rocky Hills Elk Ranch in Winchester, Kansas, and
organic "progressive fries."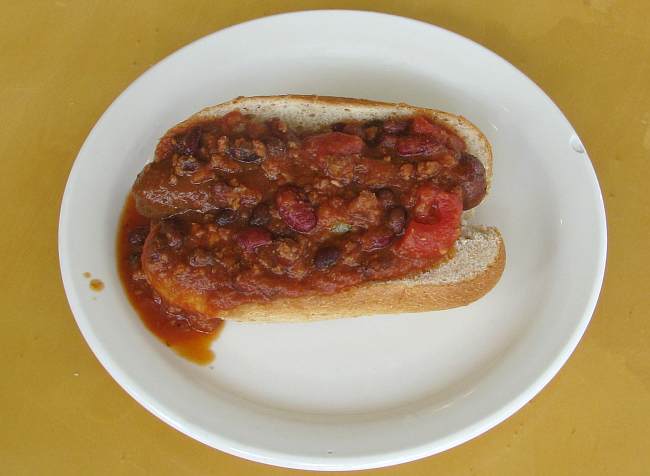 Buffalo chili dog. All dogs are free of antibiotics, hormones and nitrates.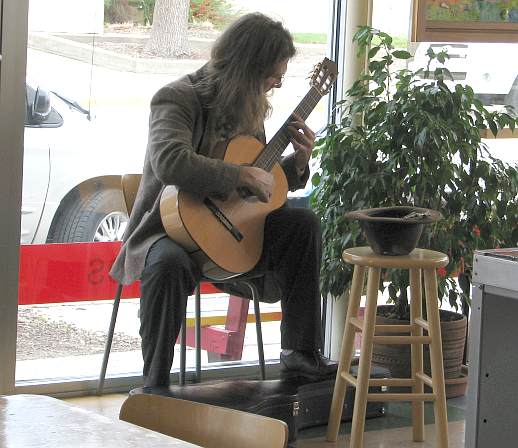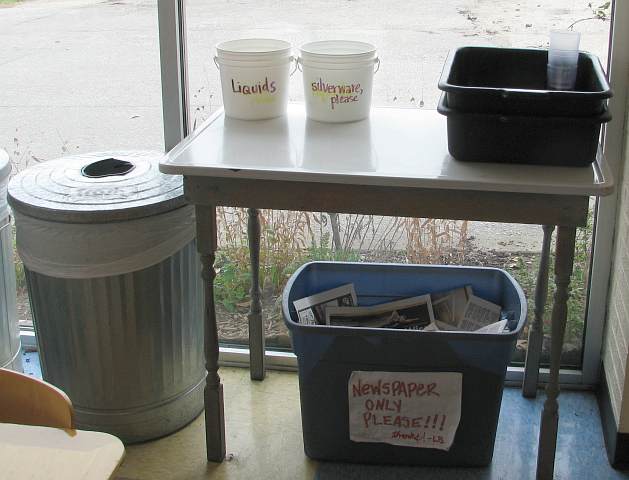 Dinners at Local Burger bus their own tables and take care to help recycle the items used to serve the meal.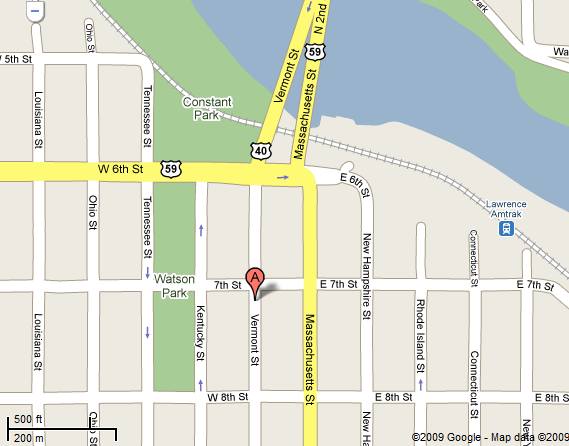 Local Burger Map
copyright 2008-2015 by Keith Stokes