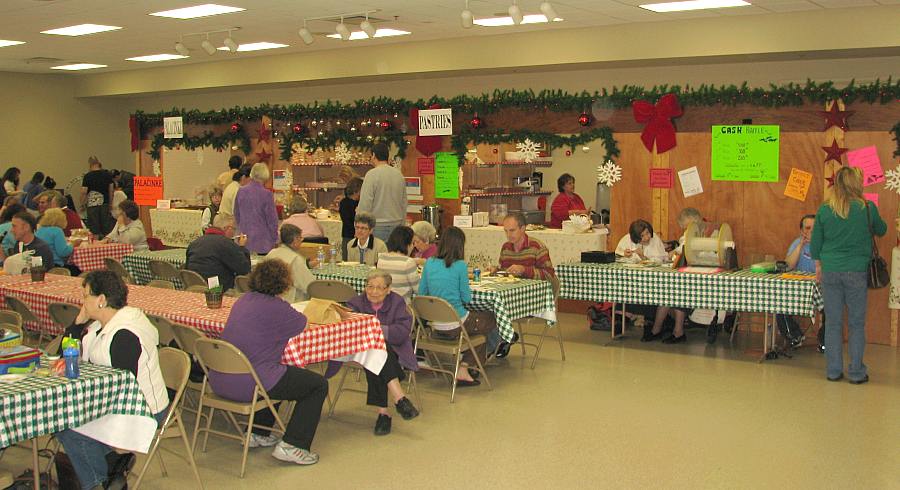 The Orthodox churches in Johnson County Kansas each have wonderful festivals which combine food, entertainment, crafts, and tours of the church. I have attended all three bazaars and had the most fun at St. Petka Serbian Food Festival and Bazaar at St. George Serbian Orthodox Church in Lenexa, Kansas. Part of the treat was the excellent tour of the church's sanctuary, which was conducted by one of the cooks who was filling in for the priest.
The St. Petka Annual Serbian Food Festival and Bazaar started as a very small bake sale. Over the years, the ladies of the church started preparing the pastries and other dishes at the hall. Little by little, the event got bigger and better. The festival is now fills an entire day on the Saturday before Thanksgiving and is attended by more than two thousand people from all over the metropolitan Kansas City, Missouri area.
My favorite dish sampled at the Food Festival was the lamb. The very generous serving was heavily flavored with garlic. Linda had serbian sausage and we both had side dishes: krompir salata (serbian potato salad with oil/vinegar dressing) and knedle od krompira (potato dumplings with sauerkraut and cottage cheese). Their flavorings were delicate, but I enjoyed both.
But the best thing about the food at St. Petka Food Festival are the Serbian pastries and breads. Not just the good fresh baked pastries, but also the un-baked ones ready to be taken home and frozen for later baking. The cheese, cherry and apple strudels keep in the freezer up to a year and come out wonderful when baked at home.
St. George Serbian Orthodox Church website.

SerbFest 2023
Each year, St. George has a similar Serbian Food Festival on the first weekend in June. Although there is no bazaar this weekend, there is still great food, music & dancing, silent auction of theme gift baskets and tours of the church. Serbian dishes include Roasted Pork, Cevapcici (grilled skinless sausage), Pljeskavica (grilled Serbian burgers), Reznjici (grilled shish kabob), Pecena Jagnjetina (roasted lamb), Burek (Serbian baked meat pie) and spinach or cheese Pita.
Friday, June 2: 5PM - 8PM Saturday, June 3: 11AM - 8PM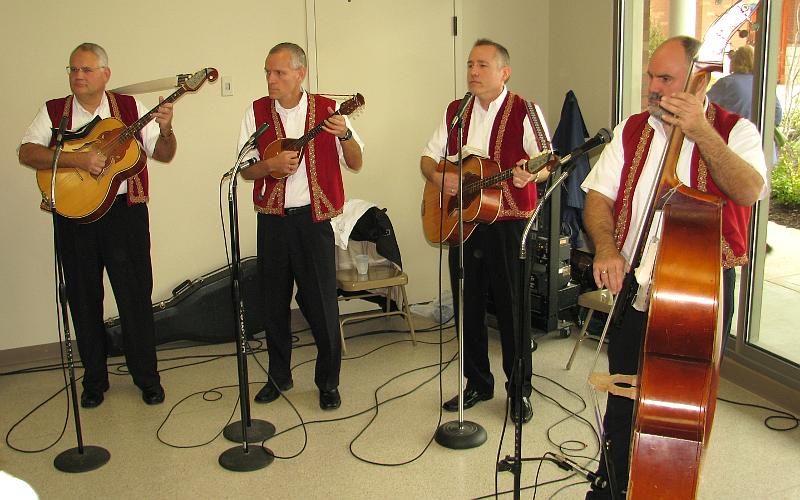 Live music, Serbian dancing and singing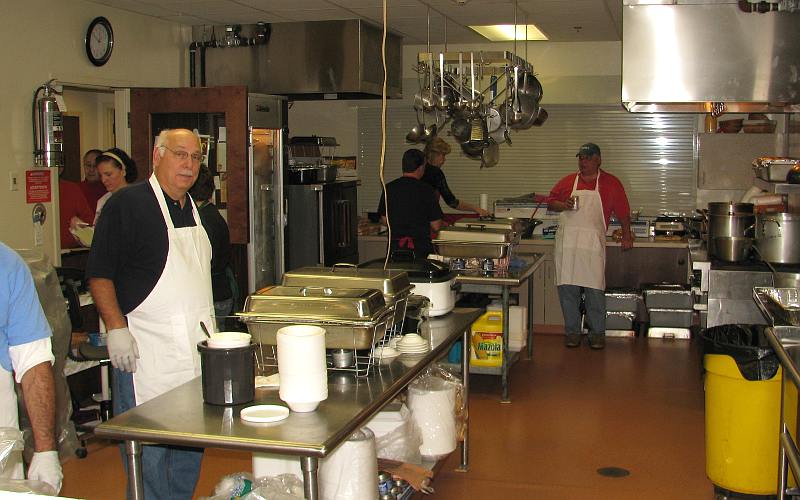 Preparing food in St. George's kitchen

Serbian pastries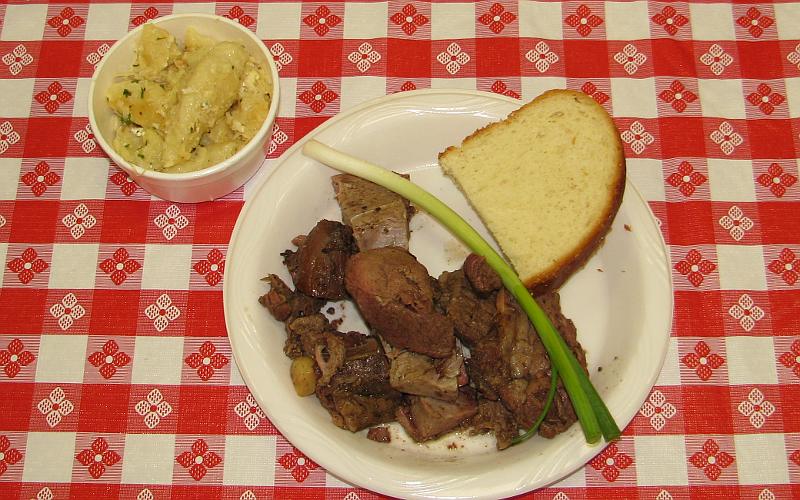 lamb and knedle od krompira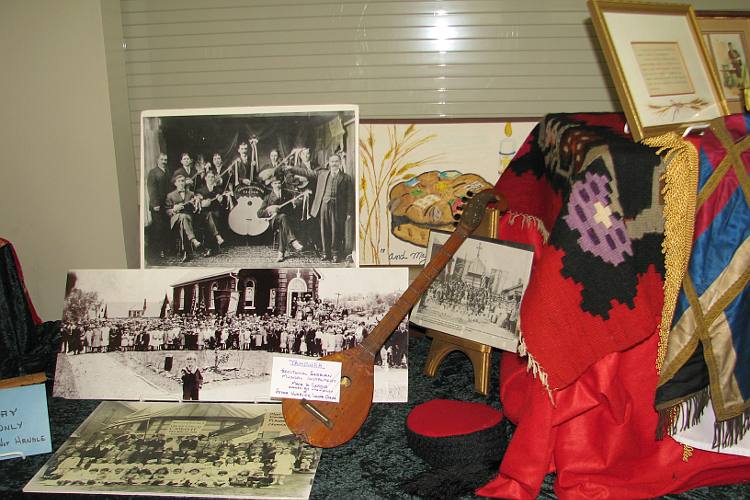 Display on the history of St. George Serbian Orthodox Church -
the congregation began in 1906 in Kansas City, Kansas

The vgtemplon in Orthodox Churches separates the nave from the sacraments at the altar.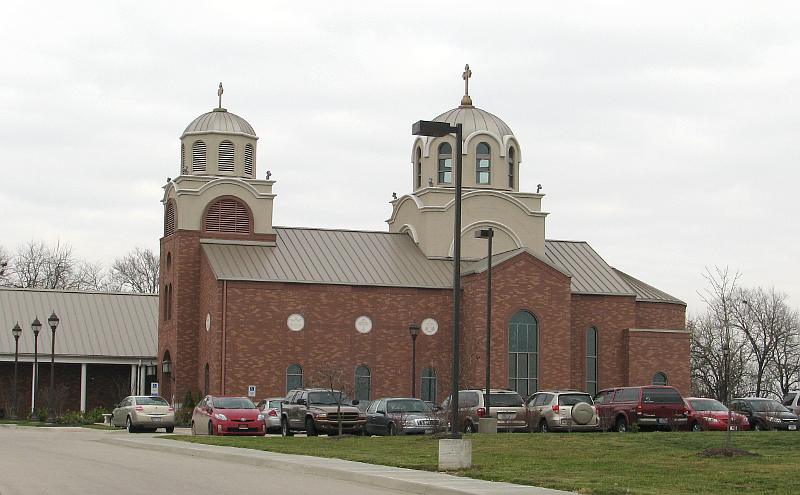 St. George Serbian Orthodox Church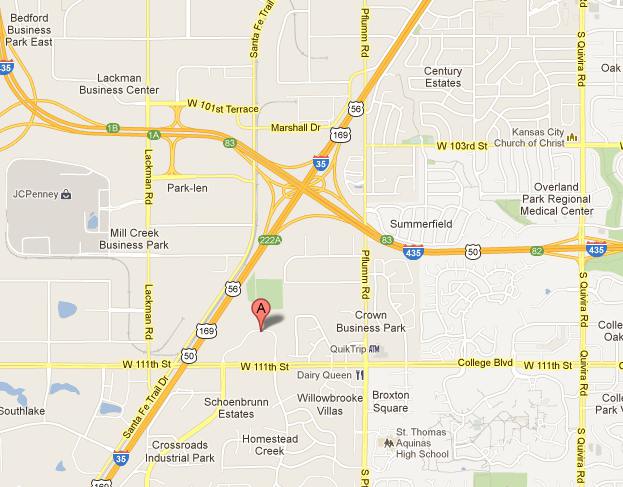 St. George Serbian Orthodox Church Map
Beautiful & Historic Kansas Churches
Kansas Attractions Kansas Travel & Tourism Home
copyright 2009-2023 by Keith Stokes