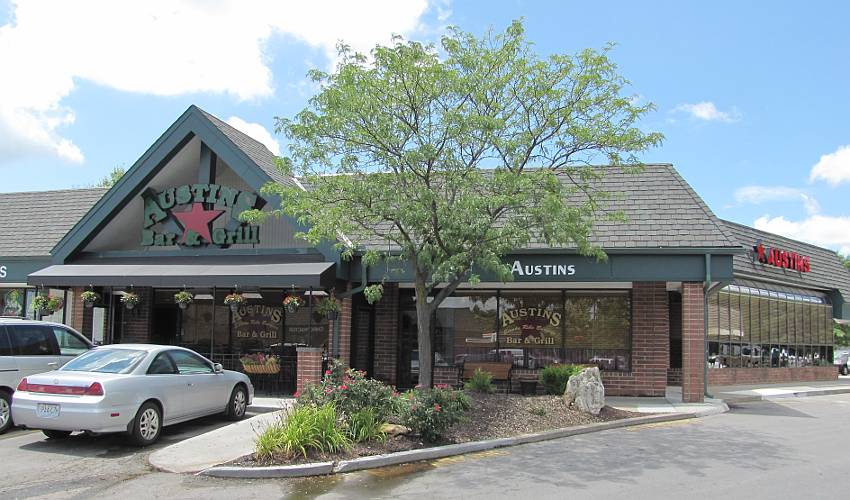 Austin's Bar & Grill in Olathe, Kansas is one of the few restaurants in Olathe serving a full menu until midnight and appetizers until 1AM. Austin's offers attractive daily specials, such as half price burgers all day on Monday and Thursday evening sirloin steak with loaded baked potato, side salad and garlic toast for just $12.
I am a fan of Austin's hamburgers. My favorite is the El Fuego Burger which is smothered with Austin's hot sauce, sauce, melted pepper jack cheese and jalapenos. $11 with your choice of French fries, baked beans, potato salsa, coleslaw, cottage cheese, or potato chips. But the Burger of Burgers runs a close second - $15 with grilled onions & mushrooms. Monterey Jack & American cheeses and topped with bacon.
Austin's has a small fixings bar with lettuce, pickles, onion, pickled jalapenos, mustard, ketchup, mayonnaise, Austin's BBQ, and taco sauce.
My other favorite items are the Buffalo style chicken tenders and baked potato soup - loaded baked potato soup, made from scratch and topped with green onion, cheddar cheese and bacon. The lightly battered French fries are pretty good, but come covered in parmesan cheese unless you request otherwise.
Olathe bans smoking in bars and restaurants, but Austin's has some outside seating where customer's may smoke and still be out of the weather. They even have a couple of TVs out there.
Austin's Bar & Grill has additional locations location at 245 N Moonlight Road in Gardner, Kansas and 11180 S. Lone Elm Road in Olathe. The menu and specials are the same at all three locations.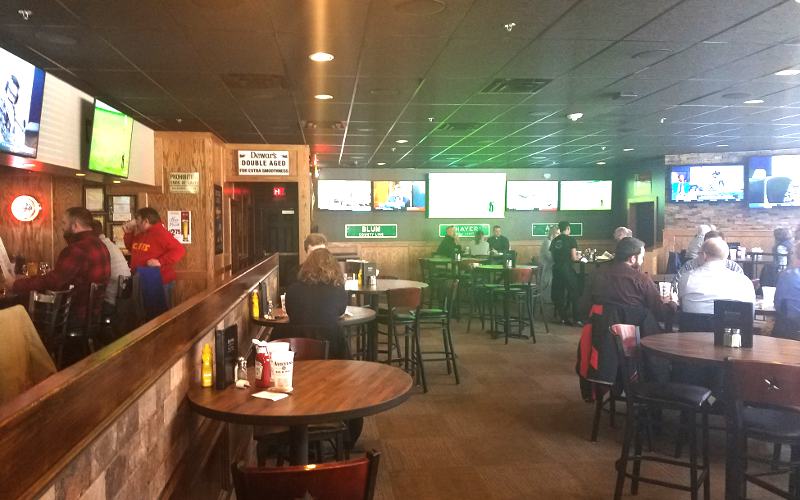 Austin's Bar and Grill main dining room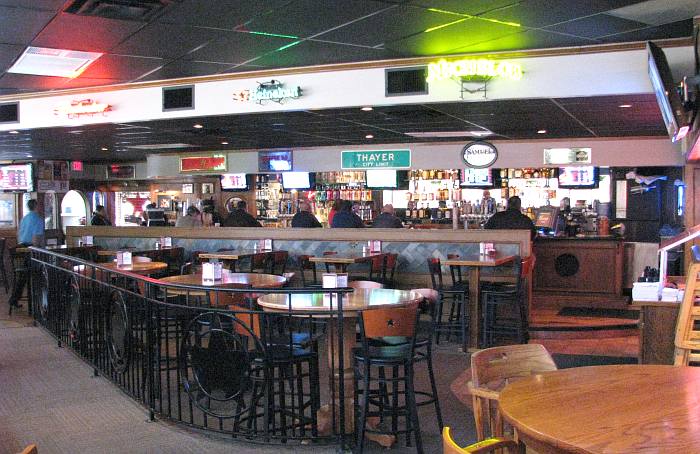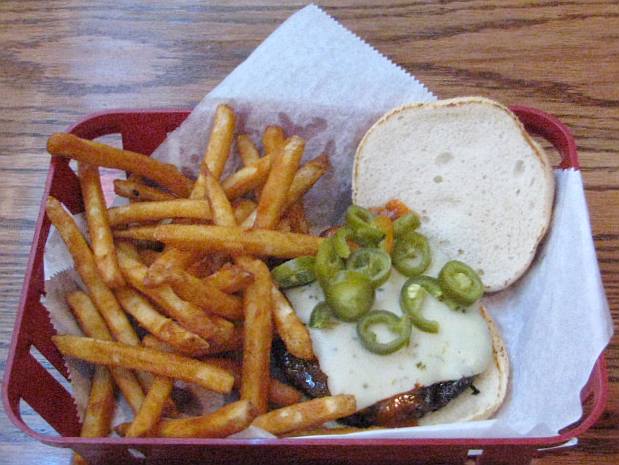 El Fuego Burger and fries (without the parmesan)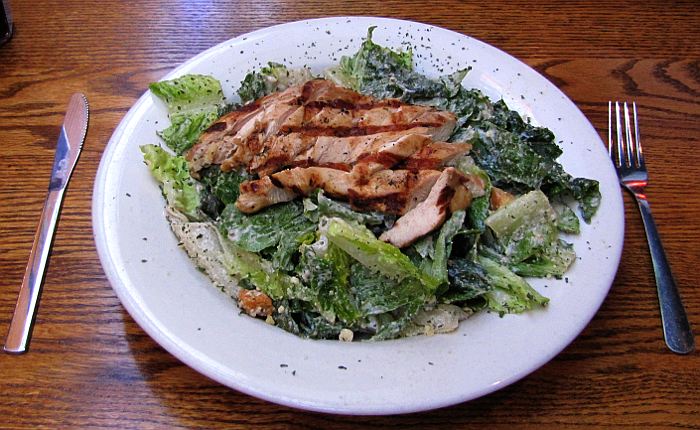 Grilled Chicken Caesar Salad
had good flavor, but the romaine lettuce was so cold it was like putting ice in my mouth.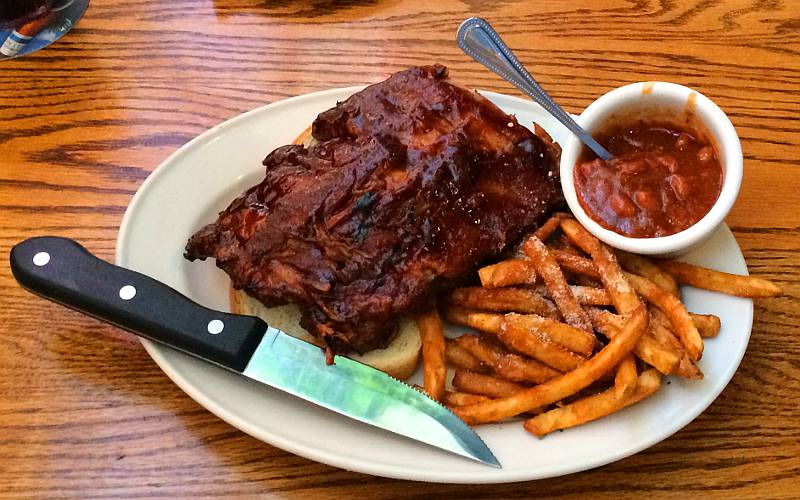 Half slab of baby back ribs with parmesan French fries and baked beans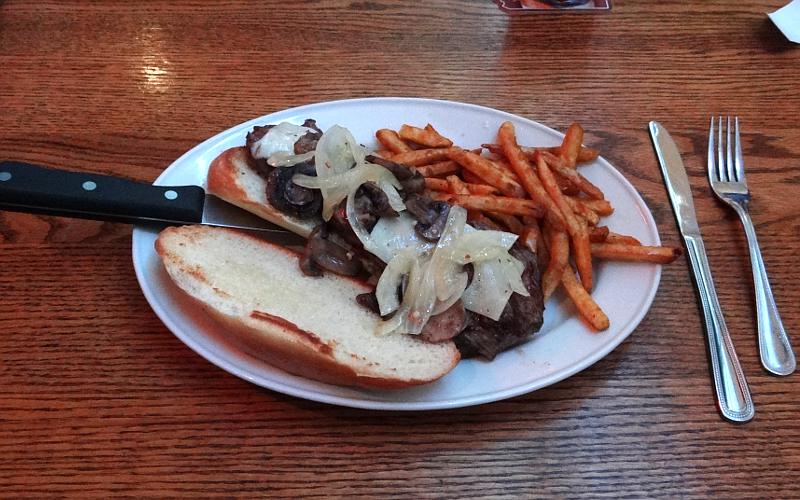 Thursday lunch special: Steak sandwich with swiss cheese plus sautéed mushroom & onions, and fries ($7)

| | |
| --- | --- |
| Austin's Bar & Grill Menu from March 2019 | Austin's Bar & Grill Burger Menu from March 2019 |
Olathe Restaurants & Attractions Austin's Bar & Grill web site
Kansas Restaurants Kansas Travel & Tourism Home
copyright 2008-2019 by Keith Stokes