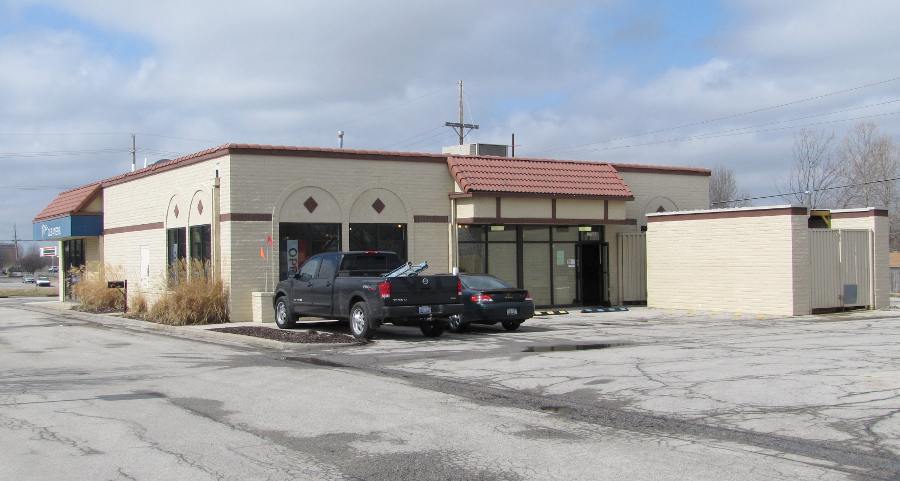 McGuire's Smokehouse restaurant - Olathe, Kansas
This is an archive page. McGuire's Smokehouse closed in the fall of 2012.
McGuire's Smokehouse in Olathe, Kansas moved into the former Big Bubba's BBQ location in February of 2009. McGuire's is a difficult place to review, I think that some people will love it, while others will not care much for it at all.
McGuire's has counter service at lunch time, and table service at supper. The menu is fairly small: 8 smoked meats, smoked hamburgers and about 10 side items. The only chicken offered is chicken wings.
Almost everything is smoked. The wings are smoked, then fried. The corn and the mixed vegetables are also smoked and are my favorite items on the menu.
McGuire's BBQ is very sweet, particularly the pork ribs which have a brown sugar rub. The single rib ($1.95) that I sampled on my first visit was VERY good: meaty, tender, with a wonderful flavor, but on two subsequent visits the ribs were more ordinary - less tender and less juicy.
The wings are my favorite of McGuire's other meats. I do wish an order was a little larger, but the flavor is great. It comes in BBQ, hot BBQ and hot original. I can't tell much difference between the hot BBQ and regular BBQ, but they are very good.
The sausage has little flavor from smoking, but is otherwise fairly good. The brisket has zero flavor from smoking and is fairly dry. The "burnt ends" are large cubes of uninteresting beef, rather than the flavorful, juicy bits of meat which some restaurants produce. Given the great smoking done to some of McGuire's other products, I can figure this one out.
The spicy fries are pretty good. So is the sweet coleslaw. The baked beans look great - two kinds of beans with large chunks of meat. But other than the meat, I don't care for the taste. I think the beans could be much better if they were baked longer and the meat was cut into smaller pieces, allowing the beans to acquire more flavor.
The meat is served without sauce, which I like. There is nothing worse than receiving BBQ meat covered with a sauce that you don't really like.
McGuire's BBQ sauce is thin and quite sweet. There are squeeze bottles with the regular sauce on the tables, or you can fill small cups with regular or hot sauce near the counter. On my first visit, I filled small cups with both the regular and spicy BBQ sauces, but when I got to my table, could not remember which was which. After tasting them, I couldn't tell any difference between them.
Prices are a bit high, but the servings are quite generous. A small sandwich, side and drink are only $6.25, but many of the meals are in the $11-14 range. During the weekday lunch time, soft drinks are included at no charge.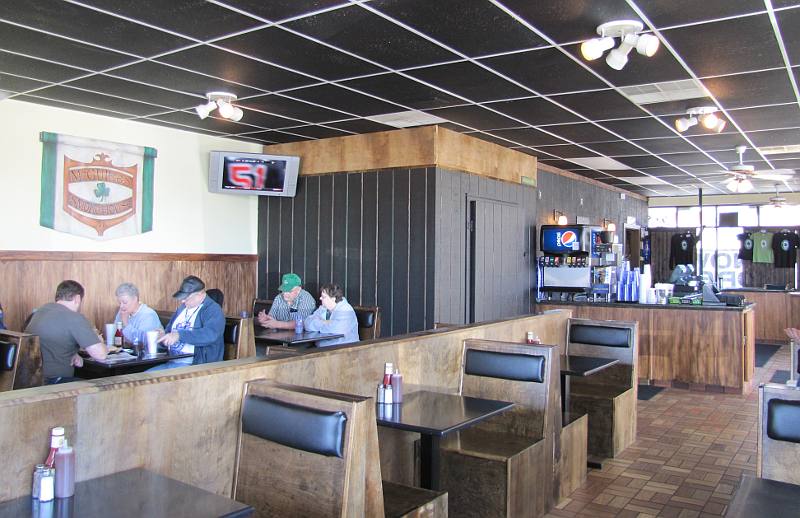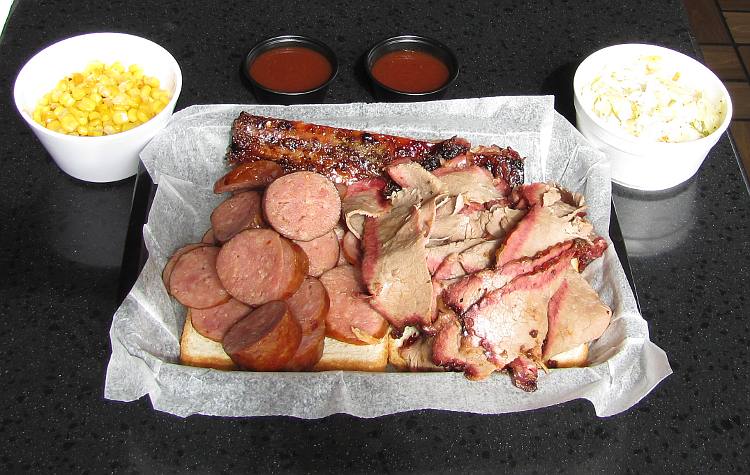 Sausage and beef brisket with one rib, smoked corn and coleslaw

1/2 pound of burnt ends and four pork ribs - $13,95 with the choice of two sides.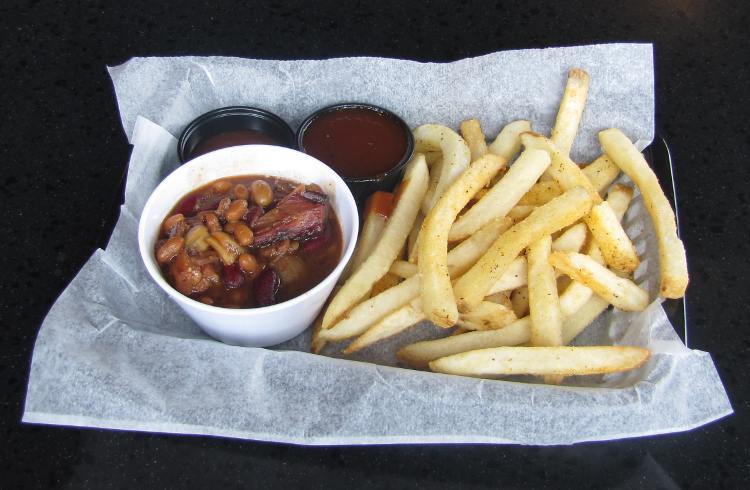 baked beans and seasoned French fries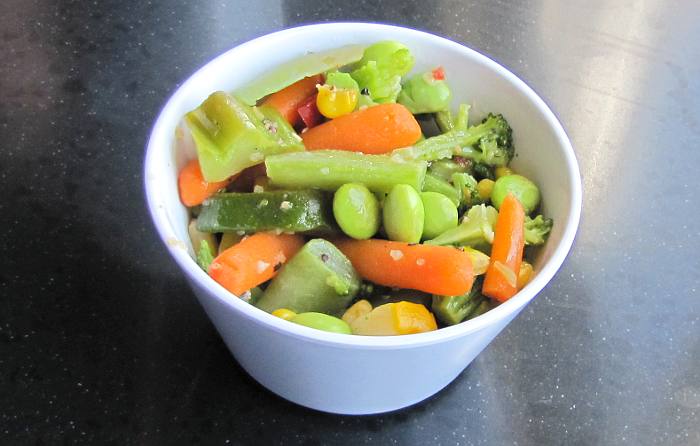 mixed vegetables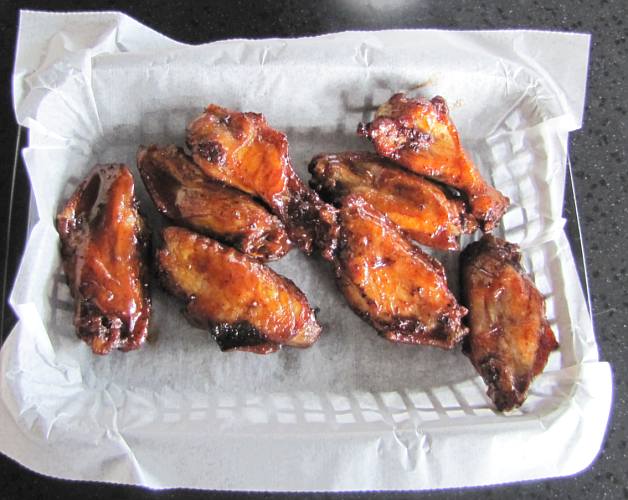 1 pound of chicken wings $6.95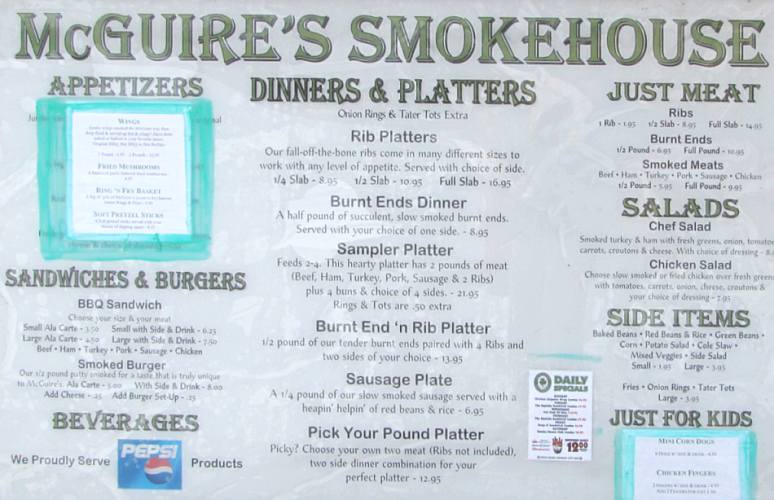 Click on McGuire's Smokehouse menu from January 2011 for a larger image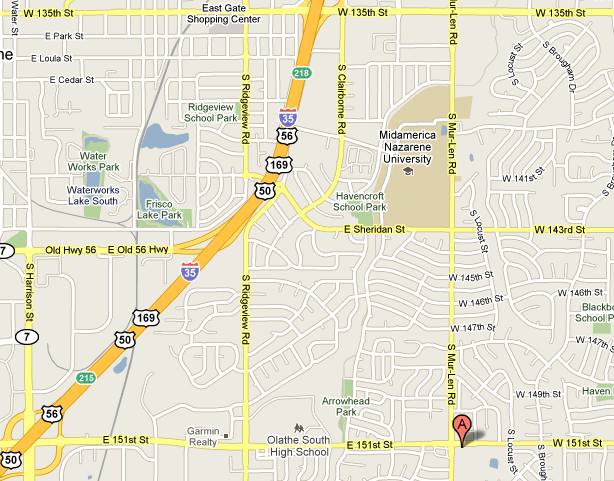 McGuire's Smokehouse Map
More Olathe Restaurant Reviews
Kansas Restaurants Kansas Travel & Tourism Home
copyright 2010-2015 by Keith Stokes