Joe's Kansas City Bar-B-Que
formerly Oklahoma Joe's BBQ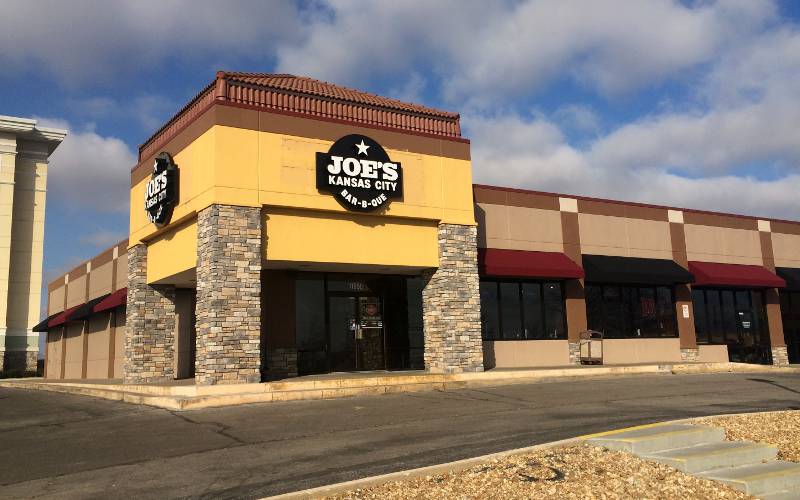 Joe's Kansas City Bar-B-Que - Olathe, Kansas
Joe's Kansas City Bar-B-Que in Olathe, Kansas was the second Oklahoma Joe's BBQ location. The first location is in a working gasoline station in Kansas City, Kansas. But the Olathe location is much larger and serves the same food. A third location more recently opened in Leawood. Although the brand was built as Oklahoma Joe's, the name changed to Joe's Kansas City Bar-B-Que in 2014.
Joe's Kansas City Bar-B-Que is known for a wide of variety of quality smoked meats. The French fries are fresh, but order them unseasoned unless you want a lot of sodium and spice.
I often have Joe's 1/2 smoked chicken and one side. They make a generous meal for $10.49.
Joe's may be best known for the Z-Man Sandwich. The Z-Man is brisket, smoked provolone topped with two onion rings on a kaiser bun ($8.29). The Z-Man is one of the best sandwiches I have had anywhere in Kansas City!
Joe's Kansas City Bar-B-Que serves chili through the winter months. I like the chili a lot. It is meaty, sweet and flavorful with no beans. It is a little too mild for my taste, but they offer onions and diced jalapenos (and cheese) on top, which made it just right. They also provide several hot sauces.
Other dishes available only at particular times are the burnt ends (available at lunch on Monday & Saturday and at supper on Wednesday) and soft shell crab po' boy sandwiches (Fridays during Lent).
The gumbo is available year around and is quite good, though it may be too spicy for some.
Be prepared for long lines anywhere near meal time. The lines were shorter after the opening of the third restaurant in Leawood, but they are slowly getting longer. The line moves fairly fast, but when it goes the length of the restaurant it can still be a fairly long wait.
Tip: When lines are long, call in an order to go at (913) 782-6858 and pick up the order at the bar. You can also buy a drink at the bar to enjoy while in the line.

The original Kansas City, Kansas location of what was then Oklahoma's Joe's BBQ was featured on the August 11, 2010 TV episode of Man VS Food. The TV show made the beef burnt ends look as wonderful as they are.

The Man VS Food - Kansas City episode also featured Stroud's in Kansas City, Missouri and a food challenge at Papa Bob's BBQ in Kansas City, Kansas.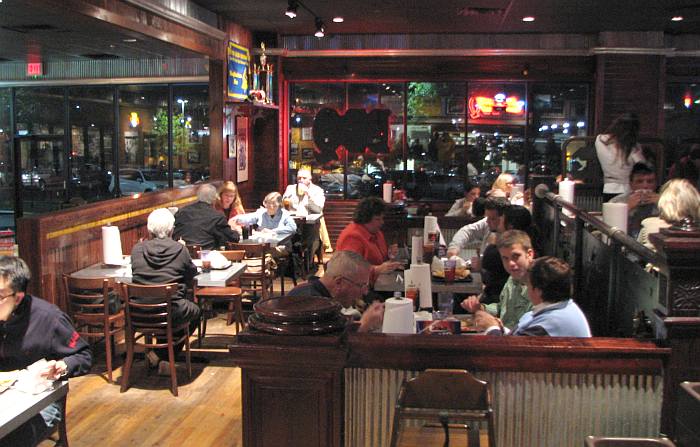 Small portion of Joe's large dining room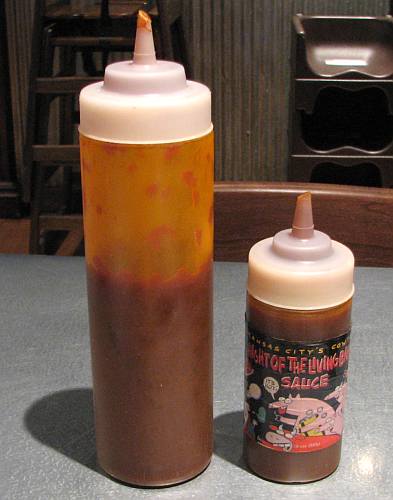 Joe's Kansas City Bar-B-Que regular and "Night of the Living
BBQ" sauces. I prefer the Night of the Living BBQ -
which is spicy, but not as hot as it sounds.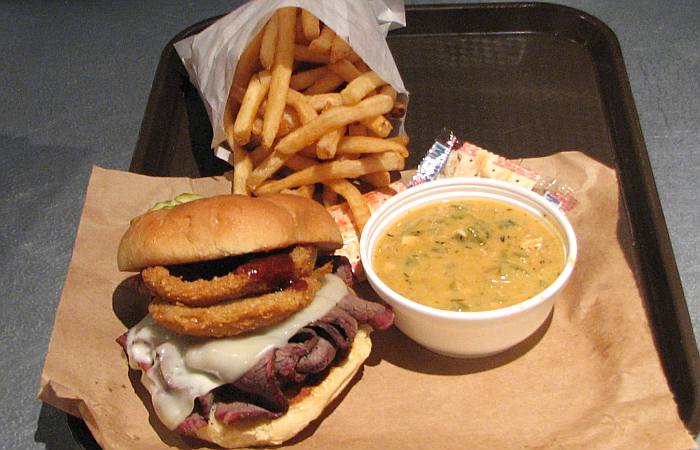 "Unseasoned" French fries, Z-Man sandwich and smoked chicken gumbo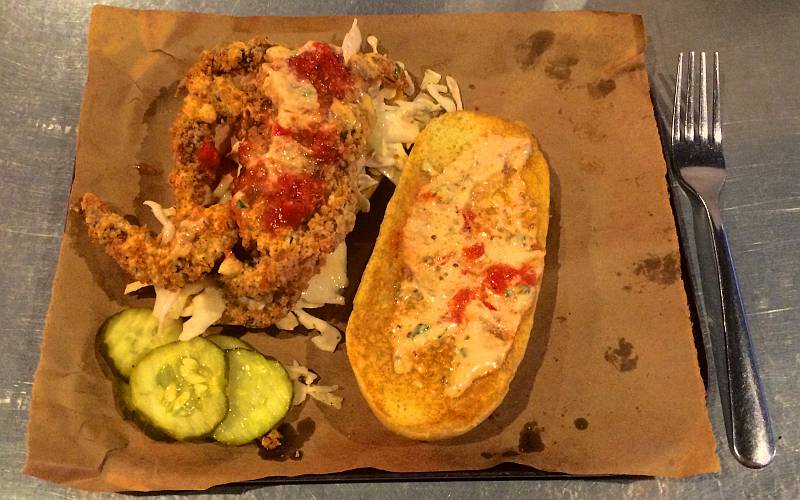 Soft shell crab po'boy - Friday special during Lent each year.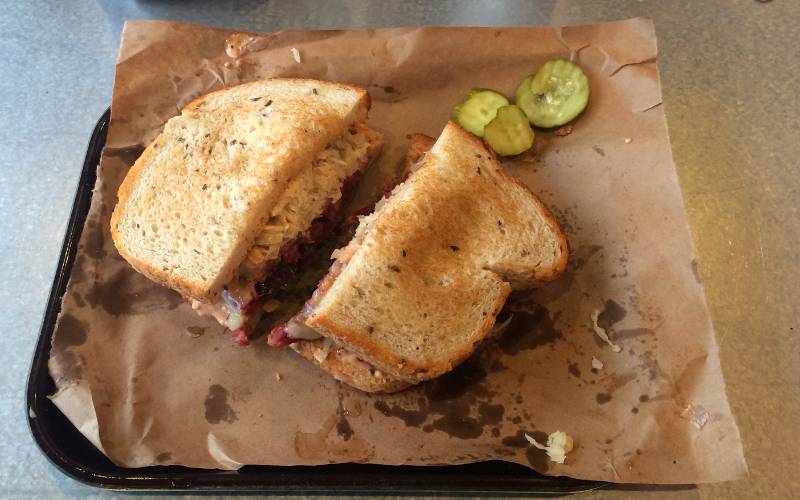 Joe's introduced this corned beef burnt ends Reuben for St. Patrick's Day in 2016 and it was so
popular that it is now the Thursday lunch special each week in February.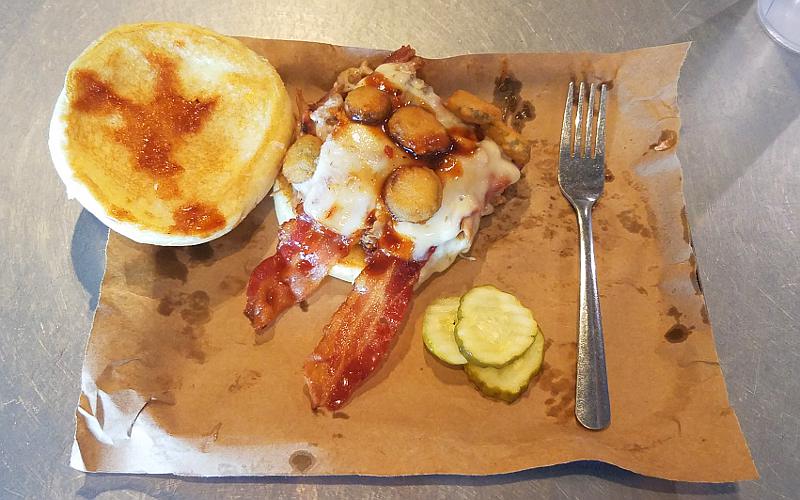 New 2018 sandwich - The Rocket Pig
Pulled pork tossed in a sweet-hot BBQ glaze, bacon, pepper jack, BBQ mayo & fried jalapenos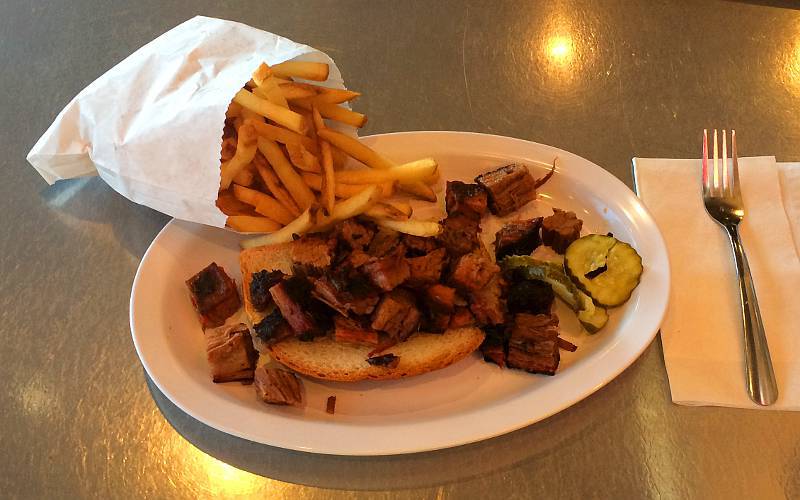 Burnt ends lunch plate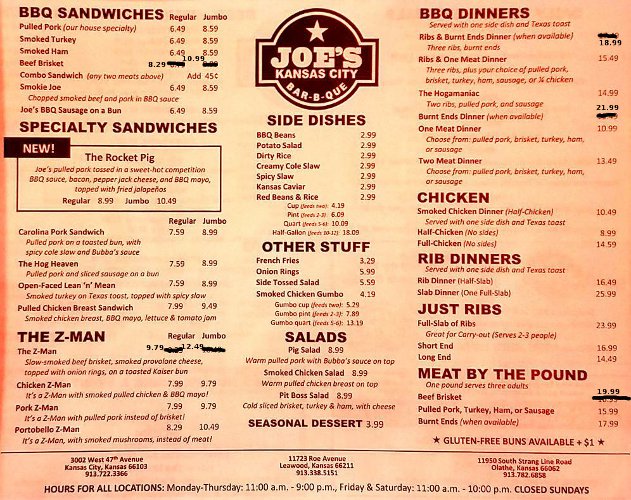 Joe's Kansas City Bar-B-Que menu from June 2020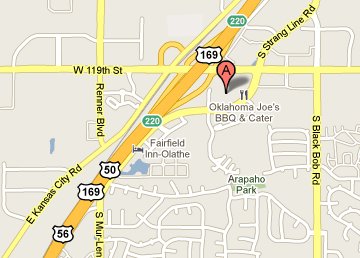 Joe's Kansas City Bar-B-Que Map
Olathe Restaurants & Attractions
Kansas Restaurants Kansas Travel & Tourism Home
L-11/09 copyright 2008-2020 by Keith Stokes