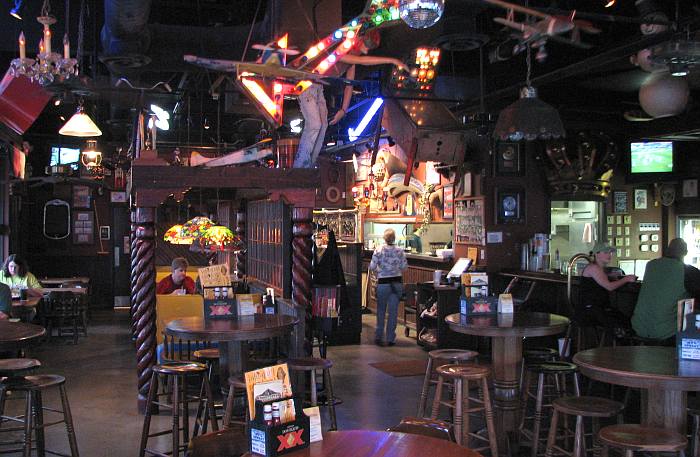 Fred P. Ott's Bar and Grill - Olathe, Kansas
This is an archive page only. The Olathe Fred P. Ott's closed on June 27, 2018. David Haddad, president of Haddad Restaurant Group was quoted by the Kansas City Star as saying it was because, "Our lease was up and we are going to focus on the Plaza III."
Fred P. Ott's Bar and Grill in Olathe, Kansas has a nice variety of daily specials and several standbys including Fred P. Ott's 8 ounce hamburger. They used to have a 10 ounce "biggie," but now offer 1/2 & 1/3 pound burgers. Ott's many has salads and sandwiches, including hand breaded pork tenderloin. The onion rings are the best in Olathe.
Fred P. Ott's is open seven days a week with the kitchen open until 10PM weeknights and 11PM Friday and Saturday.
The meat served at Ott's is the same as the Plaza III steakhouse, although the cooking is not quite the same. No matter how I have tried ordering the burgers, they always comes well done. The kitchen did perform better on the fillet that I had when revisiting on a Tuesday evening. I ordered medium rare, but it came medium - which is what I was hoping for. The fillet was very tender.
Service at Fred P. Ott's has been inconsistent, largely due to high turnover. I don't think I have ever seen a server there, that was working at Ott's on a previous visit.
On my most recent visit, I learned that the condiment bar, which was a signature offering for many years, has been eliminated.
Ott's is part a local chain owned by Kansas City, Missouri's Haddad Restaurant Group. Haddad also owns Winstead's, the Plaza III, and Timbercreek Bar and Grill in Louisburg, Kansas. Ott's small local chain began on the Country Club Plaza in Kansas City, Missouri and has a second Kansas location at 6700 College Boulevard in Overland Park, Kansas (913-451-2999).
Classic video arcade game fans may enjoy playing a 1981 Galaga at the Olathe Fred P. Ott's Bar and Grill.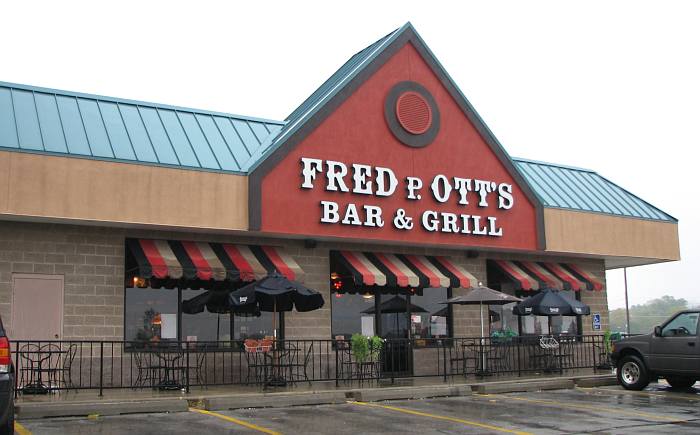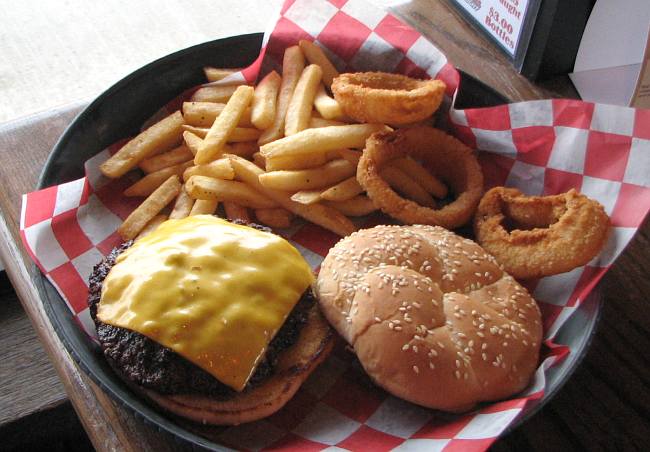 Biggie burger with half order fries & half order of onion rings. $9.69 with cheese.
This photo is the old 10 ounce Biggie. The Biggie is now 1/2 pound.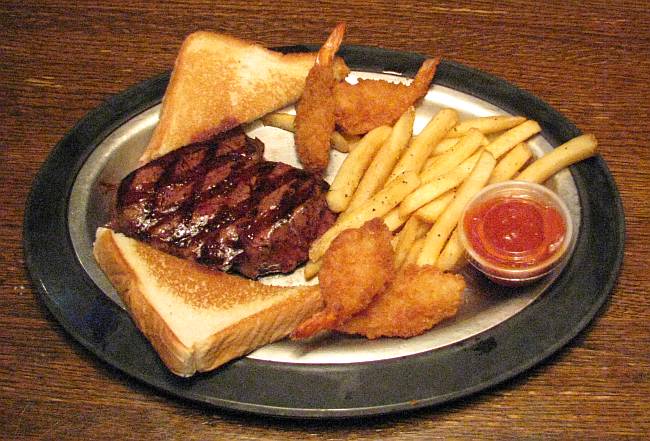 8 ounce fillet, French fries, 4 shrimp, and toast for $16.95. The shrimp were an add on.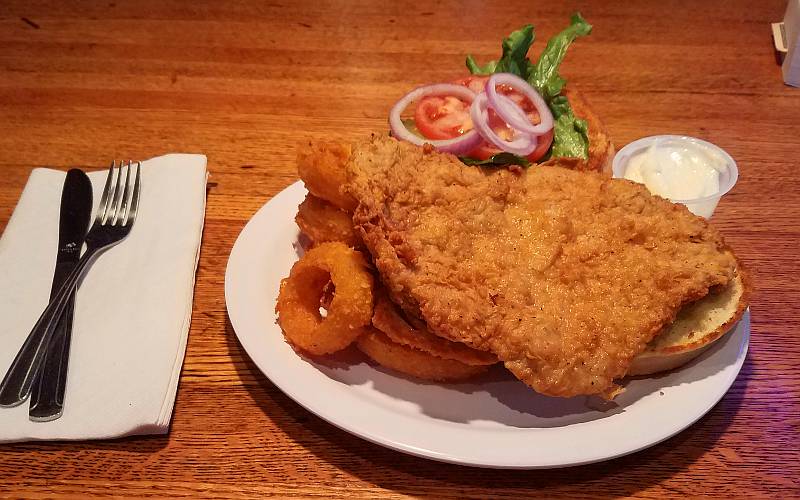 Hand breaded pork tenderloin and onion rings $9.49 ($2 less on Tuesdays)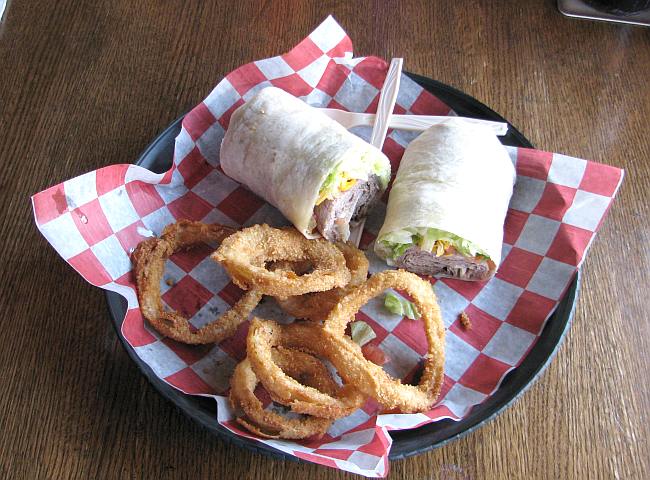 Steak wrap with shredded lettuce, cheddar cheese, tomato, onion and horseradish mayo
with your choice of side dish is $10.59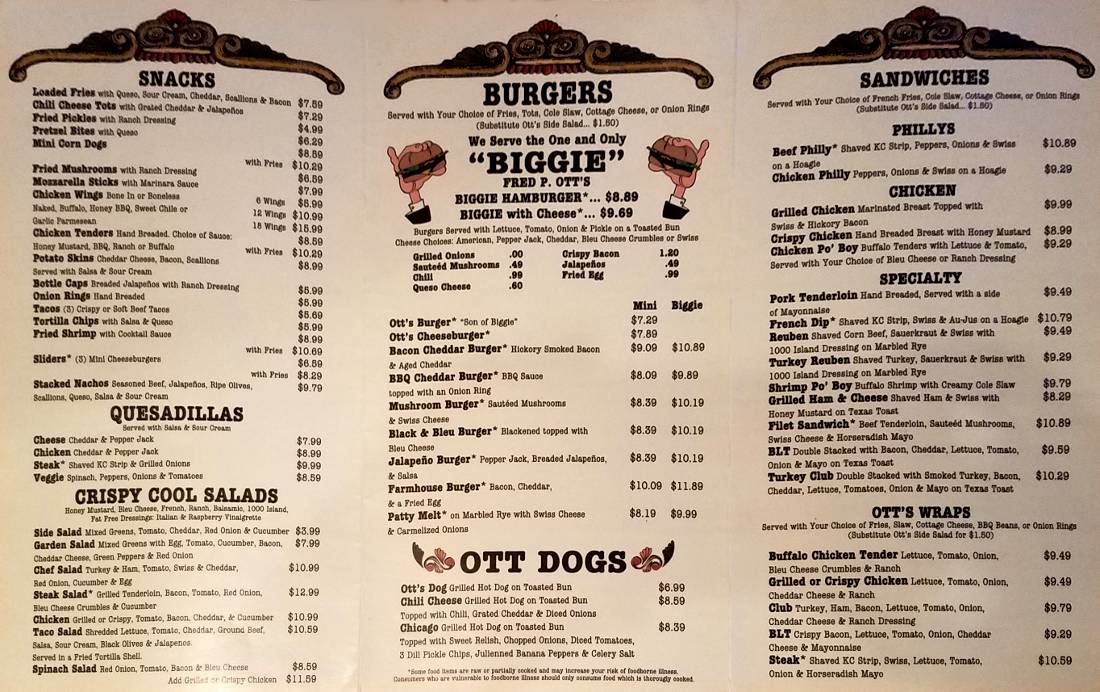 Click on January 2017 Fred P. Ott's menu for larger version
Olathe Restaurants & Attractions Fred P. Ott's Bar & Grill web site
Kansas Restaurants Kansas Travel & Tourism Home
copyright 2005-2018 by Keith Stokes