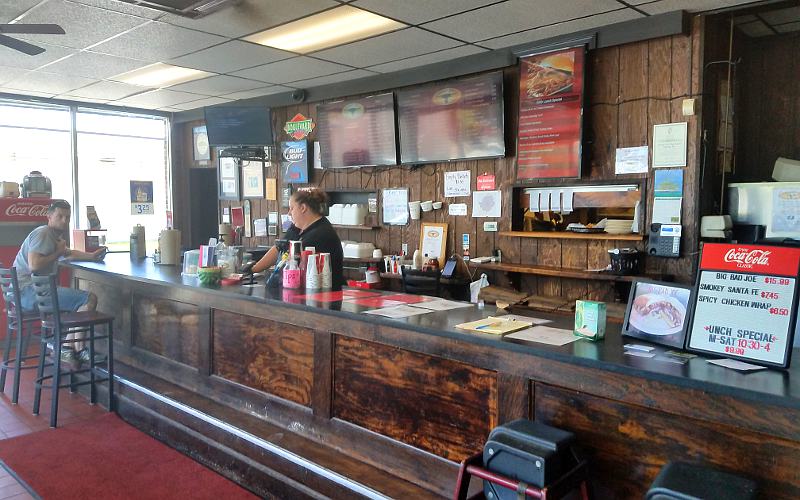 The counter at Smokin' Joe's BBQ in 2017
Smokin' Joe's Bar-B-Q opened in Olathe, Kansas in 1989. The original owner went on to open restaurants in Kansas City, Missouri and this location was owned and operated by his brother, Matt Sander, until 2018. Rhonda Lorenz took over management of Smokin' Joe's in the spring of 2018 and took over ownership in 2019.
The daily lunch special at Smokin' Joe's Barbeque is good value: $10.00 including tax for a large BBQ sandwich, generous serving of well cooked crinkle cut French fries and soda. Or get the same deal on a 3 rib combo, but only on Mondays. Place your order with the friendly people at the counter and the food comes out fast. I've found the food a little less consistent at nights and weekends.
All of the meat smoking at Smokin' Joe's is done with hickory wood and Joe's will also custom smoke turkeys, hams or other meats. Smokin' Joe's also caters.
Smoked meats served include pork ribs, beef, ham, turkey, pork, pulled pork, sausage, burnt ends, and chicken. Chicken strips and hot dogs are also available, as well as chili in the winter. After ribs, my favorite meats are the pork and sausage. Smokin' Joe's most popular sandwich may be the Poor Joe which includes several meats. The creamy garlic coleslaw is another good choice.
All day on Wednesdays and Sundays, slabs of barbeque pork ribs are only $13.99. Smokin' Joe's has a giant $15.99 sandwich, the Big Bad Joe - a 1 lb sandwich with beef, turkey, pork, sausage, 2 pieces of bacon, pepper Jack & American cheese, spicy sauce and French fries on the sandwich. Matt Sander created the sandwich while trying to get on Diners, Drive-ins and Dives a few years ago.
In 1990, Smokin' Joe's won 2nd place for their Spicy BBQ sauce in the American Royal BBQ Contest. Oddly enough the award winning spicy sauce is not on the tables, though small cups of the spicy sauce are available by request. The regular sauce is available warm, so you don't have to add cold BBQ sauce to warm meat. I usually add some Tabasco sauce to the regular sauce.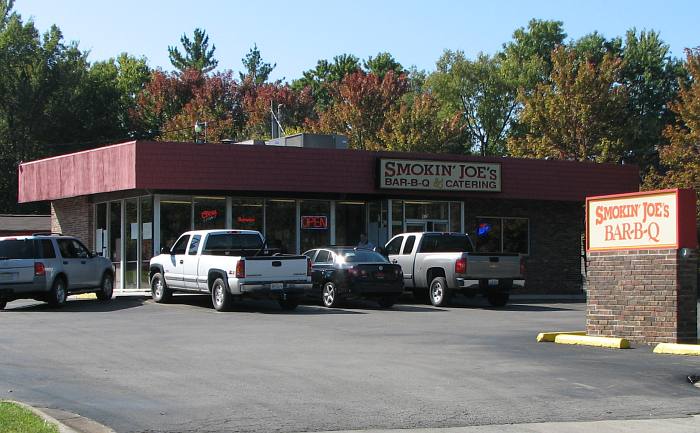 Smokin' Joe's Bar-B-Q - Olathe, Kansas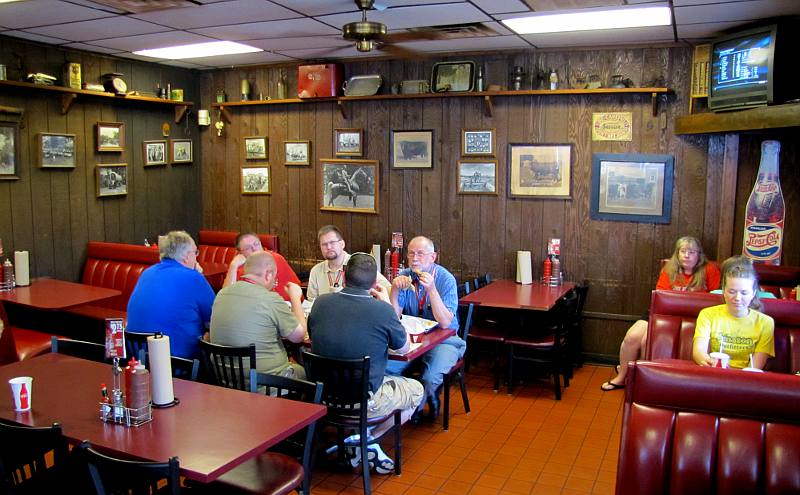 This is about 3/4 of the dining area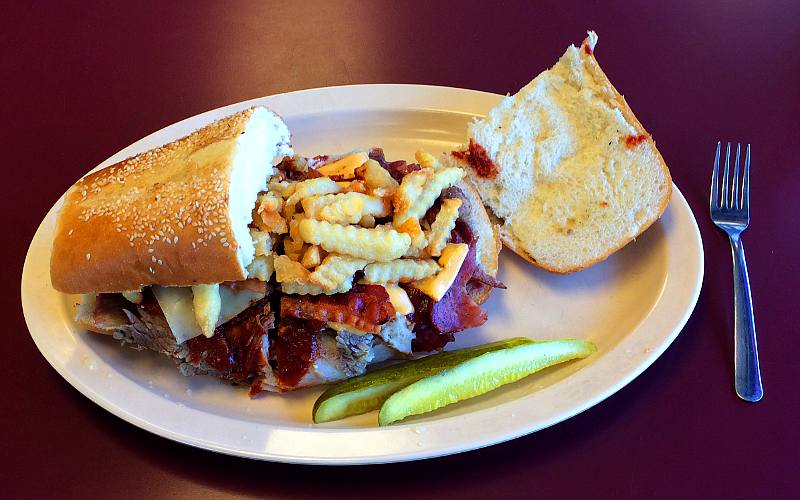 Big Bad Joe - lb. of Beef, Turkey, Pulled Pork & Sausage, plus pepper Jack & American cheese, 2 pieces of Bacon,
Smokin Joe's Spicy BBQ sauce and French Fries on a large bun - $15.99.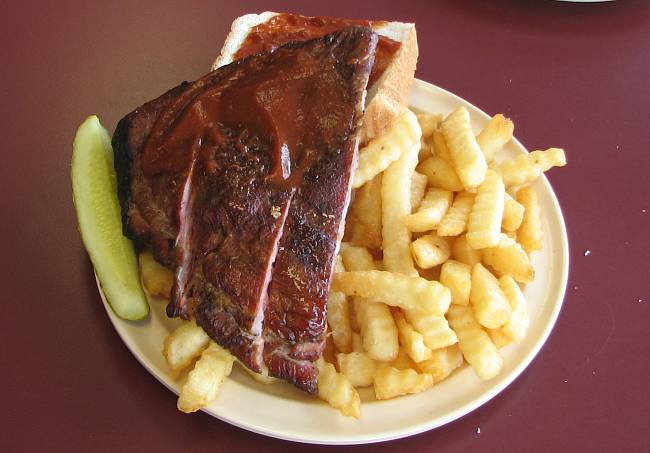 3 ribs, French fries (or other side), pickle, bread - $8.75.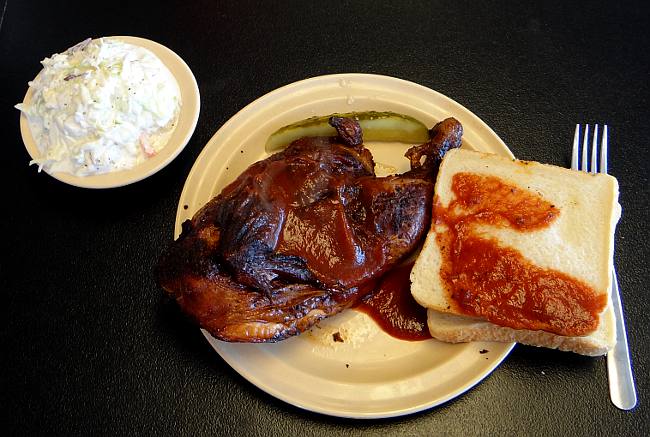 Half smoked chicken and garlic coleslaw - $9.49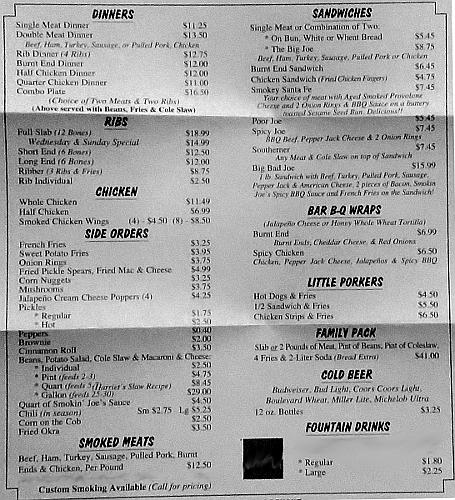 Smokin' Joe's menu in February 2020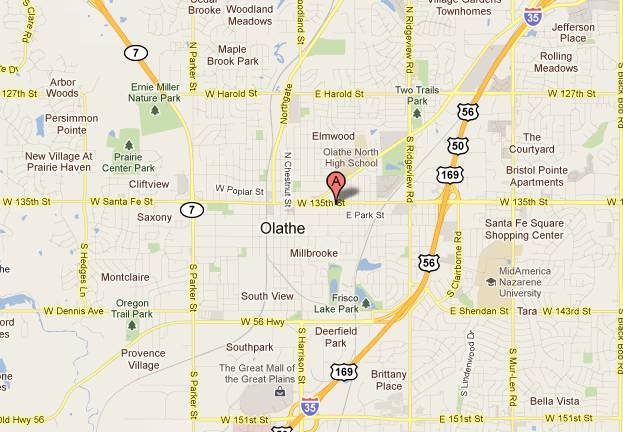 Smokin' Joe's Bar-B-Q Map
Olathe Restaurants & Attractions Smokin' Joe's web site
Kansas Restaurants Kansas Travel & Tourism Home
copyright 2008-2020 by Keith Stokes