Old Jefferson Town

US-59 Highway
Oskaloosa, Kansas

Jefferson County Historical Society
P.O. Box 146
Oskaloosa, KS 66066
(785) 863-2070

open weekend afternoons May - September
free


Edmonds Chapel (1891)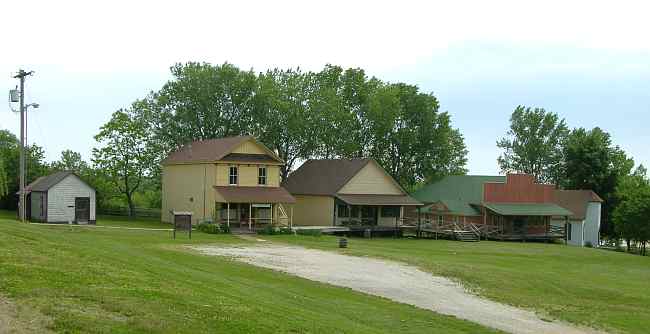 The Jefferson County Historical Society has moved structures from around the county to Old Jefferson Town, in Oskaloosa, Kansas, a nearly 10 acre park that includes a blacksmith shop, jail, general store, chapel, school house, Victorian home, and the John Steuart Curry boyhood home & museum. Also housed at Old Jefferson Town are the genealogical research building, a bandstand, and a native grass prairie. The Research Center Library is open Saturdays, 1 to 5 PM throughout the year, and Sundays from 1:30 to 5 PM in April through November.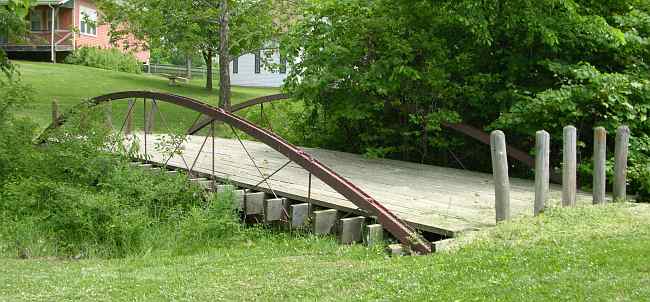 Bowstring Bridge (1875)
Although the displays in most of the buildings at Old Jefferson Town are similar to those seen in county historical museums throughout Kansas, there are a few standout attractions:
The 1875 Bowstring Bridge was manufactured by the King Bridge Manufactory in Cleveland, Ohio, and originally crossed Rock Creek north of Meriden. In the 1950s, the bridge was moved near Valley Falls, and in 1975 the bridge was finally moved to Old Jefferson Town in Oskaloosa.

The Matt Frazier wind wagon sculpture illustrates the story of Samuel Peppard, a local blacksmith & wagon maker who was looking for adventure in 1860. He built a wagon with a mast and sail to take him to the gold fields in Colorado. Oskaloosa residents dubbed the wagon "Peppard's Folly." Peppard, Steve Randall, J. T. Forbes & Gid. Coldon started for Pike's Peak and made it within 100 miles of Denver before their wagon was broken apart by a whirlwind.

The John Steuart Curry Boyhood Home and Museum is devoted to the artist John Steuart Curry (1897-1946). Curry is best know for the murals he painted in the Kansas State Capitol in Topeka. Curry's 1900 boyhood home was move to the grounds in 1990. It includes Curry family memorabilia, some of Curry's sketches & ink drawings, and one original painting.
Unless the museum is hosting a special event, I think the typical visit to Old Jefferson Town will take less than one hour.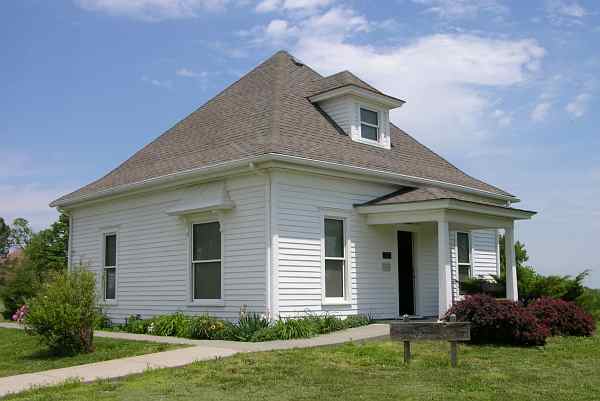 John Steuart Curry Boyhood Home and Museum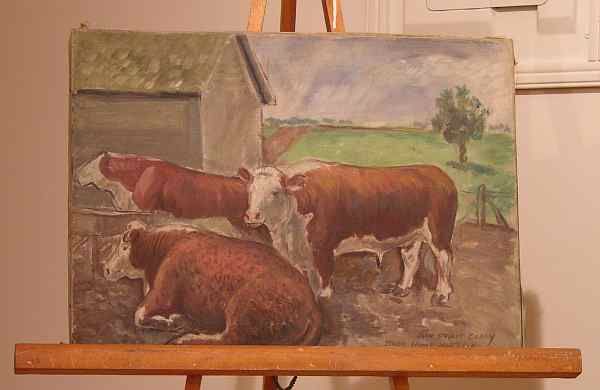 Original John Steuart Curry painting

Windmill still operates a pump circulating water
from an underground reservoir to a stock tank.


Samuel Peppard and his Prairie Wind Wagon
(Matt Frazier)
Old Jefferson Town website
Kansas Attractions Kansas Travel & Tourism Home
copyright 2006-2009 by Keith Stokes