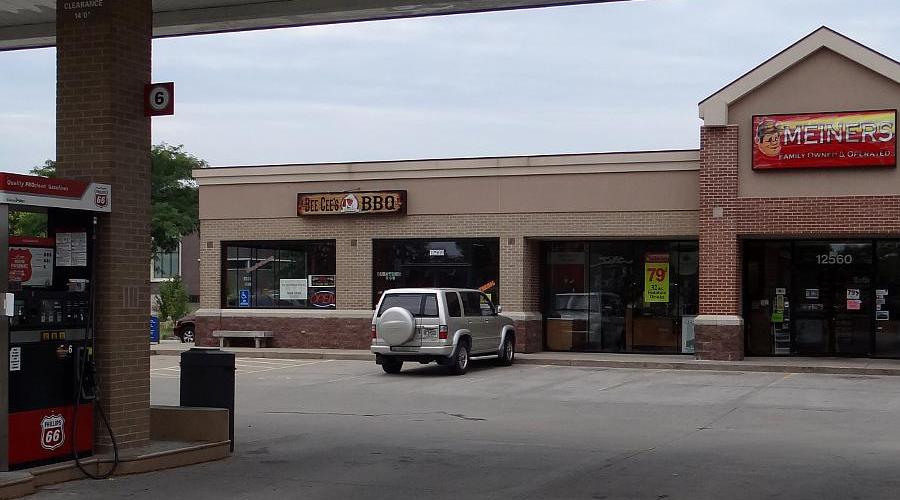 Bee Cee's Authentic Bar-B-Que - Overland Park, Kansas
Archive Page only in December, 2015, Bee Cee's posted to their Facebook page: "For the last 14 years, Bee Cee's Authentic BBQ Restaurant has proudly served the Kansas City metro area, providing a quality product at a fair price in a family-friendly atmosphere. Now, as our lease expires, it is with a heavy heart that I announce the closure of Bee Cee's, effective December 26, 2015."
Bee Cee's Authentic Barbecue opened in Overland Park, Kansas on April 2, 2013, but the owner, Craig Nelson, has operated a catering business since 2001. In fine Kansas City tradition, the restaurant shares a building with a gas station near the KU Edwards Campus. Orders are made at a counter and there are about a dozen tables for dining in.
At this time (after 4 months) there are still quite a few rough edges, but there is much to recomend this restaurant. The best thing is the meats, but that is what BBQ is mostly about..
The food is served in baskets with the flimsiest of plastic forks. There is nothing on the table - no napkins, sauce or salt and pepper. There are just a couple of squeeze bottles of sauce near the end of the counter.
To date, I have tried five meats. All were well done, but they serve them smothered in a spicy, sweet BBQ sauce. The chicken wings and burnt ends would have benefited from less sauce and I think the turkey legs and sausage would be much better with no sauce at all. The sauce does not combine well with the flavor of the smoked turkey. The coarse ground sausage would be great with onion & peppers and no sauce.
During my last visit I had the burnt ends. It it a good thing that I didn't get them during one of the earlier visits, or I may have never tried the other meats. These are some of the very best burnt ends which I have had. They have a great smoked flavor and are perfectly cooked, remaining tender and juicy. Order them with the sauce on the side, so you can enjoy the wonderfully seasoned, smoked meat.
The French fries are nothing special, but the onion rings are quite good. The beans have a good flavor from the bbq sauce and bits of smoked meat.
The prices at Bee Cee's Authentic Barbecue are not unreasonable, but they are not cheap. Although there is a $7 lunch special each day and you can get three wings & a side for less than $6, burnt ends will set you back $10 with no sides and a rib long end is $13.99. That seems pricey for food being served with plastic and no service.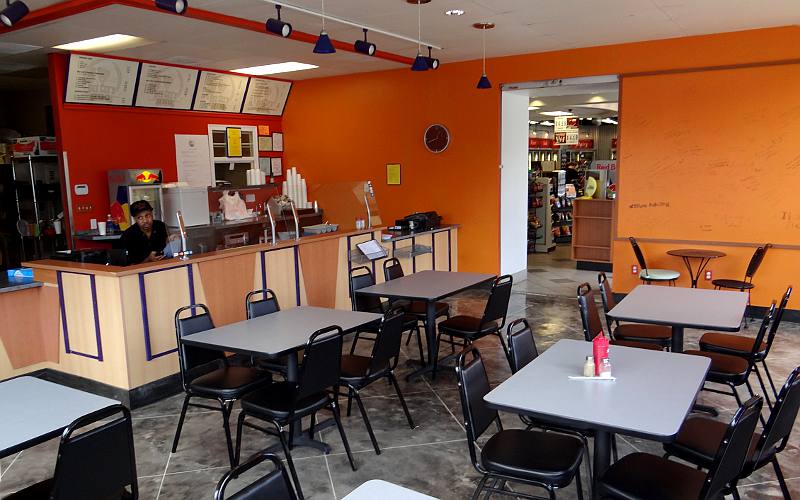 Bee Cee's counter and half of the dining room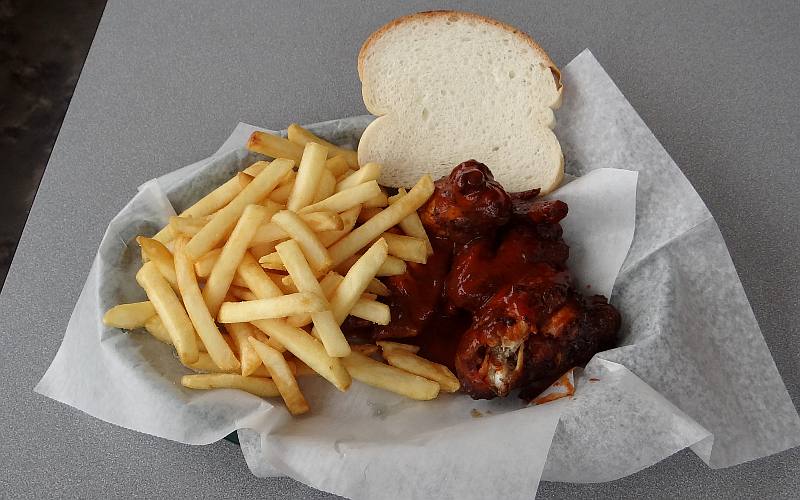 Three wings with choice of fries, potato salad, coleslaw or beans ($5.75)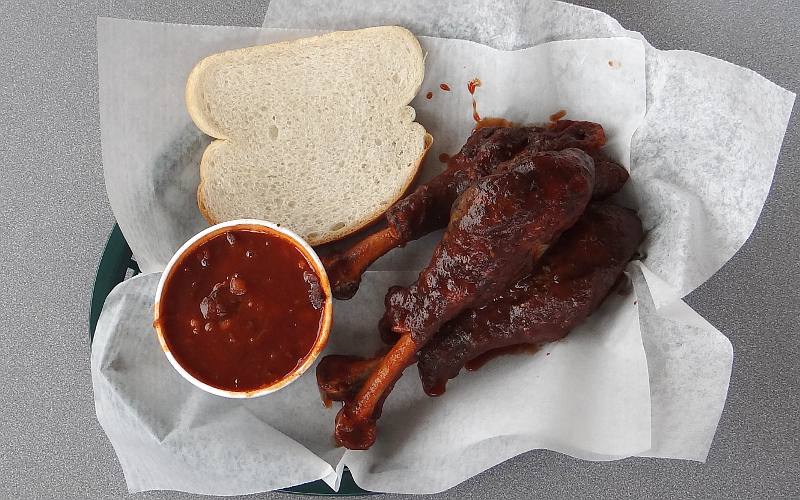 Turkey legs & beans ($6.59) - there are usually two small legs, but they had only one leg remaining (which they
couldn't really sell) and they added it to this order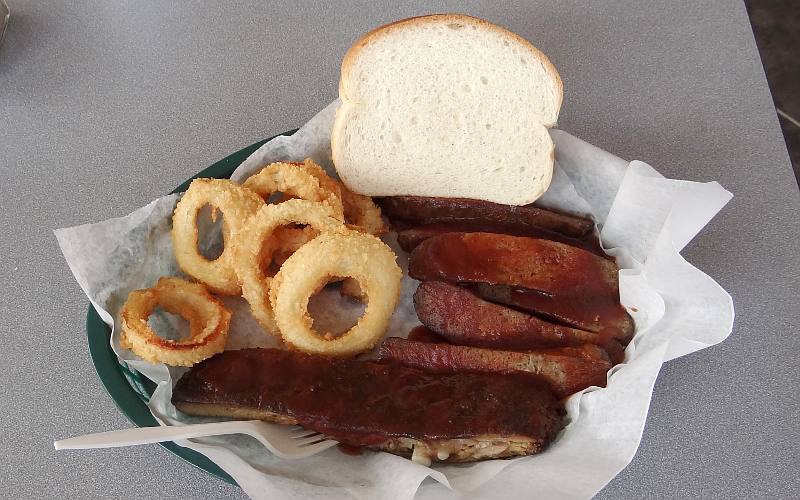 Sausage, onion rings and one rib ($12.98)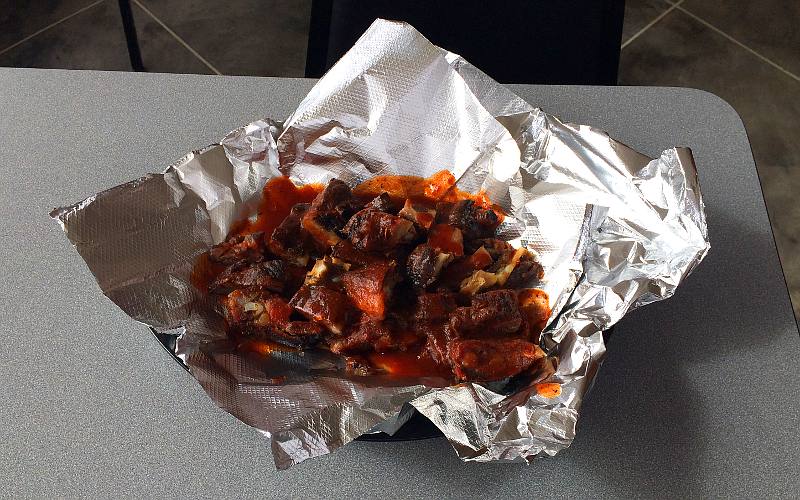 Burnt ends ($9.99)


Bee Cee's Authentic Bar-B-Que Menu from February 2014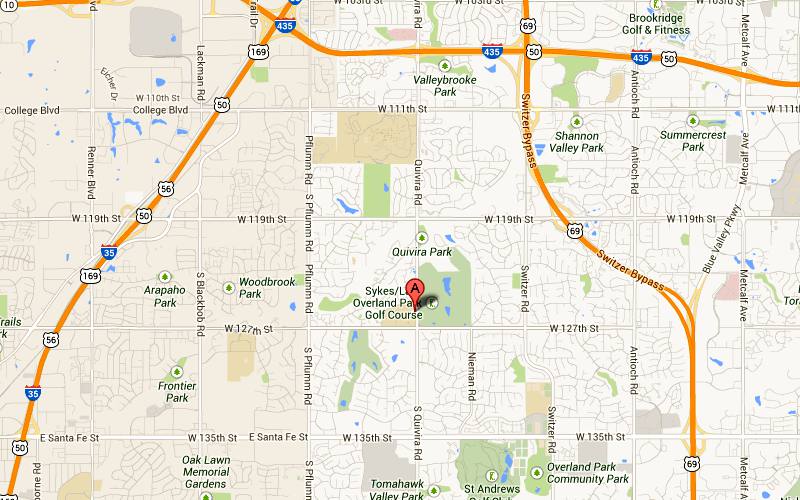 Bee Cee's Authentic Bar-B-Que Map
copyright 2013-2017 by Keith Stokes