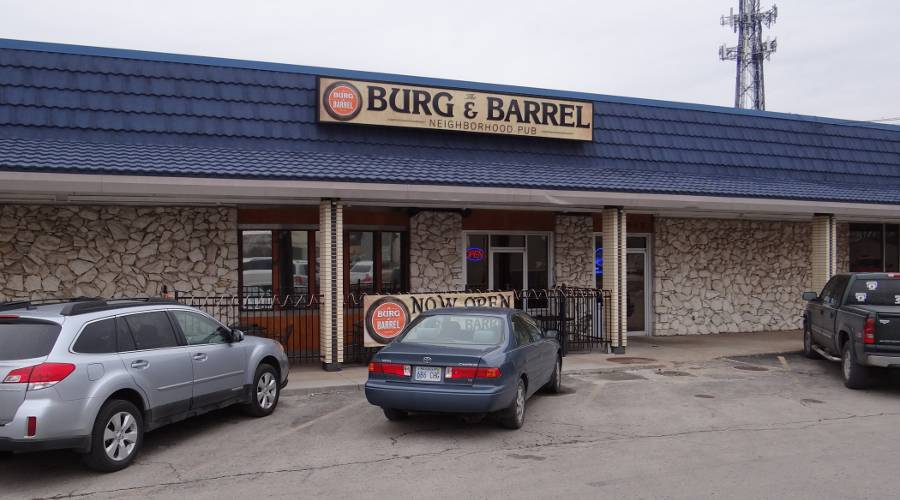 The Burg & Barrel - Overland Park, Kansas
The Burg & Barrel in Overland Park, Kansas is one of Johnson County's newest gourmet burger bars, having just opened in 2013. It is just around the corner from Metcalf Avenue in a strip mall space which formerly housed The Peanut and later, the 76th Street Bar & Grill.
The food menu is a bit short, but has many items which look appealing. So far, we have tried three of the burgers, a calamari wrap, KC strip, salmon sandwich and the fish & chips.
Of those 7 entrees, my favorite was the Smoke House hamburger with apple wood smoked bacon, cheddar cheese, bibb lettuce, tomato, red onion & pickles. It was cooked medium rare as ordered. The steak came medium well, even though it was ordered the same.
The best thing about the burger and sandwiches was the brioche bun!
The salmon sandwich was notable more for the toppings, than for the salmon. It was toped with the same bacon, lettuce & tomato, plus avocado and honey balsamic sauce. Many of the dishes include avocado.
My favorite side dishes have been the hand cut, skin-on French fries and fried mushrooms with garlic buttermilk dipping sauce. Most places serve pre made mushrooms, but these tasted like they were battered fresh mushrooms. The batter on the onion rings included and an unidentified spice which didn't work well for me. The house ranch dressing may include the same spice, but it seems to work better there.
The barrel side of the menu is represented by 12 beers on tap, 22 bottle craft beers and 17 whiskies. Tasting combinations of three beers or whiskeys are available.
The service has been quite good during our three visits.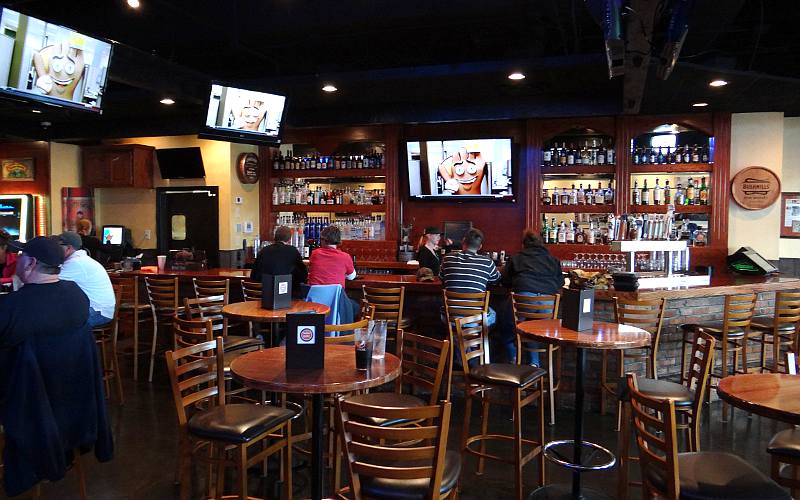 The Burg & Barrel dining area is a bit cramped - this is about half of the seating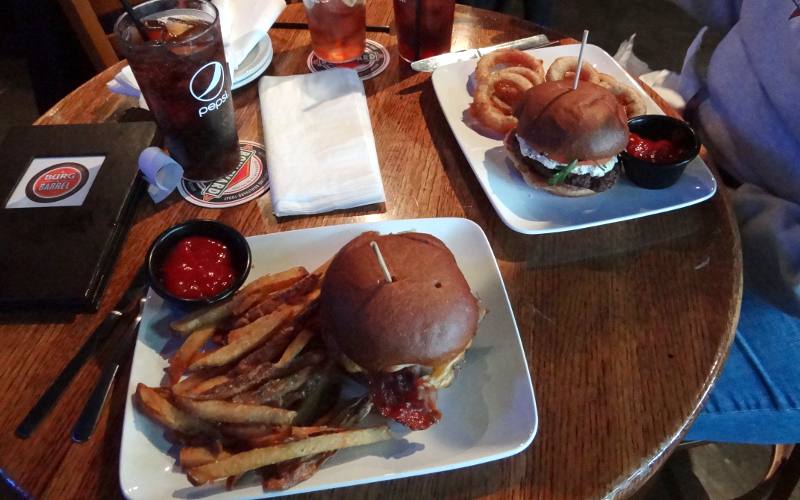 Smoke House burger ($9.50) and a goat cheese & herb burger that was a daily special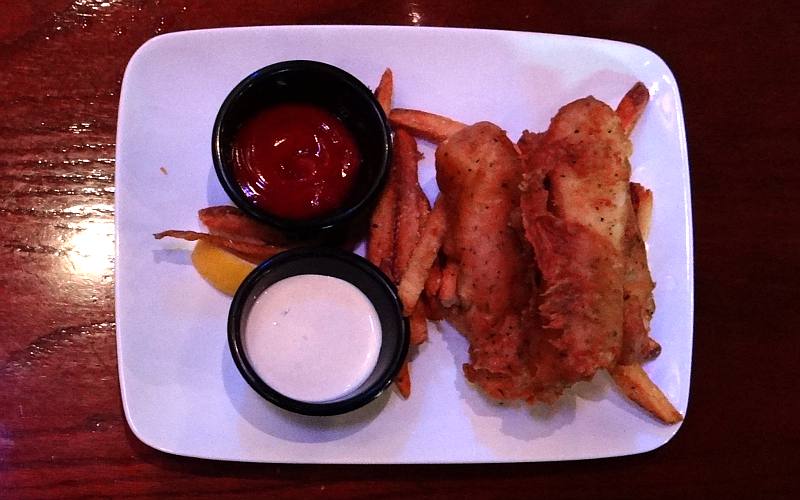 Fish & chips ($10)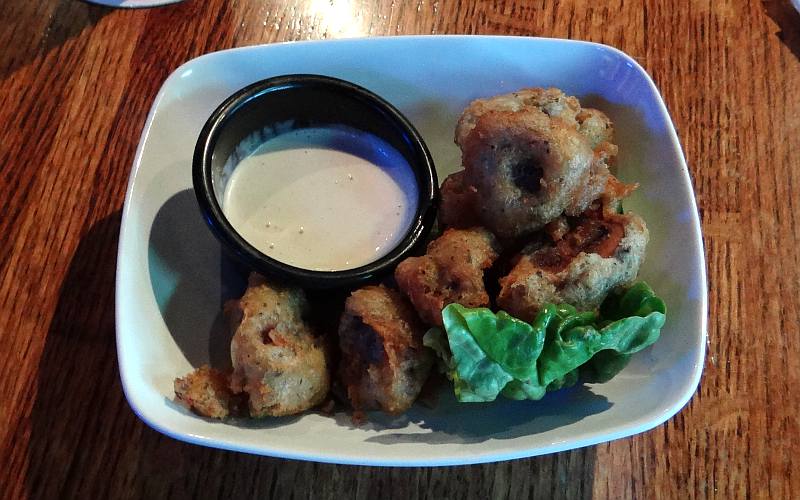 Fried mushrooms with garlic buttermilk dipping sauce ($7)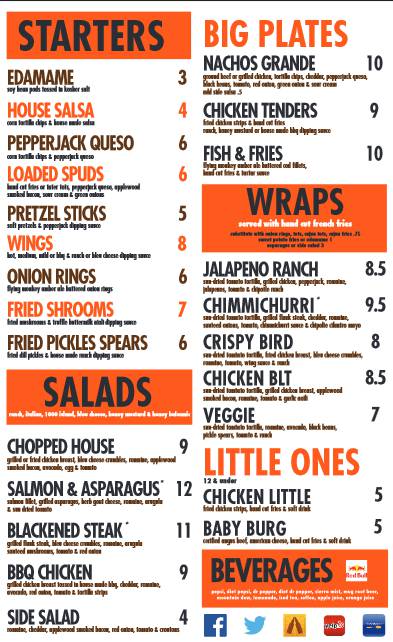 Burg & Barrel menu from January 2015 - click on images for larger versions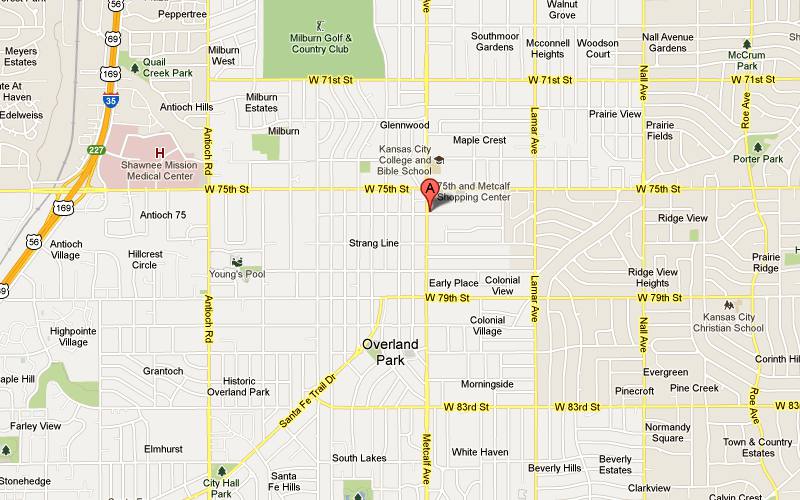 Burg and Barrel is just east of Metcalf - facing 76th Street
LAS 4/13 copyright 2013-2015 by Keith Stokes