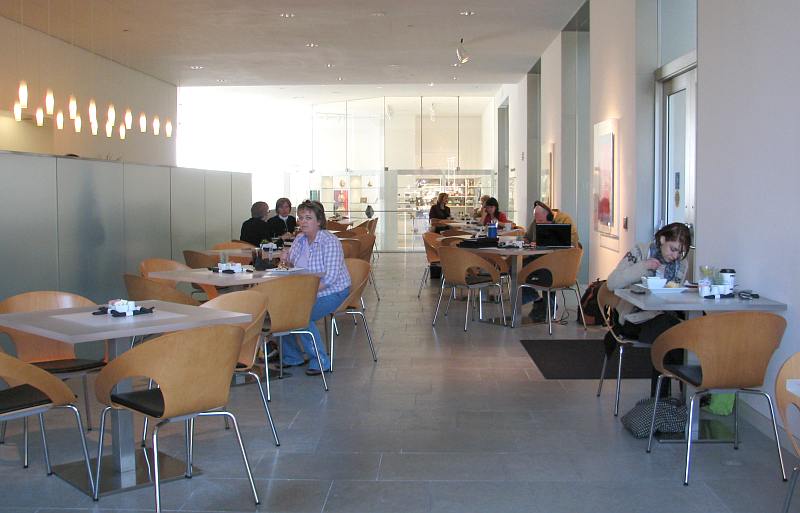 When the Nerman Museum of Contemporary Art opened at Johnson County Community College in Overland Park, Kansas in 2007, it included a new 110 seat breakfast and lunch restaurant - Café Tempo. The 2,400 square feet restaurant borders the two story glass atrium connecting the Nerman Museum and the Regnier Center.
Service at Café Tempo is minimal. You order at the counter, pick up your beverage, and are given a pager to let you know when your food has been prepared. The menu consists of pastries, quiche, a few salads & sandwiches. and a daily special.
Over the the scope of the menu has been reduced and Saturday hours have been removed. On my first visit, I was very impressed with the Café Steak (grilled flank steak with romaine lettuce, roasted red onions, portabella mushrooms, roma tomatoes, gorgonzola cheese and sherry balsamic vinaigrette). At $9.25 it was the most expensive entree on the menu and well worth it. It was one of the best salads I have ever had.
When this review was updated in 2011, Café Tempo no longer offered the steak salad, though its place on the menu has been replaced with an $8.50 Cobb salad which is both attractive delicious. But I'm happy to say that as of the summer of 2014, the steak salad is back, every bit as good, and the price has dropped to $8.75! The Cobb salad remains and its price has dropped to $8.00. This is a win - win.
Parking can be very difficult to find when Johnson County Community College is in session. During my most recent visit it took nearly 10 minutes and going to several parking lots before I could find a place to park.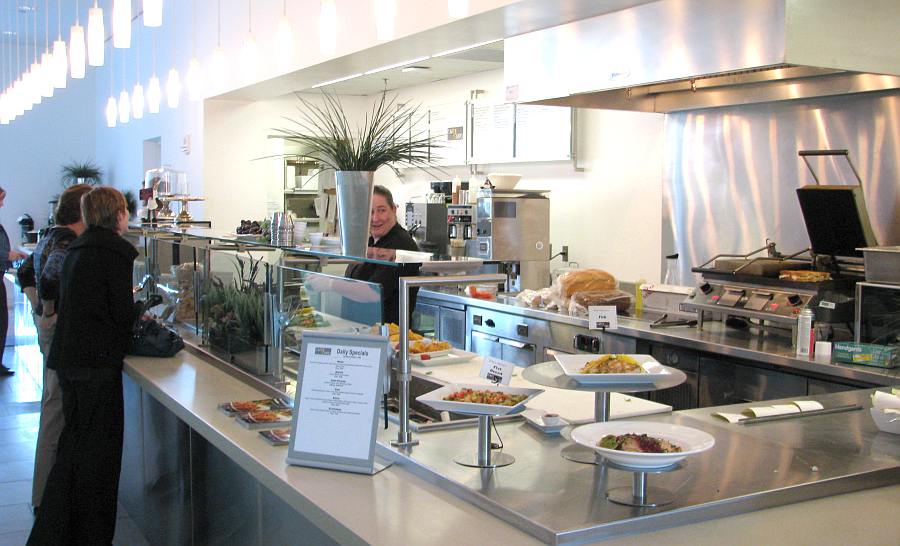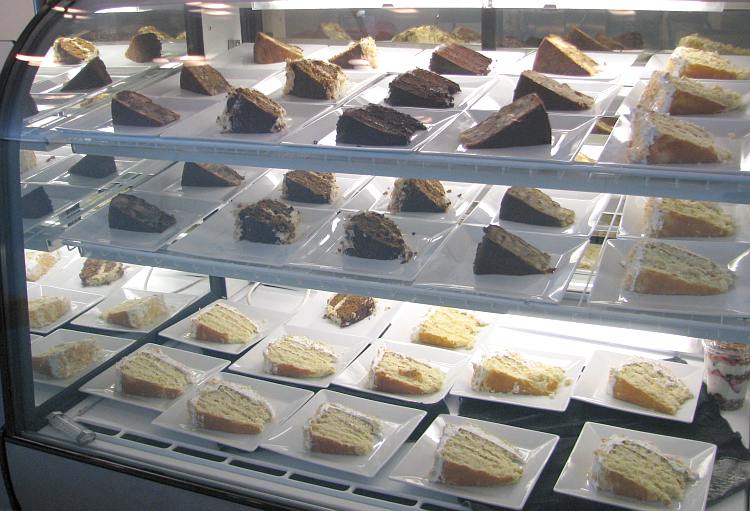 Most desserts at Café Tempo are made in house. I wish they weren't limited to mostly cakes.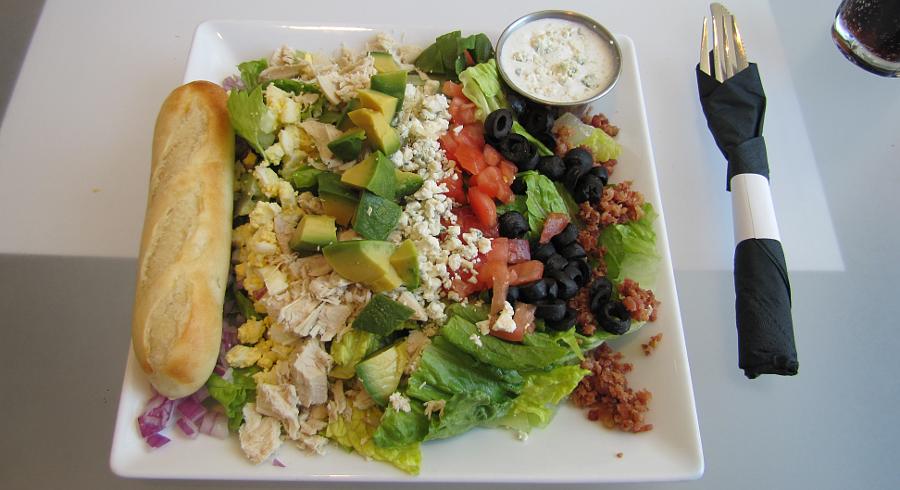 Cobb salad - grilled chicken with hard boiled egg, red onions, diced tomatoes, bacon, black olives, blue cheese, avocado and choice of dressing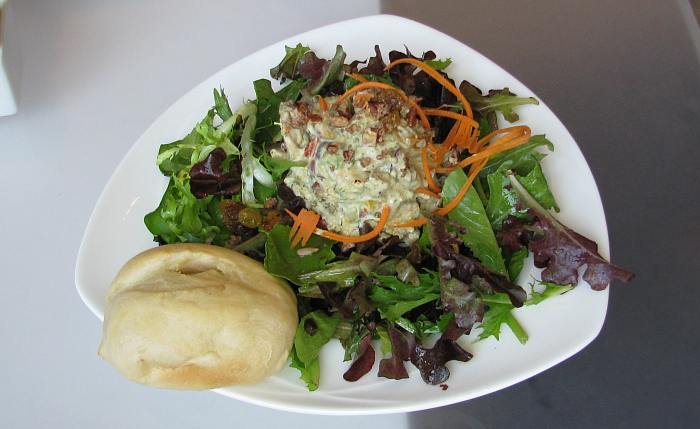 Mango Chicken (Marinated and grilled chicken with diced mango, fresh grapes, golden raisins, red peppers,
red onions, celery and cinnamon praline pecans)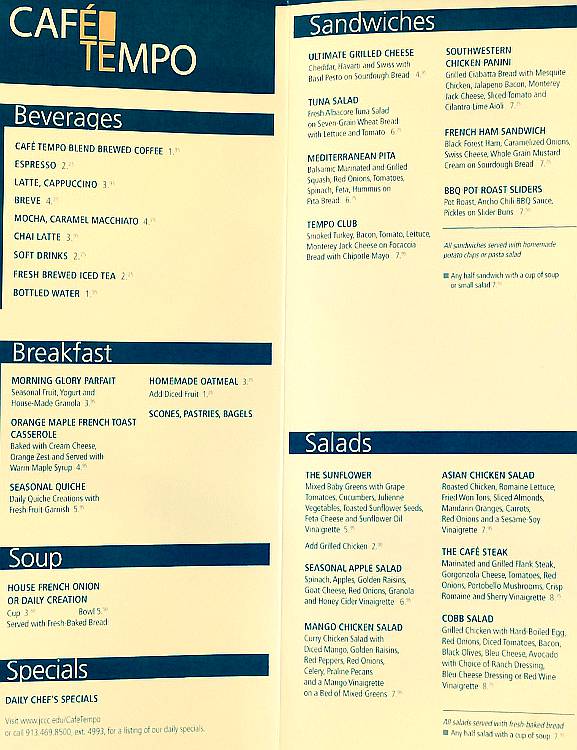 Café Tempo menu from July 2014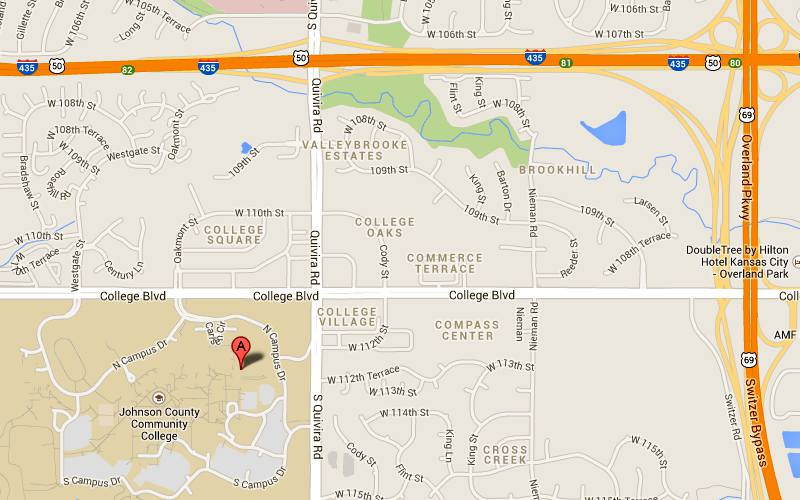 Café Tempo Map - Nerman Museum
copyright 2009-2014 by Keith Stokes