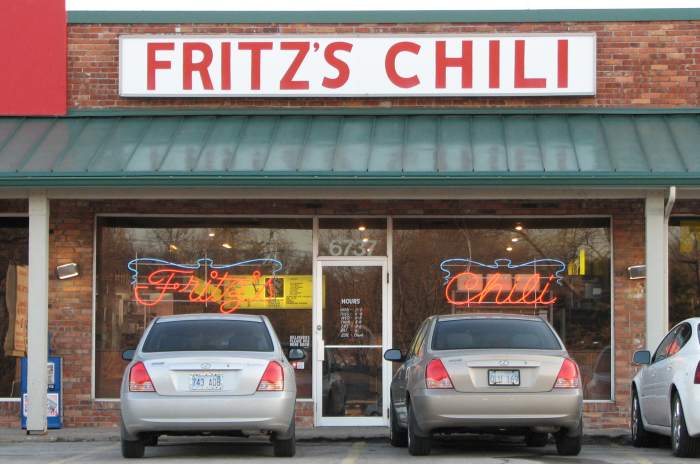 Update: Diana and Bruce Fritz are retiring and the final day that Fritz's Chili will be open is Friday, August 24, 2018.
They say that you can't eat atmosphere or tradition, but I think you come pretty close to doing that at Fritz's Chili in Overland Park, Kansas. Walking into Fritz's Chili in Overland Park, Kansas is like stepping back in time. The tables & chairs, counter with low stools and appliances behind the counter all date back over 50 years to the restaurant's opening as a Dixon's Chili parlor.
But the history behind this small, storefront restaurant goes back much farther. Vergne Dixon started selling chili out of a cart in the early 1900's in downtown Kansas City, Missouri. In August, 1919 he opened Dixon's Chili at 15th and Olive in Kansas City. The small restaurant (a counter with six stools) continued with various levels of financial success and Harry Truman became a regular customer in the 1920s. The Truman connection made Dixon's Chili famous when Life magazine published a December 23, 1950 photo of Harry Truman eating in Dixon's.
Following Vergne Dixon's death in 1964, the restaurant was expanded into a chain of Dixon's Chili parlors in Minnesota, Kansas and Missouri. The Overland Park Dixon's franchise was purchased by the Fritz family in 1967. The original Dixon's location closed in 1969 or 1970, and over the year's the ownership of the Dixon's chain changed to different family members. At some point the Fritz family could no longer be sure that they had a legal right to use the name, and changed the name of their Overland Park restaurant to Fritz's Chili.
Only one "Dixon's Chili" remains in operation today, in Independence, Missouri.
Today, Fritz's Chili is owned and operated by Diana and Bruce Fritz. Bruce's first job was working in his parent's restaurant in 1967 and it is the only job he has ever had. He and Diana took over Fritz's Chili in 1982.
Which finally brings us to the food. Fritz's Chili Parlor has a limited menu, which is posted on lighted boards on the walls. The "chili" isn't what you might expect. It is lightly seasoned ground beef, with or without beans. That's it - anything else is what you add. Vinegar, Vinegar with hot peppers, and Fritz's own blend of chili powder are on the table (along with crackers). Other items to blend in, including cheese, onions, jalapeno sauce, and ketchup, are available on the side for a small additional fee. This isn't food that will appeal to all, but Fritz's has a loyal following.
Yes, you pay for ketchup, That is part of the tradition. Mr. Dixon didn't provide ketchup at any price, and when he caught someone sneaking ketchup in, he fined them ten cents. That same ten cents is what is charged for ketchup today.
Other items on the limited menu are tacos, tamales, hamburgers or hot dogs. All available with or without "chili."

Fritz's Chili counter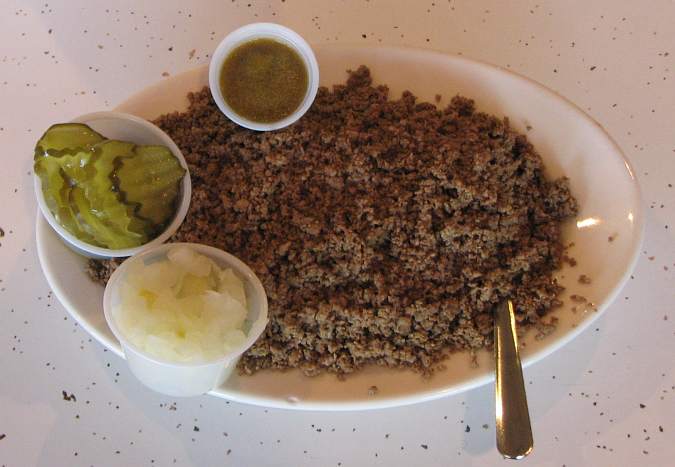 Large order of Fritz's "chili" without beans for $8.75. Onions, pickles and jalapenos on the side for $ .20, .30 & .30.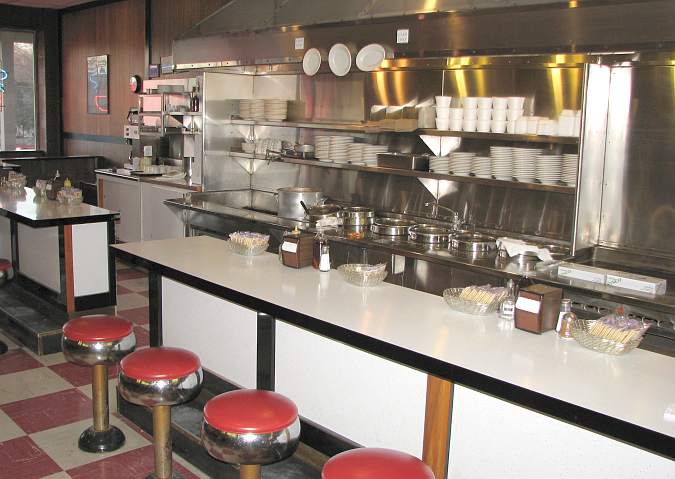 Original counter and cooking area.


Fritz's Chili menu from December 2014
Fritz's Chili also offers pie or peanut butter cheese cake, but they are items that Fritz's buys from an outside vendor. But I've never tried Fritz's desserts, because the restaurant is just across the parking lot from the original Sheridan's Frozen Custard - the high quality chain that now has 18 locations in 6 states.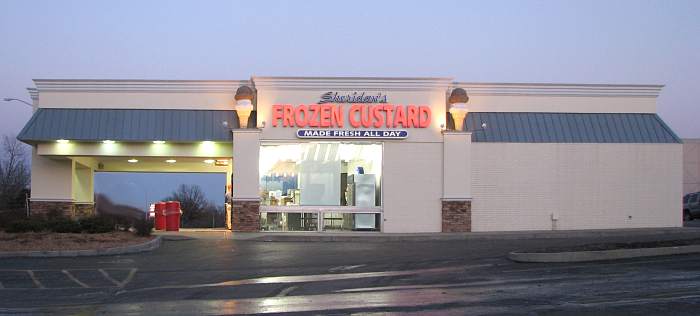 The original Sheridan's Frozen Custard.- 6825 W 75th Street, Overland Park, Kansas.
L-11/09 copyright 2008-2018 by Keith Stokes