Jon Russell's Kansas City Barbeque
12094 W 135th Street
Overland Park, Kansas 66221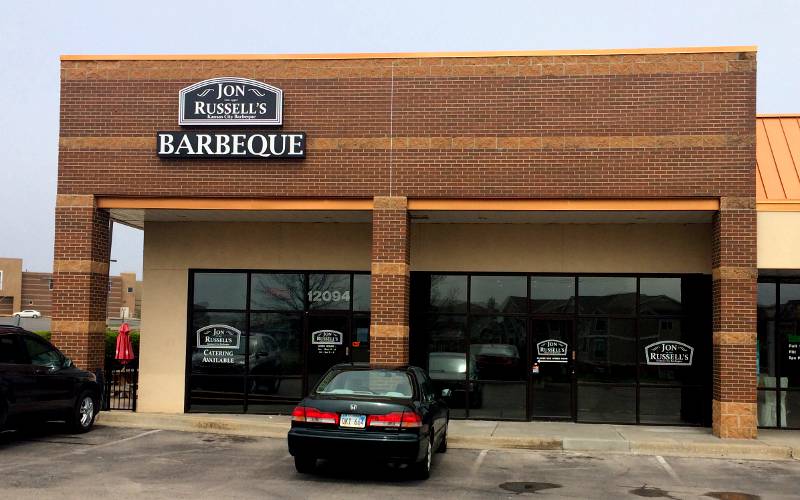 Jon Russell's Kansas City Barbeque - Overland Park, Kansas
This is an archive page. On February 23, 2019 the following was posted on the door at Jon Russell's Kansas City Barbeque:
"After years of serving our Overland Park & Olathe Community we have Closed our doors. We want to thank all of you for your support and friendships that we have made. We will miss you all deeply and thank you again for years of continued support."
Jon Russell's Kansas City Barbeque in Overland Park, Kansas has come a long way since it first opened in 2012. The service has improved, they have added two other locations, and doubled in size, tripling the size of the dinning room. They have also become much more polished. For example, they now have several of the BBQ sauce flavors available for sampling, rather than customers having to ask about them. The fries are improved and the pork ribs, in particular, are now more flavorful and tender.
Among the other meats, the burnt ends and brisket both have a nice smoky flavor. Some people may think the brisket is a little too fatty, but I found it to be just right. The sausage appears to be house made. It has a little less flavor from the smoking and is the only meat which I felt needed some of the sweet, fruity barbeque sauce. The sauces are Honey & Spice, Pineapple Pablano, Cherry Chipotle, Raspberry Jalapeno, Blueberry Habanero and Smokin' Ghost.
The best sides are the French fries and onion rings, though the rings might benefit from just a little more frying. The chips have good texture and are great for dipping or with a spread, but could use some seasoning for eating by themselves. The cheesy corn is the only side which has been disappointing, with the cheese sauce reminding me of some canned queso sauce.
Jon Russell's popular chicken wings used to be only available as a Wednesday special, but are now available every day. The wings are spicy from a dry rub and slightly crispy on the outside. I recommend them.
Jon Russell's newer locations are at 13145 State Line Road in Kansas City, Missouri; and a take out only, limited menu inside the Prairie Market Convenience Store at 9350 Renner Road in Lenexa, Kansas.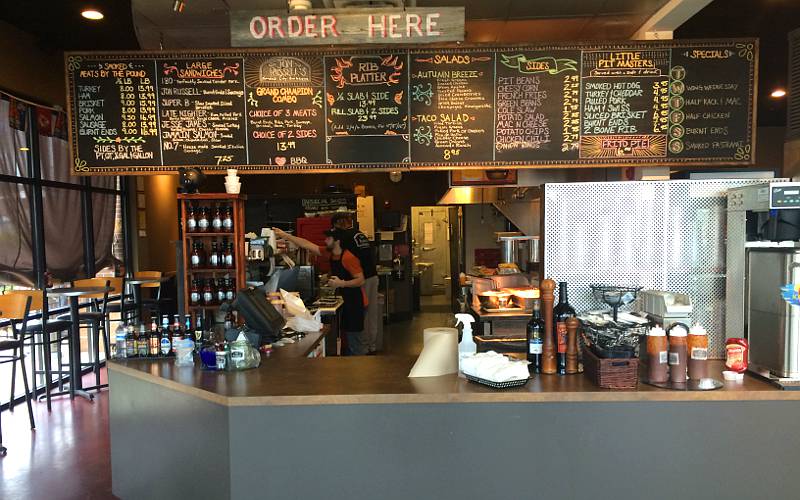 Dine in orders are placed and paid for a this counter, than brought out to the diner's table.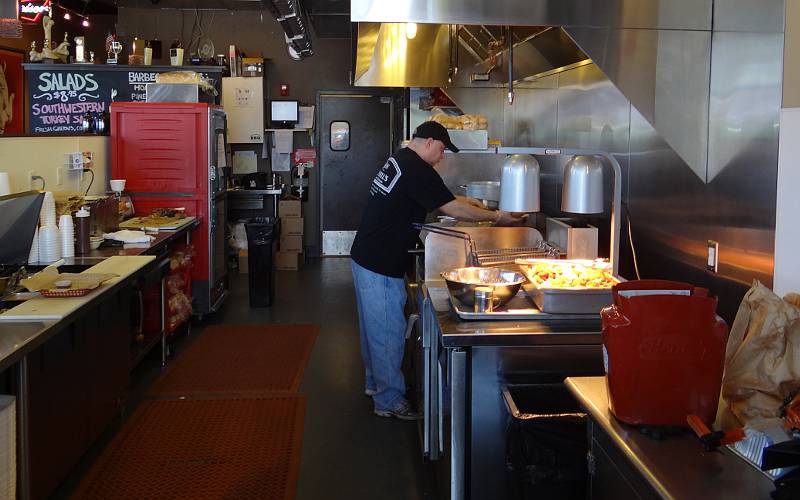 This is an older photo, but the kitchen is mostly unchanged since the expansion of Jon Russell's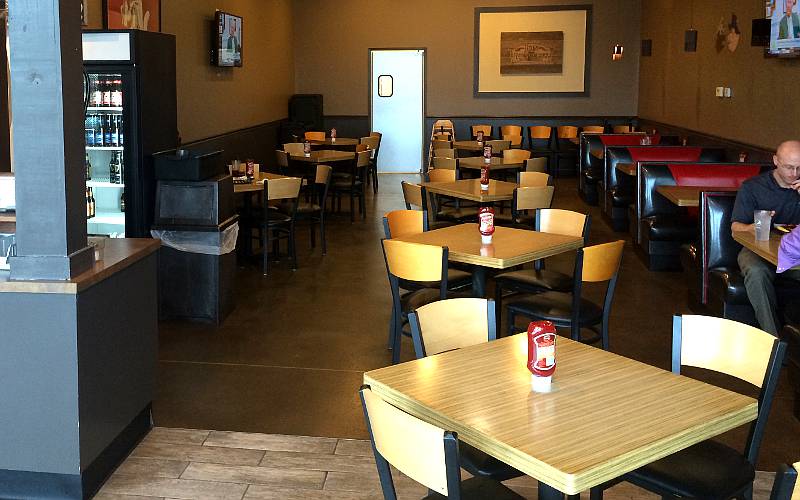 The expanded Jon Russell's dinning room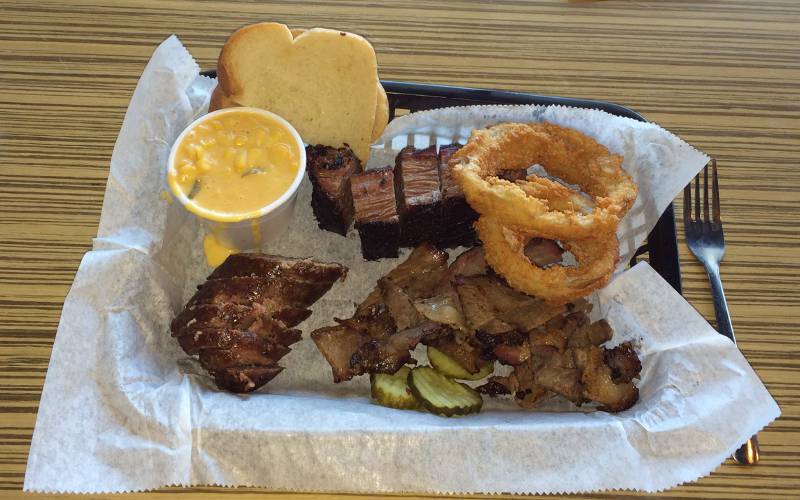 Grand Champion Combo - choice of three meats and two sides
In this case, cheesy corn, onion rings, sausage, burnt ends and brisket.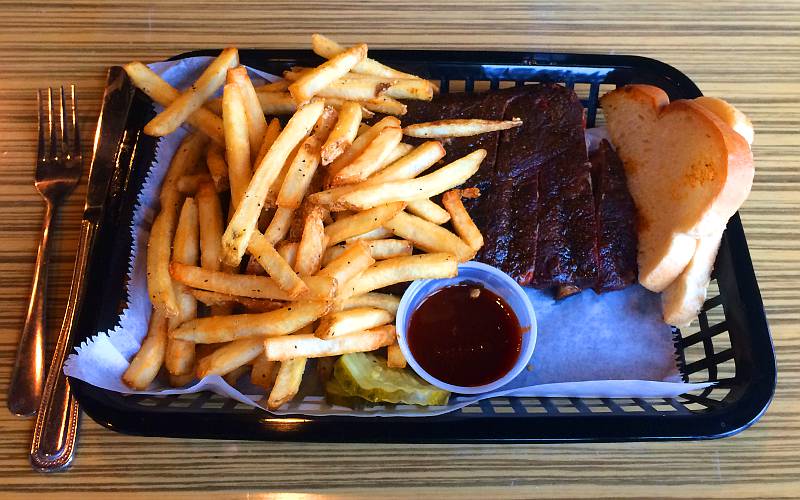 Half slab and one side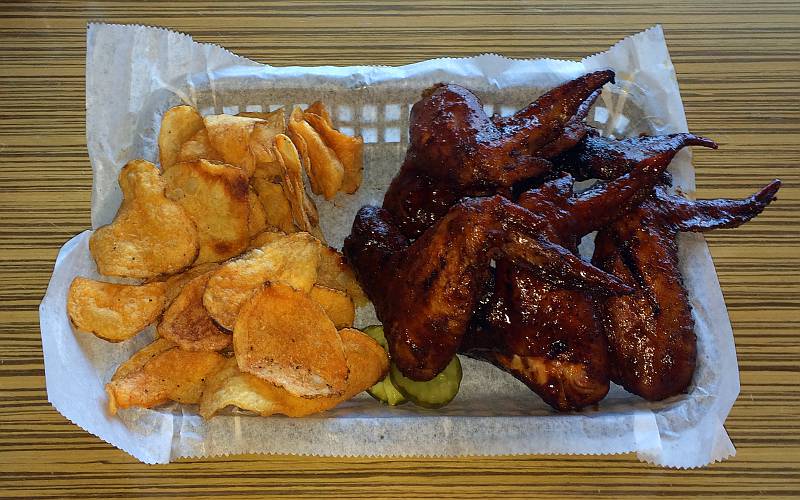 Wednesday wing special with house made chips.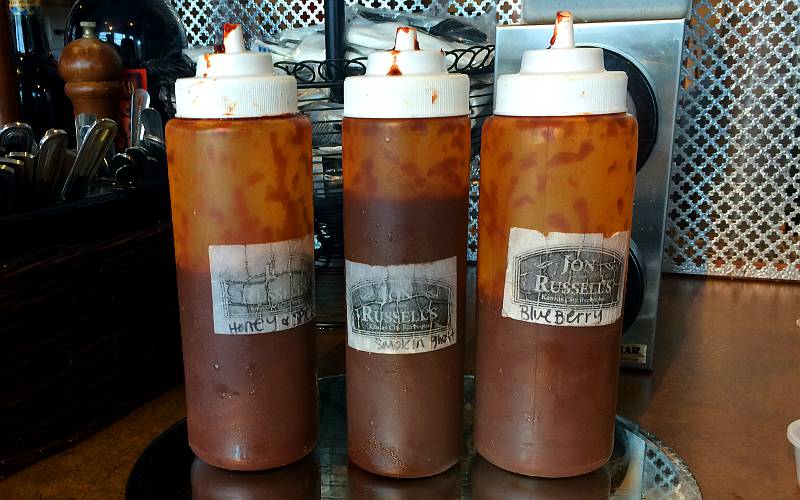 Some of the nine in house made BBQ sauces


Jon Russell's menu from November 2016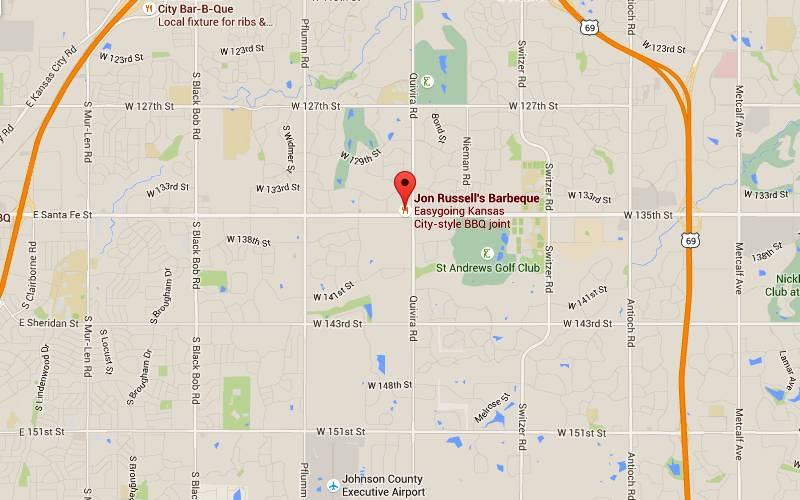 Jon Russell's Kansas City Barbeque map
copyright 2013-2019 by Keith Stokes