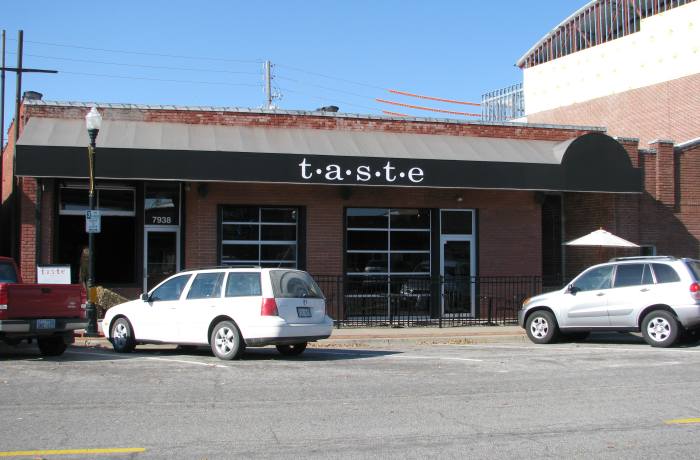 Taste Restaurant - Overland Park, Kansas
Taste Restaurant closed in 2012 - this is now an archive page and this space is now The Peanut.
When first visited in November of 2008, Taste Restaurant was the newest restaurant in Overland Park, Kansas. Taste is 3 blocks west of Metcalf Avenue between 79th and 80th Streets in old town Overland Park. Taste is in the same space where Tonic was located. With only a few changes, the trendy upscale restaurant still looks much the same.
Taste's lunch menu offers seven sandwiches and six salads, but the best part is the tasting menu. For $11 you get to choose 3 items from among 17 appetizers and small sandwiches. On my first visit, my favorite items were the tempura sweet potatoes & portabella mushrooms with a sweet chili soy sauce, and the mini blue cheese burger with caramelized onions & Taste's special condiment blend sauce. I really liked the chili soy sauce and stole some of my friend's fries to sop up the last of the sauce.
But the very best part of the meal was the dessert. We really weren't hungry by that point, but the warm apple crumb tart sounded just too good. That is the tart in the picture at the top of this page. It is served in cast iron skillet with cinnamon ice cream. It tasted wonderful and the large serving was plenty for two of us.
The service at Taste was attentive. The food was all good, though a couple of items weren't exactly as described. The tart didn't need the missing whipped cream. But the Thai chicken wings (which were my least favorite item tried) might have been helped by the missing spicy ginger dipping sauce.
Although Taste wasn't that busy, the pace of the meal was noticeably slow. Taste isn't a restaurant to visit if you are in a hurry. Our lunch took nearly an hour and a half.
June 2009 Update: We visited Taste again, and I was surprised to see that the prices had not gone up. We did the tasting lunch again, with 6 different items. All items were good and Linda particularly liked the piquant tempura shrimp tossed in a spicy garlic chili sauce. But my favorite was the mini grilled mahi mahi sandwich with homemade tarter sauce.
Service was faster this time, and we were out in a about 50 minutes.
I still need to return to Taste Restaurant in the evening try some dinner entrees such as rack of lamb or bone in ribeye.
Taste's wine list includes 19 wines by the glass for $5-10 and 46 wines by the bottle. The wines ranged from $15-270 a bottle with many priced between $16-24. Taste has a full bar.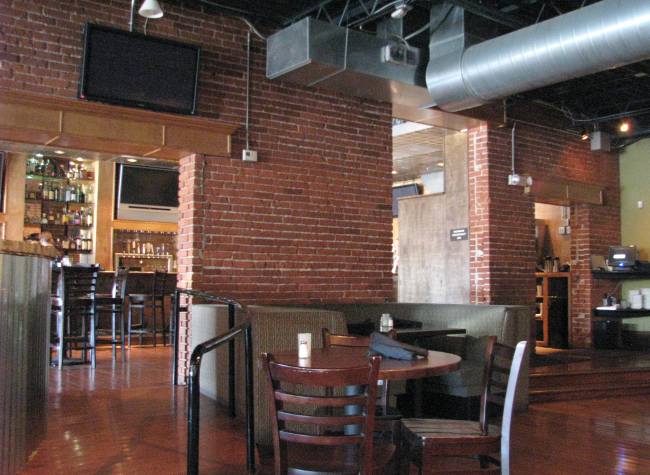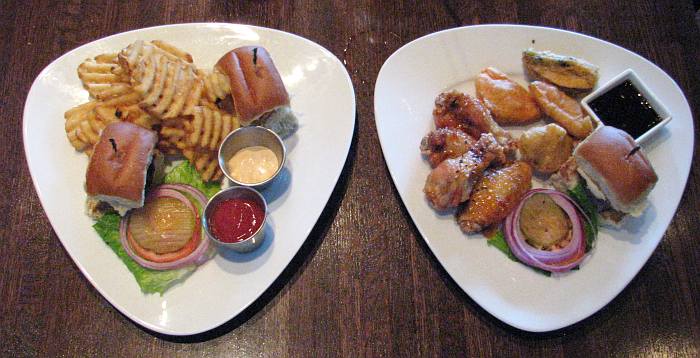 Left plate: mini fried crab cake burger, classic mini cheese burger, and waffle cut French fries.
Right plate: Thai chili scented chicken wings, mini bleu cheese burger with caramelized onions,
and tempura sweet potatoes & portabella mushrooms with a sweet chili soy sauce.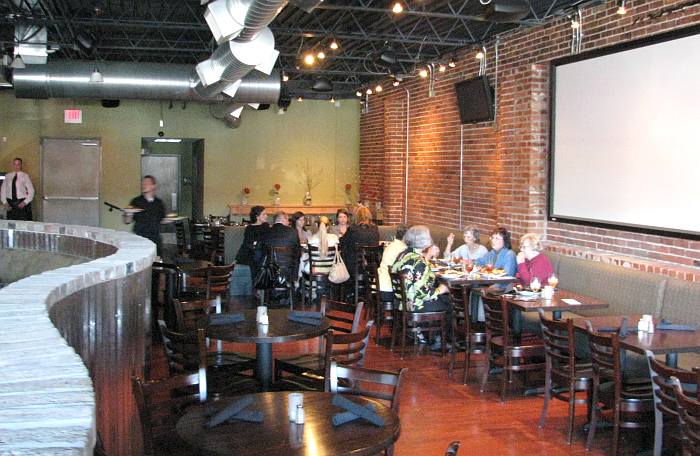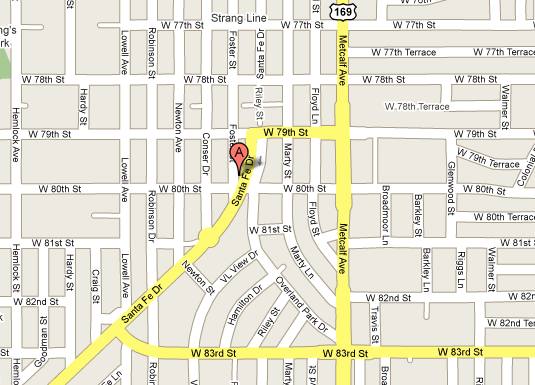 Taste restaurant map
Taste Restaurant website
Kansas Attractions Kansas Travel & Tourism Home
copyright 2008-2012 by Keith Stokes