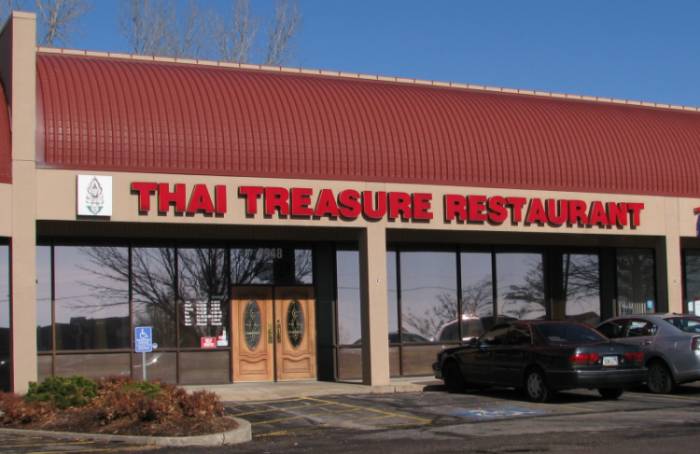 Archive Page only. Thai Treasure Restaurant is permanently closed.
Thai Treasure Restaurant in the Stanley area of south Overland Park is my pick for the the number one Thai restaurant in metropolitan Kansas City.
Thai Tradition has a large lunch menu - 3 pages. Many of the items are available with your choice of beef, chicken, pork or tofu. 13 different entrees are available in a combination meal for $7.25 including rice, soup or salad, and appetizers of the day.
On my first visit, I had Garlic Pepper Chicken (Mainly lots of roasted garlic and green onion over a bed of shredded cabbage) with hot and sour soup, crab rangoon and egg roll. The appetizers were just OK, but I liked the soup a lot. The garlic pepper chicken was very good - lots of garlic, but not a "hot" dish.
For $1, you can add a small bowl of red or green curry to the lunch meal. I've enjoyed both curries. I loved them, but they wouldn't be for everyone. They are right at the limit for how hot a dish I can eat. But they are so good that I eat every bit.
My second meal at Thai Treasure was in the evening when they have many selections in the $10-15 range. I began with the Garlic Rib appetizer. Quite garlicky and tasty, it came with a traditional Thai hot sauce on the side. The server warned that the sauce was hot, but it wasn't too bad.
My entree was Spicy Peanut Pork (stir fried with fresh peanut, bell peppers, jalapeno peppers, white onion, hot red peppers and green onion). I ordered the pork medium hot, despite the server warning that the medium was very spicy. Picking out most of the hot red peppers, I was just able to eat it. I normally eat hot food at Indian and Korean restaurants, but I will be ordering mild on my next visit to Thai Treasure Restaurant.
The Napaisans took over this location in early 2008. Michael Napaisan once managed a Thai Restaurant in the Metcalf South Mall. More recently, he and his lovely wife (I didn't catch her name) worked at her sister-in-law's Thai Tradition Restaurant in Wichita, Kansas which I visited and enjoyed in July, 2007.
My only complaint after three visits is the service. Thai Treasure Restaurant is understaffed and when they get busy the service suffers.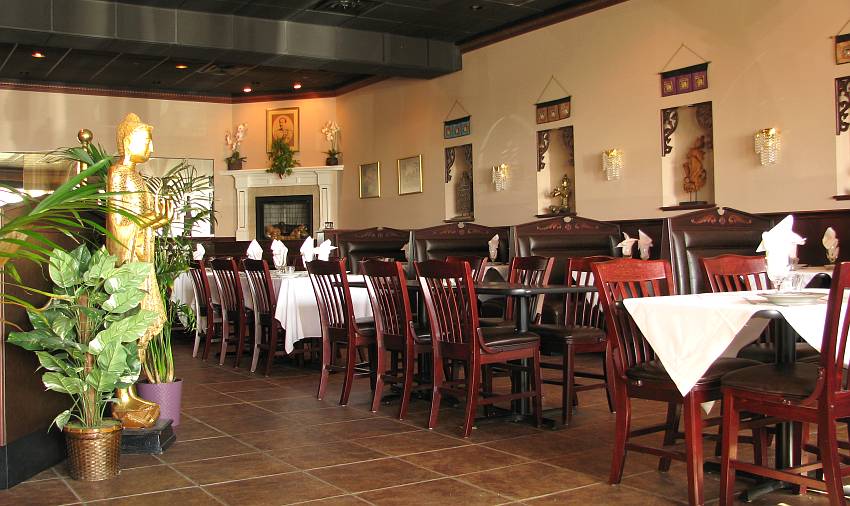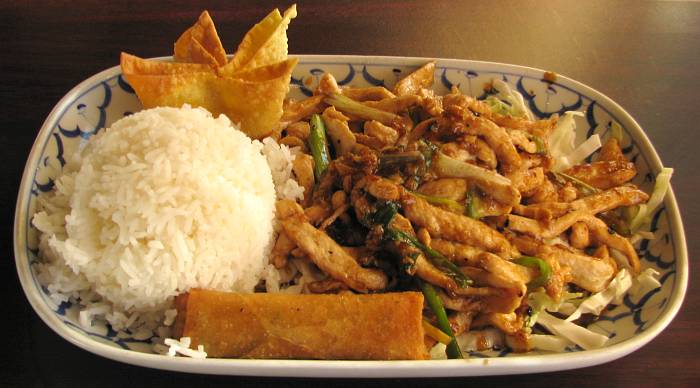 Garlic Pepper Chicken. steamed rice, crab Rangoon and egg roll - only $7.25 including soup
at week day lunch.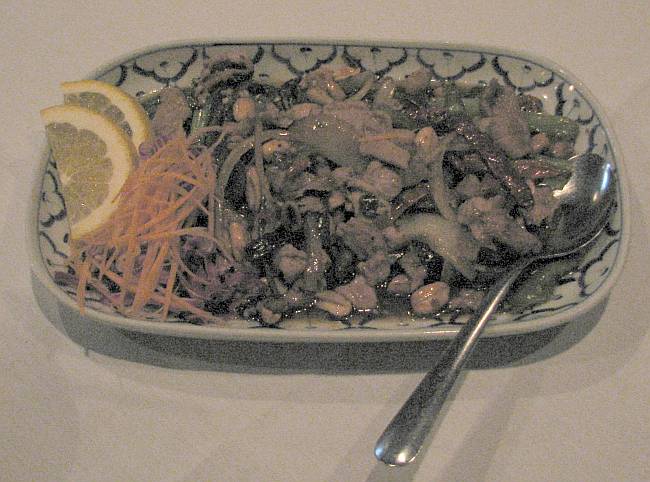 Spicy Peanut Pork (sorry about the image quality due to low light)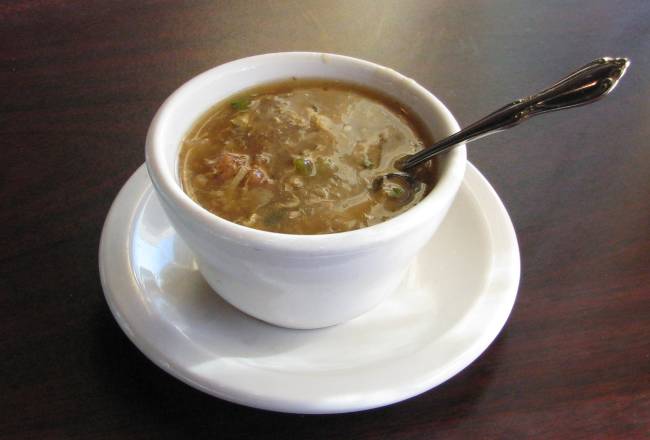 Wonderful hot and sour soup
Thai Tradition Restaurant menu from January 2009 (click for large images)
copyright 2008-2015 by Keith Stokes