Quayle Rare Bible Collection
Collins Library at Baker University
518 Eighth Street
Baldwin City, Kansas 66006
(785) 594-8414

Saturday & Sunday: 1-4PM
or by appointment free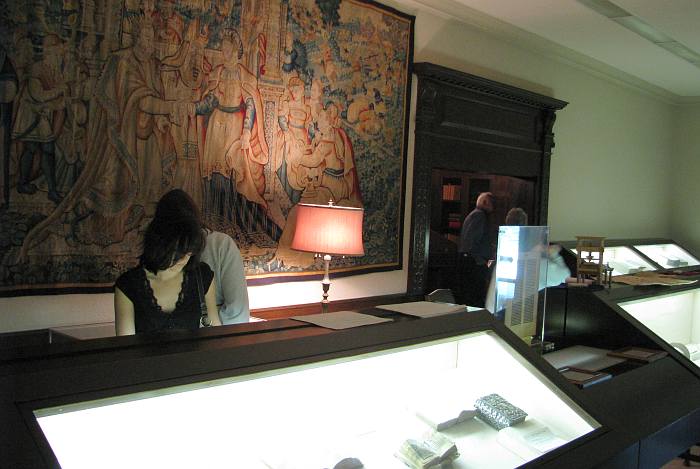 Quayle Bible Collection - Baldwin City, Kansas
The Quayle Bible Collection at Baker University in Baldwin City, Kansas is a collection of rare bibles and other materials such as handwritten scrolls, and bible translations that range in age from 2000 BC to the present. The Quayle Collection began with a 1925 gift from the estate of Bishop William A. Quayle, a Baker alumnus who later served as president of Baker University.
Originally the Quayle collection was comprised of 250 Bibles, but significant related works have been added and although only a few dozen items are on display, the collection now includes 900 items. The Quayle Bible collection includes bibles signed by every president since Harry S. Truman.
The Quayle Bible collection provides exhibits, guided tours, off campus lectures and carefully selected loans to appropriate agencies. Guided tours of the current exhibit are available with four weeks notice.
The Quayle Bible collection display is complemented by the Filley Meditation Chapel and a 350 year old room from Urishay Castle, a large country manor house in England, located near Wales. The walls of the room came to America in the early 1900s and were originally used as a display area for European antiques by Marshall Field's Department Store in Chicago. It was later displayed at the Chicago Institute of Art. The present room is slightly smaller than the original.
I found the collection quite interesting, but believe that most visitors will be satisfied with a 30 minute or shorter visit.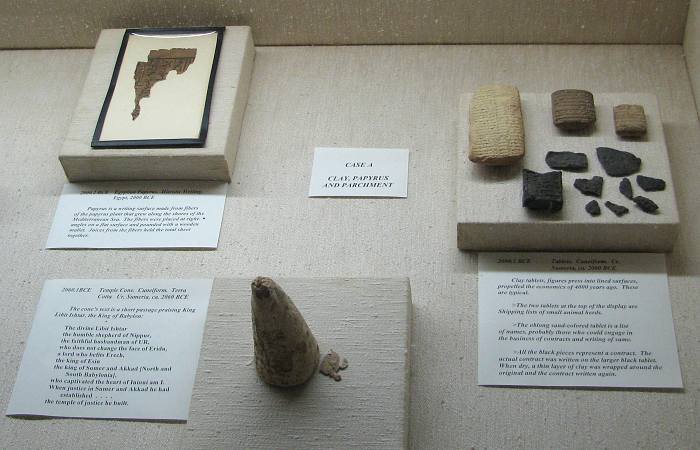 Egyptian papyrus (2000 BC), Temple Cone with cuneiform on terra cotta praising King Libit Ishtas the
King of Babylon (2060 BC), cuneiform clay tablets (2000 BC)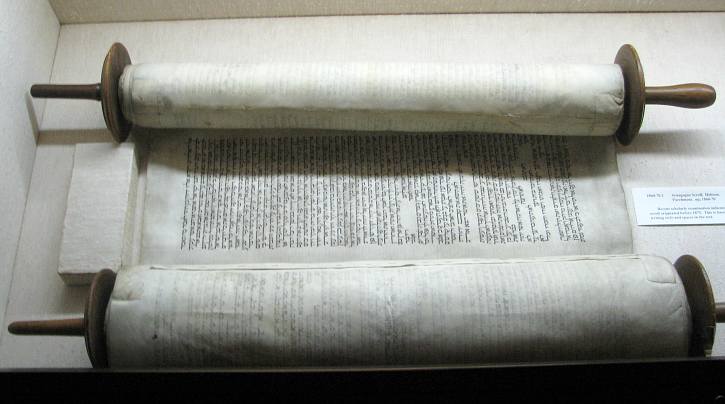 Synagogue Scroll written in Hebrew on parchment (1860-1870)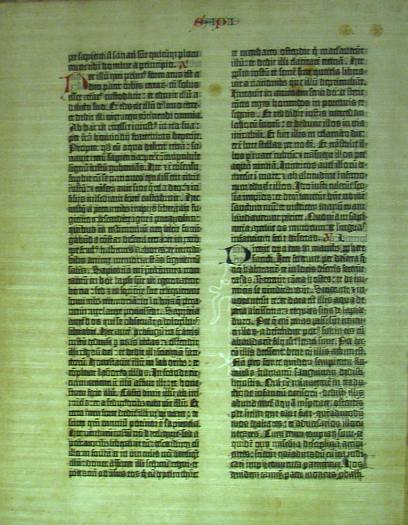 Leaf from a Gutenberg Bible, the first book printed from movable type.
"The Wisdom of Solomon" from The Apocrypha, printed in Latin on
handmade paper in the 1450s AD.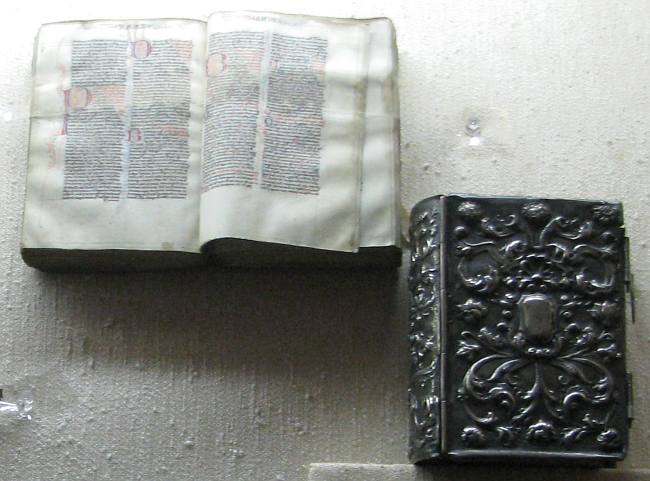 Small 13th Century parchment bible and silver cover.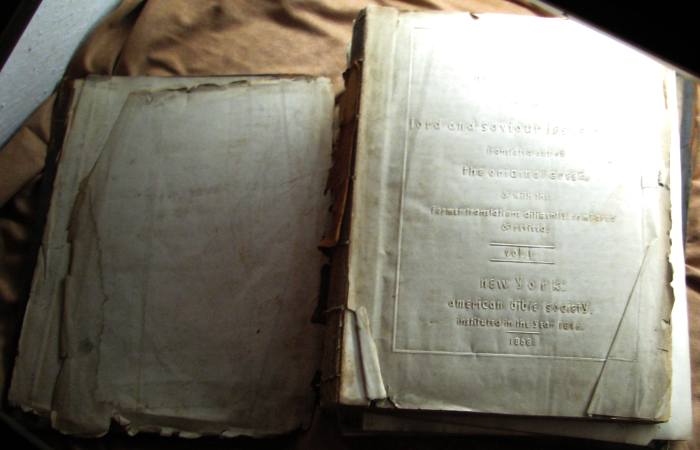 1868 New Testament with raised Boston linetype for reading by the blind.
The Quayle Collection also has braille bibles.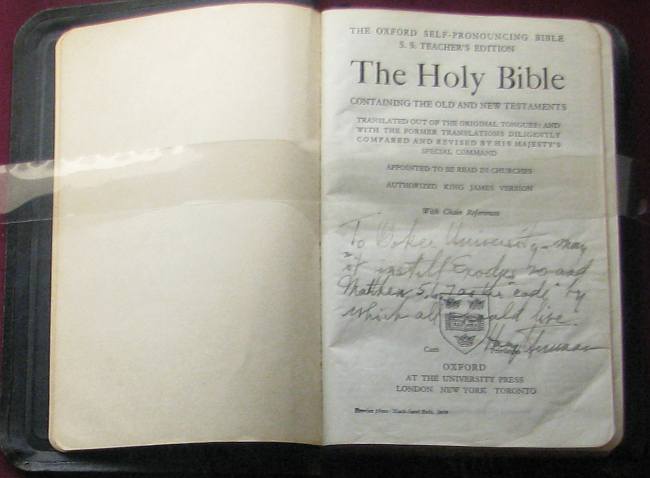 Bible inscribed by President Harry Truman. It is accompanied by a letter in which President
Truman credits the King James version of the bible as giving us our language.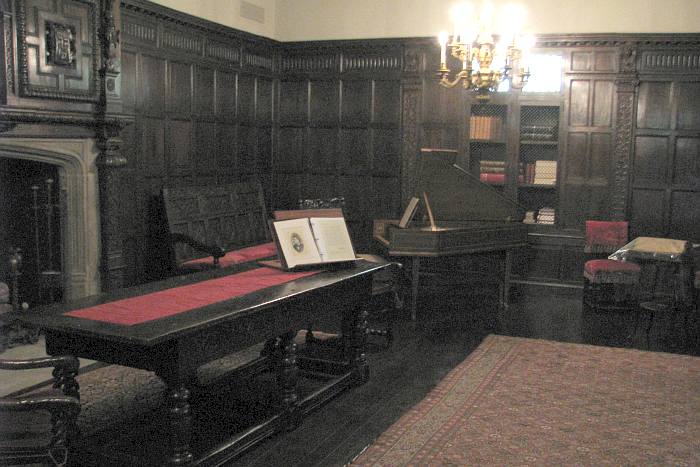 Urishay Castle Room - The chandeliers was made in 1780. The rug is from the early 19th century.
The furniture is from the 17th century but not original to the room.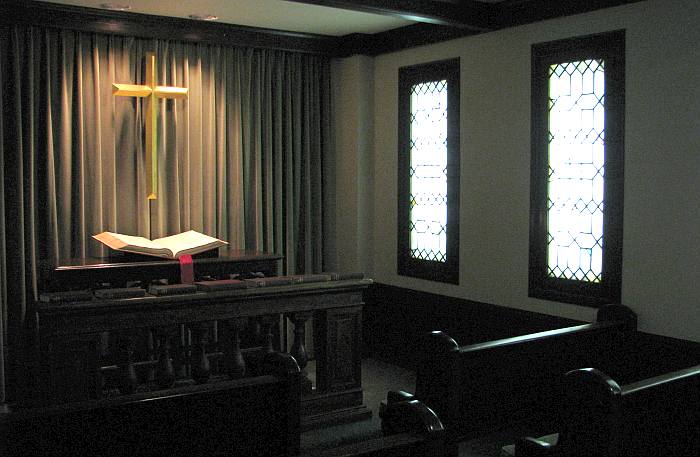 Filley meditation chapel - the windows came originally from the Urishay Castle room.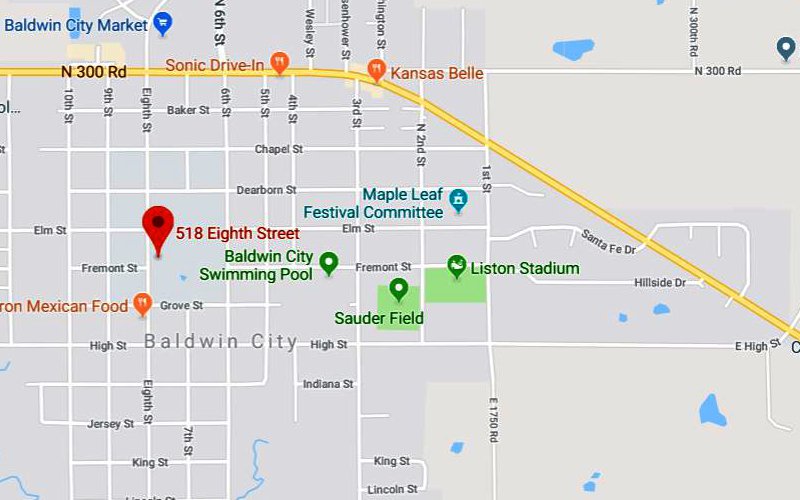 Quayle Bible Collection Map
Baldwin City Midland Railway Quayle Bible Rare Collection website
Kansas Attractions Kansas Travel & Tourism Home
copyright 2008-2019 by Keith Stokes