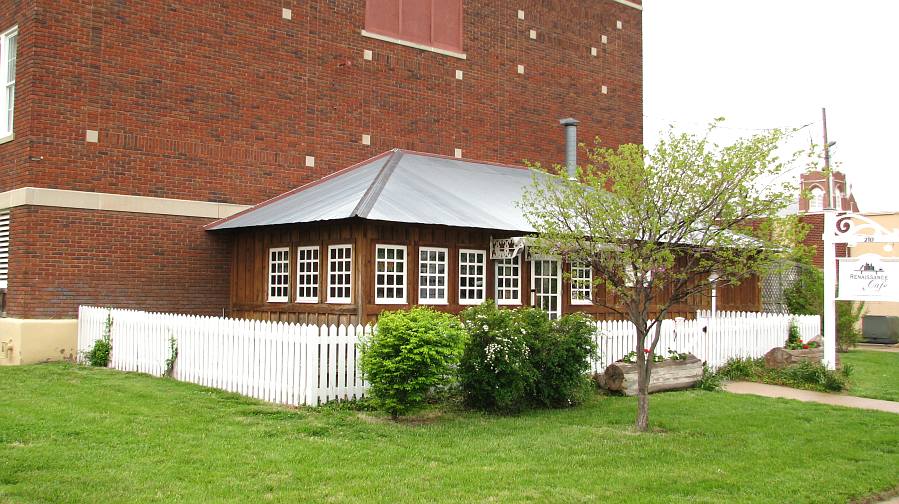 Searching for restaurants for KansasTravel.org I find many in unusual locations. I find far fewer that provide unique, fine dining at a reasonable price. Renaissance Cafe does both of those things and is located in Assaria, Kansas (south of Salina) a town of less than 500 people.
For 7 years, the Renaissance Cafe had our highest rating but Executive Chef Kevin O'Brien left the restaurant in December 2015. The restaurant closed for a few weeks and reopened on January 21 with a new menu. The new executive chef is Shana Everhart, who also operates the Swedish Crown Restaurant in Lindsborg.
We waited a month before trying out the new menu. It has just ten entrees (the same as # as previous menus) and there were a couple of specials. There was a steak special which sounded good, but since I can only get to this restaurant a couple of times a year, I went with items off the regular menu.
My favorite dishes from the old menu are gone. They were the crispy calamari steak, gorgonzola salad and the steak Venato. From the new menu, we have sampled the fritto misto (shrimp, artichoke, red onion & saffron-red chili aioli), both of the salads, chicken Saltimbocca (prosciutto wrapped airliner chicken breast with roasted butternut squash & garlic sage Jus), porcini dusted filet (6 ounce filet with Madeira sauce & mascarpone whipped potatoes), and limoncello-ricotta cheesecake.
All of it was good, but nothing blew me away. My favorite part of the steak entree was the Madeira sauce which went well with both the steak and the potatoes. The chicken breast had a good flavor, but the prosciutto added nothing and might as well be left off.
The Renaissance Cafe continues to get our recommendation, but not quite as enthusiastically as before.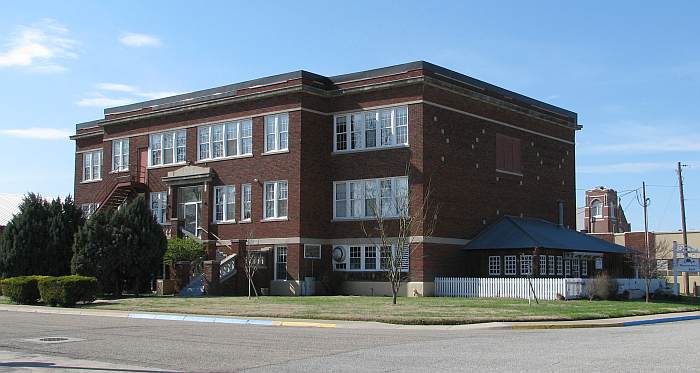 Renaissance Cafe in the former 1919 Assaria High School
The Renaissance Cafe surrounds a sunken gymnasium in a 97 year old high school building. The lower level is filled with games. For many years, the Renaissance Cafe was open for weekday lunches and served the kind of food you would expect to find in a rural Kansas restaurant. It is no longer open for lunch, but on Thursday, Friday and Saturday evenings, the Renaissance Cafe a reasonably priced, fine Italian restaurant.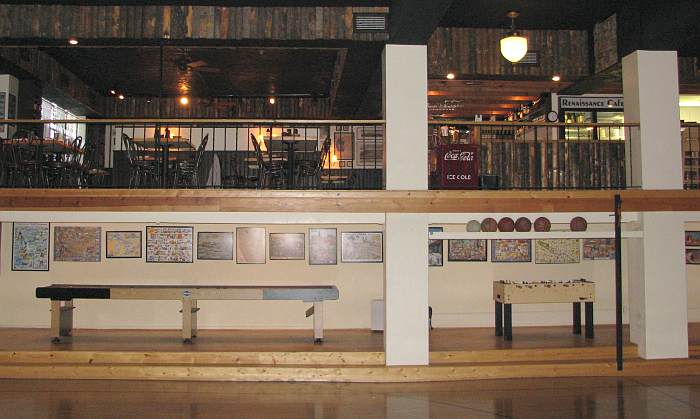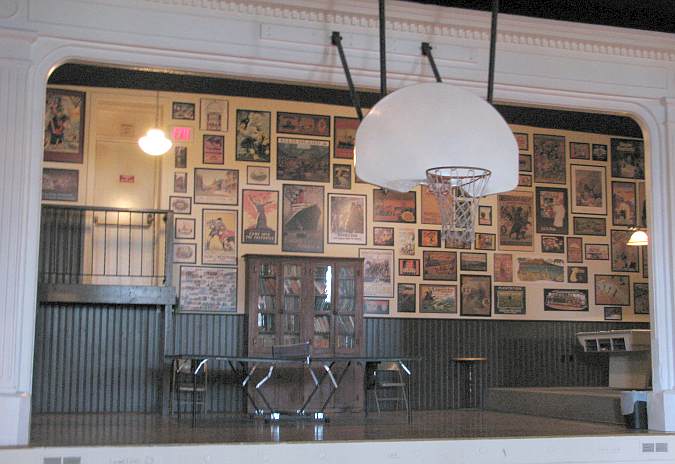 Ping-Pong and pool on the old stage.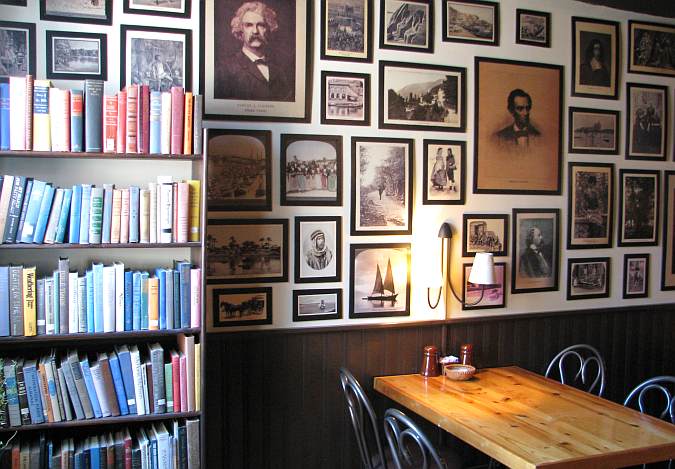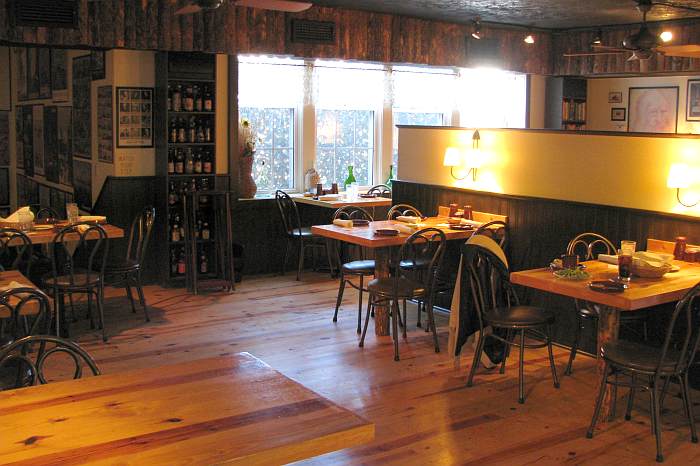 Renaissance Cafe serves northern Italian influenced food. Price have recently gone up slightly. Entrees range $24-31 and come with a choice of salad or soup, a vegetable and starch of the day. Pastas are $15 ala carte. Desserts are $5-6.
Renaissance Cafe serves no liquor but does offer domestic ($3.50) & imported beers ($4.50), as well as a modest wine list starting from $5 a glass or $22 a bottle. The most expensive wine is a Rombauer Zinfandel at $70.
I keep hoping they will someday add a hard cider to their list.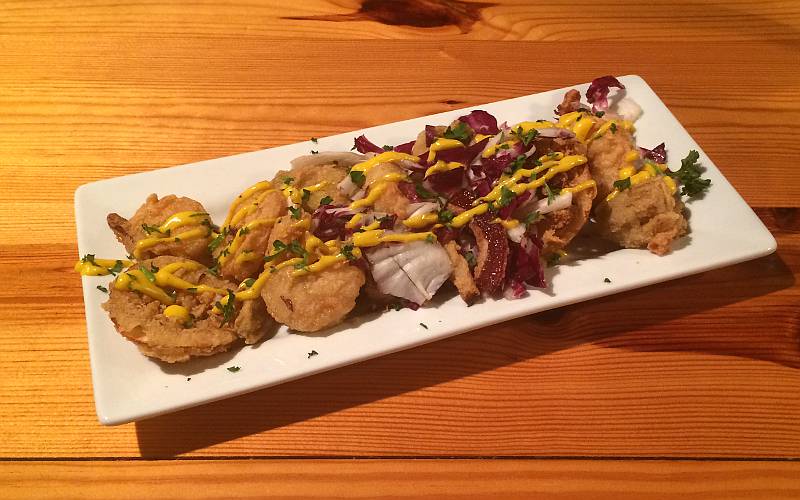 fritto misto starter $10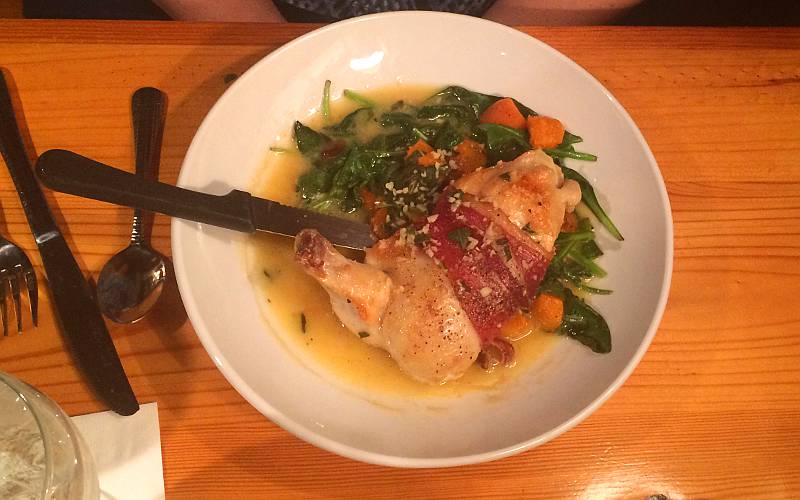 Chicken Saltimbocca $24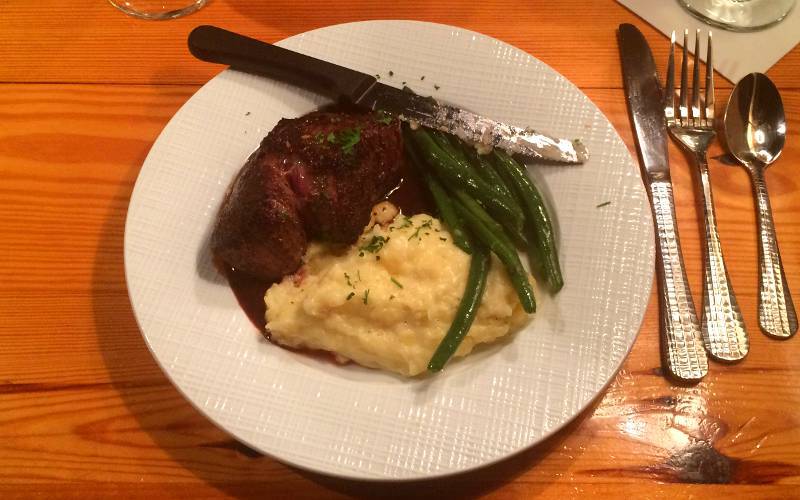 Porcini Dusted Filet $31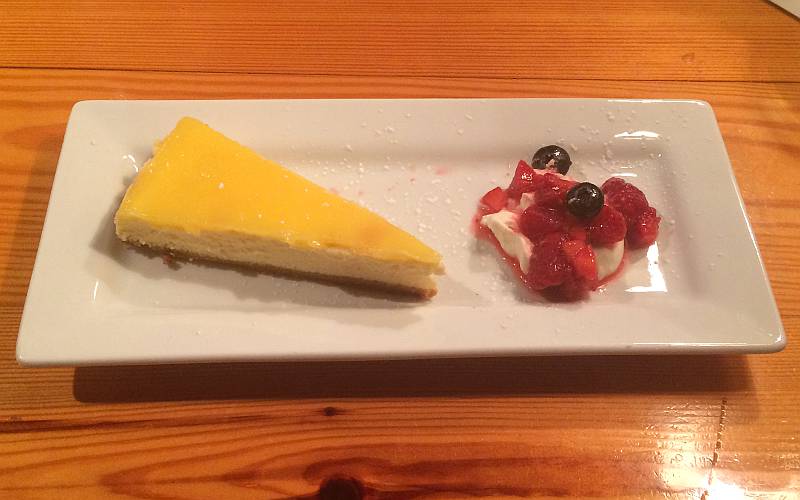 Limoncello-ricotta Cheesecake $6
Renaissance Cafe menu from April 2016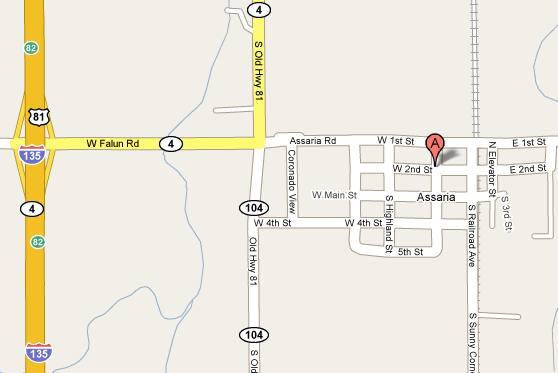 Renaissance Cafe Map
Renaissance Cafe web site with online reservations
Kansas Restaurants Kansas Travel & Tourism Home
-5/09. copyright 2008-2016 by Keith Stokes