Renaissance Festival
of Kansas City
628 N 126th Street
Bonner Springs, Kansas 66012
(800) 373-0357

weekends and holidays from September 3 to
October 16, 2022 10AM - 7PM

Adult: $24.95 Senior/Student: $22.25
Child (5-12 years old): $15.95 Dog: $10
Discount advance tickets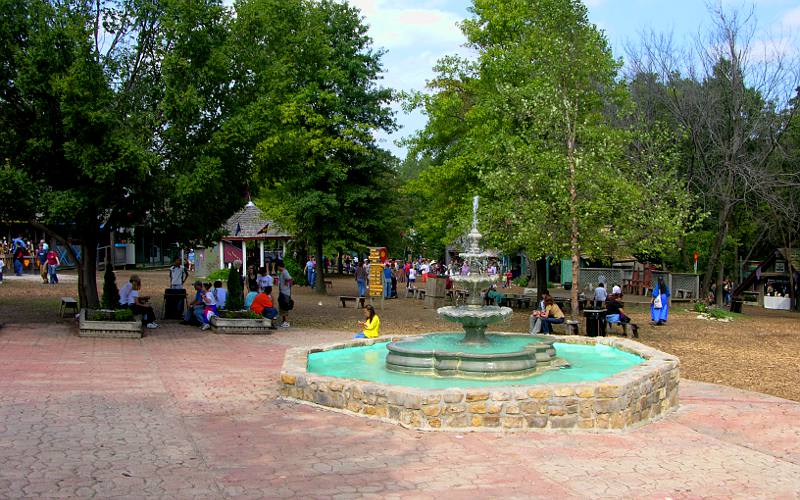 Hunter's Glen near the Kansas City Renaissance Festival main gate
The Kansas City Renaissance Festival is a theme park sized fair in Bonner Springs, Kansas, with lots of food, shopping and fun entertainment. 2022 is the 45th year of the festival. Each weekend has its own theme such as Swashbucklers & Sirens or Octoberfest.
The Kansas City Renaissance Festival has a cast of 150 costumed performers, supplemented by hundreds of costumed vendors, stage performers, and park guests who choose to wear garb and fill the 16 acre fair with the colors and sound. Cheer while knights in armor duel on horseback to win the Queen's favor. Enjoy shows on 20 stages. Let your children try rides and games while you shop for crafts, jewelry, art and costumes in over 160 booths. The food isn't as exciting as it was when the festival was a benefit for the Art Institute of Kansas City (Missouri), but still compares favorably with the Kansas City area's other major attractions. The apple dumpling with ice cream and the turkey legs are among my favorites.
In 2022, the Kansas City Renaissance Festival will run on Saturdays & Sundays from September 3 until October 16. The Renaissance Festival is also open on Labor Day and Indigenous People Day. Following the Festival, there may be a different event called the Phantom's Feaste.
Allow a bare minimum of 3 hours to visit the Kansas City Renaissance Festival. Many visitors will spend most of the day. At any given time there may be a dozen or more performances taking place at venues scattered throughout the Renaissance Festival grounds. One stage hosts nothing but back to back magic shows.
In addition to food, drink, crafts and a few rides, there are other events taking place at the Renaissance Festival for additional fees. They include Royal Pub Crawl, Queen's Tea, Fairy Time Treats, Royal Wine Tasting, Royal Romance Package and Chocolate & Mead Tasting.
Take 1-70 to K-7 (the Bonner Springs exit 224). Turn North for a few blocks, and banners & signs will lead you to the Festival Gates. The parking is free, and driving out from Kansas City, Missouri, there is no charge for that stretch of the Kansas Turnpike.
There is a $10 admission charge for dogs and they must be registered with the Festival.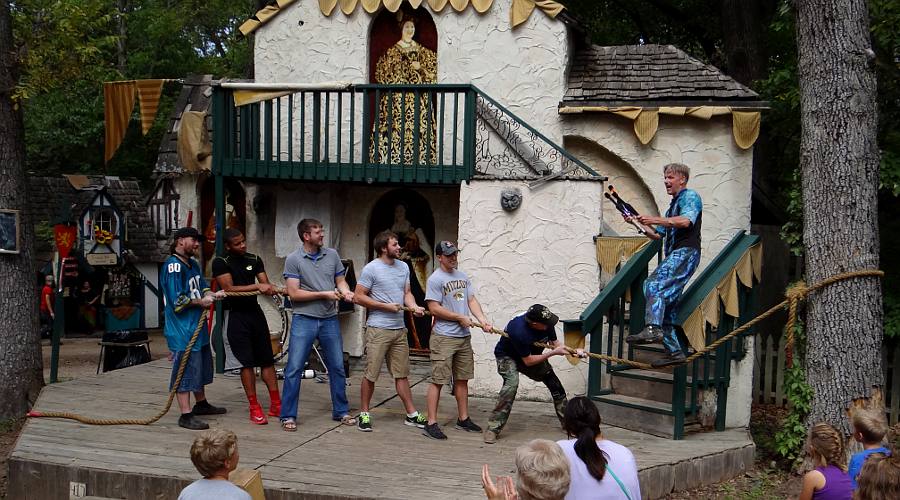 Bob the Juggler has entertained families at the Kansas City Renaissance Festival for more than a generation.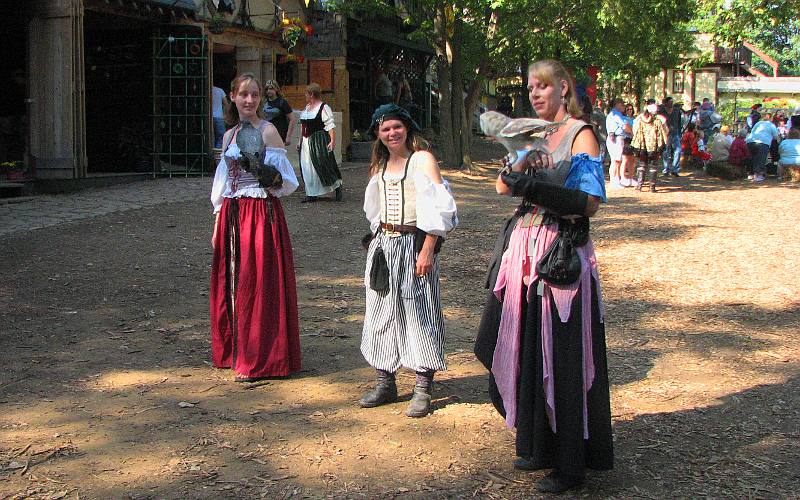 Birds of Prey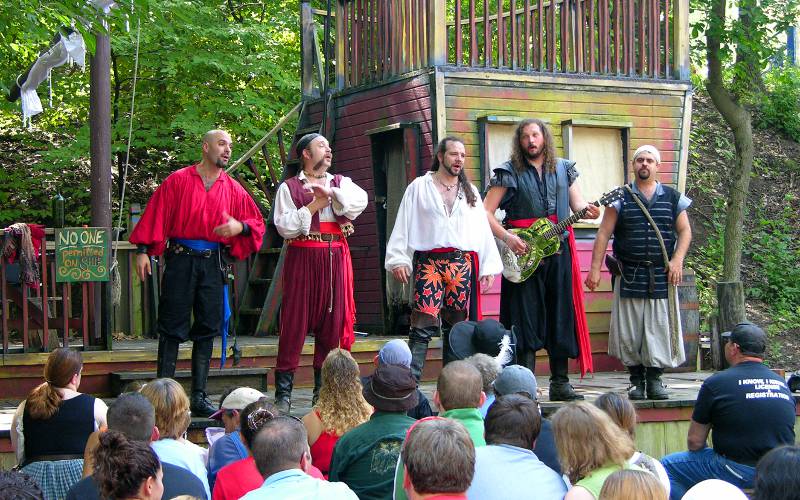 The Jolly Rogers, a pirate theme Renaissance folk group, have been favorites at the
Kansas City Renaissance Festival for many years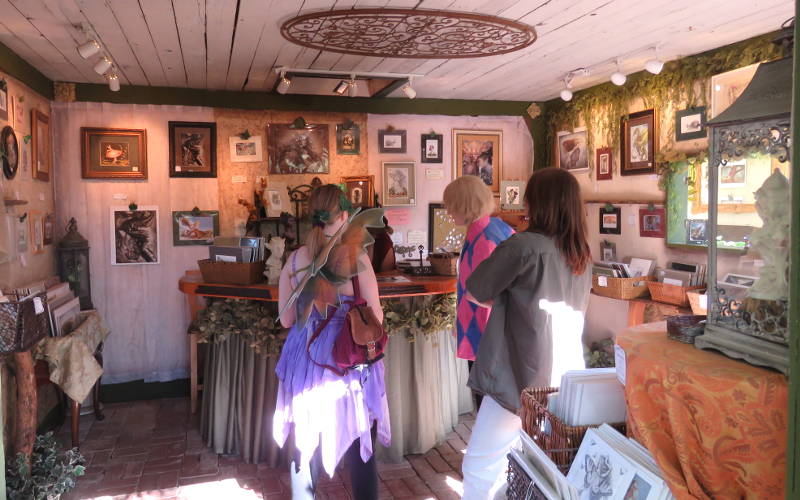 Shopping at Art of Renae Taylor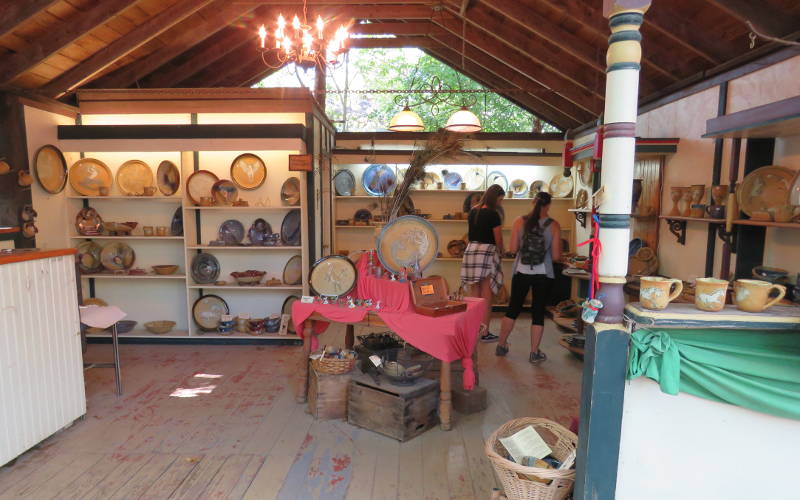 Shopping at Ayers Pottery of Hannibal, Missouri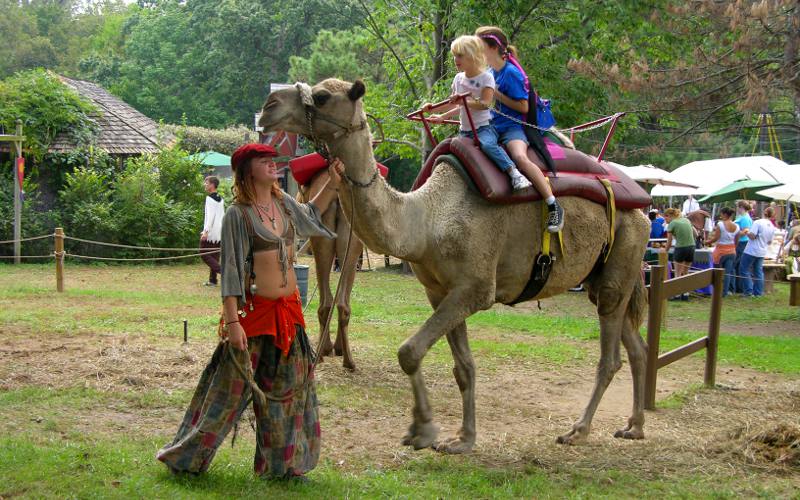 Camel rides run $8 per person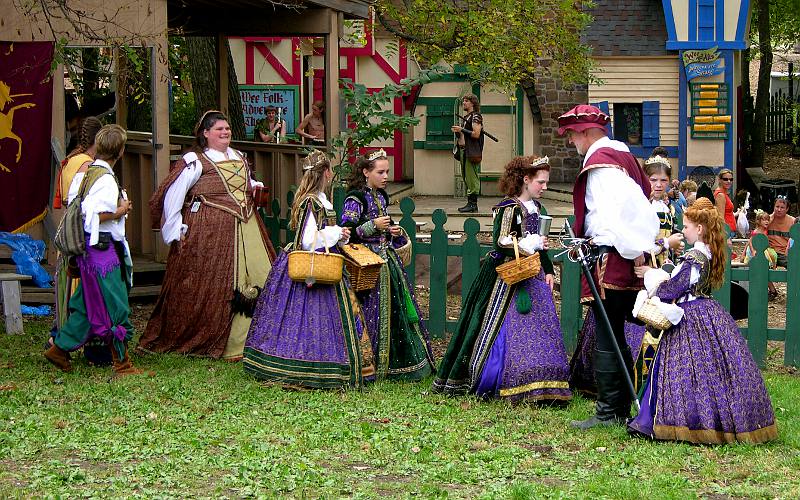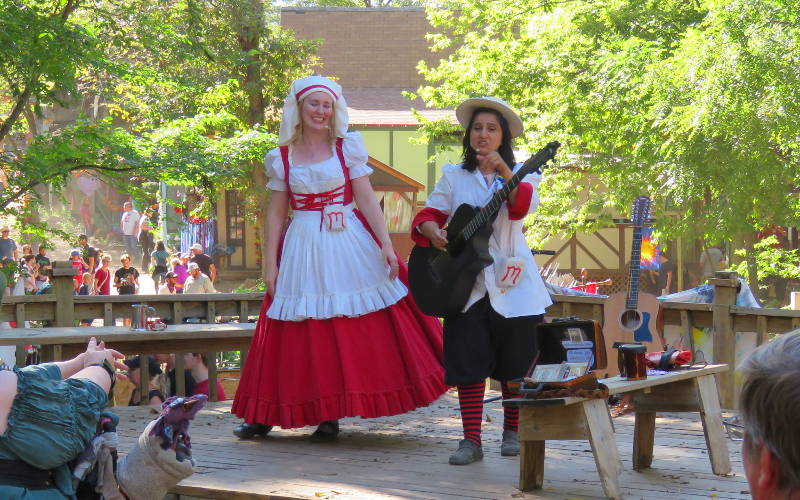 Medieval Medicine Performing at Canterbury Public House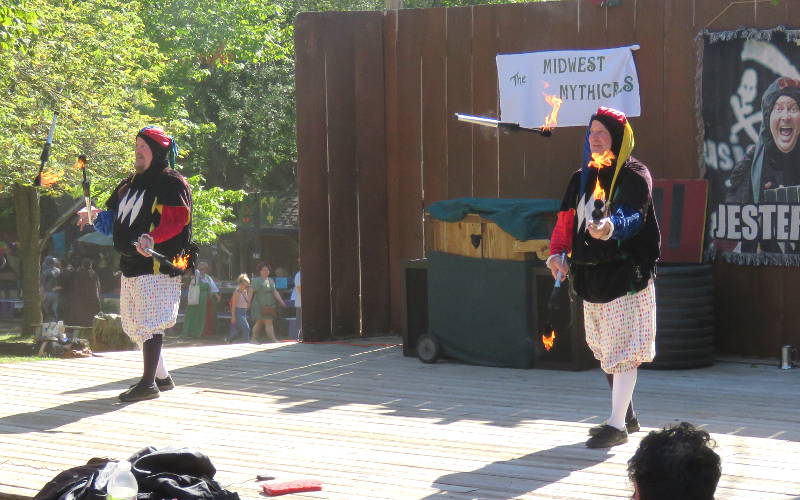 The Jester Rejects performing on the Dragons Breath Stage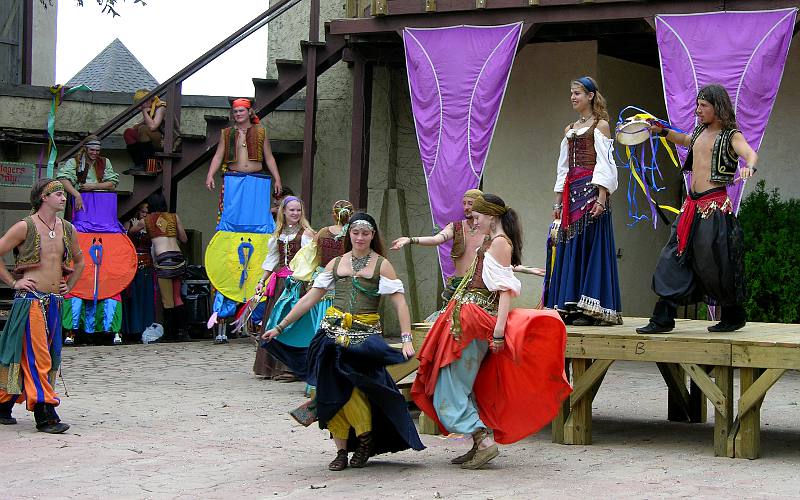 dancing near the maypole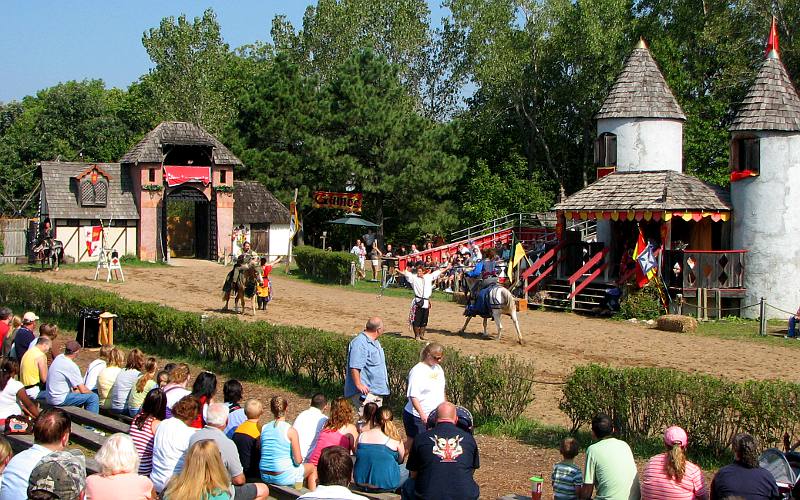 Jousting competition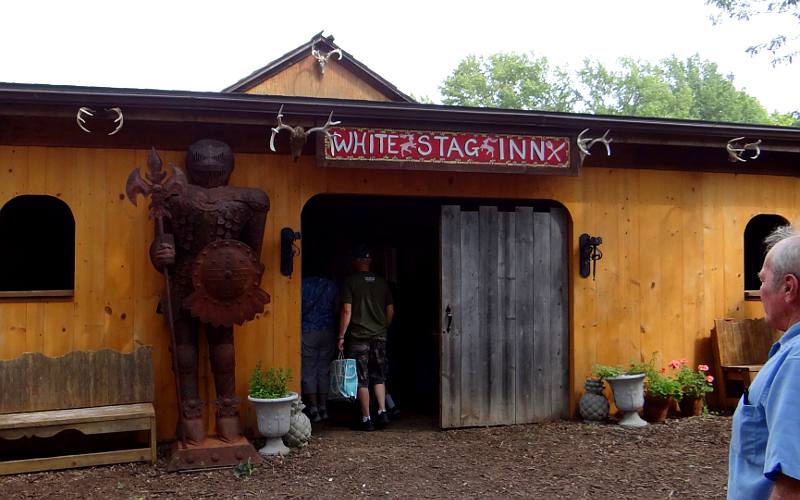 The White Stag Inn offers table service in the Renaissance Festival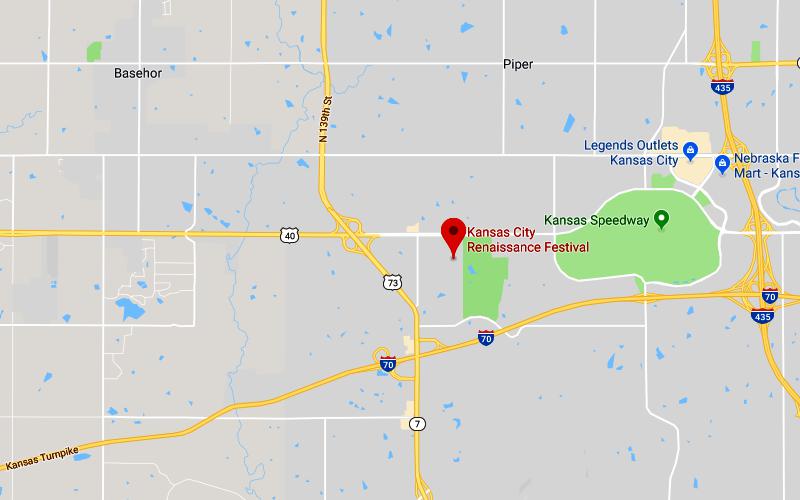 Renaissance Festival of Kansas City Map
KC Renaissance Festival website
Kansas Attractions Kansas Travel & Tourism Home
copyright 2005-2022 by Keith Stokes