Shawnee Indian Cemetery
aka Blue Jacket Cemetery
10905 59th Terrace
Shawnee, Kansas 66203

grounds open anytime - free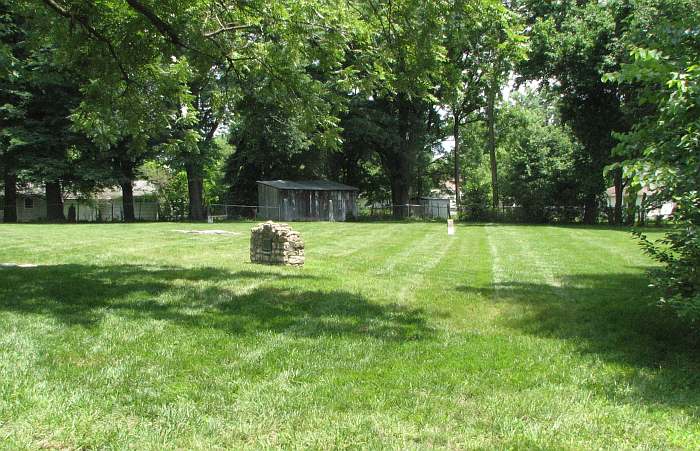 Shawnee Indian Cemetery - Shawnee, Kansas
The Shawnee Indian Cemetery is a small cemetery at the end of a short dead end street in Shawnee, Kansas. At first glance, the Shawnee Indian Cemetery appears to be an empty lot, but on inspection, a number of memorial stones are found, mostly laying down on the ground. Although the oldest remaining headstone records a death from 1837, the land was not officially set aside as a cemetery until 1854. The last known burial is Julia Ann Daugherty, wife of CHief Charles Bluejacket, who died July 11, 1870.
Burials in the Shawnee Indian Cemetery include Native Americans and individuals that were involved with the nearby Quaker and Methodist Missions. There are more graves than markers, and there are reports that headstones continued to disappear only a few years past.
The most famous person buried in Shawnee Indian Cemetery is Captain Joseph "PA-KAH-TOH-KAH-KA-LE" Parks (1794-1859), who was a hero of the Seminole War in Florida, at one time chief of all the Shawnee Indians and a major property owner in Rosedale in Kansas City, Kansas and Westport in Kansas City, Missouri, including the land on which Kelly's Westport Inn now stands. Joseph Parks was a member of the Methodist Church, a Mason, and various sources say that he was white, indian, or mixed.
In 1831, Joseph Parks was appointed as interpreter for the Shawnee Chiefs' delegation to the United States government, and he later assisted in moving the Shawnees from Ohio to the Shawnee reservation in Kansas. He then returned to Washington for several years as an agent of his tribe.
The location of the Shawnee Indian Cemetery has been a place of worship, a council house where voting was done in the very infancy of the State of Kansas, a military headquarters when Shawnee was under siege and burned twice, and a burial place. In 1840 the community's first Methodist Church was built on the ground next to the cemetery.
To visit the Shawnee Indian Cemetery take Nieman Road to 59th Terrace (Look for the sign in the photo at the top of this page), turn east and drive about 100 yards to the end of the street.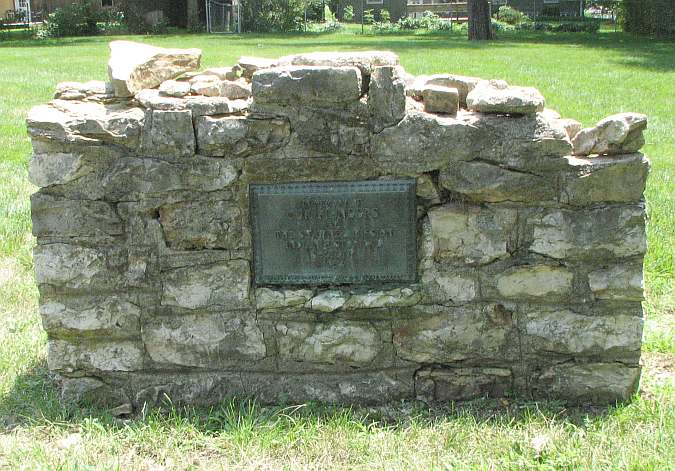 "In Memory of our Pioneers by the Shawnee Mission Indian Historical Society 1934" - This memorial
was present when the cemetery was first visited in 2007. It was no longer present in 2012.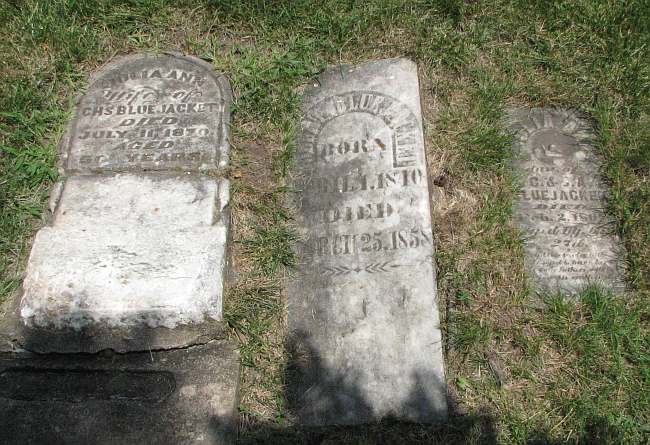 Julia Ann, wife of Chs Bluejacket. Died July 11, 1870. Aged 50 years.
Robert Bluejacket. Born April 1, 1840. Died March 25, 1858.
Julia Ann, dau. of C. & J. A. Bluejacket. Died Feb 2, 1865.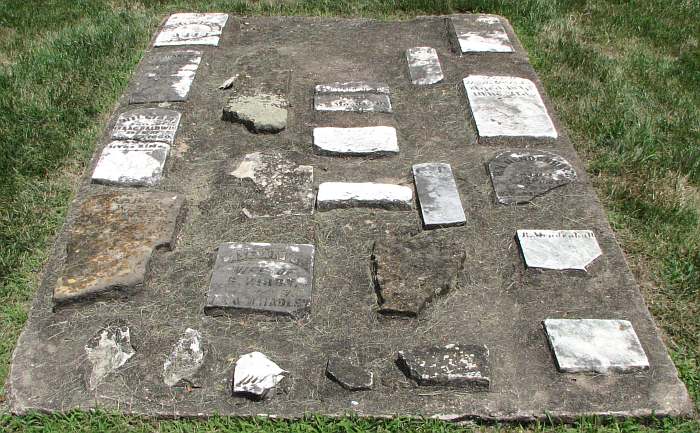 It is believed that the memorial stones in this concrete slab are from the Shawnee Quaker Mission Cemetery which was
located at 61st & Hadley. The headstones were moved because they were being removed from the cemetery. The
bodies were not moved;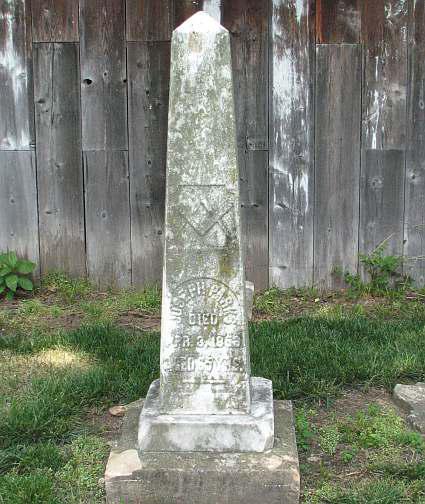 Joseph Parks. Died Apr 3, 1859 Aged 65 yrs.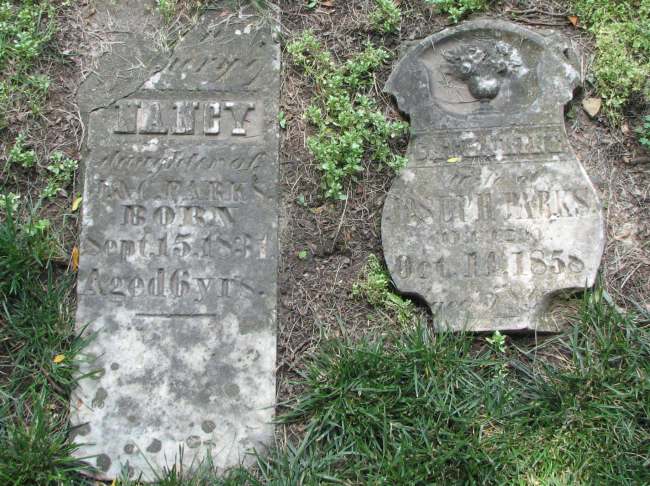 Nancy, daughter of J. & C. Parks. Born Sept 15, 1831. Aged 6 yrs
Catharine, wife of Joseph Parks. Died Oct 14, 1858. Aged 58 y.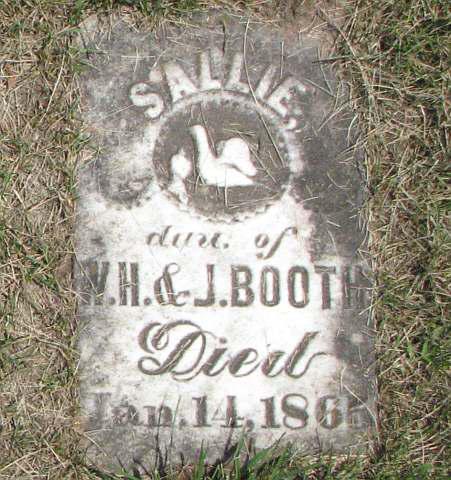 Sallie, dau of W. H. & J. Booth. Died Jan 11, 1865.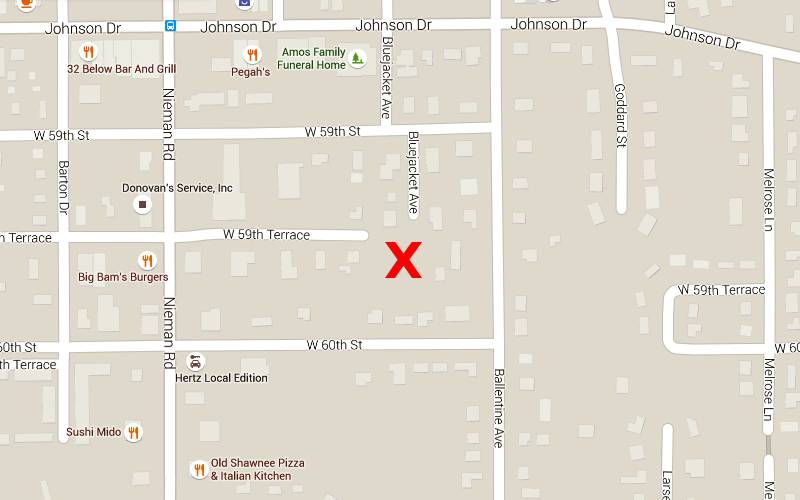 Shawnee Indian Cemetery Map
copyright 2007-2015 by Keith Stokes