Souders Historical Farm Museum

39925 West 39th St S
Cheney, Kansas 67025
(316) 300-0125

Saturdays Noon - 4PM
free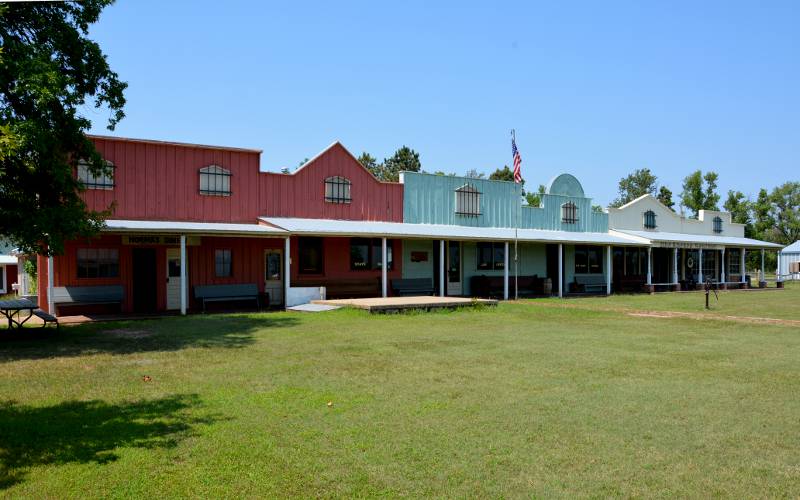 Main Street at Souders Historical Farm Museum - Cheney, Kansas
Souders Historical Farm Museum in Cheney, Kansas may be one of a kind. There are many places across Kansas where buildings have been moved and farm equipment has been collected, but this is different.
Floyd and Norma Souders ran the town newspaper, The Cheney Sentinel, from 1941 to 1971. When they sold the newspaper, they began building their farm museum. They replanted the farm land with native plants and over many years turned 12 acres into a reconstruction of a small rural town. A few of the buildings were moved here, but many of them were new constructions.
The first building constructed was the replica chapel, which was furnished with organs and pews from other area churches. It even has a small graveyard with tombstones which were donated when they were no longer needed. Other buildings they constructed include a "Main Street" with a furnished cobbler shop, telephone office, bank, post office, diner, general store and a recreated Cheney Sentinel.
Floyd passed away at the age of 90 in 1996 and Norma in 2005 at the age of 95. After a few years, Tom Gronniger began opening the buildings to the public. Last year he built a livery stable with blacksmithing area.
Three of the buildings are identified as being old structures which were moved to this location, an 1880 schoolhouse and two railroad depots which were moved to the site in 1984. None of those buildings were open when we visited the museum in 2015. Other structures on the grounds which were open included a replica wash house, barber & beauty shop, and a horse drawn equipment shed.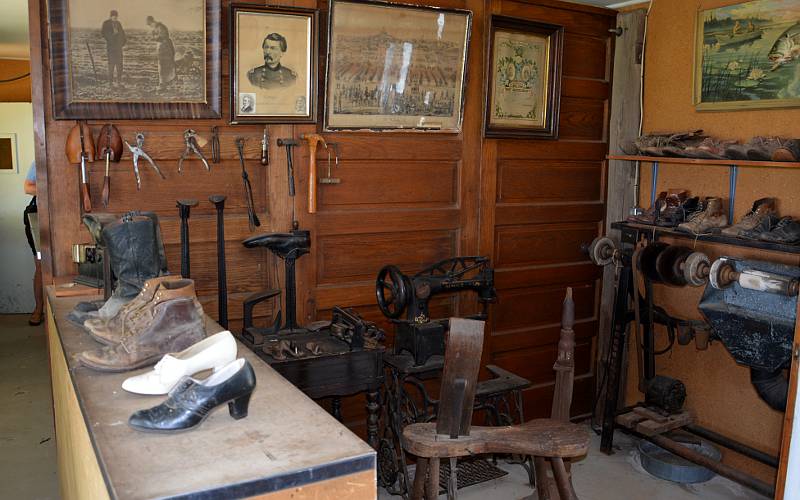 Equipment and tools from Fred F. Krase's Shoe Store which operated in Cheney from 1904 to 1924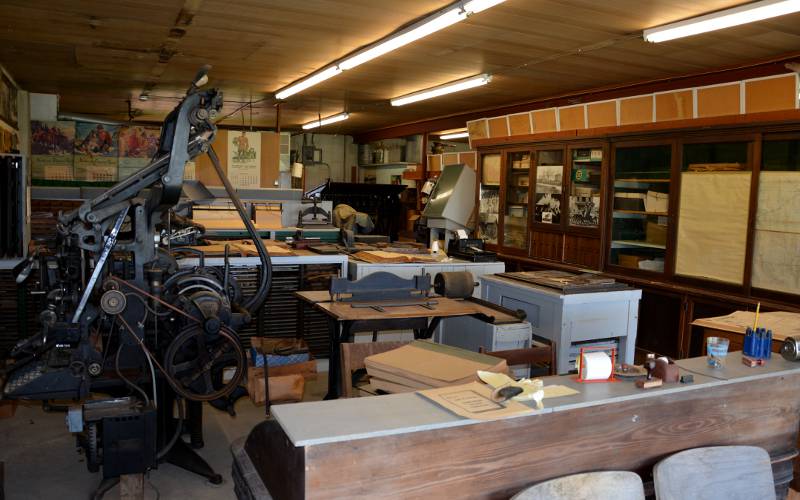 Floyd and Norma Souders owned and operated "The Cheney Sentinel" from April 1, 1941 to August 2, 1971.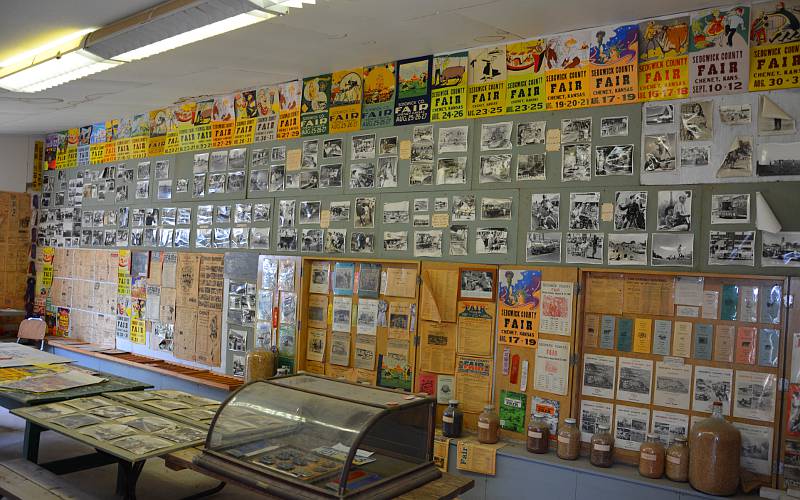 Floyd was one of the founders of the Sedgwick County Fair and an entire building is devoted to Fair memorabilia.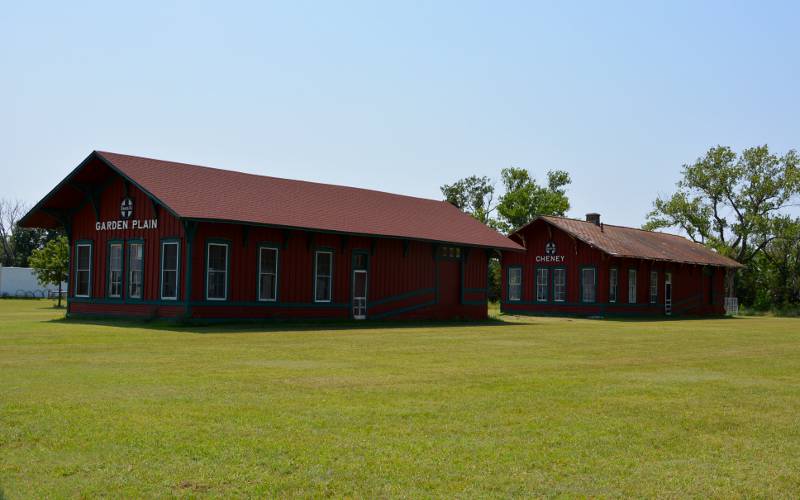 The Garden Plain and Cheney train depots were built in 1884 and moved to this site in 1984.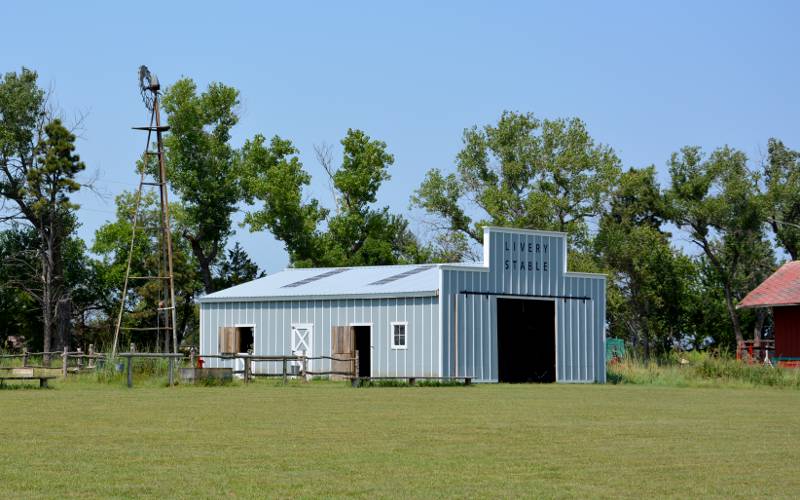 2014 Livery Stable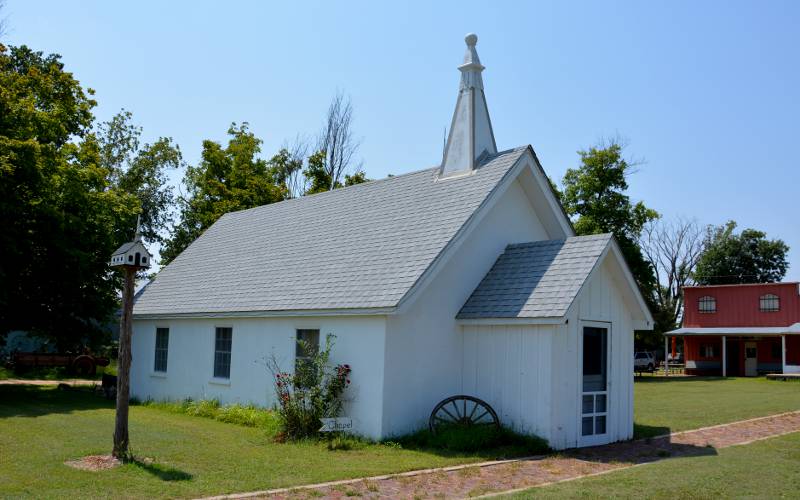 The steeple & pews came from Cheney Methodist Church. Other fixtures came from Cheney Reformed Church
and St. Paul's Lutheran Church.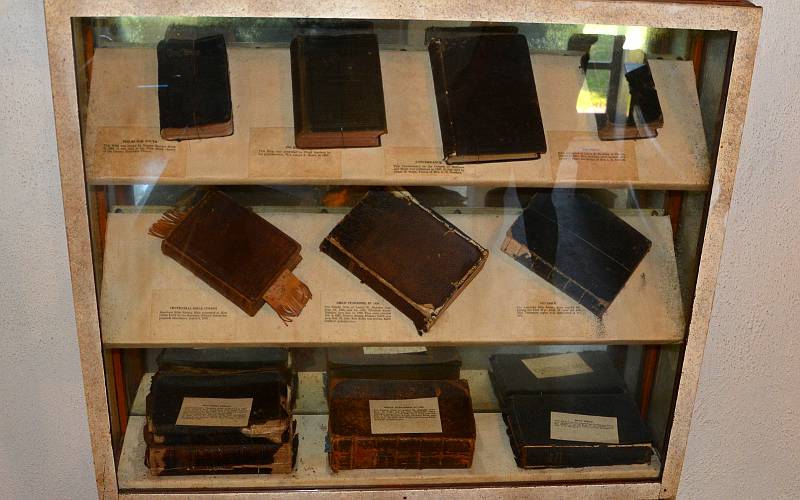 Bibles from 1800s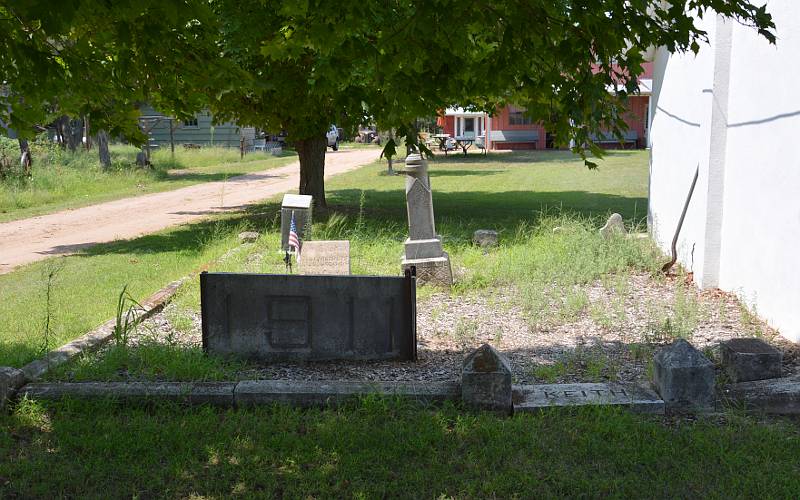 "Cemetery" behind the chapel with headstones which were donated when they were replaced with new ones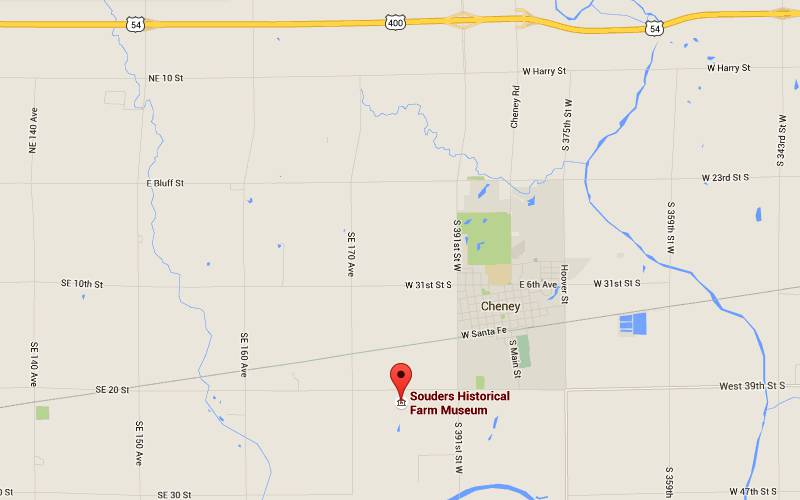 Souders Historical Farm Museum Map
copyright 2015-2020 by Keith Stokes