STERNBERG MUSEUM OF NATURAL HISTORY
Fort Hays State University
3000 Sternberg Drive
Hays, KS 67601
(877) 332-1165

Reopens June 3, 2020
Tuesday - Saturday 9 AM - 6 PM Sunday 1 - 6 PM
Open Mondays from mid March - September
Adults: $9 4-12: $6 over 60: $7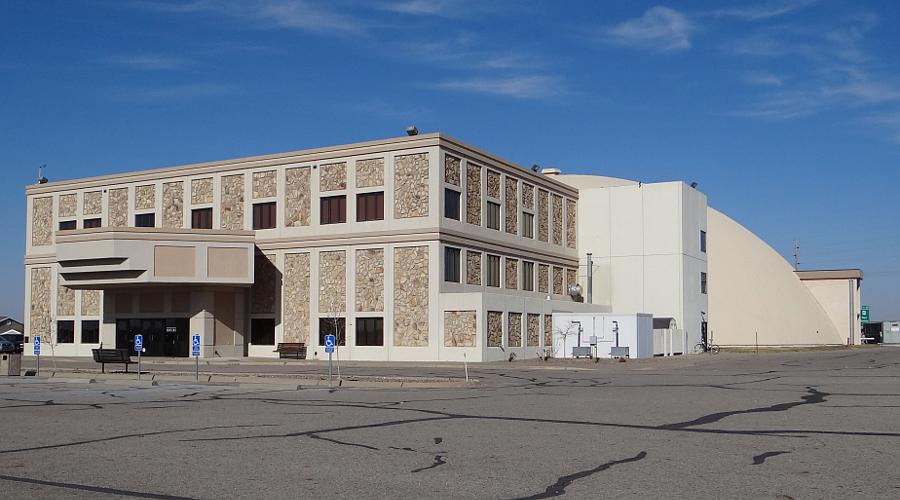 Sternberg Museum of Natural History - Hays, Kansas
The Sternberg Museum of Natural History at Fort Hays State University in Hays, Kansas is very nearly a destination by itself. If the rotating exhibits interest you, it may take 2-3 hours see everything. If not, a visit will take about an hour and a half. The exhibits are attractive and interesting, I just wish the museum was able to exhibit more of the University's 3,750,000 specimens.
The permanent exhibits on the main floor of the Sternberg Museum of Natural History include fossils collected from across Kansas and (mostly) around the western US. There are also mineral exhibits and videos explaining the history of the museum and story of the collecting of the museum's famous "Fish within a fish."
A ramp leads up to the top floor of the Sternberg Museum. Along the way, you pass through life size displays recreating the seas of Kansas from 70 million years ago and leading up to displays of what might have been found near the shore. Some of the recreated life size prehistoric animals move or make noises.
The Sternberg Museum of Natural History has a large gift shop and book store, but if you visit the museum late in the day, be sure to go there first. In the evenings, the store closes an hour before the museum.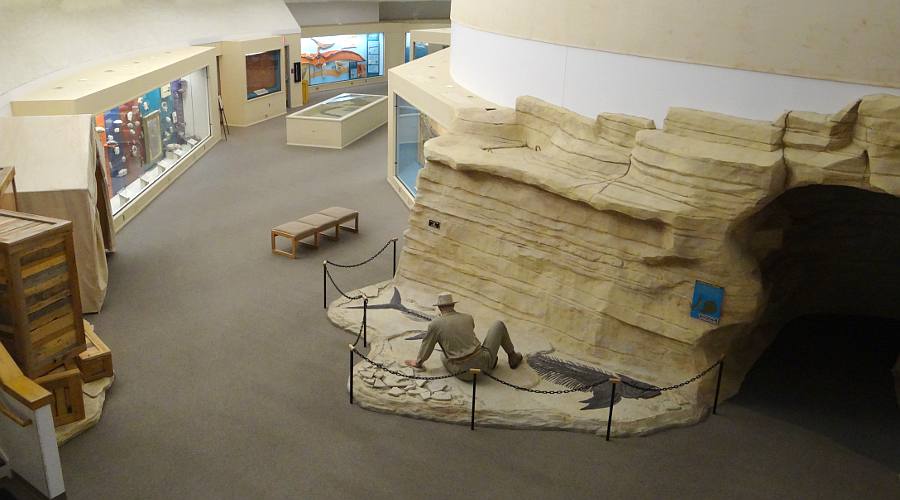 Main exhibit hall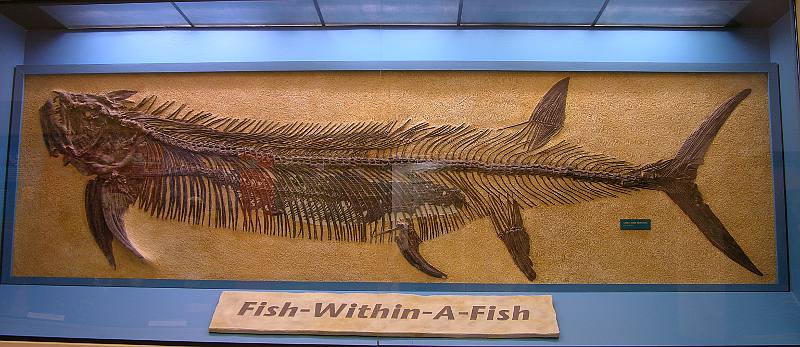 This 14' Xiphactinus ate a 6' Gillicus shortly before dying - excavated in Gove County, Kansas in 1952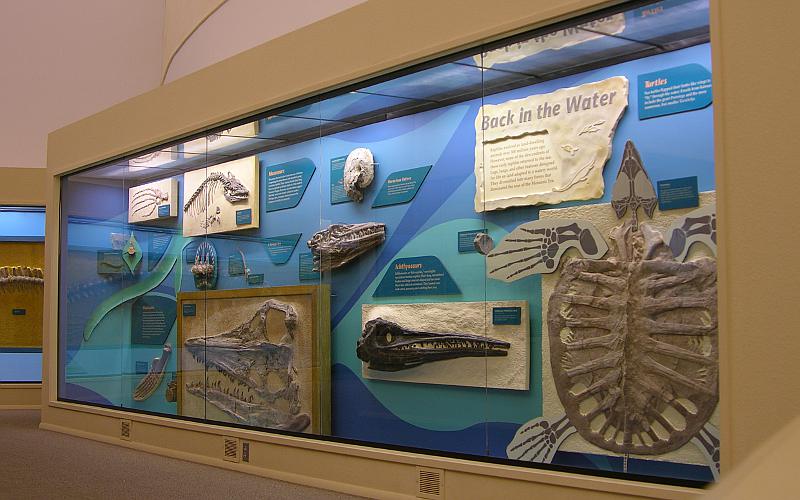 Many of the displays challenge the viewers to examine the fossils and make their own
guesses at how the ancient animals moved or ate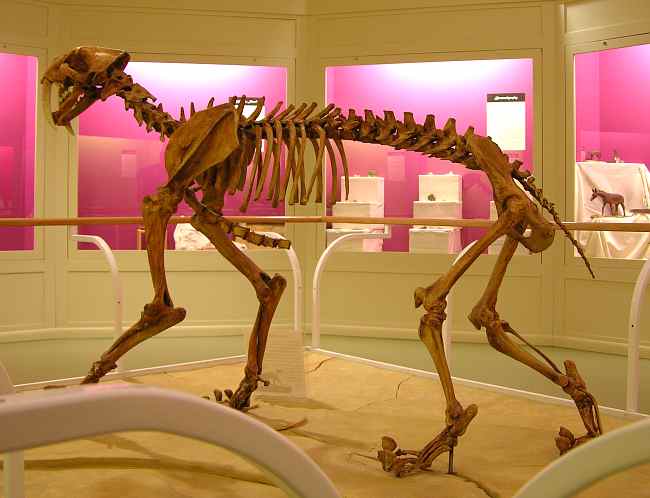 The saber-tooth cat roamed North America during the ice age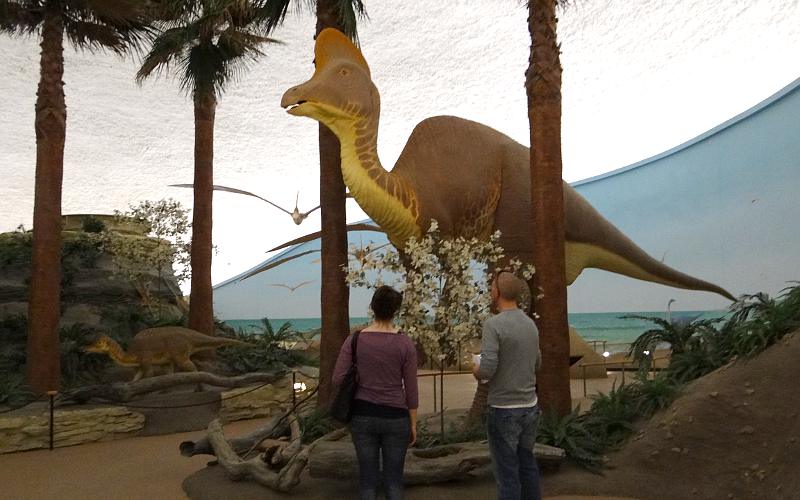 30' tall duck-billed Dinosaur Corythosaurus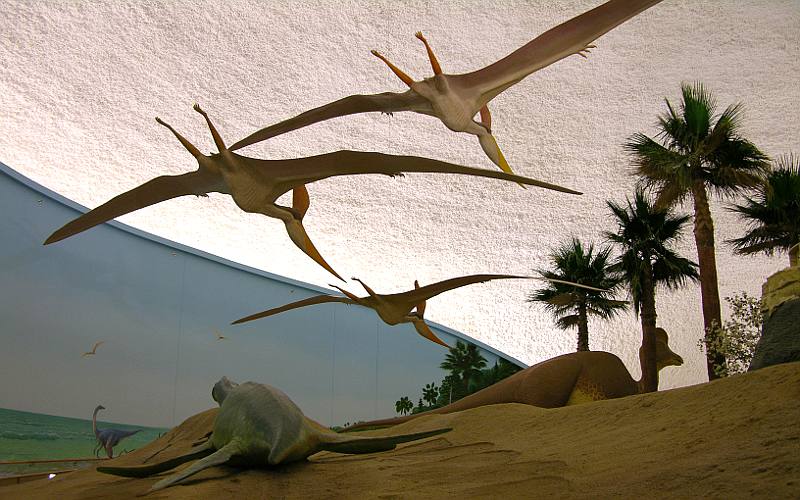 Pteranodon sternbergi (named for George Sternberg) soar overhead as a 10' long, short-necked
Plesiosaur Dolichorhynchops crawls onto the beech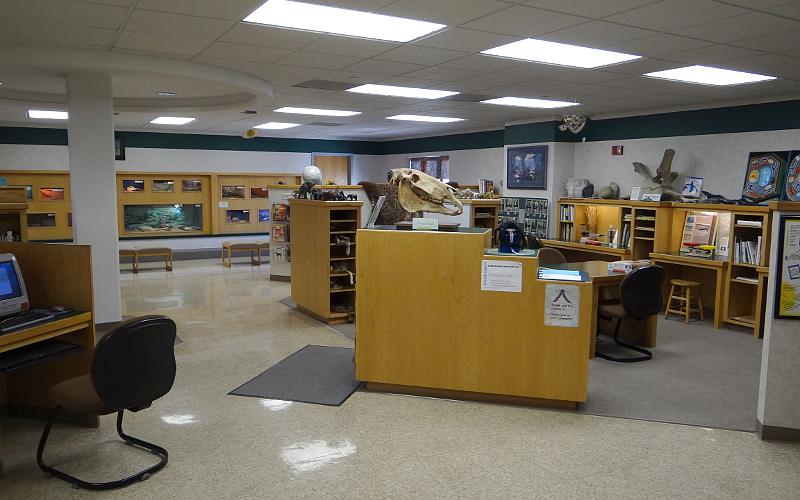 The Sternberg Discovery Room enables visitors to actively experience the process of discovery
and hands-on learning with real specimens


Sternberg Museum Map
Sternberg Museum of Natural History web site
Kansas Attractions Kansas Travel & Tourism Home
copyright 2005-2020 by Keith Stokes