Old Prairie Town at
Ward-Meade Historic Site

124 NW Fillmore Street
Topeka, Kansas 66606
(785) 251-2989

Admission to the grounds is free - open 8am - sunset

Guided Tours Tuesday-Friday: 10am, 12pm, & 2pm
Saturday: 12pm & 2pm Sunday: 2pm
Tours: Adults $5 Seniors $4 Children (6-12) $3


Ward-Meade Park & Old Prairie Town Map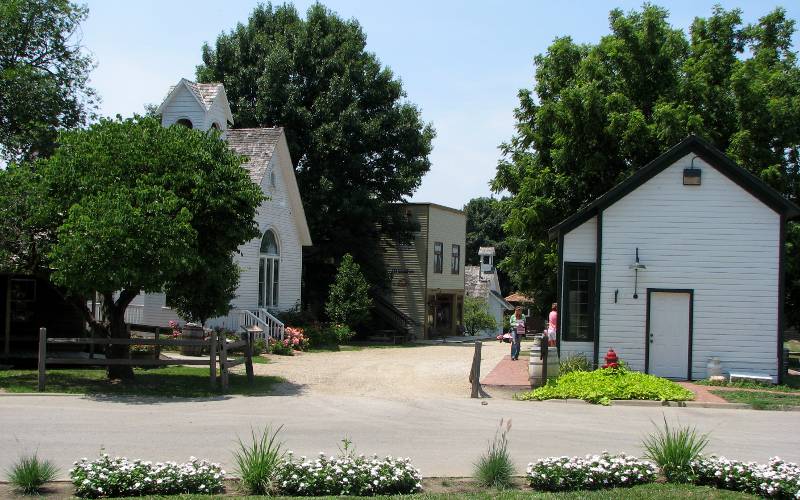 Old Prairie Town
Ward-Meade Historic Site in Topeka, Kansas has many things to offer: an old mansion, botanic gardens, and Old Prairie Town (a short street of 19th century buildings that have been moved to the site).
The 2.5 acre botanic gardens are very enjoyable with over 500 varieties of flowers, trees, & shrubs) labeled with their common and scientific names), fountain, water garden and gazebo. The garden is one of 23 national hosta gardens in the United States and has over 1,000 hostas. Major areas are also devoted to peonies, day lilies, tulips and herbs. The botanic garden is open every day of the year and has something in bloom in every season.
The grounds, Mulvane General Store Visitors Center & Gift Shop, Potwin Drug Store (with working soda fountain) and some other structures at Ward-Meade Park may be visited for free, but there is a tour entering several otherwise closed buildings for a modest charge. The General Store and Drug Store are open Tuesday - Saturday: 10AM - 4PM & Sunday: Noon - 4PM.
Old Prairie Town began when the City of Topeka moved an old cabin to this site from Gage Park to preserve it from vandalism. Over time the other buildings were moved here to prevent them from being destroyed. There are presently 12 buildings in Old Prairie Town.
One of those buildings is the 1870 Victorian Mansion which was the largest home in Topeka at the time it was built. Ghost hunters will want to check out the mansion, where Park staff have experienced spirit activity, including doors opening and closing and items moving in rooms. Ward-Meade Park doesn't promote the "haunted" aspect of the mansion, but at least one former skeptic is now a believer. The ghost activity is not volunteered during the tours, so ask about it if you are interested. When there are school groups, they make a point of not mentioning it, as fixes in many young minds and they stop hearing anything else.
The mansion was purchased by the City of Topeka in 1961. It was initially gutted and the interior turned into two large function rooms which were used by garden clubs, but in 1976 it was restored to its original floor plan and furnished with period furniture.
During the winter, hearth meals are prepared and served in the 1854 replica cabin twice a week to groups of 12-18 people for $20/person with advance reservations. The Ward-Meade Park grounds and buildings are also popular for weddings, parties and other gatherings.
Ward-Meade Park hosts several special events during the year including the spring Tulip Time Festival in April and the autumn Apple Festival. The Ward-Meade Garden Glow in early October includes more than 30 lighted displays for a $5 admission.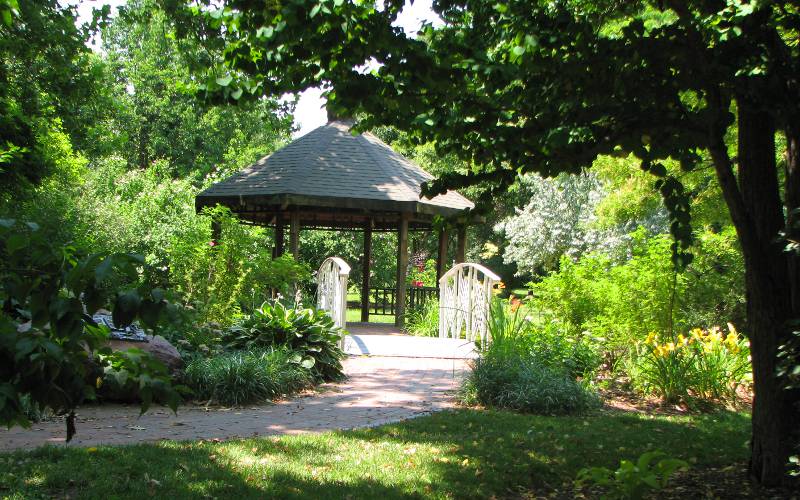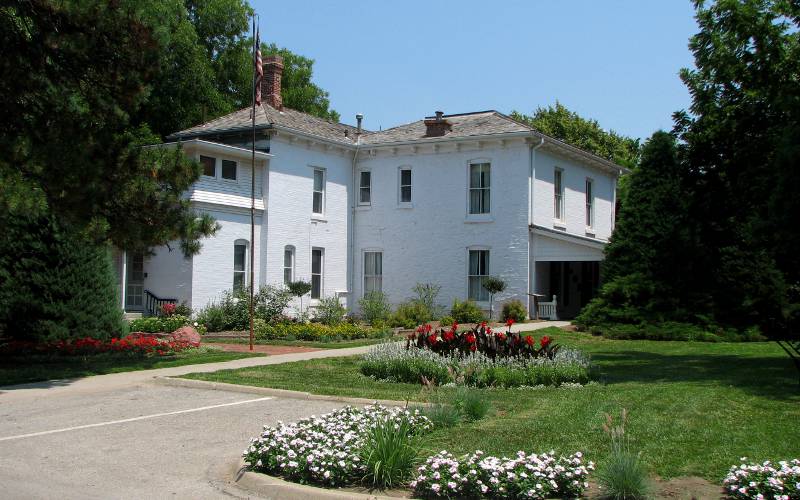 Ward-Meade Victorian mansion.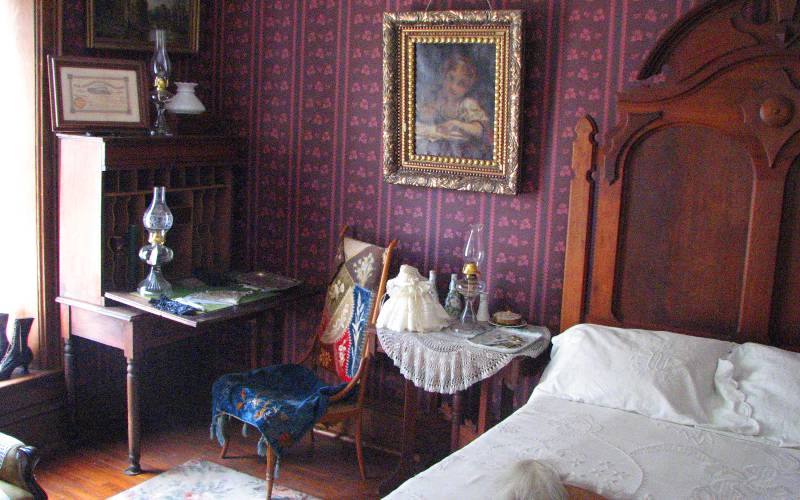 This upstairs bedroom is one of the places where unexplained activity has been experienced.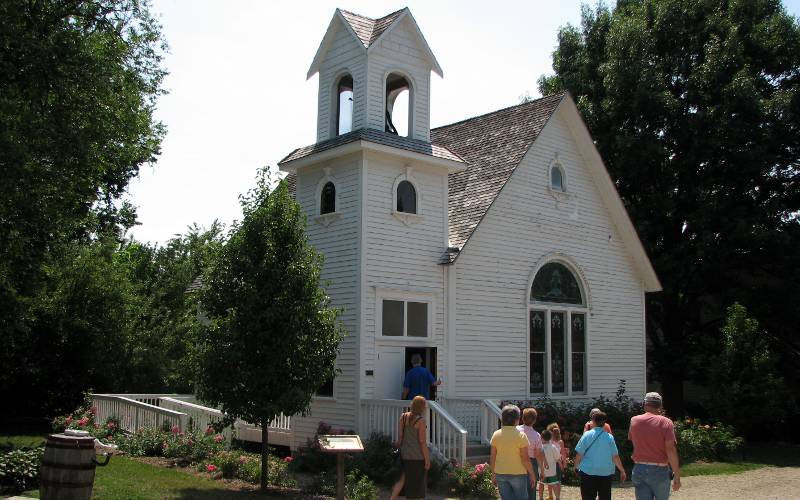 This church was built by the Mount Zion Methodist Episcopal congregation near Everest, Kansas
in 1880. In January 1884, the church was moved by wagons and mule teams to a new location within the city of Everest,
It became the United Methodist Church of Everest in 1968 and continued to be
active until July 1, 2001. Later that year the church was moved to Old Prairie Town.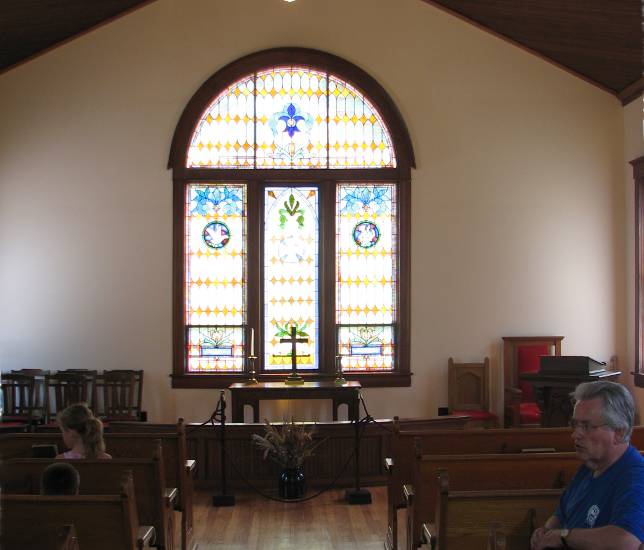 The former Methodist church is rented out for weddings only, with a Maximum Capacity of 65 people.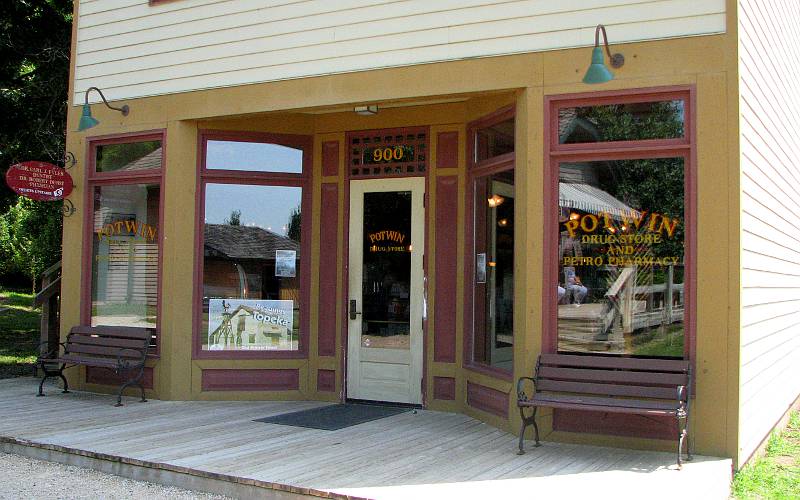 Potwin Drug Store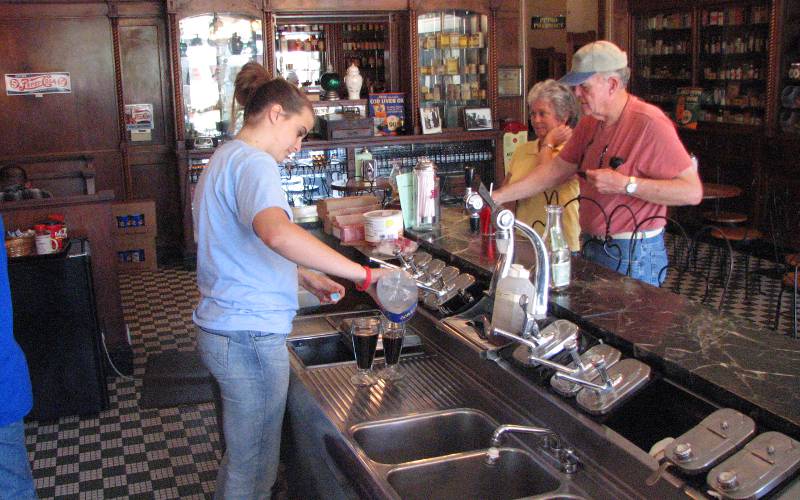 Making a root beer float from syrup and serving it in an old style fountain glass.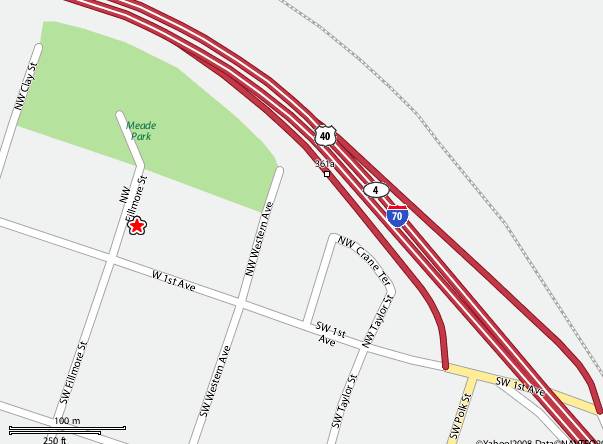 Ward-Meade Historic Site Map
Guide to things to do in Topeka
Kansas Attractions Kansas Travel & Tourism Home
copyright 2006-2021 by Keith Stokes