Mid-America All-Indian Center

650 N Seneca Street
Wichita, Kansas 67203
(316) 350-3340

Tuesday through Saturday: 10 am - 4 pm
Museum: adults $7 55+: $5.00
Children (6-12): $3.00 Grounds free

Mid-America All-Indian Center Map
The Mid-America All-Indian Center in Wichita, Kansas combines a museum, the Gallery of Nations for special events, and a gift shop. Native American community nights are held the 1st, 2nd and 4th Wednesday of each month from 6-8:30PM. Other special events and powwows commemorate special occasions. The photos on this page were taken on Veteran's Day. I was unable to remain for the dance that was being held in the afternoon and evening, but did check out some of the vendors setting up booths around the edge of the dance area in the Gallery of Nations..
The museum at Mid-America All-Indian Center has a very nice, small gallery, plus displays on the grounds of the center. A walkway on the grounds leads to the Keeper of the Plains, a 44' statue placed at the confluence of the Arkansas and Little Arkansas Rivers. The museum also hosts special exhibits by Native American artists throughout the year.
The museum portion is small but has high quality. It might be a bit pricey at $7, but not if you include the value of the other parts of the Center. My favorite section of the museum displays Kachina dolls created by Pueblo Indians.
The Mid-America All-Indian Center was chartered on November 14, 1969. The Indian Center moved into this facility in 1976. More recently, the administration of the Center has been taken over by the City of Wichita.

Mid-America All-Indian Center gallery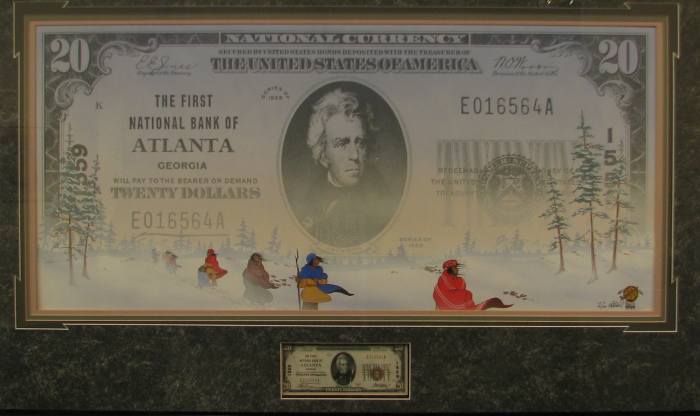 Jackson's Legacy by Ron Mitchell looks at the shame of President Andrew Jackson and the Indian Removal Act.

Timeless - black and white bowl by Patricia Shebola

Kachina Koyla at left is a Rio Grand clown often seen on Hopi mesas.
Kachina Hu at right is a son of the Crown Mother.

Fan and gourd set at left. 1890s bead work at right

Memorial to Woodrow W. Crumbo (1912-1989)
Woody was a Potawatomi dancer, musician and artist who studied at the American Indian Institute in Wichita and Wichita
State University. He painted in the flat traditional plains style developed in the early 20th Century.

Woody Crumbo tile

Pedestrian suspension bridge over the Big Arkansas River leading to the Keeper of the Plains.

Display of Native American crafts offered for sale by a vendor in the Gallery of Nations.

The Gallery of Nations helps visitors understand the strength, traditions, pride, and sovereignty of the Native people of North America.
Each flag represents a sovereign Native American Nation recognized by the United States Government and found within its borders.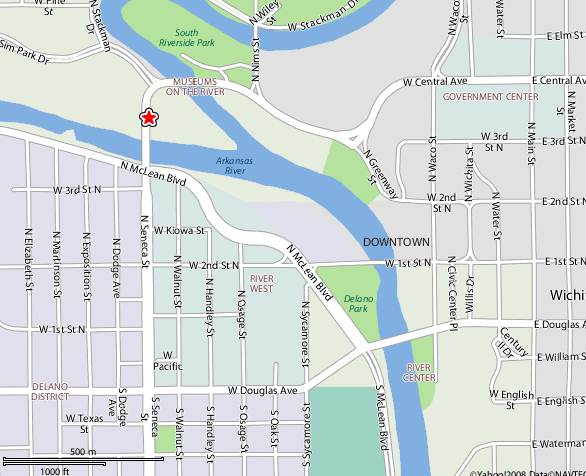 Mid-America All-Indian Center Map
Mid-America All-Indian Center web site Keeper of the Plains
Kansas Restaurants Kansas Travel & Tourism Home
copyright 2008-2011 by Keith Stokes