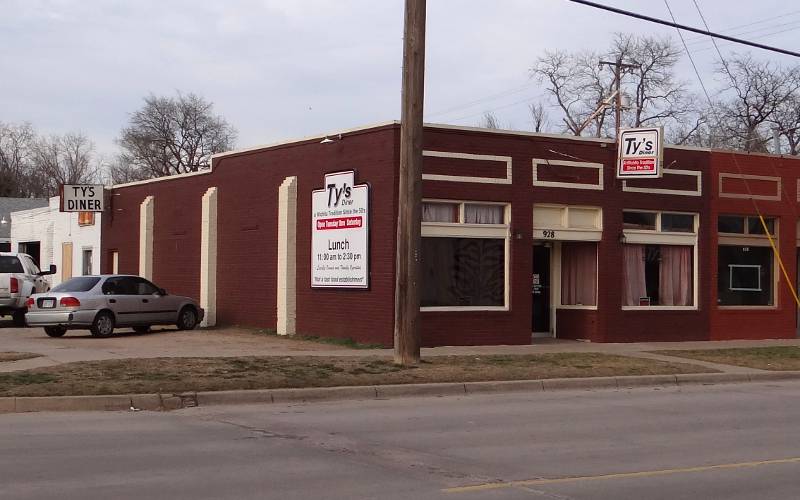 Ty's Diner - Wichita, Kansas
Ty's Diner in Wichita, Kansas isn't a diner, but a 60 year old hamburger joint. The kind of burger joint where people wait in line most of the few hours Ty's is open each day. But the wait is rarely more than 15 minutes.
Ty's was opened in the early 1950s by Kenny Tyson. Richard A. Diamond purchased Ty's in 1999, but Richard was been careful not to change the things that has made Ty's Diner a success. In 2012, long time employees, Dave and Kristen Hale purchased Ty's and will make a big change in May 2015 when the hours will expand from only 17 1/2 hours total during the week (11 AM - 2:30 PM Tuesday - Saturday) to add Friday and Saturday evenings in summer.
The menu is simple: hamburgers, cheeseburgers, chicken strips, chicken fried steak, pork tenderloin and a half dozen other sandwiches. The hamburgers are hand formed from ground beef that is delivered each morning and the French fries are cut fresh each day.
The burgers can be ordered with toppings such as jalapenos, ham bacon, grilled onions. Ty's Diner has Chili in the winter. It is a slightly watery, sweet chili with beans.
Ty's hamburgers and French fries are very good. The fries come in a family size full basket for $4.39 a generous half basket for $2.59 or a quarter basker for $1.99. The pork tenderloin and onion rings are above average.
There is plenty of atmosphere. Actually there was too much atmosphere. After my first visit, I could smell the place in our clothes and hair for most of the rest of the day.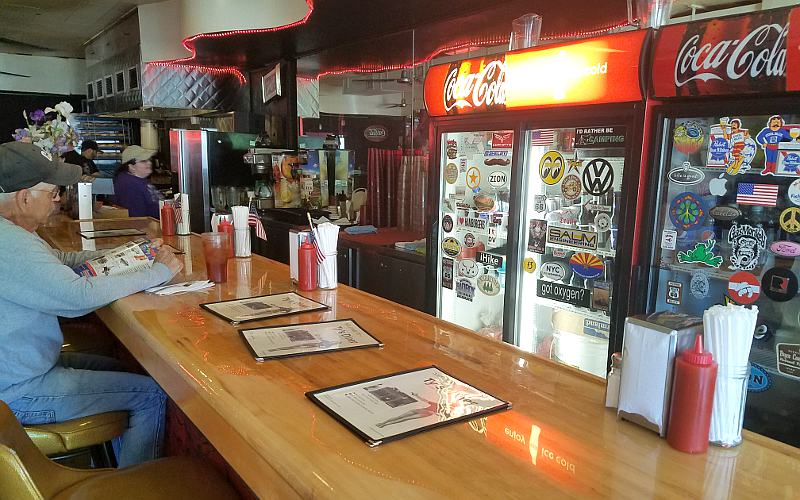 Ty's Diner has a counter and about a dozen booths.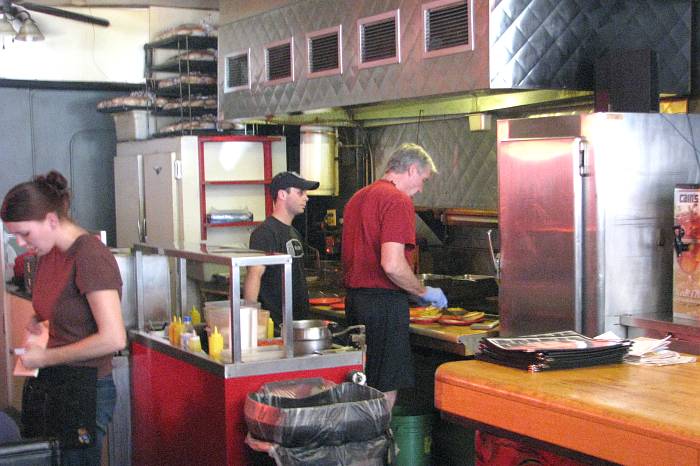 Current owners Kristin and David Hale at left, former owner Richard Diamond at right.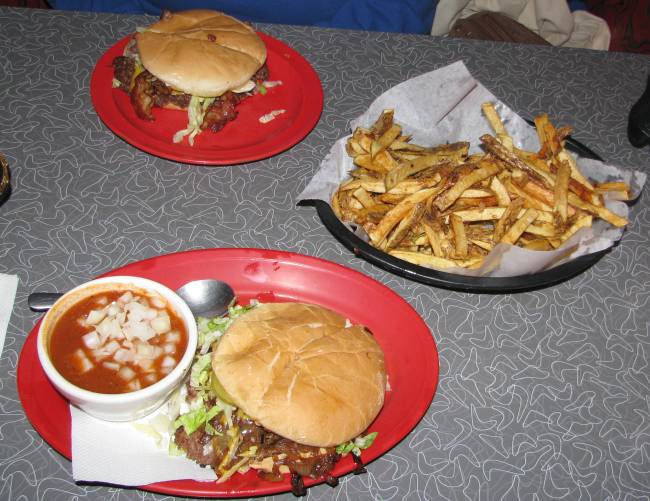 bacon cheeseburger, French fries, chili, cheeseburger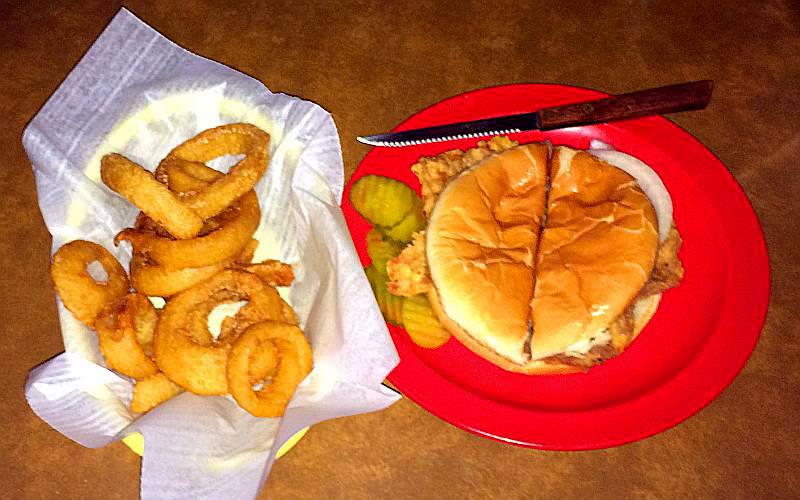 onion rings and pork tenderloin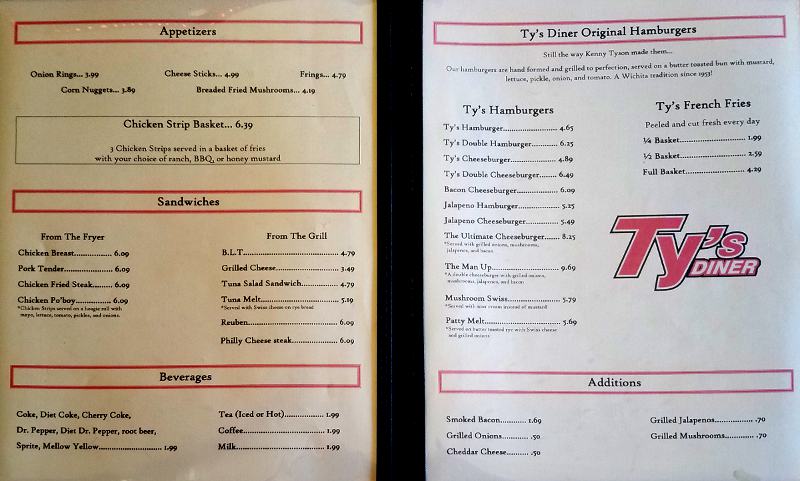 Click on photos for larger images of the March Ty's Diner menu from May 2017.
There is one sad change since this menu - they have changed from Coke products to Pepsi.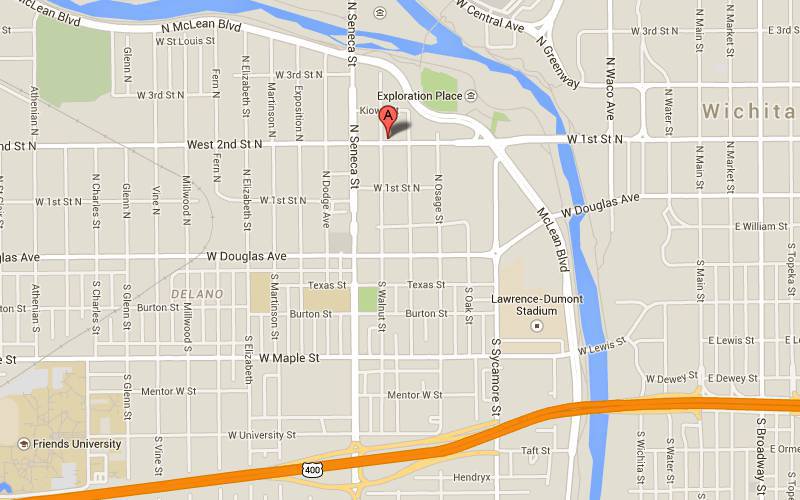 Ty's Diner Map
copyright 2008-2017 by Keith Stokes