The Cafe in Winona

1383 US Highway 40
Winona, Kansas 67764
(785) 846-2735

Tuesday - Saturday: 11AM - 9PM
Sunday: 11AM - 3PM



Winona Cafe menu Winona Cafe Map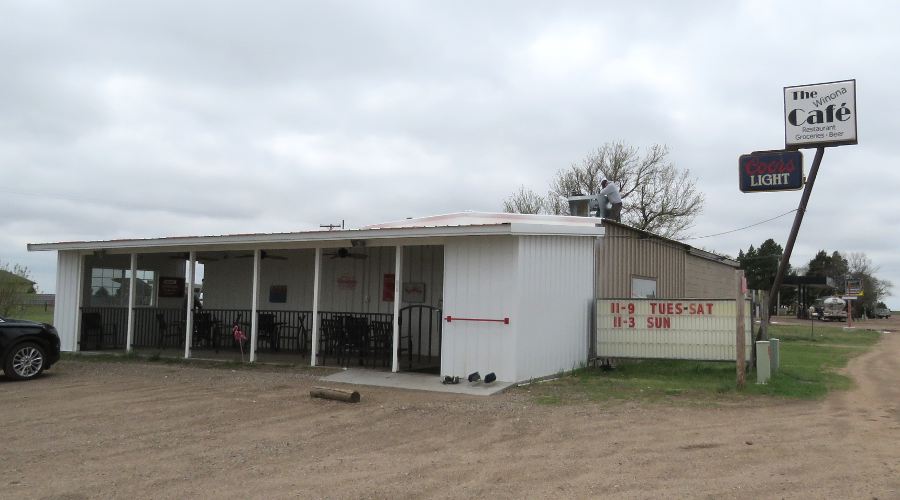 The Cafe in Winona - Winona, Kansas
The Cafe in Winona in Winona, Kansas has home style cooking with an eclectic menu and fabulous pie. We don't usually do a review after just one visit, but it may be some time before we get back here again and this is a standout restaurant on this stretch of US Highway 40. If you are coming from the west, don't forget that you moved into Central Time a few miles down the road, or it will be an hour later than you think.
We had to drive over 20 miles out of our way to eat at the Cafe in Winona, but this mom and pop restaurant looked too interesting to miss. Arriving at the Cafe, we learned that it doubles as a convenience store, with two walls of groceries to save local residents the long drive to larger stores.
The menu is quite diverse and we ended up having entrees which we wouldn't have expected in a small rural cafe. I started with a bull fries appetizer (deep fried, sliced bull testicles) which isn't unusual in this region, but followed it with a horseshoe sandwich which was a surprising treat. A horseshoe sandwich is a Springfield, Illinois specialty which I hadn't had in over 20 years. The version at the Cafe, was a grilled cheese sandwich topped with ground beef and surrounded by fresh cut fries and covered with cheese sauce. The same sandwich can be ordered with chicken instead of beef or white gravy instead of cheese sauce.
Linda had a wonderful garlic shrimp alfredo which came with a side salad. It was really loaded with garlic.
We enjoyed talking with the chef Curt Powers, our server Charlene Arnberger, and other customers. When we learned that Charlene bakes the pies, we had to try a slice.
The apple pie had a lot of cinnamon and we knew it was going to be very good as soon as the warm pie ala mode was set in between us. Linda is our apple pie expert and on the first bite she said, "I don't say this often, but this apple pie is better than mine." On her second bite she said, "This crust is a lot like mine." On her third bite she said, "This may have been the best apple pie I have ever had!"
One of the unusual, but nice, things about the menu is that most entrees are offered in three sizes, with the smallest size being just over half the price of the largest. A small entree has one portion of meat, a large entree has two portions and a Farmhand Entree has three portions of meat.
We want to eat here again soon.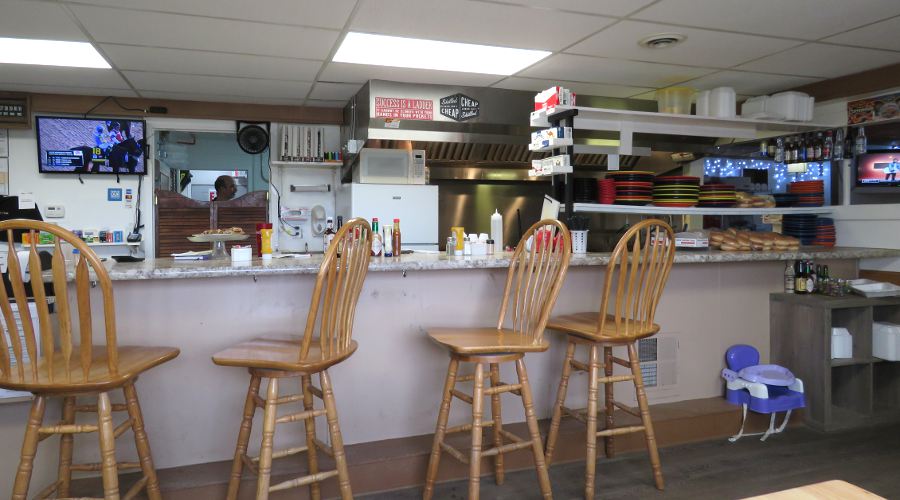 Winona Cafe counter with the grill behind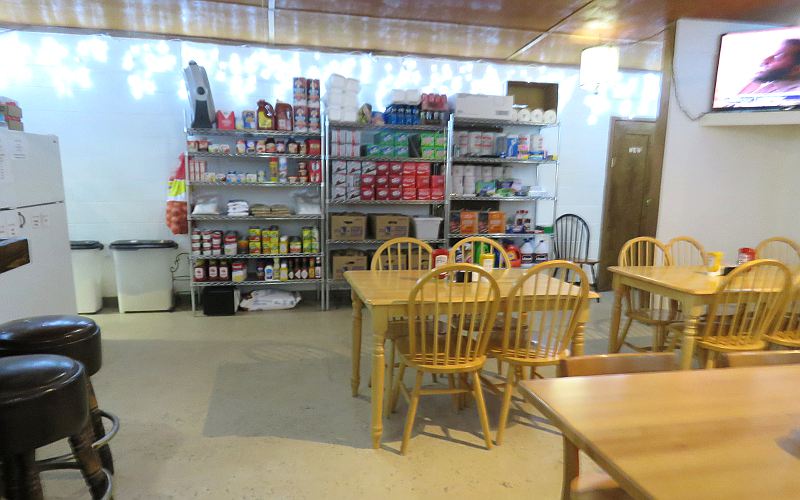 Dining room with convenience store
The sign said that special orders can be ordered on Tuesday for Thursday delivery.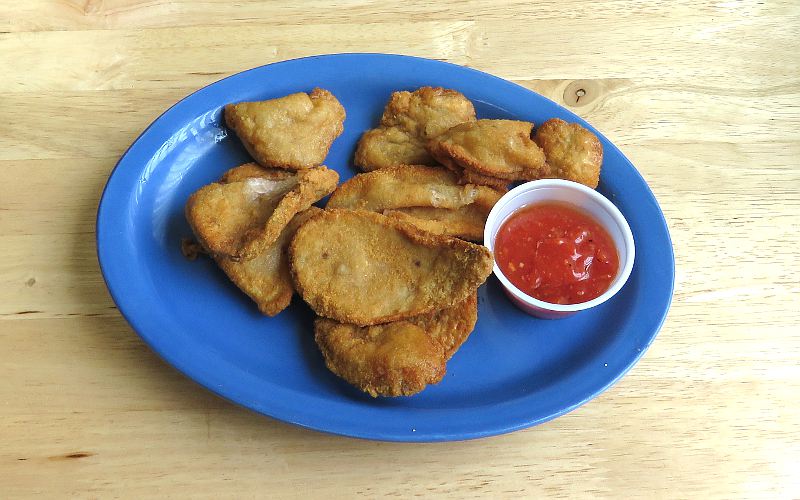 Bull fries appetizer (mountain oysters)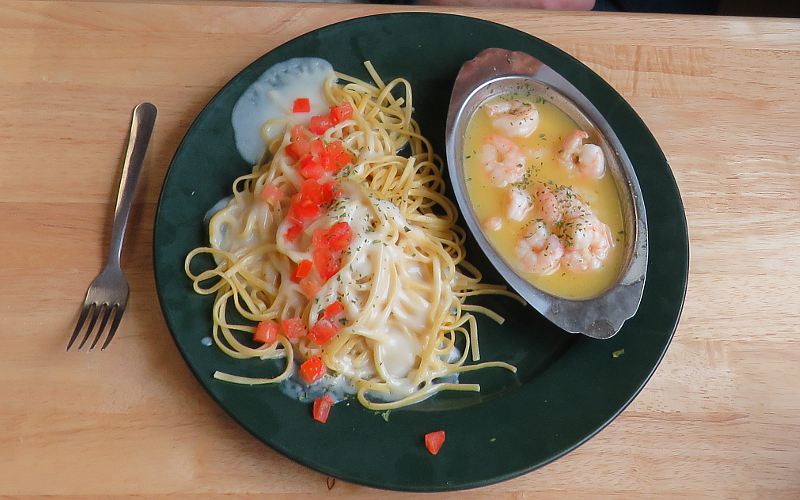 Shrimp alfredo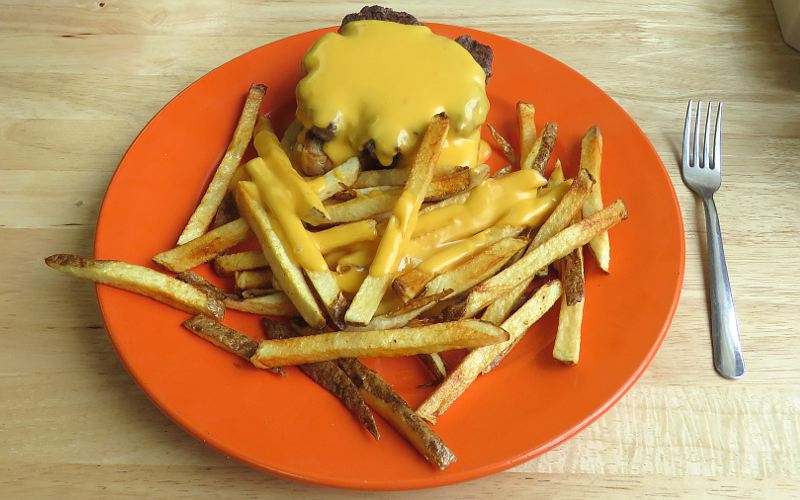 Horseshoe sandwich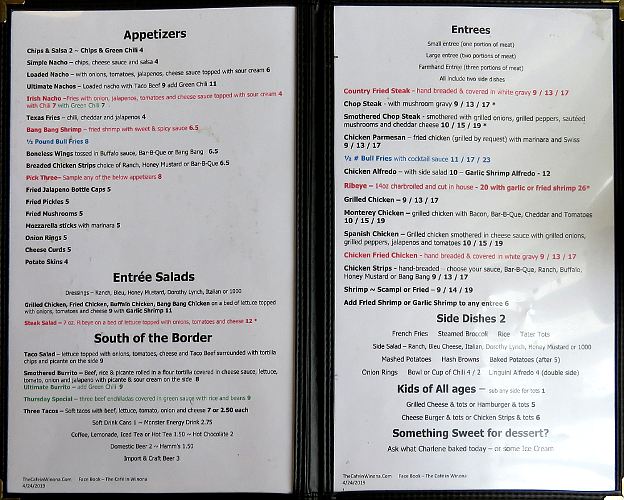 The Cafe in Winona Menu from May 2019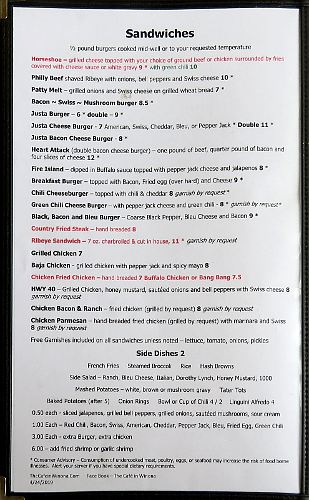 The Cafe in Winona Sandwich Menu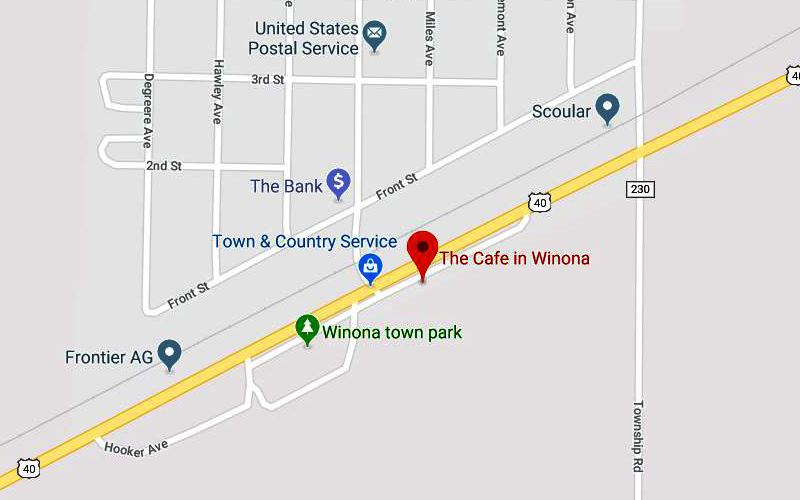 The Cafe in Winona Menu
LS-5/19 copyright 2019-2020 by Keith Stokes