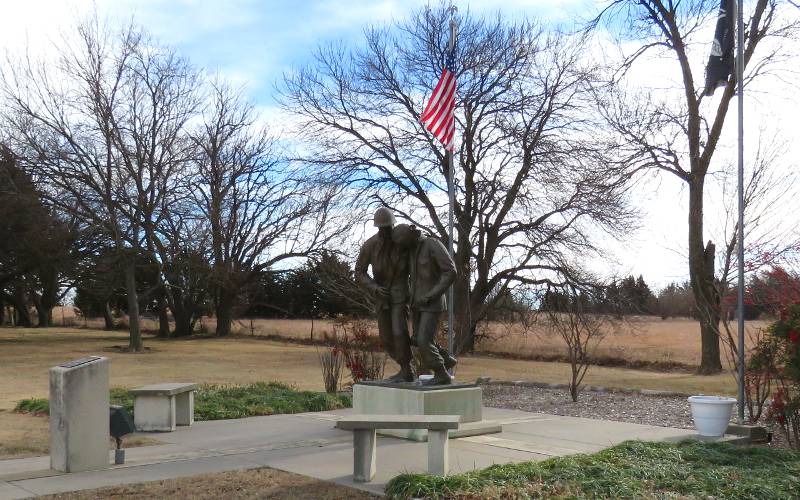 2001 statue dedicated to Army Chaplain, Father Emil J. Kapaun
The first floor of the parsonage at St. John Nepomucene Catholic Church in Pilsen, Kansas houses a museum devoted to Father Emil Kapaun. It is open for tours by appointment, along with the beautiful, adjacent church. Tours can be arranged in advance by calling the church office at (620) 382-3369.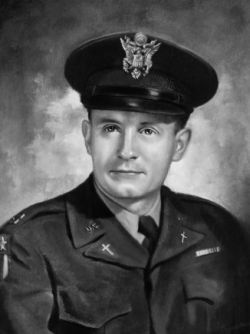 Emil Joseph Kapaun was born near Pilsen, Kansas on April 20, 1916 (Maundy Thursday) and grew up in Pilsen. He was ordained in 1940 and was appointed as the assistant Priest at St. John Nepomucene Catholic Church.
In 1943, Father Kapaun became the pastor in Pilsen, but the following year he entered the US Army Chaplain Corps. He served in India and Burma, and was promoted to Captain before leaving the Chaplain Corps in 1946 to do graduate study at Catholic University in Washington DC. He later returned to the service and was ordered to Korea in 1950, where within a few weeks he earned the Bronze Star for heroism in action. Four months later he was captured near Unsan, North Korea and died six months later in prison camp in Pyoktong, North Korea. Father Kapaun was posthumously awarded the Distinguished Service Cross.
In 2013, Father Kapaun was awarded the Congressional Medal of Honor by President Obama. That medal is kept in a safe, but is brought out for display during special tours. The following is from the medal's citation:
On November 1, as Chinese Communist Forces viciously attacked friendly elements, Chaplain Kapaun calmly walked through withering enemy fire in order to provide comfort and medical aid to his comrades and rescue friendly wounded from no-man's land. Though the Americans successfully repelled the assault, they found themselves surrounded by the enemy. Facing annihilation, the able-bodied men were ordered to evacuate. However, Chaplain Kapaun, fully aware of his certain capture, elected to stay behind with the wounded. After the enemy succeeded in breaking through the defense in the early morning hours of November 2, Chaplain Kapaun continually made rounds, as hand-to-hand combat ensued. As Chinese Communist Forces approached the American position, Chaplain Kapaun noticed an injured Chinese officer amongst the wounded and convinced him to negotiate the safe surrender of the American Forces. Shortly after his capture, Chaplain Kapaun, with complete disregard for his personal safety and unwavering resolve, bravely pushed aside an enemy soldier preparing to execute Sergeant First Class Herbert A. Miller. Not only did Chaplain Kapaun's gallantry save the life of Sergeant Miller, but also his unparalleled courage and leadership inspired all those present, including those who might have otherwise fled in panic, to remain and fight the enemy until captured.
While in the prison camp, Father Kapaun continued to serve the soldiers imprisoned in the camp and resisted their captors. While ignoring his own poor health, he nursed the sick and wounded until a blood clot in his leg prevented his daily rounds. He was denied medical assistance and died on May 23, 1951.
In following years, several miracles have been attributed to prayers made through Father Kapaun and three of those miracles are described in great detail while touring the parsonage in Pilsen. In 1993, Father Kapaun was named a Servant of God by the Roman Catholic Church. This the first step toward possible canonization. In 2008, the Cause for Beautification and Sainthood was officially opened. Investigation of possible miracles continues.
On Thurday, March 4, 2021 it was announced that Father Kapaun's remains have been identified by the the Defense POW/MIA Accounting Agency of the Department of Defense/ Details to follow when available.

Father Kapaun Prayer for Intercession
Father Emil Kapaun gave
glory to God by following
his call to the priesthood and
thus serving the people of Kansas
and those in the military.
Father Kapaun, I ask your
intercession not only for these needs
which I mention now. . .but that I
too may follow your example of
service to God and my neighbor.
For the gifts of courage in battle
and perseverance of faith,
we give you thanks O Lord.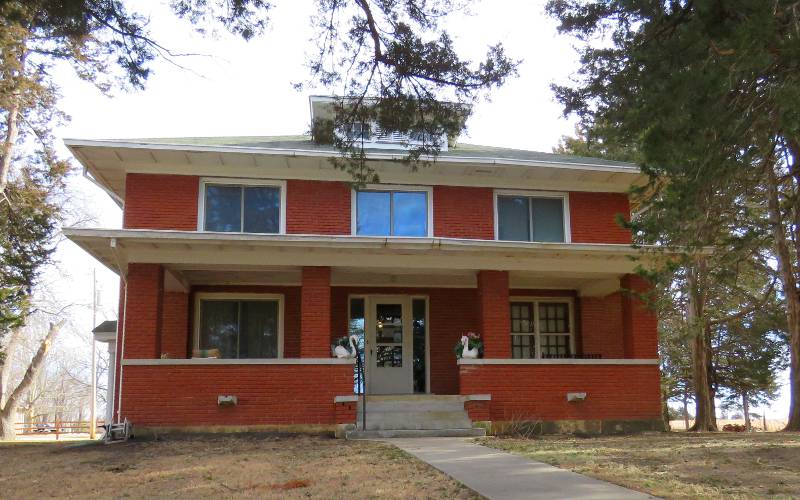 The first floor of this 1924 eleven room rectory or parsonage houses the Father Kapaun Museum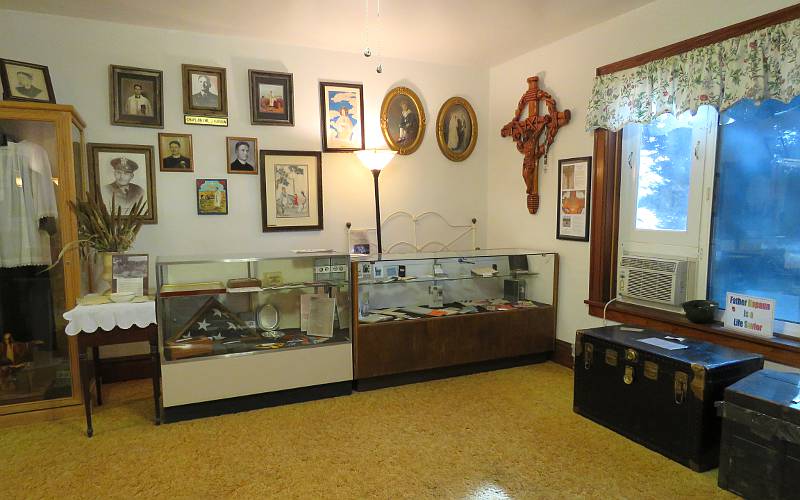 Father Kapaun room exhibits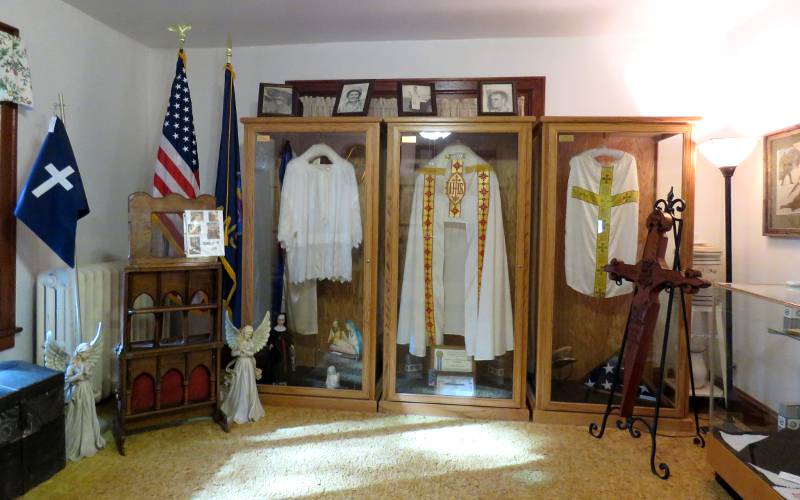 Garments worn by Father Kapaun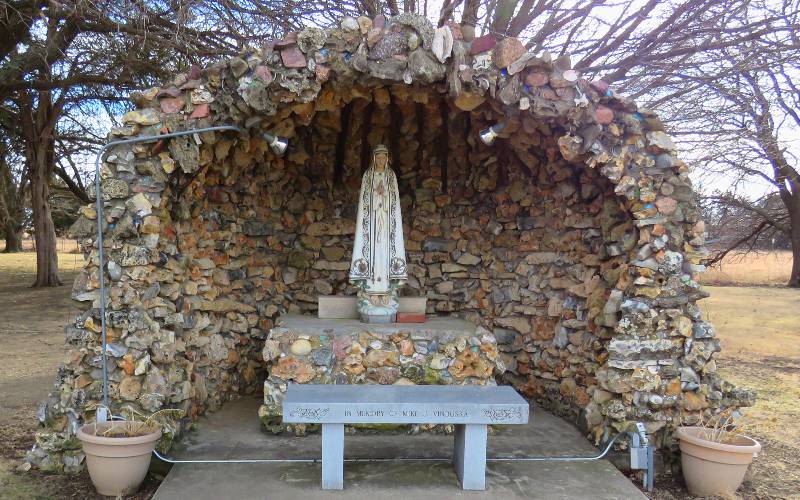 Grotto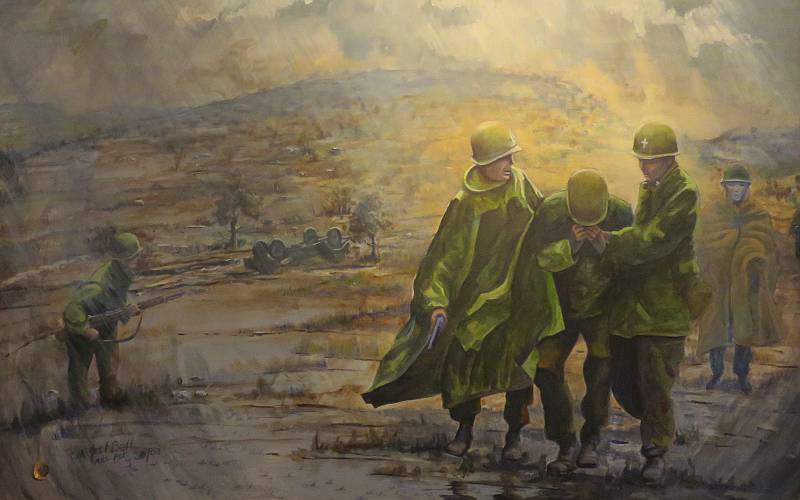 "Battle Field Saint" painted by Colonel James Bell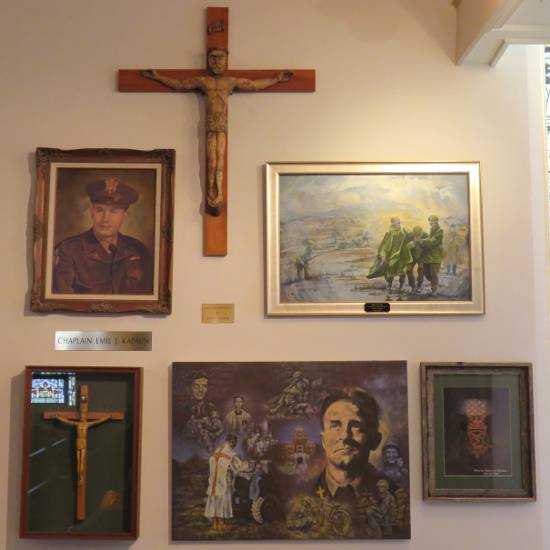 Display devoted to Father Kapaun in the adjacent church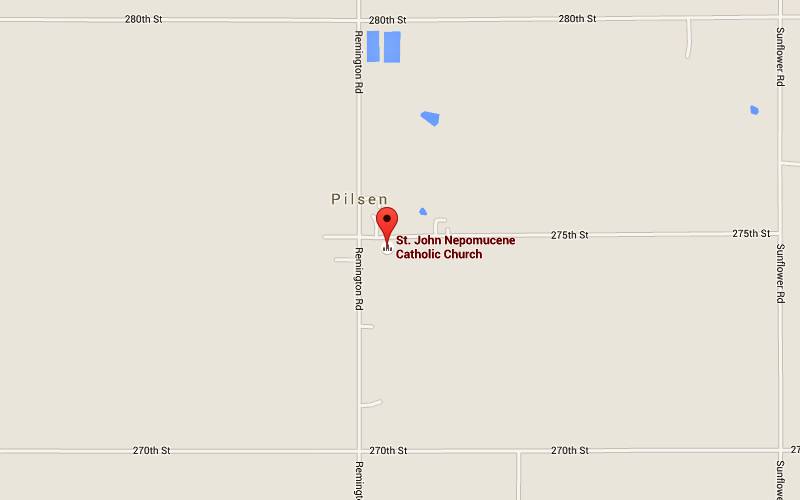 Father Emil J. Kapaun map
St. John Nepomucene Catholic Church Beautiful Kansas Churches
Kansas Attractions Kansas Travel & Tourism Home
LS-3/17 copyright 2016-2021 by Keith Stokes