Fort Leavenworth

Visitors Control Center
8 Sherman Avenue
Fort Leavenworth, Kansas 66027

Free
Visitors Control Center open:
Monday - Friday: 5:30AM - 4:30PM
Weekends: 6:30AM - 4:30PM
Admission Requirements


Grant Hall Tower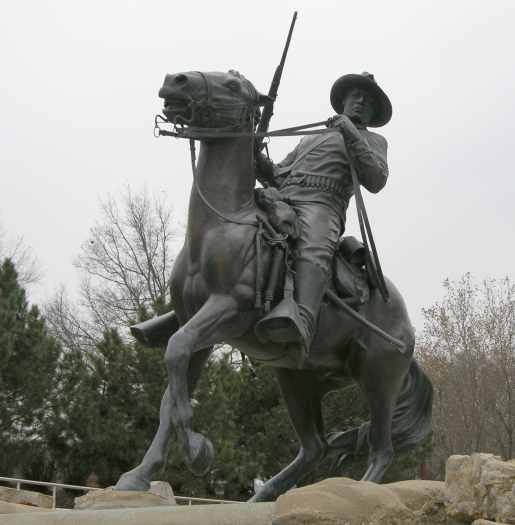 Buffalo Soldier Monument
Established in 1827, Fort Leavenworth at Leavenworth, Kansas is the oldest active Army post west of the Mississippi. Although known for its role in the expansion of the American frontier and as the only US military maximum security prison, Fort Leavenworth's most important role began in 1881 when Gen. William T. Sherman established the School of Application for Cavalry and Infantry. That school evolved into the U.S. Army Command and General Staff College and has graduated officers such as Dwight D. Eisenhower, Omar N. Bradley and George S. Patton.
Fort Leavenworth has a number of things to offer civilian visitors: a national cemetery, museum, monuments and many interesting 19th century buildings. The Frontier Army Museum at Fort Leavenworth explains the Fort's role in the exploration and expansion of the western United States, as well as the staff college. But when the museum is closed, you can still print this Fort Leavenworth driving tour map and tour the fort at other times. The tour stops at about 16 locations where you will find a display with a recorded message.
A separate Mormon Battalion driving tour is available. The Mormon Battalion is believed to be the only U.S. Army unit named for its religion and was recruited around present day Council Bluffs, Iowa by Captain James Allen from Fort Leavenworth in 1846. This tour provides insight about the Battalion's stay at Fort Leavenworth.
Current Admission requirements
Visitors to Fort Leavenworth who do not have a Department of Defense issued ID card must stop by the Visitor Control Center which is open 7AM-4PM Mon-Fri & 8AM-4PM on Sat-Sun where reception clerks will verify that the vehicle driver has a valid license, registration and proof of insurance and that all passengers sufficient ID. Following a routine background check, visitors will receive a Temporary Pass and instructions allowing them to enter the installation. This may sound like a obstacle, but Fort Leavenworth does encourage visitors to this historic post. You are welcome here! The Fort Leavenworth Visitor Control Center is closed on all federal holidays.
Only driver's licenses from the following states are sufficient on their own: Alabama, Arizona, Colorado, Connecticut, Delaware, DC, Florida, Georgia, Hawaii, Indiana, Iowa, Kansas, Maryland, Mississippi, Nebraska, Nevada, Ohio, S. Dakota, Tennessee, Utah, Vermont, West Virginia, Wisconsin and Wyoming.
Residents of other states or territories must provide such documents as passport, voter's registration card, social security card, birth certificate, etc. Call (913) 684-3600 with questions in advance.
Non US residents many not be permitted on the fort and should call (913) 684-3600 in advance.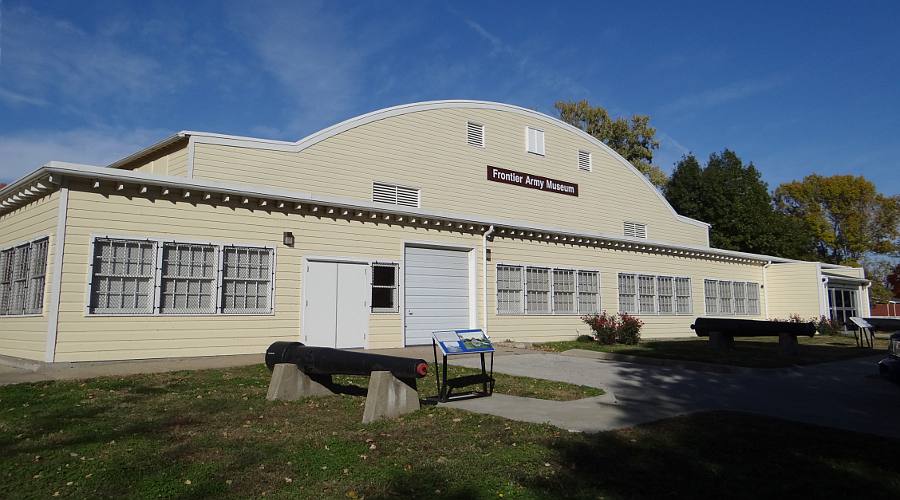 Frontier Army Museum

U.S. Army Command and General Staff College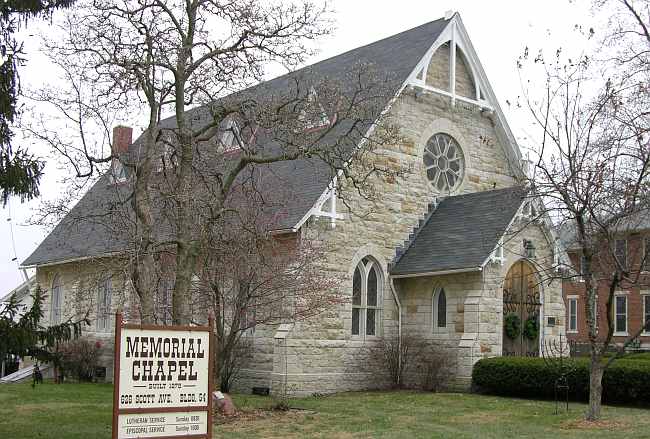 Memorial Chapel is one of three chapels on Fort Leavenworth. It is used
for Lutheran and Episcopal services.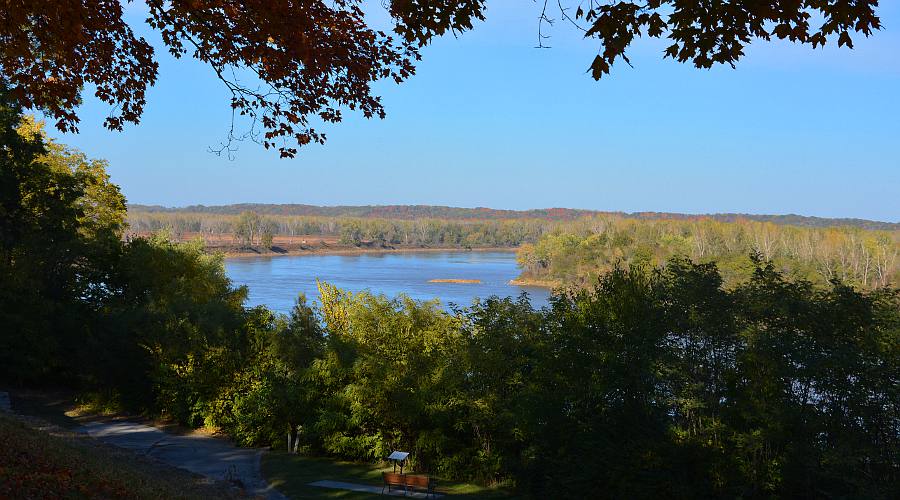 Missouri River from the bluff at Fort Leavenworth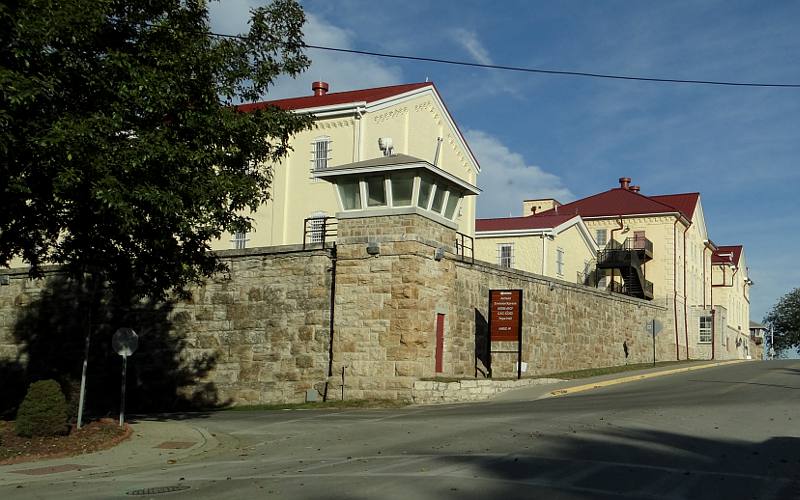 United States Disciplinary Barracks (USDB) - established in 1875
The oldest penal institution in continuous operation in the federal system
Fort Leavenworth National Cemetery is one of the first 12 national cemeteries established by Abraham Lincoln on July 17, 1862. Burials began in the 1840s. There are over 30,500 graves of veterans and dependents.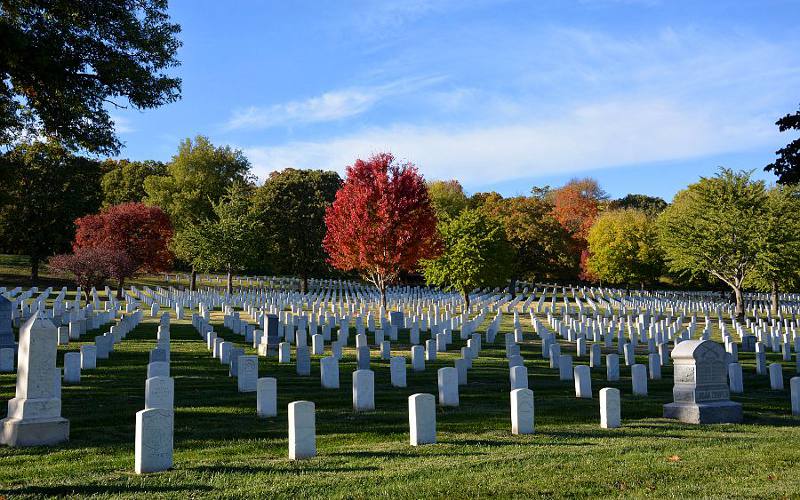 Fort Leavenworth National Cemetery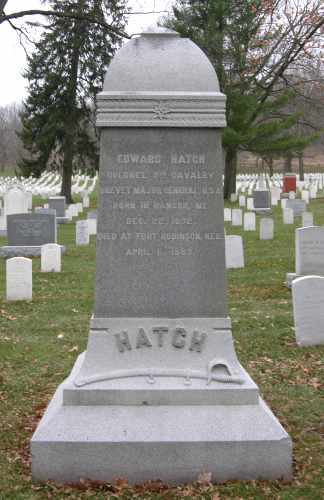 General Edward Hatch (1832-1889)
| | |
| --- | --- |
| Thomas Ward Custer - double Congressional Medal of Honor recipient. Died with his brother George Armstrong Custer at the Battle of the Little Big Horn | |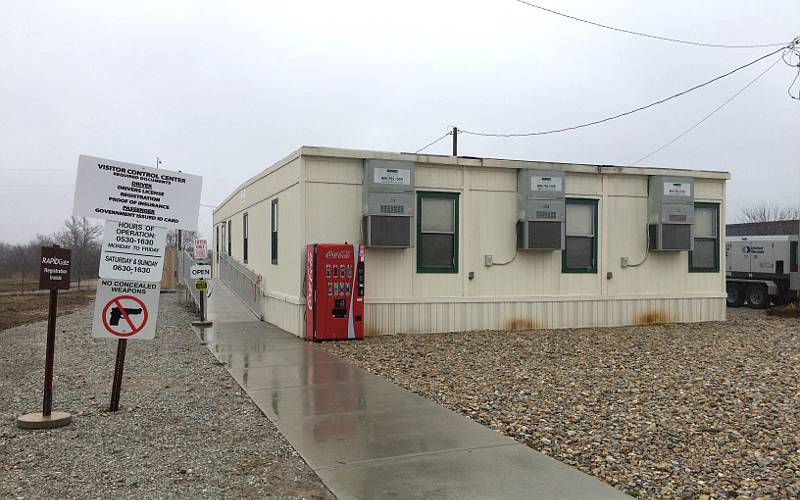 Visitors Control Center - 8 Sherman Avenue, Fort Leavenworth, Kansas 66027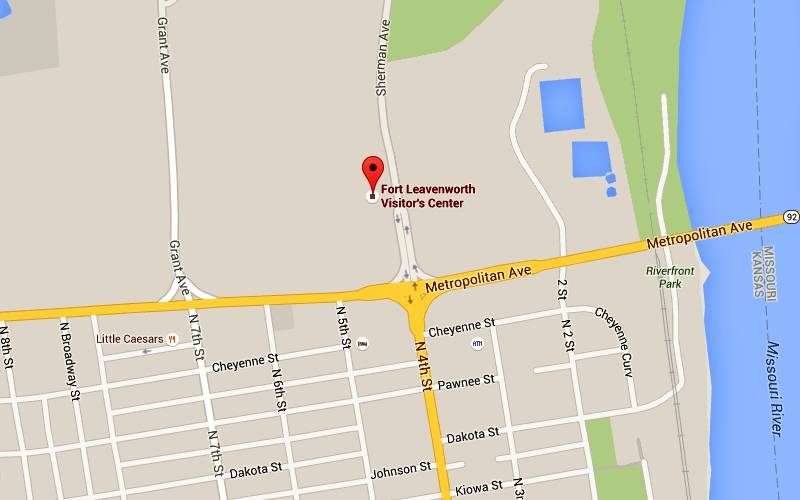 Fort Leavenworth Map
Kansas Restaurants Kansas Travel
Kansas Travel & Tourism Home
copyright 2005-2018 by Keith Stokes