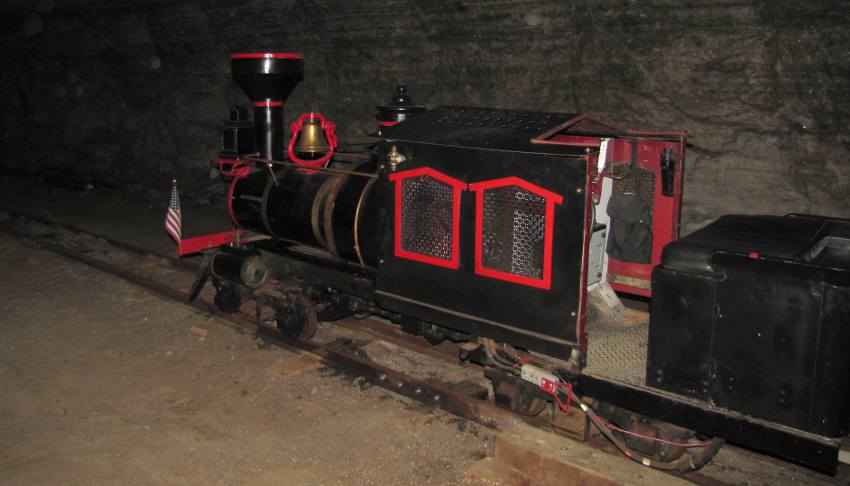 Salt Mine Express ($4)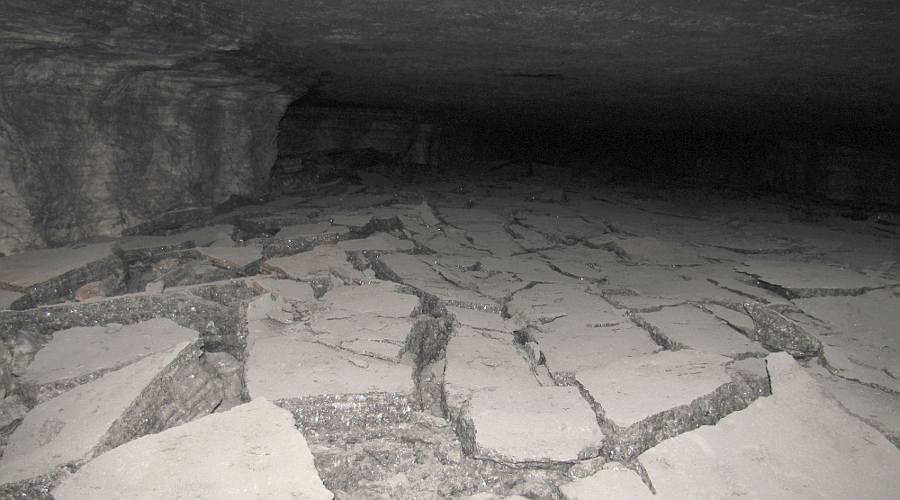 Ceiling fall - the museum is constantly monitored for the possibility of a portion of the ceiling falling and dangerous areas are roped off. This
large ceiling fall is part of the dark tour. Smaller projections are knocked down before they can fall.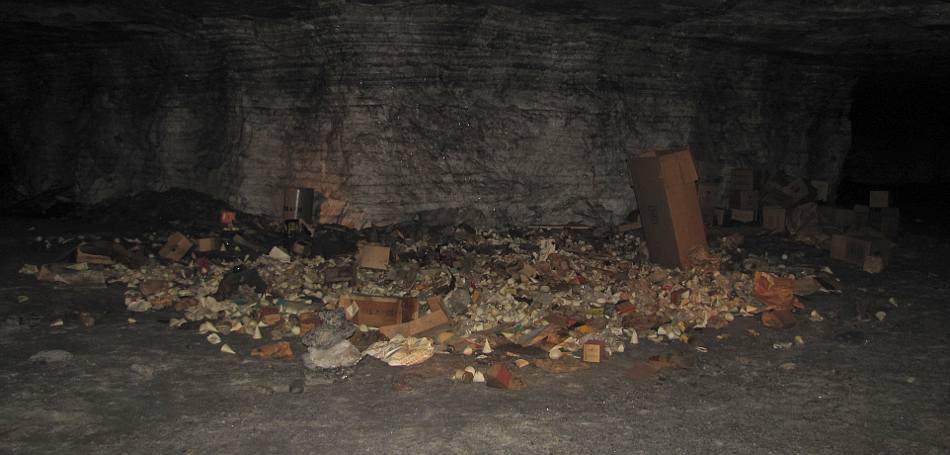 Everything that has been brought into the salt mine over the years has stayed in the mine - these "artifacts" date back for decades.
Before or after the rides in Hutchinson's Strataca Underground Salt Museum, visitors are free to tour the museum galleries on their own. The galleries feature exhibits devoted to mining, along with several videos. Many visitors spend most of their time in the exhibits devoted to Underground Vaults & Storage. Because of the security, low cost and constant climate (68 degrees and 45% relative humidity) UVS provides secure storage for many companies.
Those companies include all but one of the major motion picture studios and the caves store props and original film negatives for movies as diverse as "The Wizard of Oz," "Gone With The Wind," "Ben Hur," and "Star Wars." A small selection of the movie props is on display.
Because a big part of what they are selling is the high security, Underground Vaults & Storage was originally opposed to the new museum, but that has obviously changed.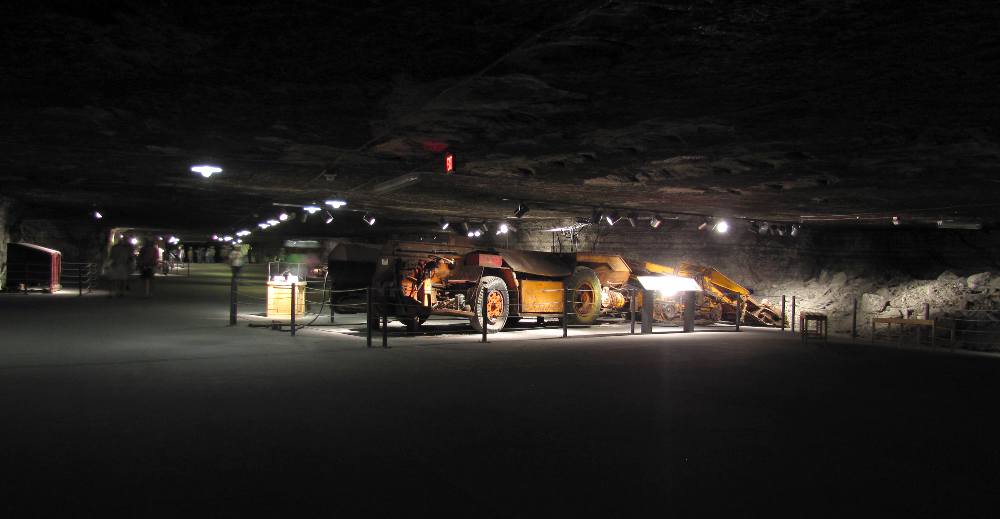 The main museum gallery has mining equipment displays and videos of the equipment in operation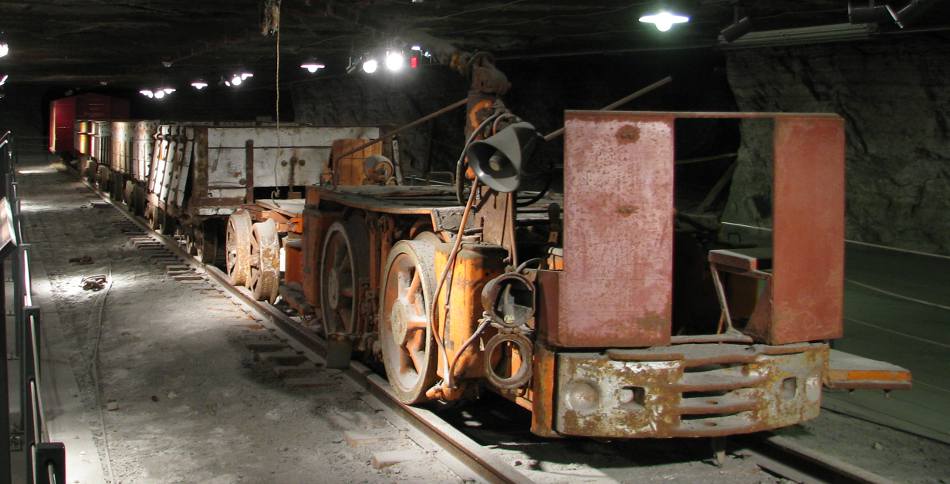 This 42 inch gauge railroad operated in the salt mine from 1923 until 1983 when the company abandoned the system in
favor of a conveyor belt line. This DC electric engine was purchased from the Independent Salt Company at Kanopolis
and was a backup engine for times when the larger main engine was in use.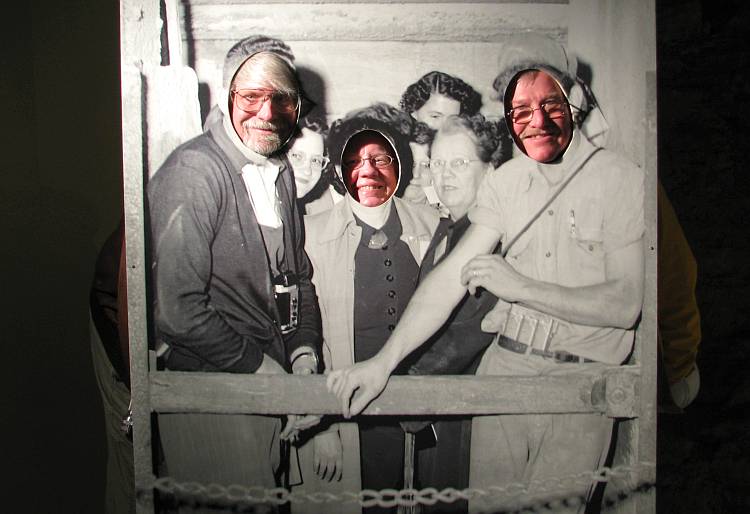 Roger Tener, Pat Knuth and Kansastravel.org webmaster Keith Stokes taking advantage of a photo opportunity
in the galleries at Strataca Underground Salt Museum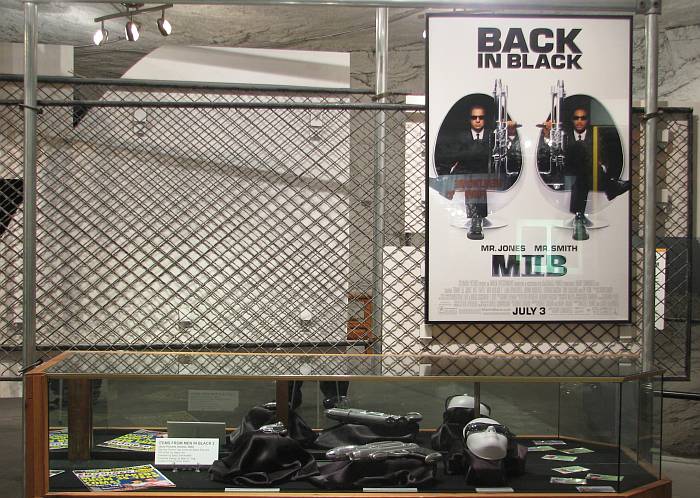 Display of props from the Men in Black Movies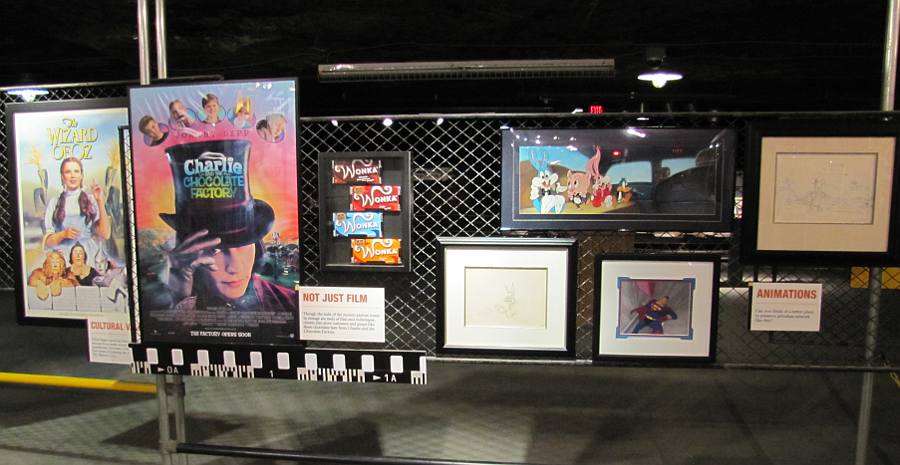 In addition to reels of film and videotapes, Underground Vaults & Storage clients store art, costumes and props like the chocolate
bars from Charlie and the Chocolate factory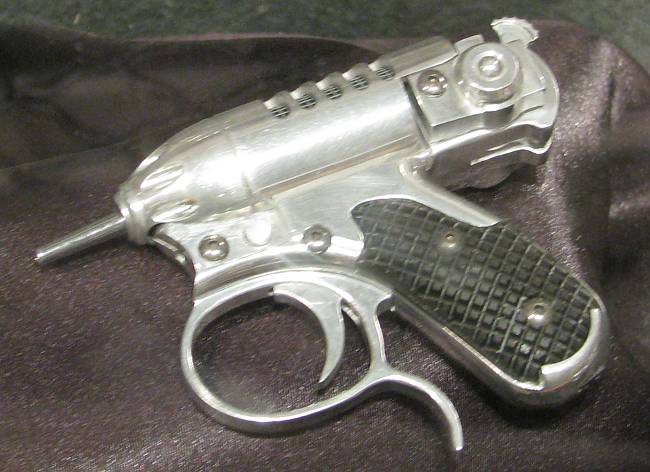 Noisy Cricket chrome pistol from the the movie Men in Black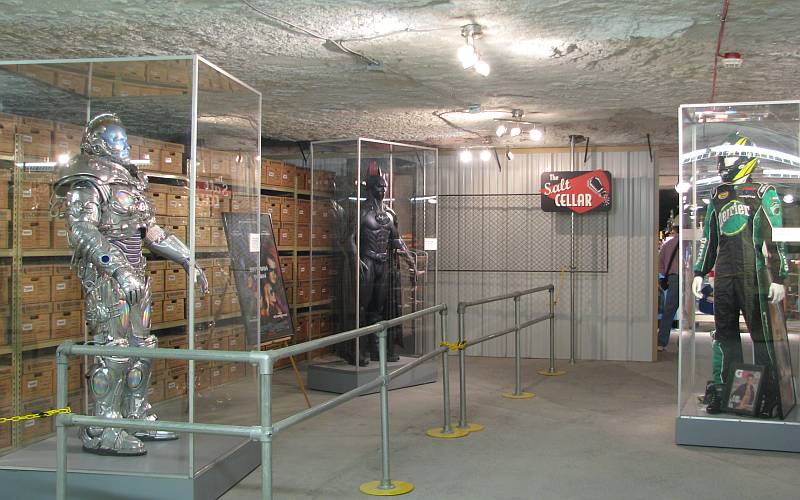 Movie costumes: Mr. Freeze costume worn by Arnold Schwarzenegger & Batman costume worn by George Clooney in
Batman and Robin, and Jean Girard Racing Suit worn by Sacha Baron Cohen in Talladega Nights.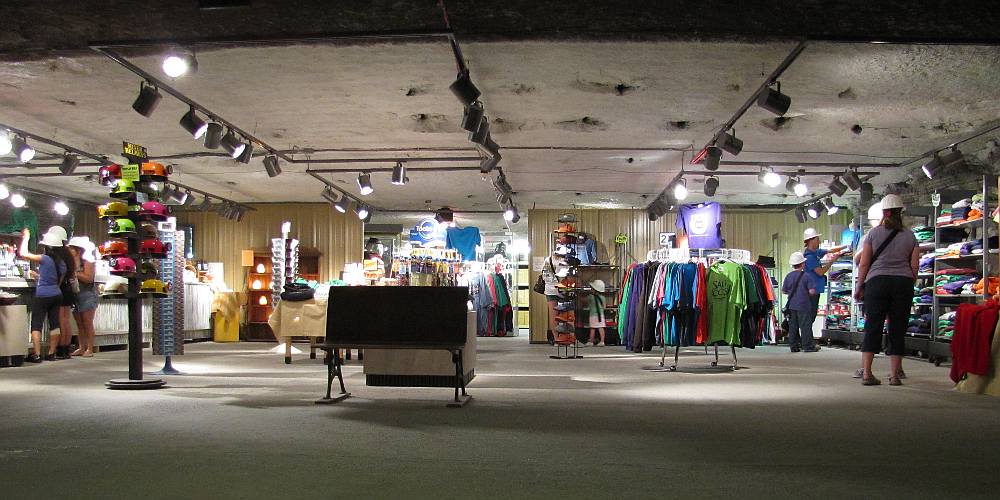 The Strataca gift shop has many T-shirts with clever messages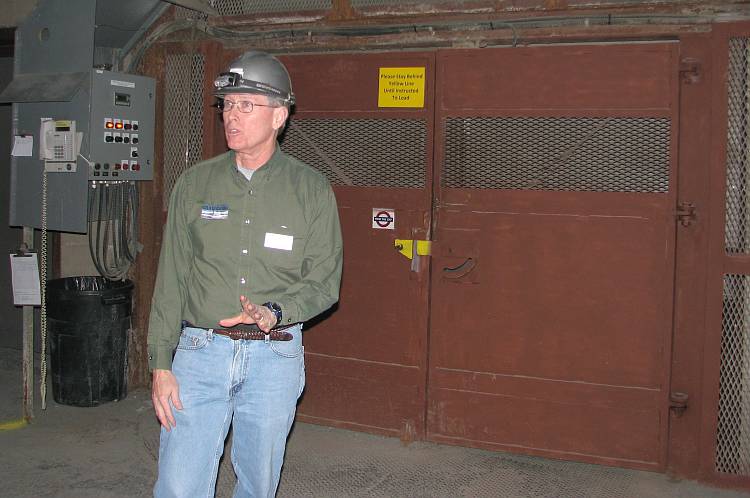 Waiting for the double deck elevator to return to the surface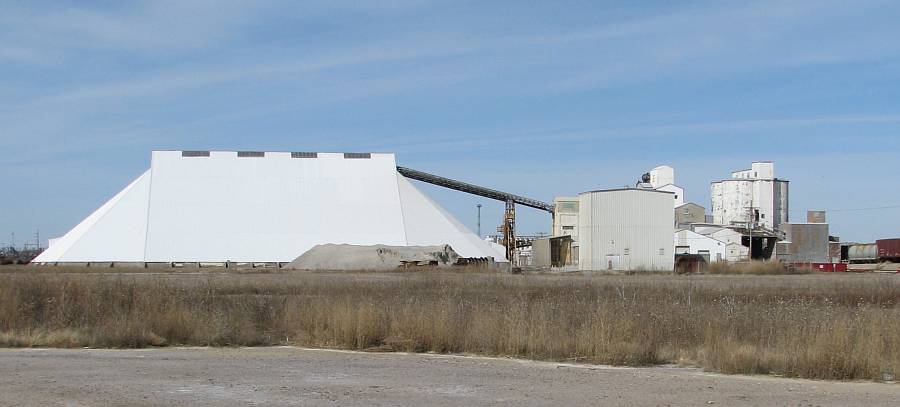 Hutchinson Salt Company surface operation

Eight Wonders of Kansas

In 2007, the Kansas Sampler Foundation selected the Kansas Underground Salt Museum as one of the Eight Wonders of Kansas.
Other sites selected as the Eight Wonders of Kansas included the Cathedral of the Plains, Kansas Cosmosphere, Monument & Castle Rocks, Tallgrass Prairie National Preserve and the Eisenhower Presidential Library.
Page 1 - Hours, prices and tour details Salt Discovery Well
Hutchinson Restaurant & Attraction Guide
Strataca Underground Salt Museum web site
Kansas Attractions Kansas Travel & Tourism Home
copyright 2009-2017 by Keith Stokes