Great Lenexa Barbeque Battle
Sar-Ko-Par Trails Park
14907 West 87th Street Parkway
Lenexa, Kansas 66215

June 23-24, 2023
Friday: 4:30-11PM Saturday: 9AM - 3PM
$5 on Friday Free on Saturday


Great Lenexa Barbeque Battle competitors lining the shore of Rose's Pond
The Great Lenexa Barbeque Battle in Lenexa, Kansas is the official Kansas State BBQ Championship. Nearly 200 teams compete on Friday and Saturday. Friday evening is a big party with live music and activities though the park.
If you don't know anyone competing in the Lenexa BBQ Battle and aren't comfortable inviting yourself into the parties, the best time to attend the event is Saturday afternoon. There is free BBQ sampling at mid-day on Saturday, and commercial BBQ is available on both days.
On Friday evening an outgoing person may make friends and find themselves invited to sample Que and enter parties. I'm not that outgoing, but when I have attended the competition, I have been accompanied by a long time Lenexa resident who knows many contestants and got us into a number of the parties. We sampled ribs, chicken, pork, beef, goose and side dishes.
The Great Lenexa Barbeque Battle started in 1982 with twelve contestants and twelve judges. The contest is always held on the fourth Saturday of June.
The BBQ contest is held at Sar-Ko-Par Trails Park near 87th & Lackman Road. While on site parking is limited, free satellite parking and shuttles are provided.
There is limited on site parking for $5. It will almost certainly be full when you arrive on Friday. There is free satellite parking at the Lenexa Public Safety Complex (12500 W. 87th St. Pkwy.) and the business park at 95th Street and Lackman Road. Free accessible shuttles run from 4:30 to 11:30 p.m. Friday night and from 9 a.m. to 5 p.m. Saturday.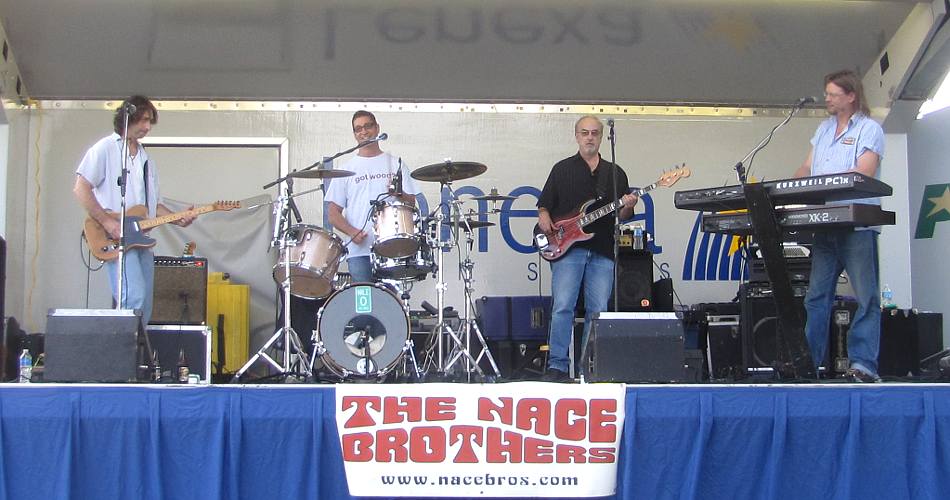 The Nace Brothers performing at the 2011 Great Lenexa Barbeque Battle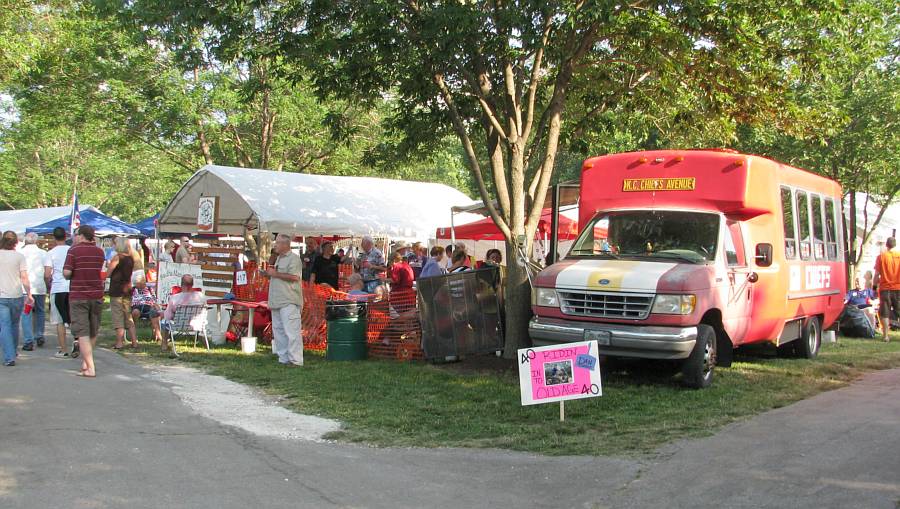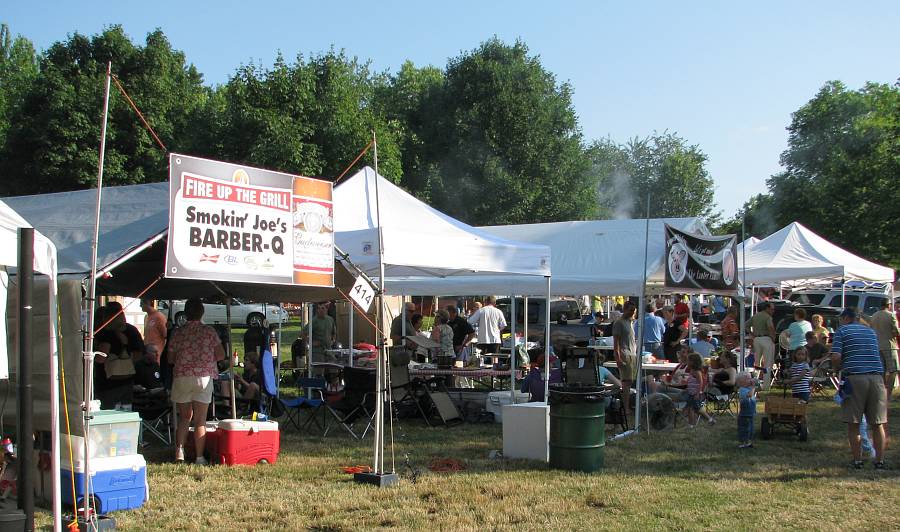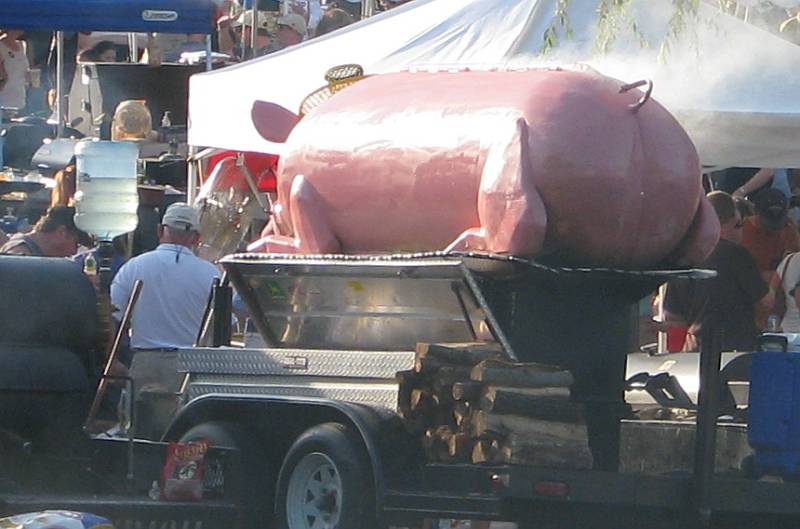 Pig smoker operated by Matt Batliner of Lee's Summit, Missouri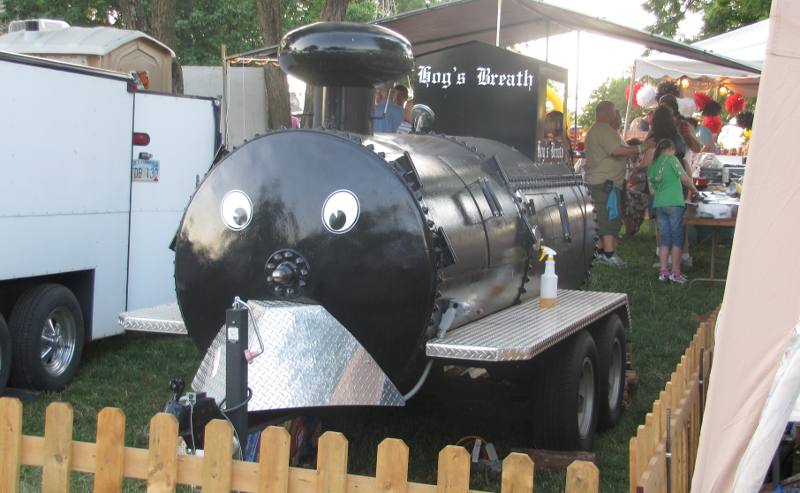 Hog's Breath BBQ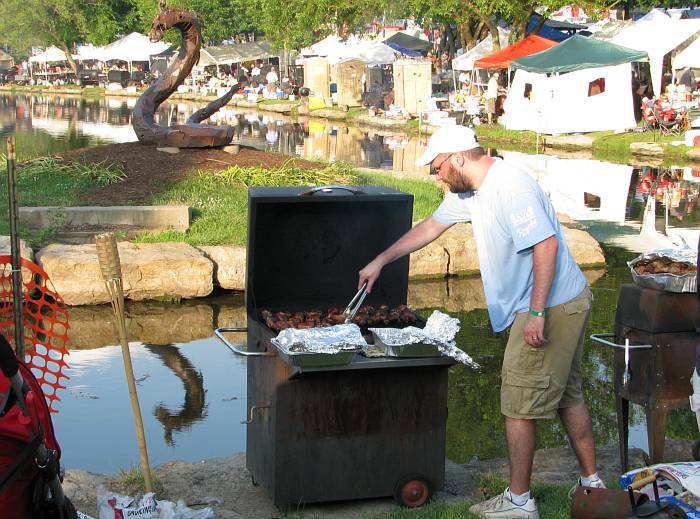 Many BBQ competitors finish off their chicken on the grill

Lenexa Chili Challenge More details of the Great Lenexa BBQ Battle
Kansas AttractionsKansas Travel & Tourism Home
copyright 2008-2023 by Keith Stokes