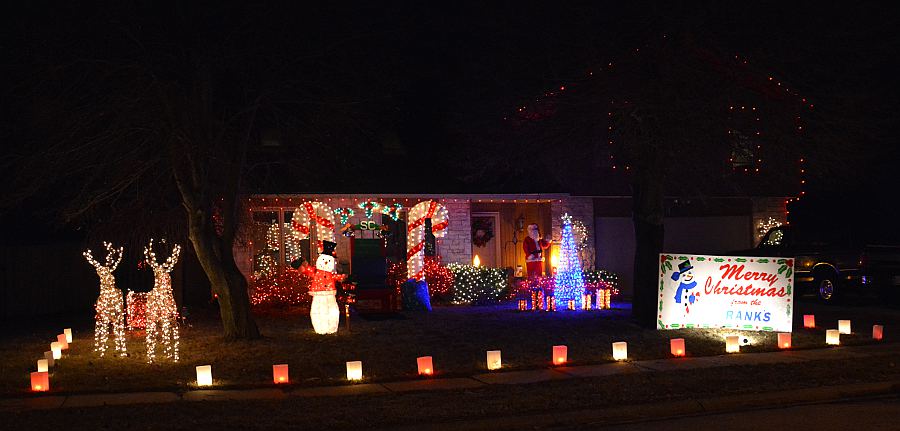 The Ranks' 2013 display had a throne for Santa to use.
Christmas Card Lane in Olathe, Kansas was once an entire subdivision of homes with extravagant Christmas decorations & lights, tied together thematically by giant Christmas cards with greetings from each family. Nearly 200 hundred homes were decorated with Christmas lights and luminaries.
For 25 years, Christmas Card Lane was a destination for tours and families searching for holiday lights. When cars pull into the Mission Ridge subdivision, they turn off their headlights and start creeping down the streets enjoying house after house decorated for Christmas. Sometimes they hear carolers, or Santa may step out to the car to hand out candy canes. On one visit, Santa, his sleigh and reindeer were being pulled through Christmas Card Lane on a trailer.
Over the years, the number of homes being decorated has slowly dropped and a small fractionare decorated for 2017, but there are still many displays in this one modest subdivision. Some still have the large "christmas cards" which gave the area its nickname. Several of the displays are large enough that they would be worth a visit on their own.
To reach Christmas Card Lane, take 151st Street east from I-35 to Ridgeview Road. Turn left on Ridgeview. Enter Christmas Card Lane on Frontier Lane or Butterfield Place.
Before leaving Olathe, be sure to also visit the Penguin Playground at Mur-Len Road and Indian Creek Parkway. Just one house, but this Christmas display will blow you away!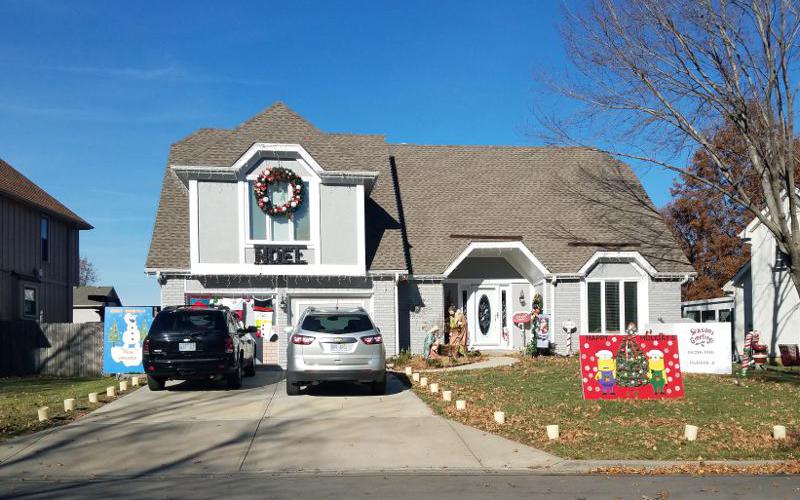 Seasons Greetings from the Pettits (1200 East Frontier Lane - 2017)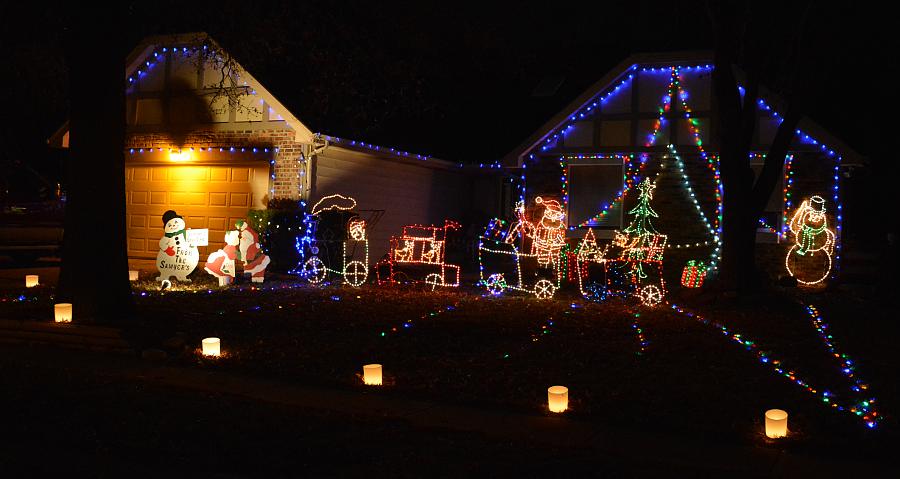 In this 2013 display the lights are flashing and there is has music playing through a speaker.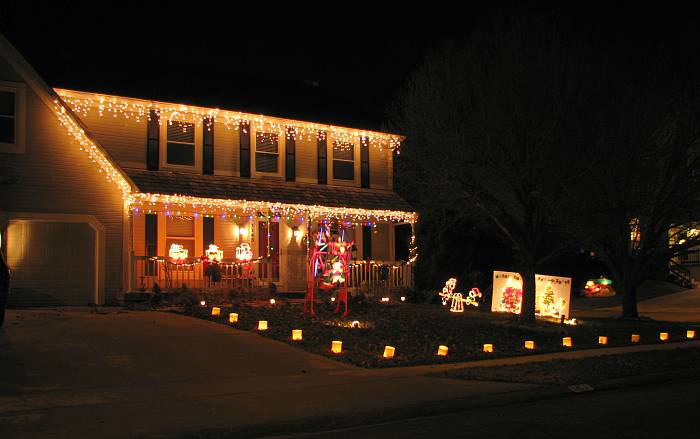 This was one of our favorites in 2008 The small Ferris wheel and the teeter-totter were both animated.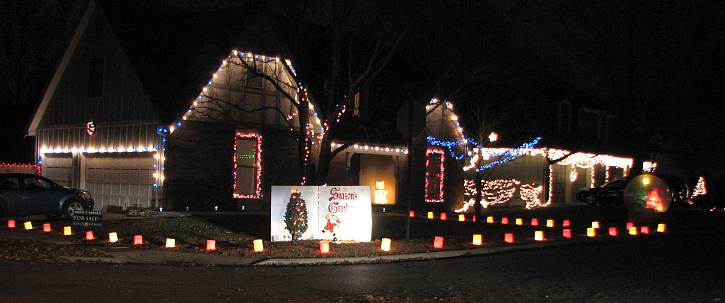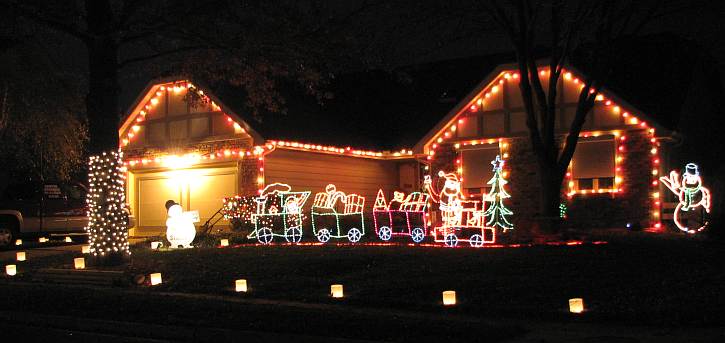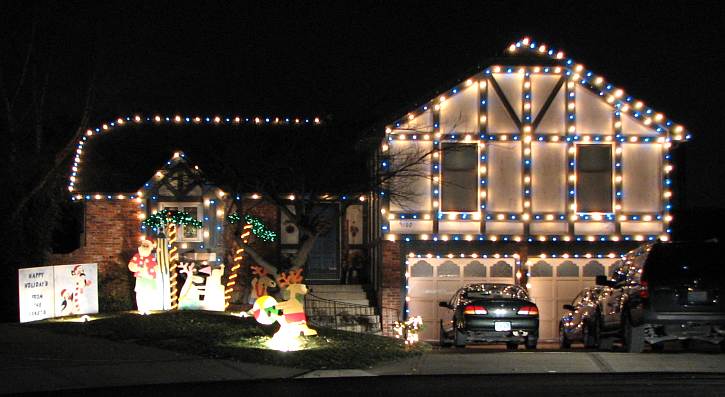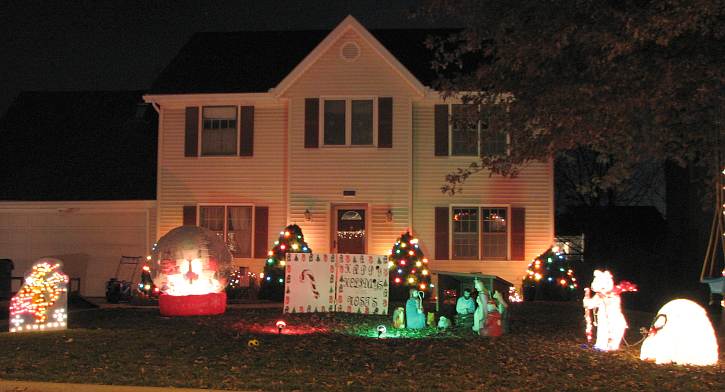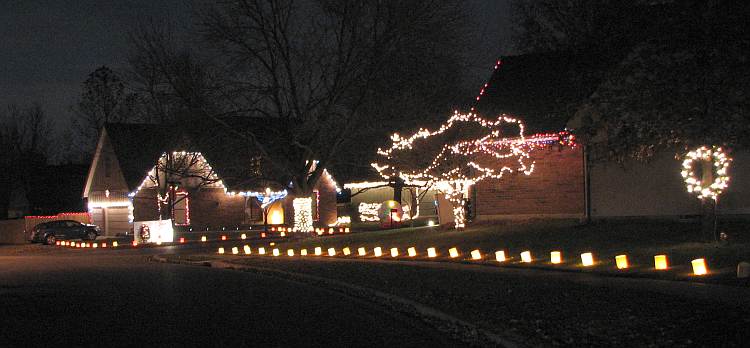 2007 Christmas Dsiplays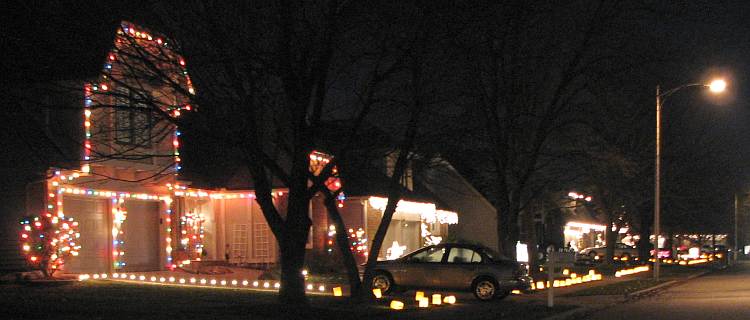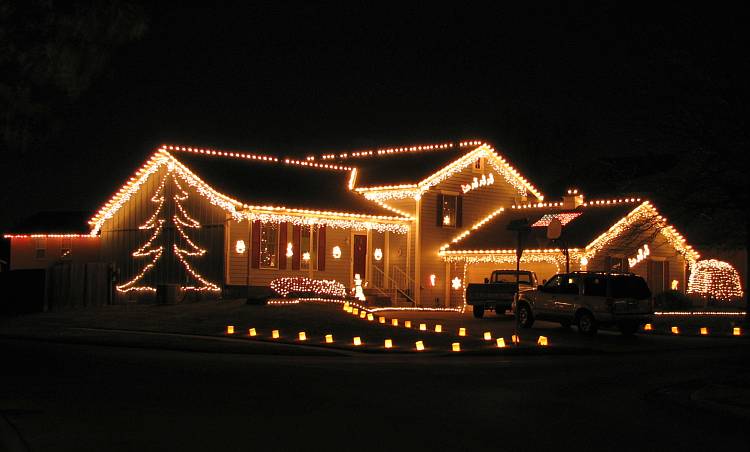 Holiday display at the corner of Sleepy Hallow Drive and Frontier Lane in Christmas Card Lane (2008).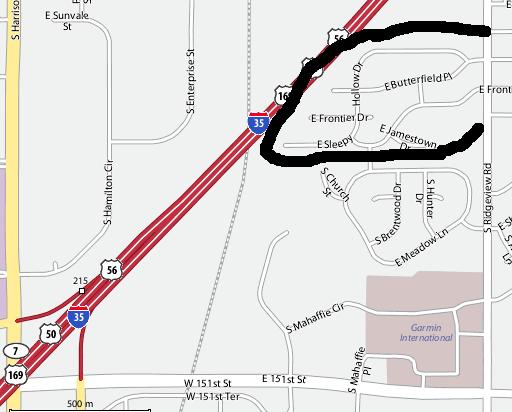 Map to Christmas Card Lane in Olathe, Kansas.
Olathe Christmas Penguin House Johnson County Christmas Display Guide
Kansas Attractions Kansas Travel & Tourism Home
copyright 2007-2018 by Keith Stokes