This is a list of Johnson County Kansas Christmas light displays worth going out of your way to see. Click on the photos for larger images or links to pages devoted to the displays. The tours changes every year and many times during the Christmas season as new displays go up.

If you know of a display which should be listed listed, we would appreciate an email telling us about it. We will spend over 100 hours visiting houses and updating this site between mid November and New Years.

Topeka Christmas Light Displays Lawrence Christmas Light Displays

Far North Johnson County & South Wyandotte County Tour
Kansas City, Kansas Far North map A
48th Street Christmas Display
This 48th Street Christmas Display in south Wyandotte County was new to Christmas light tour in 2017. We stumbled across it when we were returning home after checking displays from previous years. There are a mixture of inflated decoration, lights and fixed decorations. We found the display more esthetically pleasing than many which use a lot of blow ups.

2303 South 48th Street, Kansas City, Kansas 66106

Shawnee, Kansas Far North map D
East Richard's Drive Xmas Display
2016 was the first year that this East Richard's Drive Xmas Display in Shawnee is on the Kansas City Christmas Light Tour. It is a smaller display than most of those on the tour, but looks even nicer in person, than in this photo. They also do a smaller Halloween display.


6007 East Richard's Drive, Shawnee, Kansas 66216

Kansas City, Kansas Far North map B
Deckard Family Christmas Display
The Deckard Family Christmas Display used to be just two doors from the Johnson County Line. Considering the modest size of the house and front yard, Terry and Vicki Deckard did an amazing job. In 2016 they moved to this new location with mush more room and the display is even more impressive. Thanksgiving night through New Years Eve in 2018

They start putting decorations up in September.

2309 South 49th Street, Kansas City, Kansas 66106

Kansas City, Kansas Far North map C
County Line Road Nativity
The highlight of this County Line Road Christmas display is the large backlit, cut out nativity, which appears to be hand made. It is flanked by retro plastic choir figures and candles. This display is smaller than most on these tour routes but continues to grow each year.

If you know more about this display, please email the details.

5536 County Line Rd, Kansas City, Kansas 66106

Edwardsville, Kansas Edwardsville Map
Mason Family Christmas program
The Mason family Christmas light program is very nicely done. It started with fewer lights than most similar programs, but has grown to over 25,000 lights, including Rudolph and the other 8 reindeer, plus two star bursts and two animated screens. The program operates every 20 minutes from 5 - 9 PM on Sunday - Thursday and 5 - 10 PM on Friday - Saturday. Tune your radio to 107.5 FM.

9821 Swartz Road, Edwardsville, Kansas 66111
Johnson County North Christmas Display
North Johnson County - South Wyandotte County Map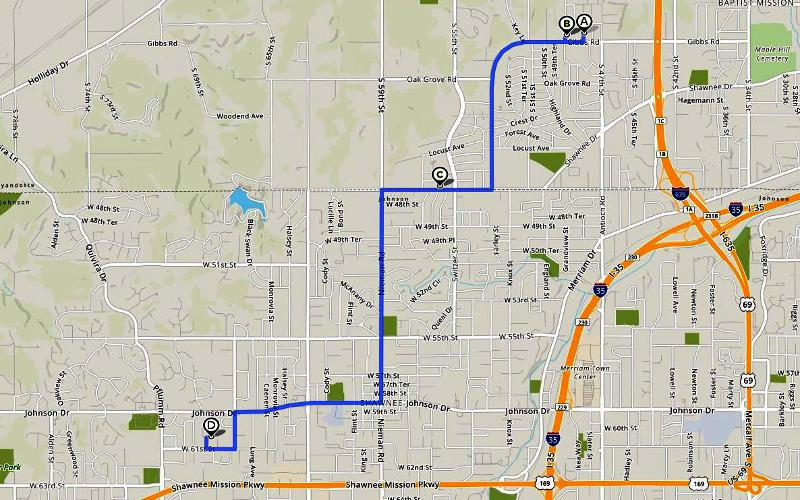 2018 Far North Christmas Light Tour Map
| | | |
| --- | --- | --- |
| | | Edwardsville Map |
North Johnson County Kansas Christmas Light Displays
Prairie Village, Kansas North map A
Candy Cane Lane
In 2008 Candy Cane Lane recovered from several years of dwindling displays. It was the 51st year of Candy Cane Lane and every house was attractively decorated. This display of lights was once again worth a special visit. They have continued to put up the new displays and this has become one of the most popular Christmas displays in Kansas City.

Longer review with more photos and map.

7900 block of Outlook Lane, Prairie Village, Kansas 66208

Overland Park, Kansas North map F
Goddard Street Christmas Display
Goddard Street and nearby Reeder Drive have several nice Christmas displays. This display at 9319 Goddard is the largest and has many Santa Clauses, including three which (along with Rudolph and a couple of elves) tell a story of a mishap on the roof.

If you know more about this Christmas display, please email the details.

9319 Goddard Street, Overland Park, Kansas 66214

Overland Park, Kansas North map B
Oshel Family Christmas Display
This is the first year that this Hemlock Street Christmas Display has had its own listing. It is still a little smaller than most displays on the tour, but is very nicely done and makes a nice greeting for the larger Oshel Family display next door and other smaller ones down the block. If you know more about this Christmas display, please email the details.


7515 Hemlock Street, Overland Park, Kansas 66203

Overland Park, Kansas North map G
105th Street Christmas Display
There are many nice Christmas displays in the neighborhood of 12253 West 105th Street. It was added to the Kansas City Christmas Light Tour in 2013, dropped off in 2014, but came back for 2015. It was still going up when we took this photo on December 7 and you can see someone hanging lights next to the door. The display is anchored by handsome, decorated trees at each side of the yard.

12253 W 105th Street, Overland Park, Kansas 66215

Overland Park, Kansas North map B
Oshel Family Christmas Display
The Oshel Family Christmas Display started in 2011 with just a few handmade PVC pipe trees laying on the roof but it has grown into a handmade train and two PVC pipe trees on the roof and 11 inflatables situated around the yard and the roof. There is a little more than you can see in this pictures. Still it is attractive and right along the way.


7515 Hemlock Street, Overland Park, Kansas 66203

Overland Park North map H
Gapske Christmas Display
Bill & Teddi Gapske's 98th Terrace Christmas light display has been growing each year and was been added to the Christmas Light Tour in 2015. I particularly like the large NOEL near the front of the yard. In addition to their display there are nice, smaller light displays next door and across the street. There were over 20,000 lights in 2017, including a 7 new Christmas trees in the front yard and an 8' Santa.

7716 West 98th Terrace, Overland Park, Kansas 66212

Shawnee, Kansas North map C
Mike Arnott Christmas Display
2010 was the first year that Mike Arnott did an animated Christmas sound and light program. Mike has done a lot with the rather small yard and continues to improve the display each year. At last count the display had 26,830 lights. Tune your radio to 107.5 FM to listen to the programs which operates from 6 - 10 PM. Donations are accepted for Make A Wish. In 2017 they raised $800. More info on Facebook. Runs through New Years Eve. May not run on rainy nights.

12612 West 70th Terrace, Shawnee, Kansas 66216

Overland Park North map I
Vince & Associates Holiday Lights
The best place to view the 200,000 light Vince & Associates animated Christmas music and light display is from the parking lot of Emmanuel Baptist Church, across Metcalf. Tune your radio to 96.9 FM. Although this building looks like it is an insurance agency or similar office, Vince & Associates does pre clinical or laboratory research for pharmaceutical companies.

Show is from 6 -11PM until January 1, 2019.

10103 Metcalf Avenue, Overland Park, Kansas 66212

Lenexa, Kansas North map D
Dowding Light Program
Just up the street from the Arnott Display, this Dowding Christmas Light Program is coordinated to music which is played through a speaker. Lights Although the program has been up for many years, 2014 was its first appearance on this tour. The overall display seems a little smaller in 2017, but does include a new set of lights above the garage door which can spell out short words.


13089 W 70th Terrace, Shawnee, Kansas 66216

Leawood, Kansas North map J Up until January 1, 2019
Wright's Lights
Wright's Lights are two homes across the street from each other on Lee Boulevard. The animated light program was started in 2009, but 2012 was the first year that cars were permitted to park on Lee Boulevard to watch the show and listen on 90.7 FM. The display grows each year and in 2014 there were 43,084 lights controlled by 29,682 channels. There used to be some interference on the radio, but we hope the new channel is better. More at www.wrightslights.info.

9708 & 9717 Lee Boulevard, Leawood, Kansas 66206

Lenexa, Kansas North map E
Haskins Street Display
Thanks to Tim Dorr, we discovered this neat, varied display near 79th Street and Pflumm in Lenexa. It has been around for many years. This Haskins Street Christmas Display has many moving figures including Santa Claus on a teeter totter and a small Ferris wheel. There are many more lights than in this display from a previous year. I particularly like the parachuting dog! This display is even interesting in daylight.


8007 West Haskins Street, Lenexa, Kansas 66215
2018 Johnson County North Christmas Display Tour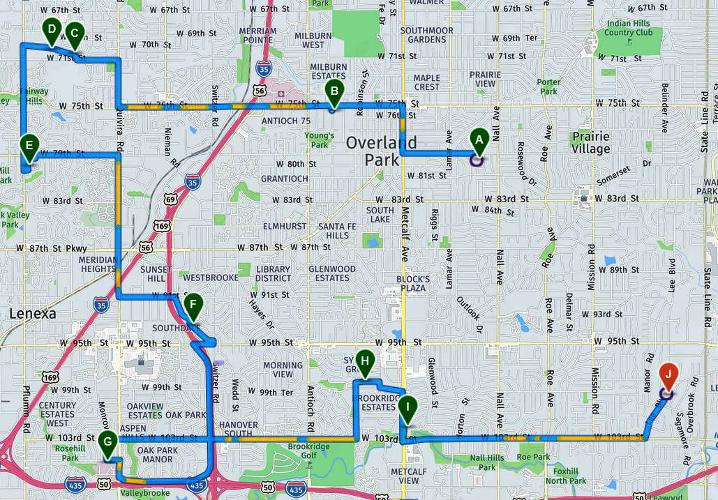 Click on the map for a larger image. This route takes you by all of the north Christmas Displays. The
route is 23 miles and takes about an hour and 5 minutes to drive, without the time spent at the displays.
| | |
| --- | --- |
| Displays A, B, C, D & E | Displays F, G, G, I & J |
South Johnson County Kansas Christmas Light Displays
Leawood, Kansas South map A
Hager Family Sound and Light Display
Ken and Marilyn Hager's computer controlled sound and light display is attractive and has less flashing and changing than most animated displays. There are 11 songs on the program which runs from 5 PM to 1 AM. The electronics for this show are by Animated Lighting and the lights are installed by Brighter Holidays. Tune your car radio to 102.7 FM to enjoy the show. This was one of the first animated shows, having begun in 2003, and the program is more tasteful, but less active than most shows in 2017.

2801 West 127th Street, Leawood, Kansas 66209

Overland Park, Kansas South map G
Hall Family Christmas Display
2018 is the tenth year for the Hall Family Christmas Display and the ninth year that they have included music and animation. Tune your radio to 107.1FM to listen to the Christmas music program that is coordinated to the flashing lights. Portions of the display are on an island in the street. The mega tree is completely new and is now 38' tall with a new custom star. The display was almost 8,000 channels in 2016.

Up through January 14, 2019.

11308 Mackey Street, Overland Park, Kansas 66210

Leawood, Kansas South map B
Kryger Family Animated Holiday Lights
The Kryger family holiday display is one block east of Roe Avenue at the corner of 132nd Street and Granada Drive. Tune your radio to 96.9 FM and enjoy a 15 minute sound and light program created using Monster Brain technology. This was one of the earliest animated Christmas programs and is still one of the best. Despite news reports that it would end after 2014 or 2015, it was still going strong in 2018.



13201 Granada Drive, Leawood, Kansas 66209

Overland Park, Kansas South map H
Curtis Family Christmas Light Display
Eighteen years ago, Craig and Paula Curtis used 3,000 lights to decorate their home for the first time. Their display has grown to 30,000 lights, with the bulk of the Christmas lights on the roof of the Overland Park home, giving a unique look to the Curtis Family Christmas Light Display. The display stays much the same each year, but Paula likes to add a "misfit" to each year's display.

Open to New Years Day.

9508 West 117th Street, Overland Park, Kansas 66212

Leawood, Kansas South map C
Ash Street Christmas Display
This Ash Street Christmas Display is one block east of Nall Avenue and just north of 130th Terrace. This is at least the fifth year for the holiday display, which includes mostly fixed lights. There are just a few flashing lights and the only movement is from the white deer at the left. The next house to the left has a Christmas display with deer, which complements this display.

If you know more about this holiday display, please email.



13020 Ash Street, Leawood, Kansas 66209

Overland Park, Kansas South map I
Martin Family Christmas Light Display
The Martin Family Christmas Display was added to the tour in 2013. Located just a few doors west of the Curtis Family Display, this very nice presentation is supplemented by lights and a large dinosaur inflatable in the yard next door. Craig and Michelle Martin started putting up Christmas decorations in 1993 when they moved in. Every year the display is changed somewhat due to items finally falling apart from years of use, adding new items from the after Christmas blowouts, and forgetting exactly where things were placed from the year before!

9606 West 117th Street, Overland Park, Kansas 66212

Leawood, Kansas South map D
Holiday Lights at the Farmstead
The In 2013, the Ultimate Holiday Tree moved from the residential location where it has been for many years, to Deanna Rose Children's Farmstead. It is now called Holiday Lights at the Farmstead. The display has been expanded and many display components have been added such as large 3D Spheres, a Whimsical Tree Forest, and a 20' Majestic Star.

November 22, 2018 - January 7, 2019 5-11PM.

13800 Switzer Road, Overland Park, KS 66221

Overland Park, Kansas South map J
Kreimendahl Holiday Display
The Kreimendahl Holiday Display has been on this tour since 2013. Jeff and Marcia Kreimendahl have since made it even larger. Located just a few doors farther west than the past two stops on Johnson County tour, this display is a bit smaller than we usually put on this tour, but it is very nice and the culdesac in front of it even makes nice place to turn around before continuing the tour. It will remain up until New Years Day.


9622 West 117th Street, Overland Park, Kansas 66212

Overland Park, Kansas South map E
Christmas Place - Terrace Place subdivision
Since 1992, the 23 homes of these two streets in the Terrace Place subdivision have been creating Christmas Place. These homes are coordinated with all keeping the same theme, rather than individually standing out. Pulling into the subdivision is like walking through an enchanted forest. There is a feeling of being inside this display that adds to the wonder and isn't captured in the photo. Cindy Lou Corley started the tradition by providing lighted candy canes to every home. Cindy died about 18 years later from breast cancer but the celebration continues.

8911 W 131st Place, Overland Park, Kansas 66213

Overland Park, Kansas South map K
Nottingham by the Green Subdivision
The trees throughout Nottingham by the Green subdivision have green lights on the trunks and red lights in their lower branches. While this does not give the feeling of being within the display in the way that Christmas Place does, this Christmas light display goes on for many blocks and gives some good vistas.




East of Pflumm Rd & South of 127th St., Overland Park, KS

Overland Park, Kansas South map F
129th Terrace Christmas Display
This 129th Terrace Christmas Display is very attractive on its own, but the culdesac has several other homes that are also well decorated. This large display includes a light show and radio broadcast on 91.1 FM. They moved to that frequency a few years ago and their broadcast no longer gets interference from commercial radio.



8500 West 129th Terrace, Overland Park, Kansas 66213

Overland Park, Kansas South map L Must see!
Bradshaw Christmas Light Show
The last display on the South Johnson County Christmas Light Tour is also one of the most recent and most impressive displays added to the tour. The Bradshaw Street Christmas Light Show has a soundtrack which is broadcast on 99.9FM and includes a talking Christmas tree. In 2017, this display has expanded to encompass the entire culdesac. Every house, but one, has decorated and many of their displays flash to the music.

13812 Bradshaw, Overland Park, Kansas 66221
Johnson County South Christmas Display Tour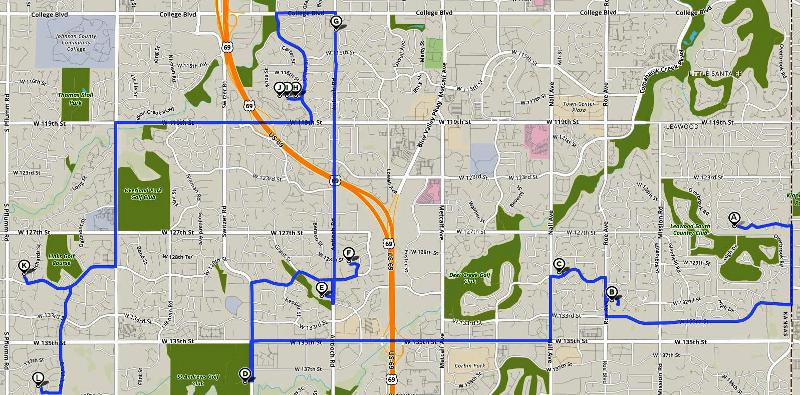 This route takes you by all of the southwest Johnson County Christmas Displays. The entire route is 25 miles
and takes about 85 minutes to drive, without the time spent at the displays. I recommend doing
only a portion of this tour on a single evening. Larger map.
| | | | |
| --- | --- | --- | --- |
| Displays A, B C | Display D, E & F | Displays G, H, I & J | Display K & L |
Olathe Christmas Light Displays
Olathe, Kansas Olathe map A
Addington Christmas Display
The Addington Christmas Display is smaller than most displays on our Christmas Light Tours, but it is unique. Joe Addington takes great care in creating each piece by hand. All are lit with spotlights and the house, trees and bushes are adorned with lights as well. This neighborhood has many other nice displays which are a little smaller or less unique. This was new to the tour in 2017. Up until mid January 2019.

15904 West 152nd Place, Olathe, Kansas 66062

Olathe, Kansas Olathe map D
Cedar Hills Holiday Displays
While none of the homes on this attractive culdesac have quite a large enough display to make this tour on their own, there are five very nice displays and this block is included on the tour as a combination. We would love to see some of the other homes continue the green and red tree theme.



900 block of South Cedar Hills Street, Kansas 66061

Olathe, Kansas Olathe map B
Lewis Family Handmade Christmas
The Lewis Family Handmade Christmas display is worth visiting day or night. The corner lot has many elements which can be enjoyed during the day, such as the wooden Santa and sleigh on the porch roof and a wooden handmade life size nativity on the south side of the home. The nativity alone would put this display on the tour, but there are also moving deer and a ring of snowmen (made from wooden spindles) holding hands around the front tree. This display was new to the Christmas light tour in 2015.

14512 S. Summertree Lane, Olathe, Kansas 66062

Olathe, Kansas Olathe map E
Christmas Card Lane
Christmas Card Lane was once an entire subdivision of homes with extravagant Christmas decorations & lights, tied together thematically by giant Christmas cards with greetings from each family. It seemed that nearly every home was decorated with Christmas lights and luminaries. Fewer homes have been decorated in in Christmas Card Lane recent years, but there are still many decorated homes and it is still worth a visit.
Longer review with more photos and map.

West of Ridgeview and north of 151st Street Olathe, KS 66062

Olathe, Kansas Olathe map C
Paulie's Penguin Playground
The Craig family Christmas display started off in 2004 with 15 penguins and a few Christmas lights, but has grown to nearly 150 lighted figures which fill most of his yard at Mur-Len Road & Indian Creek Parkway in Olathe, Kansas. In 2007 it took a crew six days to set up the Christmas display. Many of the figures move, some play music, and there are even penguin videos playing on the roof. Longer review.

Ends Christmas Day.

16617 Indian Creek Parkway, Olathe, Kansas 66062

Olathe, Kansas Olathe map F
Arbor Landing Holiday Lights
Arbor Landing Holiday Lights was started by the developer of the subdivision, who requested that all the homeowners string white lights along their drives and walks. Today, the trees through the entire Arbor Landing subdivision are lit with green and white lights, plus some homes have very attractive displays. Take the time to drive every street. This photos shows 161st Street, which has signs saying it was an honorable mention in the Arbor Landing Holiday Lights in 2013.

Olathe, Kansas Olathe map D
Chesney Christmas Display
The Chesney Christmas display is new to the Olathe Christmas Light Tour in 2018. The end of their culdesac is is lined with 30-40,000 reclaimed or recycled lights and other decorations, including 24 Christmas trees.

There is a display with inflatables worth checking out on the street leading to this display.

634 N. Logan Street, Olathe, Kansas 66061
Olathe Christmas Light Tour Map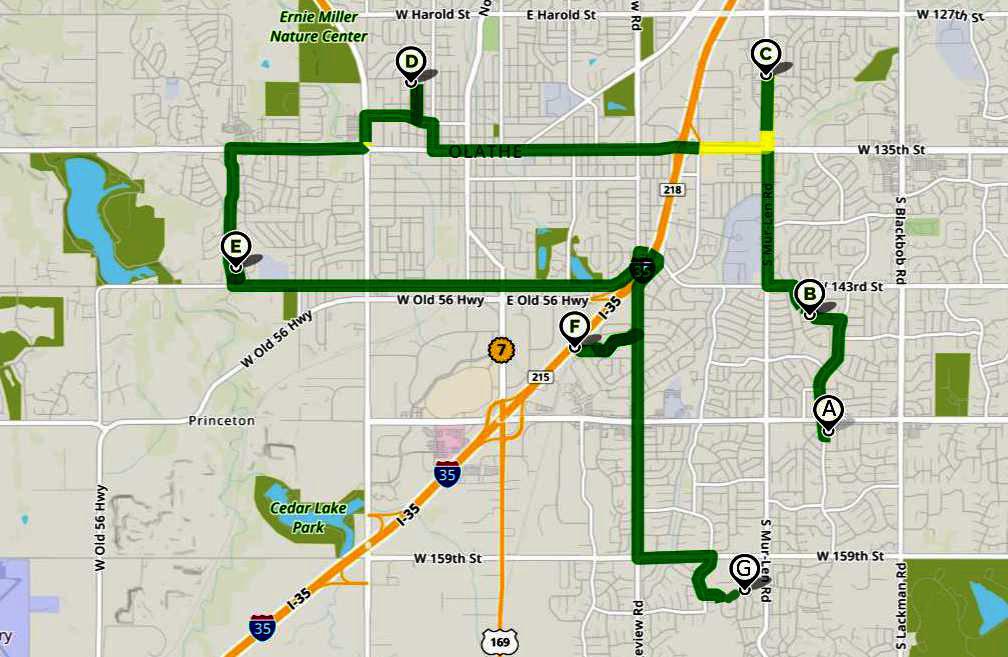 This map will take you past all of the featured home displays in the Olathe Christmas Light Tour.
The route is about 18 miles long and takes about 46 minutes to drive, plus the time spent enjoying the holiday lights.
| | | |
| --- | --- | --- |
| Displays A, B & C | Displays D & E | Displays F & G |
2018 West Johnson County Christmas Light Displays
Shawnee, Kansas West map A
Ahaus Family Christmas Display
The Ahaus Family Christmas Display was added to this tour in 2015. The lights flash to music playing from a a speaker and there is a sign which says, "So you hear what I hear? Give us a little listen!" My favorite parts are the spiral striped columns flanking the door and the moving Santa face on the house.

21324 West 58th Street, Shawnee, Kansas 66218

Lenexa, Kansas West map E
Alden Christmas Light Display
This Alden Christmas Light Display has been part of the Johnson County Christmas Light Tour in 2015. It seems to have a little of everything wrapped together in one yard. There are more Santa Clauses, sleighs and reindeer then we could count, with some of the flying through the air

9025 Alden Street, Lenexa, Kansas 66220

Shawnee, Kansas West map B
Williams Christmas Lights
The Williams Family Holiday Program was presented in Overland Park for 10 years, but moved to Shawnee in 2012. There are 430 channels of computer control in use and over 40,000 lights. This is one of the best shows we have seen and has its own web site. Contributions are accepted for Kansas City Rescue Mission. Tune your car radio to 101.7 FM from 5:30 - 10:30PM though about January 6, 2018.

6321 Millbrook Avenue, Shawnee, Kansas 66218

Lenexa, Kansas West map F
Symphony in Lights
The Symphony in Lights atop the Falcon Valley Speedy Car Wash in Lenexa can be viewed from either side of the building, but the best views are from the supermarket parking lot on the east side. We particularly like the snowman on the roof of the car wash. Tune to 89.9 FM from 5-11PM for the 40 minute long synchronized light program. 15 minutes will probably be enough, but it is well worth the visit.

10150 Walker Street, Lenexa, Kansas 66220

Shawnee, Kansas West map C
Clark Family Christmas
2018 is the sixth year for the Clark Family Christmas light and music program. The house is on a very large lot and the lights are spread over a wider area than appear in this photo. In addition to radio broadcast, the music can be faintly hear outside. You can also tune your car radio to 95.1 FM from 5:30 - 11:30PM, but the signal was quite weak when we visited. This display will be up through January 3, 2019.

6800 Maurer Road, Shawnee, Kansas 66217

De Soto, Kansas West map G
Kill Creek Road Christmas
The large wooded lot at this home at Kill Creek Road and 91st Street has many well lighted trees, plus other lighted decorations, including two crosses. Only a portion of the display can be seen from any one location and less than a third of the lights appear in this photo.

Please email if you have more details about this display.

31965 W 91st Street, De Soto, Kansas 66018

Lenexa, Kansas West map D
Sar-Ko Aglow
Sar-Ko Aglow is what the city of Lenexa calls the lighting ceremony at Sar-Ko-Par Trails Park, but I think that is a good name for the park during the rest of the Christmas season. The beautiful collection of lighted trees around Rose's Pond is popular destination on warm December nights. The lights will remain up until January 13, 2019.
De Soto, Kansas West map H
Bell Family Christmas
In 2014, the Bell Family moved their Light O Rama west from the former home on Mize Road in Shawnee. Tune your car radio to 88.3 FM to listen to the music while watching the Light-O-Rama technology. The program runs until 10PM on Sunday through Thursday and midnight on Friday and Saturday.

8673 Brome Road, De Soto, Kansas 66018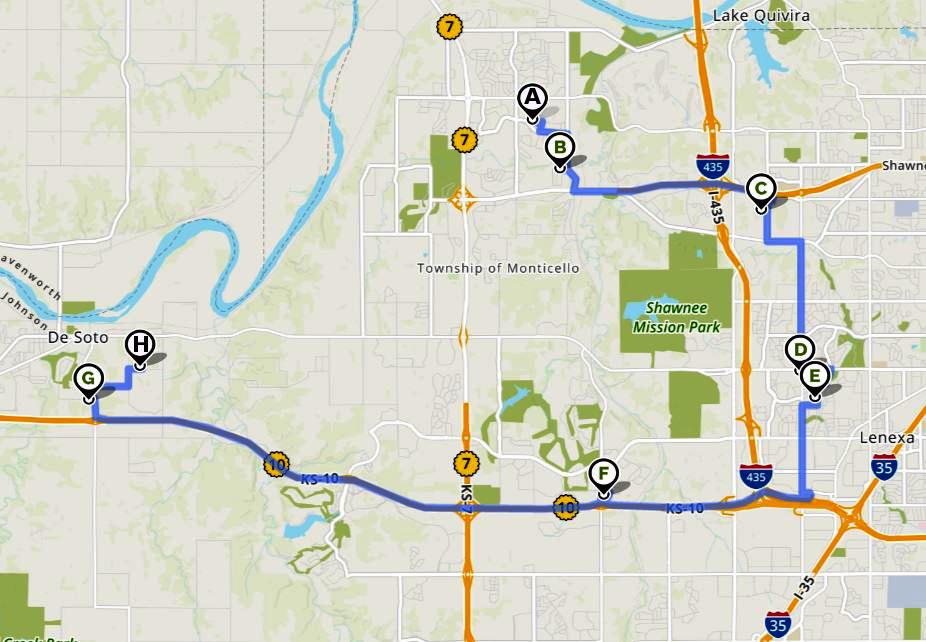 West Johnson County Christmas Tour Map
Far South Johnson County Christmas Light Displays
Gardner, Kansas
Christmas in the Park
In addition to the light display at Gardner's 28th Annual Christmas in the Park, the 2018 holiday kicks off with the Mayor's Christmas Tree Lighting Ceremony, Monday, November 26 at 7PM at Cornerstone Park. Seasonal music will be performed by area school children. The event includes a Christmas time message from Mayor Chris Morrow and the arrival of Santa. Santa's Workshop will open immediately following the Mayor's Christmas Tree Lighting Ceremony on November 26 and it will repeat on December 2 from 5-6:30PM.

There will be a Breakfast With Santa on December 8, but advance tickets are required. Other special events in December include a flashlight candy cane hunt and a Holiday Home Decorating Contest.

Cornerstone Park - 215 North Center, Gardner, Kansas 66030
Olathe Restaurant & Attraction Guide
Overland Park Restaurants & Attraction Guide
Kansas Attractions Kansas Travel & Tourism Home
LL 12/09 copyright 2007-2018 by Keith Stokes