With a population of 120,000 people, Olathe, Kansas is one of the fastest growing communities in the country. Olathe has some of the highest ranked schools in Kansas and Money magazine recently ranked Olathe #11 on its list of the "100 Best Cities to Live in the United States."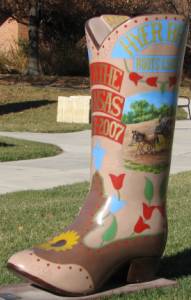 This guide to Olathe restaurants and tourist attractions has my candid comments and recommendations for things to do and places to dine in Olathe. I am a 23 resident of Johnson County, and have worked in Olathe for the past 18 years. The good news is that Olathe has several unique museums & attractions and over 160 restaurants. The bad news is that most of those restaurants are national chains that you could visit anywhere. This list will help you find the interesting locally owned restaurants.
Most of Olathe's shopping is strip mall and/or big box: Bass Pro, Kohl's, 2 Super Targets and 2 Super Walmarts. The largest concentrations of retail stores are east of I-35 on Santa Fe and 119th Streets.
When it was built, the AMC Studio 30 Theaters with IMAX was the largest movie theater in the AMC chain. The Studio 30 now has "fork and screen" theaters for adults only where you can order a meal, snacks or beer. The AMC Studio 30 is located north of 119th Street on Strang Line Road. The tickets are slightly more expensive, but they include a credit toward the food or drink purchase.
This page devoted to Olathe, Kansas is a work in progress. Please email your suggestions for more attractions and locally owned restaurants to be included. Be sure to tell me what you like best about them.
For more nearby restaurants and attractions try the guide to Overland Park Restaurants.
Olathe Restaurants & Specialty Foods
Austin's Bar & Grill is one of the few restaurants in Olathe serving a full menu until midnight and appetizers until 1 AM. I am a fan of Austin's hamburgers, which are half price on Mondays. They have a small fixings bar where you select from about a dozen topping. But the Buffalo style chicken tenders are my favorite.

Longer review and more photos.

Austin's Bar & Grill, 2103 E 151st Street, Olathe, Kansas 66062
(913) 829-2106. Last visited in April 2016

Master Wok opened in early 2010. The prices are extremely reasonable for a restaurant with table service in an attractive setting. At lunch the menu includes 26 complete meals for $5.95 to $6.95 - complete with the choice of fried or steamed rice, the choice of egg drop or hot & sour soup and the choice of egg roll or 2 crab Rangoon.



Master Wok, 14947 W 119th Street, Olathe, Kansas 66062
(913) 782-7979. Last visited in May 2015

Chapala is a Mexican restaurant with bright festive decor. The menu is several pages long and has many inexpensive selections. I don't care for Chapala's salsa (which tastes like just tomato sauce), but the chips are good. I particularly like their fajitas and the "Especial Chapala" which includes several meats is the best fajitas I have ever had. Many meals are available for under $5.


Chapala, 105 S. Claiborne Road, Olathe, Kansas 66062
(913) 390-0280. Last visited in May 2015

Mom's Kitchen is a much more pleasant place to dine now that Olathe has banned smoking. Mom's has a large, diner style menu and quick service. The food is more consistent than special. Real mashed potatoes, chicken fried steak, biscuits & gravy, and big 10 ounce hamburgers.

Longer review and more photos.

Mom's Kitchen, 530 East Santa Fe Street, Olathe, Kansas 66061
(913) 782-3542. Last visited in March 2016

City Super Buffet is my favorite Chinese mega buffet in Johnson County, Kansas. There are 5 large food tables with a wide variety of items that are hot and fresh during meal times. My favorite items are the butter shrimp and the salt and pepper squid. Lunch is $7.99 for Monday - Saturday lunch, Supper is $9.99 M-Thur, $12.99 Frday & Saturday and all day Sunday when there is more seafood like crab & frog legs.

City Super Buffet, 12225 S Strang Line Road, Olathe, Kansas 66062
(913) 782-6888. Last visited in May 2016

The original Mr. Gyro's Greek Food & Pastry has been on Metcalf Avenue in Overland Park for 25 years. This is the 3rd location. For fast food, the quality of Mr. Gyro's is quite good and reasonably priced. I recommend the gyro chicken salad for $7.25 or a more traditional Greek sandwich with pita bread, gyro meat, tomatoes, onions and home made Tzatziki sauce for $5.35. The daily lunch special is a sandwich and small Greek salad for under $8.

Mr. Gyro's, 14983 West 119th Street, Olathe, Kansas 66062
(913) 393-0104. Last visited in January 2015

Downtown Diner is just a few blocks east of the Johnson County Courthouse in Olathe, Kansas. The restaurant is owned by Rich and Sue Caines who used to operate the restaurant at the Double Nickel. Rich runs the kitchen, while Sue runs the front of the house. The Caines are doing a lot of things right, including some great specially burgers, breakfast all day and excellent smoked meats.

Longer review and more photos.

Downtown Diner, 409 E. Santa Fe Street, Olathe, KS 66062
(913) 764-1002. Last visited in May 2016

Old 56 Family Restaurant is like stepping back to 1956. It has a large, diner style menu with interesting dishes that you are unlikely to find at chain restaurants. Breakfast is served all day. Old 56 has some of the best chicken soup I have ever had.

Longer review and more photos.


Old 56 Family Restaurant, 912 South Chestnut Street. Olathe, Kansas 66061 (913) 390-9905 . Last visited in January 2015

Fifty Fourth Street Grill and Bar is the only Kansas location for this Kansas City based regional chain. I've enjoyed the food during two recent visits. Although the French fries were only average, a burger was large and cooked to order. The Cabo Chicken Philly (third of a pound of thinly sliced chicken breast, topped with pepper jack cheese, bell peppers, onions, jalapenos. Shredded lettuce, pico de gallo, with a sour cream spread on a torpedo roll) is generous very good.

54th Street Grill & Bar, 14750 South Harrison, Olathe, Kansas
66061 (913) 764-0540. Last visited in February 2015

Sam's Tastee Treat began as a Tastee Freeze in 1963. The menu includes over 40 flavors of shakes, plus items as diverse as chili dogs, cheeseburgers, burritos, crab rangoon, and egg rolls. The food is fair, but except for the sundaes and malts, I really go here for the atmosphere and tradition. Cash only!

Longer review and more photos.

Sam's Tastee Treat, 11950 Strang Line Road, Olathe, Kansas 66062 (913) 782-6858. Last visited in July 2015

Five Guys serves fresh hamburgers with no preservatives, cooked to order - not fast food! Toppings like grilled onions or mushrooms are available at no additional charge. The French fries are fresh and cooked in peanut oil. Yes, this is a chain restaurant, but I think these are some of the best hamburgers in Olathe.

Longer review and more photos.


Five Guys, 14965 West 119th Street, Olathe, Kansas 66062
(913) 780-4987. Last visited in March 2016

Sheridan's Frozen Custard started as a single popular frozen custard shop in Overland Park in 1998. Today there are 25 stores in 8 states. They use Carvel custard machines manufactured up to 50 years ago. My favorite is the butter pecan "concrete," soft custard that has had flavorings mixed in. Forest J Ackerman the inventor of the phrase "sci-fi," and former editor of Famous Monsters of Filmland, absolutely loved Sheridan's Custard.

Sheridan's Frozen Custard, 11925 South Strang Line Road, Olathe, Kansas 66062 (913) 393-3500. Last visited in July 2014

Fred P. Ott's Bar & Grill has a variety of daily specials and several standbys including Fred P. Ott's "Biggie," 8 ounce hamburger (down from 10 ounces for many years). The meat served at Ott's is the same as the Plaza III steakhouse, though the preparation doesn't seem to be the same. The kitchen is open until 10 PM weeknights and 11 PM Saturday and Sunday.

Longer review and more photos.

Fred P. Ott's Bar and Grille, 1100 W. Santa Fe, Olathe, Kansas 66061 (913) 390-5955. Last visited in February 2016

Smokin' Joe's B-B-Q - The daily lunch special at Smokin' Joe's is good value: $9 including tax for a large BBQ sandwich, well cooked crinkle cut French fries and soda. Or get the same deal on ribs, only on Mondays. Place your order with the friendly people at the counter and the food comes out fast. Open since 1989.

Longer review and more photos.



Smokin' Joe's B-B-Q, 519 E Santa Fe Street, Olathe, Kansas 66061 (913) 780-5511 Last visited in May 2016

Go Chicken Go - The first Go Chicken Go was started in a Kansas City, Kansas gas station in 1969. Today there are 5 locations run by the same family including this one in Olathe, Kansas. The fried chicken is very good, but this restaurant is known for its fried chicken gizzards and hot "G-Sauce." Open until 11 PM on Friday and Saturday.

Longer review and more photos.

Go Chicken Go, 1000 South Harrison Street, Olathe, Kansas 66061
(913) 780-5900. Last visited in May 2016

Sakura Sushi Train II - Opened in May 2015. This is the second location for Sakura, which has had Sakura Japanese Restaurant in Shawnee, Kansas for many years. We have only tried this new location once so far, but enjoyed what we had and the prices for the items carried on the train are quite reasonable. Special orders are more expensive.


Sakura Sushi Train II, 51109 E Santa Fe Street, Olathe, Kansas 66061 (913) 839-8893 Last visited in June 2015

Haru's Steak Sushi Place is the oldest Japanese Restaurant in Olathe. This contemporary sushi bar and steakhouse has a $9 sushi dine in lunch special which includes soup or salad and the choice of two sushi rolls from a selection of 15. The salad has a flavorful, slightly citrus dressing with a hint of peanut. The sushi rolls which I tried, spicy crunchy crab roll and BBQ eel avocado roll were both very good.

Haru's Steak Sushi Place, 15202 W 119th Street, Olathe, KS 66062
(913) 780-1118. Last visited in April 2015

Sylas & Maddy's Homemade Ice Cream makes 150 flavors of homemade ice cream, and features 40 of them each day. I've only tried a few flavors, but have liked every one that I have tried. There are just a handful of small tables with chairs.

Longer review and more photos.


Sylas & Maddy's Homemade Ice Cream, 11925 South Strang Line Road, Olathe, KS 66062 (913) 393-3500. Last visited March 2015

Joe's Kansas City Bar-B-Que is the new name of Oklahoma Joe's Barbecue. This location became the second Oklahoma Joe's restaurant in 2005. The original Joe's is in a working gasoline station in Kansas City, Kansas. But the Olathe location is much larger and has a BBQ supply store across the parking lot.

Longer review and more photos.

Joe's Kansas City Bar-B-Que, 11950 Strang Line Road, Olathe, Kansas 66062 (913) 782-6858. Last visited in April 2016

Tea Garden has a high quality lunch buffet, superior to any other Chinese restaurant I have tried in Kansas. The food turns over quickly and is always fresh and good. I am really like their appetizers: dumplings, garlic chicken wings, crab Rangoon and others. Only $7.50 including beverage and tax. The atmosphere is pleasant and the walls are lined with wonderful photos from China. The staff at Tea Garden provide good, friendly service.


Tea Garden, 12755 S Mur-Len Road, Olathe, Kansas 66062
(913) 397-0057. Last visited in May 2016

Johnny's BBQ in Olathe, is the second Johnny's location in Johnson County. Johnny's has good specials and I think the best one is the Friday lunch special: BBQ Ribs with fries, bread, pickle, and a regular drink for $8.29. 6 ribs, which is a generous serving of meat for the price.

Longer review and more photos.

Johnny's BBQ, 1375 West Highway 56, Olathe, Kansas 66061
(913) 768-0777. Last visited in March 2016

The Other Place American Sports Grill & Pizzeria is part of a small chain with 7 locations in Iowa and 2 in Johnson County. The interior is designed to reflect sound and is loud even when few people are there. The food is pretty good. The large hand breaded country fried tenderloin with gravy, real mashed potatoes and corn ($7.50) is great. The pizza is fine, but servings are small for the price. Longer review and more photos.

The Other Place, 16590 West 135th Street (Santa Fe), Olathe, Kansas 66062 (913) 397-0057. Last visited in January 2016

Jumpin' Catfish Restaurant in Olathe, Kansas serves southern home cooked meals which include family style servings of hush puppies, wedge cut or mashed potatoes, creamy coleslaw, white beans with ham, and a kosher pickle. The dining room is decorated with stuffed birds, fish & other wildlife.

Longer review and more photos.

Jumpin' Catfish Restaurant, 1861 S Ridgeview Road, Olathe, Kansas 66062 (913) 829-3474. Last visited in May 2016
Also check out nearby restaurants in Overland Park
Unique Kansas Restaurants
Olathe Tourist Attractions & Museums
Advanced Laser Tag has a 2 story, 6,000 square foot laser tag arena with an observation deck. A new laser tag game starts every 15 minutes. Or the facility can be booked for special events such as corporate team building, church lock-ins or birthday parties. My company took all of our managers there for a competition this spring and everyone talked about it for weeks.

Advanced Laser Tag 2026 East Santa Fe - Olathe, Kansas 66062 - 913-254-9678

Johnson County Old Settlers is over 100 years old and Olathe, Kansas' biggest event of the year. The three day festival is held on the Thursday through Saturday following Labor Day. Old Settlers includes free entertainment, a carnival, children's performances, arts & crafts, auto show, and one of the largest parades in Kansas. The community looks forward to the food vendors each year and some folks just go to Old Settlers for the grange pups or walking tacos.

Johnson County Old Settlers downtown Olathe, Kansas

Bass Pro Shop opened its first Kansas City store in Olathe in February of 2007. In addition to sports equipment, hunting & fishing gear, the Olathe Bass Pro Shop has a prairie dog display, river bottom habitat and a 12,000 gallon aquarium with Kansas fish such as bass, blue gill and catfish. Seafood is available inside the store at the Islamorada Fish Company restaurant.

Bass Pro Shop 12051 Bass Pro Drive, Olathe, Kansas 66061
(913) 254-5200

Mahaffie Stagecoach Stop & Farm Historic Site in Olathe, Kansas is the only Santa Fe Trail stagecoach stop that is open to the public. There are three 19th century buildings as well as several 20th century and reconstructed buildings. Mahaffie Stagecoach Stop hosts Wild West Show & Bullwhacker Days in September, and a Christmas Open House in December.

Mahaffie Stagecoach Stop & Farm Historic Site 1100 Kansas City Road, Olathe, Kansas 66061 (913) 971-5111

Buddy Rogers Playhouse - The Olathe Community Theatre Association (OCTA) offers live theater productions in the former 1870 Covenant Church. The 2010-2011 season included Our Town, David's Mother and others. Tickets for all shows are $15 for adults. Some special events are less expensive. Charles 'Buddy' Rogers was born in Olathe, and their annual awards are called the Buddy Awards in his honor.

Olathe Community Theatre Association 500 East Loula Street, Olathe, Kansas 66061 (913) 782-2990

Marra Museum of Deaf History and Deaf Culture has two exhibit halls and tells two stories. The first half of the museum is devoted to Deaf culture and the second half is devoted to the history of the Kansas School for the Deaf. The Deaf community is composed mostly of those who have been deaf since birth or very early childhood. Sign language is the first language of those people who identify with Deaf culture and community.

Marra Museum of Deaf History and Deaf Culture 455 East Park Street Olathe, Kansas 66061 (913) 782-5808

Cedar Creek Falls is formed by an overflow dam on Cedar Creek in southwest Olathe, just above Lake Olathe. There is a flow of water year around, but Cedar Creek Falls is most impressive in the spring or after a heavy rain. Lake Olathe is a 170 acre lake surrounded by a 208 acre community park dedicated in 1959.


Cedar Creek Falls 143rd Street, Olathe, Kansas 66061
(913) 971-6263

Olathe Memorial Cemetery has many interesting features and is the burial site of governors from various states. In mid October there are evening tours, where visitors meet the ghosts of those buried in Olathe Memorial Cemetery. Visit the graves of some of Olathe's founders and meet the people who rest here as they come alive to tell their stories including Bloody Kansas and the Civil War.

Olathe Memorial Cemetery 738 N Chestnut Street, Olathe, Kansas (913) 971-5226

Cedar Lake Falls is located in the spillway just below the Cedar Lake dam on the south side of Olathe. Cedar Lake is a 75 acre lake surrounded by a 54 acre community park which was originally dedicated in 1920. Cedar Lake has fishing for blue gill, black bullhead, channel catfish, crappie, green sunfish, largemouth bass, saugeye, wiper & flathead catfish.

Cedar Lake Falls 15500 South Lone Elm Road, Olathe, Kansas 66061 (913) 971-6263

Penguin Playground is a family Christmas display with nearly 150 lighted figures. Many of the figures move, some play music, and there are even penguin videos playing on the roof. This is one of the largest Christmas Displays in metropolitan Kansas City. This is a Christmas display that you will want to get out of your car and walk through. I think the Penguin Playground will blow you away.

Penguin Playground 16617 Indian Creek Parkway, Olathe, Kansas 66062 (913) 768-8800

Christmas Card Lane is an entire subdivision of homes with extravagant Christmas decorations, tied together thematically by giant Christmas cards with greetings from each family. Over 200 hundred homes are decorated with Christmas lights and luminaries. Most cars touring Christmas Card Lane turn off their headlights and creep through the subdivision. Open evenings from Thanksgiving through New Years. Free.

Christmas Card Lane North of 151st Street along Frontier Lane & Butterfield Place, west of Ridgeview Road in Olathe.

Sadlers Indoor Racing offers go-kart racing 360 days a year. Choose from Grand Prix, Oval, or European Style Road Race courses. The go-karts are imported from England and reach speeds up to 45 mph. Race car drivers must be at least 18 or have a waiver signed by their parent or legal guardian. Prices starts a $10 for five minutes, with a small discount for groups of 10 or more.


Sadlers Indoor Racing 325 North Mur-Len, Olathe, Kansas 66202 (913) 768-7700

Cosmic Mini Golf has three 18 hole, indoor miniature golf courses. Just the thing to entertain the family on a rainy or snowy day. The obstacles are not state of the art, but the glow in the dark black lights make it much more festive.
Located in the Great Mall of the Great Plains, which also has Game Zone arcade, Dickinson 16 movie theaters, and the tiny Zonkers indoor amusement park.

Cosmic Mini Golf 20080 West 151st Street, Olathe, Kansas 66061
(913) 764-5565

Summer Concert Series - The Olathe Parks & Recreation Department sponsors an annual series of free outdoor concerts in Frontier Park on selected Friday evenings. Sponsored in part by the Olathe Ford RV Center, the 2015 concerts include performances by Trout Fishing in America and Liverpool.


Summer Concert Series, Frontier Park, 15501 Indian Creek Parkway Olathe

Ensor Park and Museum is a seasonal museum devoted to teacher, craftsman and amateur radio operator, Marshal Ensor. Marshall taught industrial arts in Olathe, Kansas from 1915 to 1965. The seasonal museum occupies the Ensor family farm buildings and 8 acres of the former farm. Ensor Farmsite is both a National Historic Site and on the Register of Historic Kansas Places.

Ensor Park and Museum - 18995 W. 183rd Street, Olathe, Kansas 66062 (913) 592-4141

Olathe Veterans Memorial Park is a lovely four acre park which memorializes the men and women who served the United States in the armed services. The park has a brick walk in honor of lost submarines and park benches, but the neatest individual memorial may be the Four Chaplains Memorial, which was dedicated to 4 chaplains from the American troop transport ship, Dorchester.

Traditions Fire Company and Museum, The Great Mall of the Great Plains, 20175 W 151st Street #175, Olathe (913) 829-4319

Ernie Miller Nature Center and Park off Highway 7 has 3 miles of trails open for hiking from Dawn to Dusk. The 113 acre park has an outdoor amphitheater, large stream aquarium, bird feeder court with butterfly & hummingbird gardens, and other exhibits including live amphibians, turtles & snakes. Over 170 species of birds may be seen at Ernie Miller Nature Center during various seasons of the year.

Ernie Miller Nature Center 909 North Highway 7, Olathe, Kansas 66061 (913) 764-7759

Welcome Home! Cowboy Boots! was a public art exhibition of 12 6 foot tall fiberglass boots that were designed and created by area artists. They were displayed during the Olathe's 2007 Sesquetennial celebration. Some of the Welcome Home! Cowboy Boots! remain on exhibit in Olathe. The Hyer-KSD Connection remains on display at the Kansas School for the Deaf at 450 East Park Street, and the Read Any Good Boots lately? boot is displayed within the Olathe Public Library at 201 East Park Street.
Indian Creek Hike/Bike Trail is almost 17 miles long, with about 6 miles in Overland Park, Kansas. The bike path is generally level and flat, but often beautiful as it follows Indian Creek through various parks. It connects to other hiking and bicycle trails in Kansas City, Missouri and Johnson County, Kansas. On the other side of Olathe, Mill Creek Streamway Park has another 17 miles of trails going all the way to the Kansas River.

Indian Creek Hike/Bike Trail - Multiple Trail Heads between 105th and 119th Streets
Unique Kansas Restaurants
Kansas Attractions Kansas Travel & Tourism Home
copyright 2007-2015 by Keith Stokes