Crazy Good Eats
16695 151st Street
Olathe, KS 66062
(913) 905-2744

Sunday 11AM-6PM
Tuesday - Saturday 11AM-8PM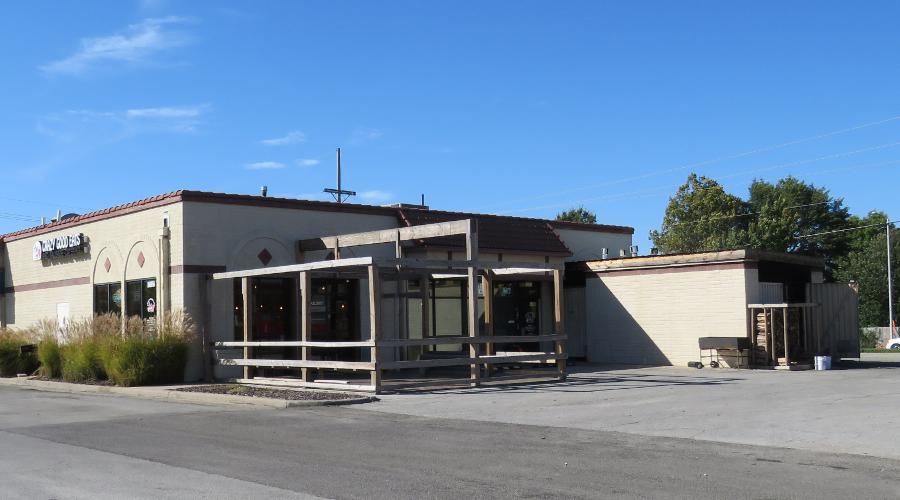 Crazy Good Eats - Olathe, Kansas
Crazy Good Eats in Olathe, Kansas opened in 2015, in the same location previously occupied by Big Bubba's Barbecue, followed by McGuire's Smokehouse. It is operated by an extended family which has competed at regional BBQ contests as Steer Crazy BBQ.
When Crazy Good Eats first opened, the prices were fairly expensive and they were not at all flexible with substitutions, but they have learned more about what customers want and as they continued, they are dnow doing a good job.
Overall, I prefer the appetizers and sides to the main meats, so lets start with them.
One of my favorite dishes so far is "Mad Meatballs," a starter made of bacon wrapped meatball, seasoned with their competition rub and glazed with their BBQ sauce. It is good, but not very large for $1.75 (3/$4.79) they were originally priced. They are now $1.29 (3/$3.99 which is a little amusing) which seems like a fairer price point. They are the most unique item we have found on the menu.
Another stand out is the onion strings, which are reasonable at $2.99 for an individual order of $4.29 for an order to share. The larger order is another item which has come down in price.
Crazy Good Eats serves 6 Chicken wing thirds for $6.99. They have a good flavor from smoking and the sweet mildly spicy sauce complimented the meat, though they are a bit tough.
"Mr. Hamey" is a small serving of smoked ham salad and crackers for $3.99. The salty ham salad was ground very fine, giving it a texture like potted meat. The crackers are not very crisp and this dish could benefit from being served with house made chips like the ham salad at Brobeck's BBQ in Overland Park.
Most meals come with cornbread and the choice of a side. The cornbread is very good, but would benefit from being served warm and with some butter. After the onion strings, my favorite side dish has been the cheesy corn, which has a little ham mixed in and a great flavor. More often than not, it isn't served hot, just a little warmer than room temperature. That has also been a problem with the main meat dishes.
The chicken and pork ribs both are cooked just right, tender, but not two tender. They have a pretty good flavor from the rub, but still benefit from adding sauce. The brisket has less flavor and has been my least favorite dish.
Crazy Good Eats offers several house made sausages and what is available may change from day to day. Typically there is a choice of bratwurst, jalapeno cheddar smoked sausage and perhaps one other, such at Italian. The jalapeno cheddar smoked sausage isn't just my favorite sausage, it has been my favorite dish.
Although Crazy Good Eats lists only 2 sauces on their web site, there are three:
Competition Sauce – sweet and tangy, a perfect balance of Carolina style vinegar sauce and KC sweet sauce
Red Eye BBQ sauce – competition sauce with a kick
Extra Napkins sauce - KS Style Thick & Sweet
All of the the sauces are sweet and fairly thin. It is hard to get sauce to stick on the meat. The Red Eye sauce is described as hot, but I don't notice heat. It does have an herb which gives it a slightly different flavor which I do not care as much for. The Extra Napkins sauce is sweeter, but still pretty thin. Although I'm generally not a big fan of sweet sauces, Extra Napkins is my favorite of the three.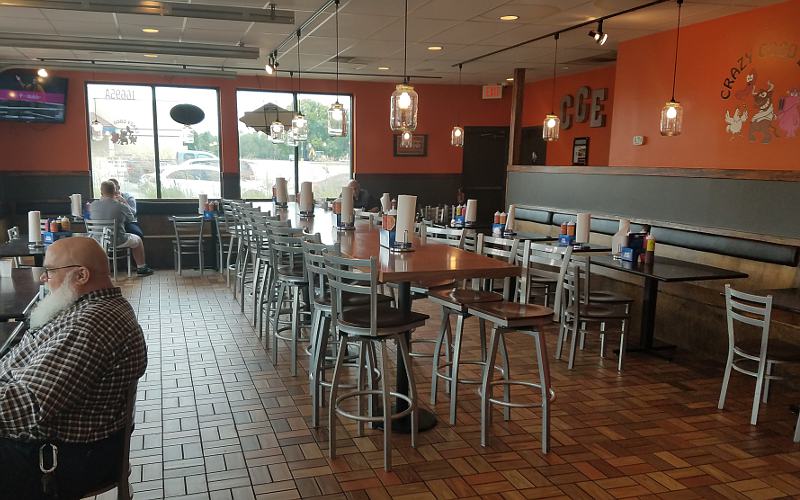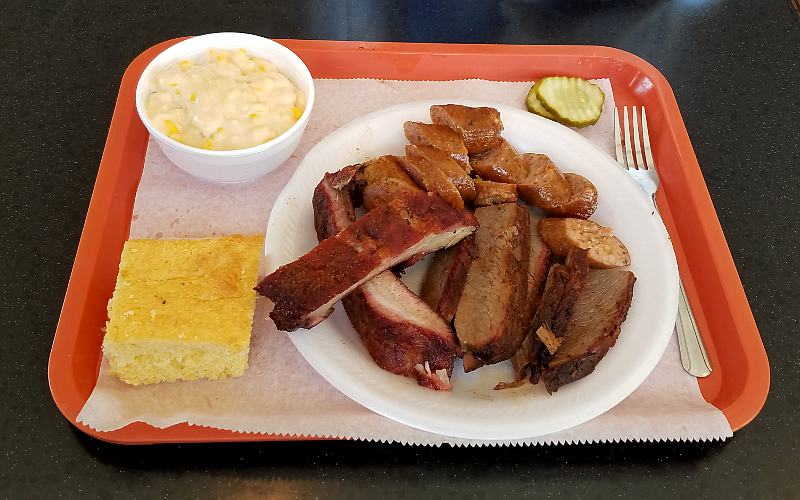 "Insanely Good" combination platter
2 Ribs & choice of two meats: brisket, ham, pulled pork, sausage, turkey plus corn bread and a side $14.99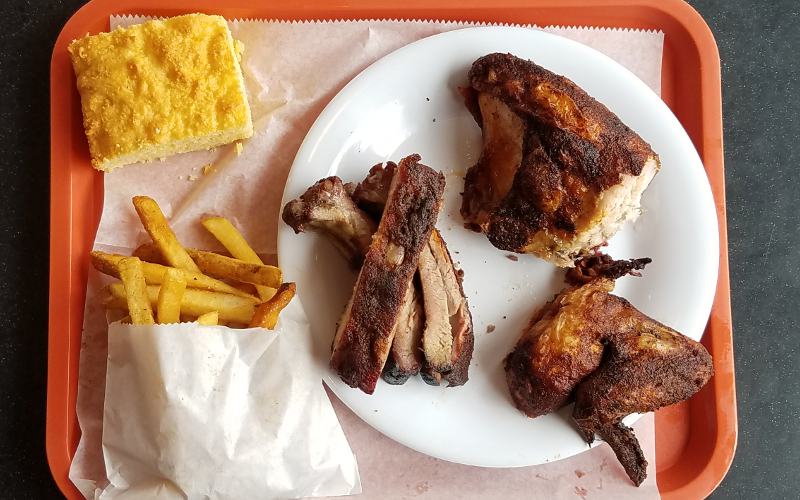 "Ribs 'n Chicken"
1/4 smoked chicken & 3 ribs plus corn bread and a side $11.99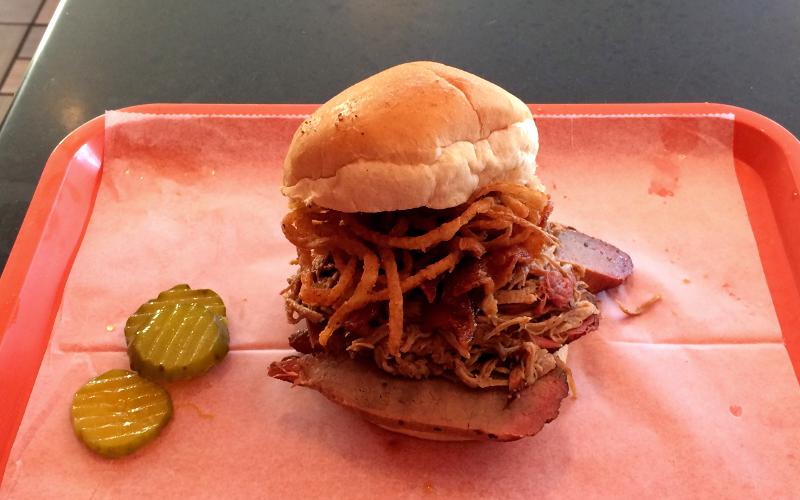 "Lone Star Power
Smoked brisket & sliced sausage topped with onion strings $6.49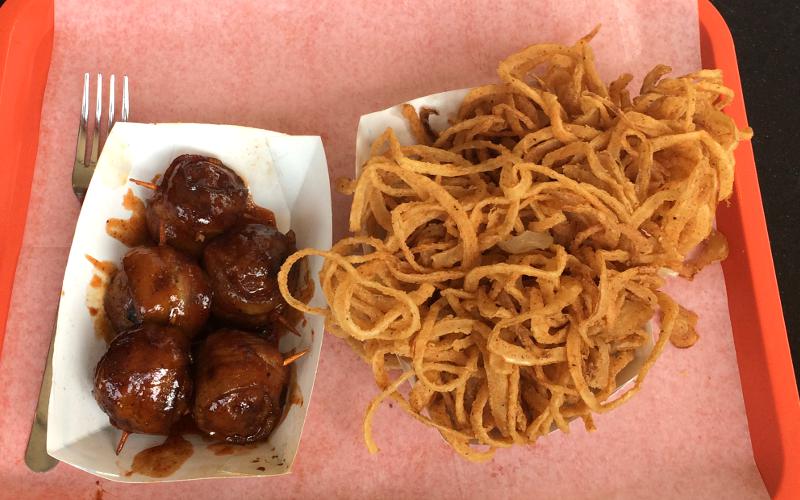 Mad Meatballs and onion strings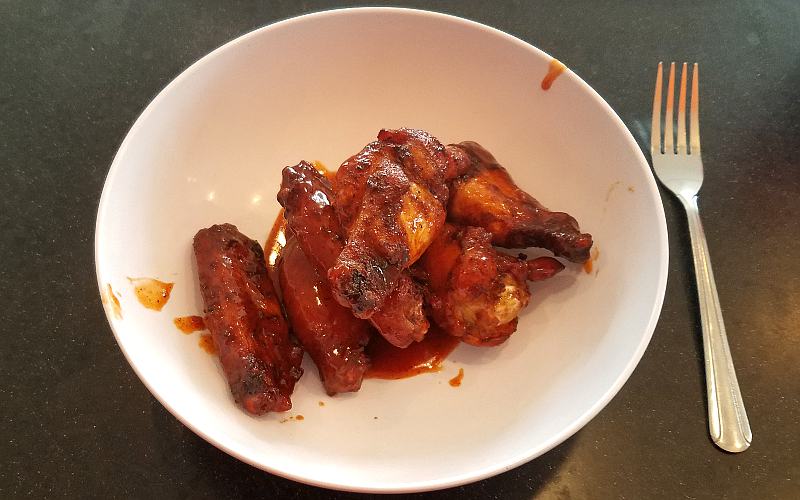 Smoked wings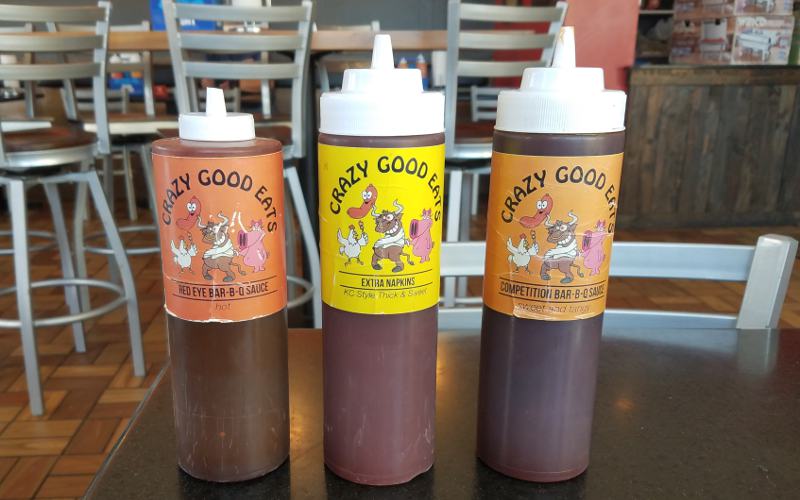 Crazy Good Eats Sauces


Crazy Good Eats Menu from November 2018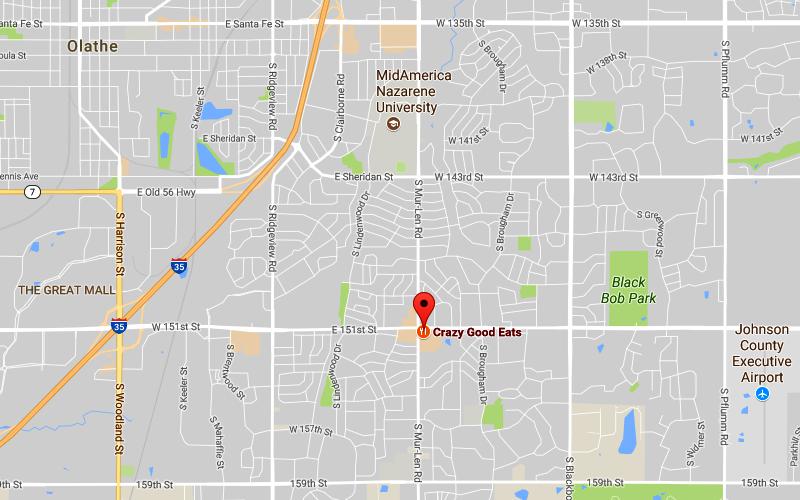 Crazy Good Eats Map
Olathe Restaurants & Attractions Crazy Good Eats website
Kansas Restaurants Kansas Travel & Tourism Home
copyright 2008-2019 by Keith Stokes